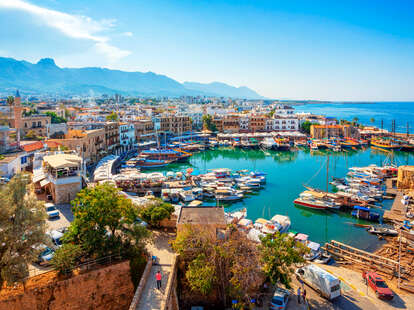 Cyprus has really mastered the R&R life. Sure, you'll find hiking, biking, scuba diving, and bustling bazaars, but the Mediterranean island is so gorgeous, you'll often find yourself just wanting to plop on the sand and stare. It's the type of place where you could spend hours watching the tide burble against the shore while seagulls flock across a sky awash in hazy, cotton-candy pastels.
Located roughly 40 miles south of the Turkish coast and 480 miles east of Greece, many residents in Cyprus speak Greek, Turkish, and English. You could say this third-largest island in the Mediterranean is so beautiful, it's been fought over for centuries by Greece, Turkey, Egypt, Persia, Italy, and even Britain. The country has been through its share of conquests. Today, about one third of the island, known as Northern Cyprus, has self-declared itself the Turkish Republic of Northern Cyprus (although only Turkey officially recognizes it as such), and the rest is considered Greek Cyprus, officially the Republic of Cyprus. It's complicated, but just know that Cyprus is a welcoming place to vacation.
Northern Cyprus in particular is full of both charm and quirk. In addition to boat-filled harbors and sweet old-timey villages backdropped by mountains, there are castles that inspired both Disney and Shakespeare, a national park full of donkeys, and a ghost town inviting all manner of spooks. Dine on spice-rubbed grilled meat and Turkish figs or dance at the bars that light up with music each night in the popular harbor town of Kyrenia. Here's what to do during a vacation in Cyprus.
How to get there and when to go
While there are no direct flights into Northern Cyprus's Ercan International Airport, three airlines service the island: Pegasus, AnadoluJet, and Turkish Airlines, which now has a Stopover Service in Istanbul (with hotel accommodation vouchers), so you can add a couple days in the city to your trip.
The summer months can be oppressively hot and crowded, so for optimal beach weather, visit in May, June, September, or October.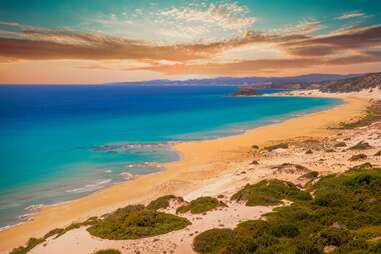 Jet around the coast or go beachcombing
You probably won't be surprised to learn that boating is a hugely popular pastime on Cyprus. It's also a hot spot for biking, hiking, and horseback riding, plus scuba diving, especially around Kyrenia.
Although a few beaches around clubs and hotels are private, most are public. At the far northern tip of Cyprus, on the panhandle of the Karpas Peninsula, lies Golden Beach. With nearly 50 miles of white sand and dunes, it's great for sunbathing, swimming, and watching wildlife like sea turtles. You won't find Cyprus's famous wild donkeys here, but they're not too far away, in the Karpaz National Park Wild Donkey Protection Area.
When most locals go to the beach, they head in and around the city of Famagusta. Glapsides Beach is the easiest to locate and is well maintained. Long Beach, near the ruins of the ancient city of Salamis, is especially pretty at sunset. Hop the public shuttle from the beach into town and back again.
Hike up to a castle in the clouds
The dramatic silhouette of Saint Hilarion Castle, which surfaces out of the pine and cypress forests of the Besparmak Mountains, is said to have inspired Walt Disney's design for the Queen's Castle in Snow White and the Seven Dwarfs. Climb more than 600 stairs to the top, where you'll be treated to unforgettable 360-degree views.
Kyrenia Castle, in the city's old harbor, was built by sixteenth-century Venetians and contains a shipwreck museum inside its walls. In Famagusta, Othello's Castle—which Shakespeare used as the setting for his play—was built in the 1300s. When spring wildflowers are blooming, the area is a riot of color and fragrance. You can tour a number of other historic sites in Famagusta, including the ruins of the ancient city of Salamis and a Venetian palace with its own dungeon.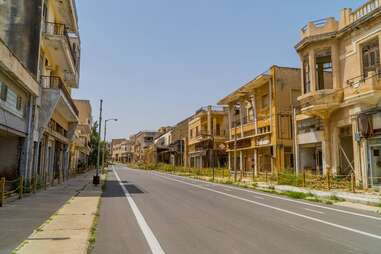 Visit a certified ghost town
The city's most unexpected attraction is the ghost town of Varosha. Built in the early 1970s as a seaside playground for wealthy Greek Cypriots, the 2.5-square-mile village fell silent when residents fled during the Turkish invasion of 1974. For almost 50 years, its vacant hotels, villas, shops, and discos lay sequestered behind green plastic fencing and military checkpoints, their windows opening onto the dusty streets like great, unblinking eyes.
In 2021, the Turkish government reopened Varosha to touring. You can visit on foot, bike, or scooter and take photos of a spectral place where the wind whispers through the palm leaves and rusted gates moan on their hinges.
Shop the busy bazaars and caravanserais
The Great Inn, built in 1572 in the walled city of Nicosia, is the finest example of Ottoman caravanserai architecture on the island. Today, it's full of cafes, galleries, and artisanal stores surrounding a pretty inner courtyard. Skip the tourist tchotchkes and look for handmade textiles, ceramics with evil-eye motifs, and silk cocoon art; the latter is endemic to Cyprus and practiced by only a handful of women.
In Bandabulya Bazaar, a short walk outside the Great Inn, shop for fresh produce, spices, confections, kilims, and beachwear. The embroidered pillow covers make impressive, easy-to-pack gifts.
On the opposite end of the Great Inn, browse through Arasta, a busy shopping area that stretches from Girne Caddesi up to Kyrenia Gate. You'll find plenty of "genuine" designer knockoffs, as well as Cypriot home goods and jewelry.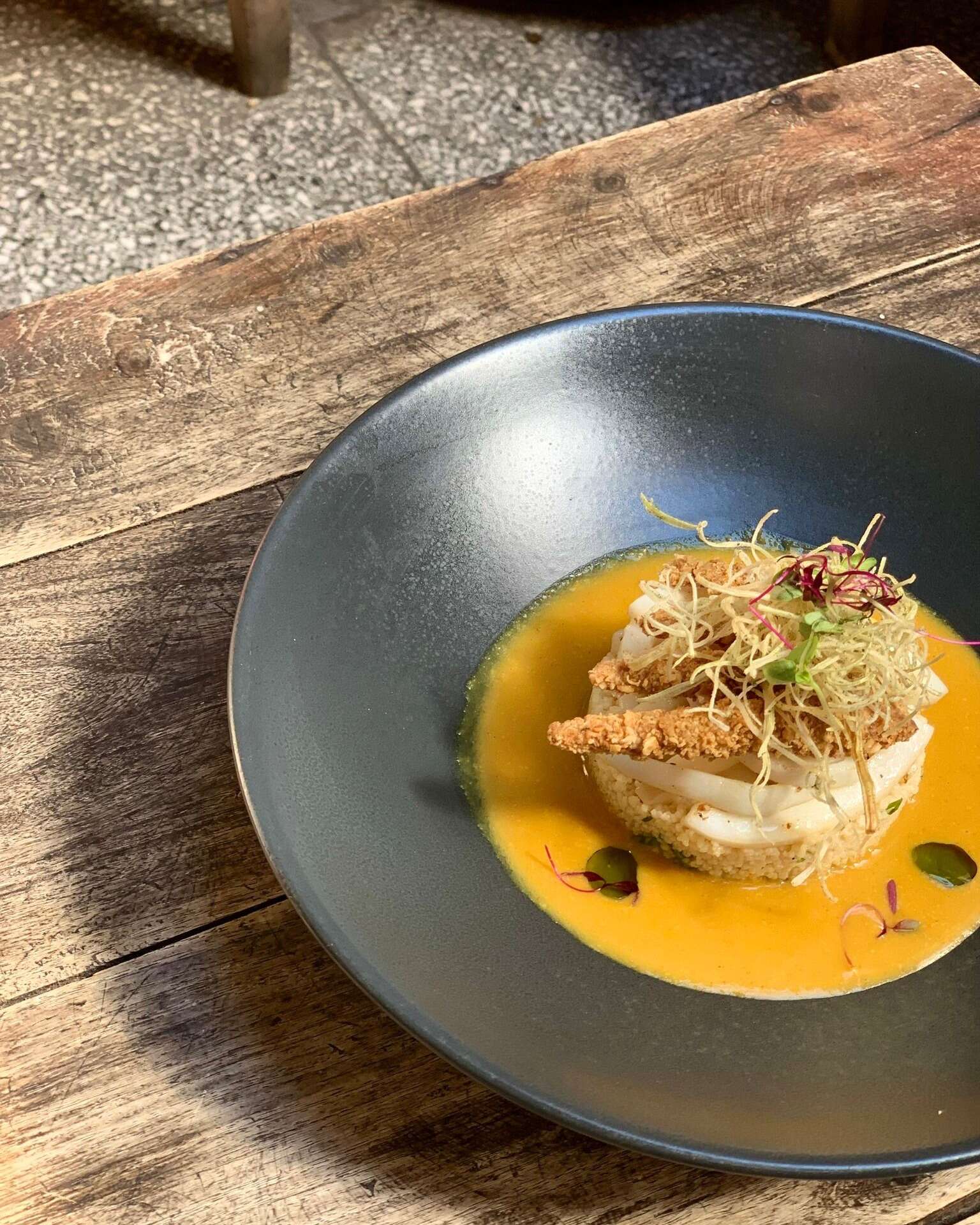 Dine on a blend of east meets west
The cuisine of Northern Cyprus is eclectic, blending traditional Turkish dishes—think kebabs and borek (flaky pastry stuffed with savory fillings)—with Mediterranean fare. In Nicosia, The Gym serves dishes like seafood pasta and stir-fried chicken and vegetables, as well as cocktails made with fresh fruit juices.
At Palm House in Famagusta, you'll find mezze-like spreads and stuffed grape leaves. Along with your meal, try raki, or "lion's milk," a punchy Turkish Cypriot spirit made from grapes, figs, or plums and flavored with anise. Plus, the restaurant's flower-and-grapevine-coiled interior is a lush escape from the city heat.
For a mix of food and nightlife, head to Kyrenia. While the service slows to a crawl during busy times, Nima Cyprus is a stylish restaurant and bar with a large menu and lively atmosphere. It's not far from The Hangar, a popular nightclub at the base of Kyrenia Castle.