Yes, most palm-tree-strewn beaches are too often called paradise at some point or another. But El Nido in the Philippines has so many next-level scenes to back up that claim, more than just your standard golden sands and colorful sunsets. For example, when you navigate a boat through a narrow canyon between jagged limestone cliffs to get to a secret lagoon, words simply fail. It's the equivalent to a tropical mic drop. Or consider the ability to walk in the middle of the sea for one mile on a sandbar that's often partially underwater, giving you the feeling of walking on water.
Then there's the jungle-covered mountains dipping into the water, sea caves that lead to more lagoons, beaches that have the serious possibility of being private, and sea turtles swimming in the many shades of water, from bright turquoise to sea foam green to deep cobalt blues so still and clear you can see all the way to the bottom. These images from the Philippine island of Palawan are the screensaver you desperately try to find the name of before it disappears. It's so transportive that the islands dotting Bacuit Bay seem like the kind of place where you might find Peter Pan and the Lost Boys.
While El Nido refers to a section in the northern part of Palawan, most of the tourist action is centered around Bacuit Bay, dotted with uninhabited islands full of dramatic limestone karsts, hidden lagoons, and secret beaches. The journey takes dedication, but once you're there, you'll realize it's well worth 40 hours of travel to see the Earth just plain showing off. Here's what to do in El Nido.
Fly into a garden-like airport
The beauty and allure of El Nido is by no means a secret, but a lack of chain hotels or direct international flights keeps away the masses. You can reach El Nido via ferry from other places in the Philippines (including Coron, another popular destination), but if you're coming from the capital of Manila, the best way to get here is on a short and sweet flight to the tiny Lio Airport in El Nido. Upon landing, you'll be greeted by a palm-lined runway and an open-air terminal that feels more like an ecolodge. From there, it's a short ride via Jeepney (a wildly colorful public minibus) or tuk-tuk to town and your hotel.
Find tucked-away lagoons and deserted islands
Adventures in El Nido happen via boat. You can pay for a private boat, which gives you the advantage of dictating your own schedule and likely avoiding crowds, or the cheaper route is to join a group tour. Regardless of which tour operator you go with, there are four options (tour A, B, C, or D) that take you to unbelievable locations. If you're in town long enough, it's best to pick a new tour each day. But if you have to choose just one, make it tour A.
The island hopping adventure includes plenty of stops for swimming and snorkeling, plus a delicious lunch (usually grilled chicken and fish, rice, and fresh fruit), and you'll get to visit two of El Nido's most incredible sights. First, your boat will glide through a shallow channel between cliffs to reach the entrance to Big Lagoon, where you can swim in a turquoise body of water that feels like a hidden realm accessible only by secret passage. You'll also get to visit Miniloc Island, where you'll swim through a cave to reach Secret Lagoon.
Another must-visit is Snake Island, where you'll find the S-shaped sand bar just beneath the water, like a shortcut in Mario Kart 64. It goes without saying walking on such a path makes for incredible photos.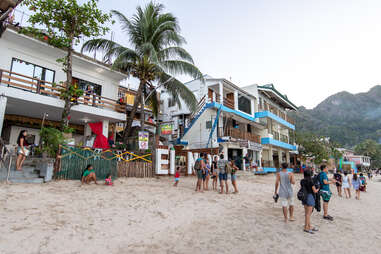 Hang out in a laid-back town
The main town, officially called Barangay Buena Suerte but known as El Nido town, is a tiny fishing village with hippie backpacker hangouts and affordable hotels (seriously, some of these places are like $8/night). If you're spending more than a few days in El Nido, it's a good idea to spend half your time at one of the swanky private island hotels and the other half at a hotel close to town, so you can take advantage of daily excursions.
There are just a few dirt roads in town, lined with massage parlors, coconut stands, and adorable cafes, including Happiness Beach Bar, where you can get a hummus plate or an acai bowl while you sit not on stools, but on the swings that line the bar instead. There's a big international community here—El Nido's one of those places where people come for a visit and never leave. After a few days here, you might be joining them.
Sunbathe on a pristine beach
With so many excursions available in El Nido, it can be easy to forget to plan a crucial day of sitting on the beach and doing nothing. The shore directly next to El Nido town is full of boats, but there are plenty of options nearby for white sands. You can reach Corong Corong Beach via a short tuk-tuk ride from town, driving along a road that curves through jungle-covered mountains. It's the quietest and most pristine beach that's easily accessible from town, with just a few hotels and restaurants lining the shore.
Seven Commandos Beach can only be reached by boat (and is included as a stop in some of the tours). The soft white sand is backed by jungle-laden cliffs and a few thatched-roof bungalows. If you time it right, you can have the place to yourself, but when other boats are there, it can feel a bit like a floating party.
Stay on a luxe private island
While El Nido town is full of affordable accommodations, you'll want to go further afield for serious style and luxury. If you venture out into the bay, you'll find lavish, honeymoon-level accommodations. El Nido Resorts operates four private island hotels in Bacuit Bay, each with its own distinct personality.
Pangulasian has private villas along the beach and tons of romantic experiences available, from spa treatments to sunset picnics. On Lagen Island, the overwater bungalows provide high-end comfort that's great for those looking for more relaxation, while Apulit Island can give you that quintessential castaway feeling. The best part? These deluxe accommodations that might go for thousands in other destinations can be booked for under $500 per night.