Hot springs vapor make for instant romance.

| Photo by John David Pittman for Thrillist
Hot springs vapor make for instant romance.

| Photo by John David Pittman for Thrillist
Vapor Rises From the Ground in This Arkansas Vacation Town
It's is mist-ical. It's mobster-y. It's a magnet for misfits.
Fasten your seatbelt and adjust your mirrors—this is Rerouting, your one-stop-shop for mapping out the ultimate summer road trip, no matter what gets your engine going. Cruise over to the rest of our coverage for pit stops at offbeat roadside attractions, sweeping desert panoramas, epic mountaintop vistas, oceanfront oyster bars, dynamic public art, and so much more.
There's no simple way to describe the eclectic, historic, and totally individualistic Hot Springs, Arkansas. We could go the presidential route—it was the childhood home of Bill Clinton, back when he was Lil' Bill Blythe, and until someone gouged its eyes out, a smiling Clinton sign welcomed you into town (it's supposedly out for repairs). Then there's the national park history—a federally managed reservation parceled out in 1832 by President Andrew Jackson, Hot Springs National Park is technically the nation's first national park.
We can also do the gangster thing: Hot Springs was the preferred vacation destination—some would say hideout—for mobsters like Al Capone, Owen "The Killer" Madden, and Lucky Luciano. And there's the sports, because boxers (including Jack Dempsey) trained for fights in Hot Springs to be close to the soothing waters, and so many baseball players soaked here while it was the home of MLB Spring Training. Babe Ruth once hit a 500-foot homer into an alligator farm, which you can still visit today. Some of the alligators are old enough to have witnessed it.
But like the name would suggest, it all goes back to the water: 47 steamy springs driven to the surface of the Earth by the churning heat of the planet's core. Mist gathers in the secluded valley—surrounded by the Ouachita National Forest—earning the region the nickname "The Valley of the Vapors."
And back in the day, everyone wanted to get steamy. Before Arkansas was even a state, the springs were deemed precious: That 1832 parceling was so the government could construct medicinal bathhouses to dispense to the masses what was then thought to be healing waters. By the time the area was officially designated the 16th national park (1921), a thriving town and tourism sector had sprung up around the strip of springs, now with nine bustling bathhouses. Travelers came to soak in scalding hot baths, lock themselves in spaceship-like vapor cabinets, and rub themselves with mercury, hoping to treat ailments like syphilis (see: Capone), epilepsy, diabetes, and more. (Signs—which you can still see in the Fordyce Bathhouse museum—pleaded with patrons not to add "urinate in the baths" to that list.)
But they also came for debauchery. Though illegal in Arkansas—and every state until Nevada legalized it in 1931—Hot Springs had a robust gambling economy. Right across from the federally-owned and very dignified Bathhouse Row were saloons, brothels, crooked auction houses, casinos, and bookies of every type. Here was Sin City before Sin City, criminal activity out in the open in gambling clubs like the Vapors and the Southern Club, plus over 70 casinos. Lawmakers looked the other way when it came to less-than-savory activities, earning themselves a cut of the millions of untaxed dollars flowing through the city. And it wasn't just gangsters and baseball players: throughout the years, entertainers from Duke Ellington to Elvis Presley would also swing through to enjoy Hot Springs' bounty.
But in 1961, it all ground to a halt when new federal anti-gaming laws were passed to rein in illegal gambling around the country. The industry was forced to vacate from Hot Springs to Las Vegas, where gambling was now legal. Bathhouses were no longer a big draw—people could now go to doctors to heal whatever ailed them. Without casinos bringing in visitors, the city grew an empty, ghostlike shell.
But the individualistic—and eccentric—spirit still reigned. The alligators, for one, never left. Two of the bathhouses also never stopped operating: The Buckstaff, operating continuously since 1912, and the Quapaw, renovated into a modern spa. Others have been adapted into museums, hotels, galleries, and the only brewery in a national park. And history is kept alive in places like The Gangster Museum of America and the former Vapors casino, opened by Owney Madden and recently revived into a nightclub (it's also the subject of a recent New York Times-lauded book). The unique geology of the region not only provides hot springs but crystals galore, some of which you can dig for yourself. And if you want a taste of that gambling life, the Oaklawn Racing Casino Resort has been operating on and off since 1902. The trick to legal gambling in Arkansas? Bet on the ponies.
Sample the water (or beer made from the water)
You're not going to come to Hot Springs and not try the water. Take a tour of the Mountain Valley Spring Water Visitor Center, built over a spring in 1910, or bring your own jugs to fill up at public water fountains located around town (with scant minerality, the water is fully potable). Think ahead and you can also book yourself one of the coveted hot springs baths at the Buckstaff or Quapaw bathhouses on Bathhouse Row, or the Arlington Hotel right on bustling Central Ave.
Or—and this may be the most fun option of all—stop by Superior Bathhouse Brewery at the end of Bathhouse Row. The bathhouse operated from 1903 to 1983; in 2013, it was converted into a brewery, the first in the country using thermal hot springs to make their booze and the only brewery in a national park. Try one or all 18 brews on tap, and toast to history.
Walk in the footsteps of gangsters
You've heard rumors about gangsters visiting Hot Springs—now get all the actual dirt, told to you by tour guides in retro gear. The Gangster Museum of America opened in 2007 with meticulously researched displays like the Capone Room, the Baseball Room, and the Outlaw Room, all stuffed with wild paraphernalia (there are even some old-school bottles of Mountain Valley Spring Water that Capone used for moonshine-smuggling back to Chicago. On vacation! That guy was nothing if not a workaholic).
Then get a taste of what life was like back then. Stop by the Arlington Hotel, home to many a clandestine mobster meeting (Capone's room was 443). Originally opened in 1875, the current structure dates back to 1924 and welcomed guests like Babe Ruth, Barbra Streisand, Tony Bennett, and U.S. Presidents Franklin Roosevelt, Harry Truman, George H.W. Bush, and, of course, Bill Clinton. Its ornate ballrooms and thermal bathhouse are still in use today.
The celebrated Vapors casino, now a nightclub, still features its cool original signage, and the Oaklawn Racing Casino Resort, opened in 1902, completed a $100 million expansion in 2021, including its own hotel and spa.
See the... unconventional side of things
In its heyday, Hot Springs was a magnet for misfits, and at times still has that feeling of "if roadside attraction were a place." Take the seasonal Tiny Town, which is just like what the name says: a wide-ranging miniature town set up in a barn, lovingly created from household scraps. There's working railroads, an animated Ferris wheel, and tourist hotspots like Mount Rushmore, Niagara Falls, and the Christ of the Ozarks (sure). Plus townspeople including Willie Nelson and Dolly Parton. You know, just regular folks.
Down the street, the Arkansas Alligator Farm and Petting Zoo has over 130 alligators. Created in 1902 to capitalize off the tourists that came to area for baths (and the same alligator farm that Babe Ruth slung his baseball over to, never to be seen again), it's a curious place where you can feed caged goats and emus, see wolves and mountain lions in pens, look at raccoons for some reason, and hold a baby alligator (come for adult feeding time if carnage is your thing). Even more curious, the leathery, balding "Merman," supposedly dragged from the South China Sea, here displayed in a glass box in the alligators' winter residence.
And then there's the Josephine Tussaud Wax Museum (Madame Tussaud's great-great-granddaughter, but no professional connection), suspended in time. Be greeted by President Jimmy Carter at the bottom of a frozen escalator (it conked out in 2009), and tip your hat to celebrities like Clark Gable, Liz Taylor, and St. Peter (there's a "Biblical Room"). Make a game of guessing who they are: most of the figures look very minimally like their real-life counterparts, but that's part of the fun.
Then delve into more gangster history. The museum's space was formerly the well-known casino The Southern Club, and on display you'll see the club's marquee, an original bathroom and plenty of gambling paraphernalia. For an extra fee, you can peek into the tunnel behind the fake wall that patrons used for a quick escape to the Arlington Hotel across the street whenever there was a raid.
Take advantage of 'The Natural State'
The gangsters didn't spend all their time gambling; they were known to take in a bit of the outdoors as well (they don't call Arkansas "The Natural State" for nothin'). Hot Springs National Park offers 26 miles of hiking trails, plus paved trails for biking and spectacular mountain views.
Just about an hour's drive away, Lake Ouachita State Park houses 40,000 acres of pristine water, pocked with islands and enveloped by the Ouachita National Forest. Opened to the public in 1955, today there's 93 campsites and a whole bunch of things to do, from hiking and houseboating to kayaking and swimming to eagle-spotting cruises.
Also nestled in the Ouachita National Forest is Garvan Woodland Gardens, a 210-acre botanical garden operated by the University of Arkansas, with waterfalls, picturesque bridges, a bonsai garden, and the six-story tall Anthony Chapel, wood and glass blending into the forest. It was designed by Maurice Jennings, partner to renowned architect E. Fay Jones (the two designed the similar Thorncrown Chapel in Eureka Springs). Come in spring for the Tulip Extravaganza, 1,500 gorgeous Dutch tulips ushering in the season of renewal.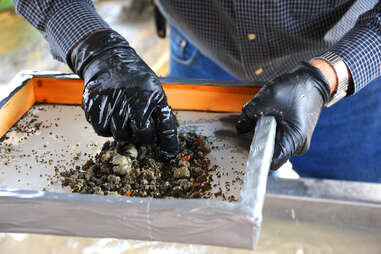 Strike it rich (or at least dig up something pretty)
Thermal springs are not the only unique geologic occurrence in this area. Along the side of the road shops selling crystals gleam in the sunlight, with all colors of the rainbow. This isn't Sedona—people aren't coming here for spiritual enlightenment. They're here because there's just so much of it. The silica-rich waters of the Ouachita Mountains make for an abundance of the world's largest and clearest quartz crystals—it's been theorized that it's one of the reasons the town was called the "Jewel of the South." Sparkling gems line river beds and thread through rock walls, a magical wonderland right here in Arkansas.
And you can get your hands on a bit of the magic, either at one of those many stores or by digging for your own at places like Ron Coleman Mining, known for massive hauls—one cluster measured nine feet long and weighed 3,000 pounds. You can also take tours of their commercial mine to see crystal veins and possibly catch professional rockhounds at work. Cap it off with a zipline ride, and see it all from a bird's-eye view.
Or go bigger—just about an hour's drive away in Murfreesboro is Crater of Diamonds State Park, one of the only places that we layman can dig for diamonds at their source. See real, uncut diamonds and bring your own equipment to try your luck sifting through a plowed field of white, brown, and yellow treasures (you get to keep what you find). More than 33,000 diamonds have been uncovered by visitors since the area was declared a state park in 1972. The next one could be yours.
Vanita Salisbury is Thrillist's Senior Travel Writer. She tried to take a bath at Buckstaff but waited until the last minute to make a reservation. Don't be like her.