This Underrated National Park Was Once Al Capone's Favorite Weekend Trip
It's also the only national park with a brewery inside.
Inside the Quapaw Bathhouse at Hot Springs.

| Photo courtesy of Visit Hot Springs
Inside the Quapaw Bathhouse at Hot Springs.

| Photo courtesy of Visit Hot Springs
When most people think of national parks, geysers, canyons, and bison are probably top of mind. Al Capone and bathtubs? Not so much. That's part of what makes Hot Springs National Park, a largely urban park in the Ouachita Mountains of western Arkansas, such a unique cornerstone of the National Park Service. A far cry from preconceived national park notions, you won't find any intimidating wildlife or sky-scraping trees here—rather, Hot Springs preserves other important facets of American history, both natural and man-made.
Initially called the Hot Spring Reservation, the park technically predates Yellowstone as the first place in America to earn any type of federal protection, earning protected status back in 1832. It was a testament to the natural splendors of the area's thermal spring waters, which have been flowing off the mountain and billowing steam for thousands of years.
Native American tribes, such as the Tunica, Caddo, Quapaw, and Choctaw, revered the springs for their cleansing and healing abilities—so much so that this "Valley of the Vapors," as they nicknamed it, became a sort of peaceful neutral ground for all tribes. That sentiment carried over into subsequent centuries, as Hot Springs built up into "The American Spa," a mecca of Gilded Age architecture, steaming water fountains, and opulent bathhouses, drawing the likes of global dignitaries, professional athletes, and mobsters—including Al Capone—to soak in its famously rejuvenating thermal waters.
Nowadays, while much of Hot Springs may look like an atypical national park, it's one where history is on full display as a multi-sensory experience. Whether you're drinking it or soaking in it, these spring waters initially fell as rain some 4,000 years ago, trickling 7,000 feet below the Earth's surface before boiling back up and re-emerging at a cool 147ºF. Visiting Hot Springs National Park is like taking a dip in American history—not to mention it's probably the only time we'll take national park advice from a mobster.
When to visit Hot Springs National Park & what to know before you go
Thanks to its mostly moderate weather year-round (average summer highs are around 93ºF, while the average high for January is a bearable 50ºF), and the fact that much of the marquis attractions are indoors, Hot Springs is more of an evergreen national park than most.
The peak summer months of June through August bring a majority of the crowds, and considering Hot Springs is now the 16th most visited national park in the country, that can create bottlenecked trails on Hot Springs Mountain or extended wait times for a soak in Quapaw Bathhouse. Your best bet is to opt for fall or early spring, avoiding school vacations as best as possible. The weather will be moderate, the crowds will be low, and you won't have to resort to standing-room-only in the park's resident brewery (more on that later). After the holiday hoopla, winter is also prime time here, since it's not typically too freezing or snowy and the springs are a soothing balm for those winter blues.
For a lot of travelers on a quest to visit all the national parks, Hot Springs may come as a surprise, for the better or worse. Considering this is one of the smallest national parks by acreage and that it's mostly an urban park, you won't need to spend weeks here to get the full experience—you can easily do it all in two or three days. That's not to suggest, though, that advanced planning isn't needed. On the contrary, this bustling little tourist city tends to fill up its bathhouses, hotels, and restaurants pretty quickly, so plan ahead and make desired reservations, especially if you're traveling over summer break or during the holidays.
Soak in the historic spas on Bathhouse Row
The rare national park that combines outdoorsy adventure with endless pampering, Hot Springs is the kind of place you visit to relax. The star of the show, of course, is the spring water itself, which you can experience in a tub or even as a restorative beverage along Bathhouse Row. Built between 1892 and 1923, the strip runs through the heart of the park, consisting of eight palatial buildings in gorgeous Spanish and Italianate architecture, each one resembling the Clue mansion more than a typical spa. While most of the bathhouses have been repurposed into park headquarters, visitor centers, museums, and even a brewery, you can still make reservations for a thermal soak at Quapaw and Buckstaff.
Quapaw has both private rooms (bathing suits not required) and a massive communal area (bathing suits required) with numerous pools ranging in temperatures from 95ºF to 104ºF. Buckstaff, meanwhile, has been offering private soaks, plus a full range of other spa services, since 1912, making it the only facility in the park that hasn't closed since operations began.
Technically, there are more than 40 natural springs in the wilds of the park, but they're entirely too hot for bathing. However, you're free to touch and drink them as much as you'd like, so long as you let the water chill before chugging it. The park's two main fountains, the Display Spring behind Maurice Bathhouse and Hot Water Cascade on Arlington Lawn, are the spots where you're encouraged to touch the water. Sure, it bubbles up at 147ºF, but it's cooled down enough to touch by the time it hits these pools.
In terms of drinking the water, it's not only allowed, but encouraged; the springs are known for their nourishing minerals and health benefits, which run the gamut from reducing stress and promoting healthy sleep to easing pain and improving blood circulation. "Quaffing the elixir" is the local slogan, and you can fill up your own bottles at fountains throughout the park. Any spring fountain is fair game, but some examples include the one in front of the National Park Service administration building, the Noble Fountain on Reserve Street, and the Dripping Spring between Hale and Maurice Bathhouses.
Hit mountains, museums, and bars fit for mobsters
Beyond the springs, Hot Springs is teeming with activities and attractions both indoors and out. Although not as colossal as the mountains out west, the Ouachitas provide a pretty escape for hikers, bikers, and scenic drivers.
Between Hot Springs Mountain behind Bathhouse Row and West Mountain, the park has 26 miles worth of designated hiking trails, most of which are fairly moderate in difficulty. Hoof it up Hot Springs Mountain to the peak, where Hot Springs Mountain Tower provides an epic panorama of the vaporous valley below. The 15-mile Sunset Trail is the only one with mileage in the double digits, making a giant loop around the perimeter of the park along both Hot Springs and West Mountains; it's also the trail with the least foot traffic, making it the one to hit for ultimate solitude and serenity. You're also welcome to drive up both mountains for scenic views, while cyclists are allowed on any paved road in Hot Springs save for the Grand Promenade.
Considering its rich, charismatic history, museums are a huge part of the park. The Bathhouse Row Emporium, located inside the Lamar Bathhouse, offers a wealth of educational resources and hyper-specific merch, like loofahs, bath salts, and tiny porcelain tubs that could double as punch bowls at a party (speaking from first-hand experience). Across the street on Bathhouse Row, the Gangster Museum of America is like a time warp to the Roaring Twenties, home to a series of detailed rooms, videos, and a speakeasy-style gambling parlor that all recount the heyday of Hot Springs as a resort town for the rich and (in)famous.
In fact, mobster vibes are alive and well throughout Hot Springs today. While the city's underground tunnels and illicit affairs are a thing of the past, the Roaring Twenties are still a common theme in the park's restaurants and bars, like Vault at 723, where you can eat brandy cream chicken and root vegetable hash in an actual bank vault before heading upstairs to the brand new speakeasy-style cocktail bar, aptly called Heist. And don't sleep on The Ohio Club, the oldest bar in Arkansas: dating back to 1905, this place has "Capone" written all over it. It originally acted as a whiskey-soaked casino, serving patrons like Babe Ruth and Al Capone (oh, to be a fly on the wall!). The gambling may be gone, but the live music and strong cocktails have proven timeless.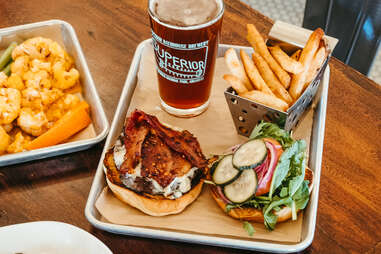 The only brewery within a national park
Speaking of dining and drinking, if there's one spot you visit in Hot Springs National Park, it's gotta be Superior Bathhouse Brewery. The first and only brewery located inside the boundaries of a national park, it resides in one of the former bathhouses on Bathhouse Row—meaning where once you could soak in thermal springs, now you can drink them in the form of a sour beer or hazy IPA.
The nickname "Hot Springs on Tap" is an apt one for this place, as Superior is still the only brewery on Earth to use thermal spring water to make 100% of their beers. That means this is the only place in the world where you can sip a beer, like an Arkansour Hopped Sour or a Pray for Snow IPA, whose main ingredient is water that fell as rain around the same time the Pyramids were being built in Giza. There's also hard cider and growlers to-go so you can bring the thermal magic home with you, and the food menu is full of pleasant surprises all its own, from beer cheese dip and thermal water root beer floats to fried cauliflower po' boys.
Where to stay near Hot Springs National Park
When you're looking to visit Hot Springs, one of your best bets is the iconic Hotel Hot Springs. Rising like a beacon over downtown a couple of blocks from the thick of Bathhouse Row, the 14-story property has some of the best views of the area and a cozy motif that harkens to the region's past with timeworn photography and local art. Although it's all quite walkable, the hotel offers a free shuttle service to take you to Bathhouse Row or the nearby Oaklawn Racetrack, itself a historic throwback dating back to 1904.
For something a little more rustic, Gulpha Gorge is the park's main campground, suitable for tents and RVs year round, located on the opposite side of Hot Springs Mountain from Bathhouse Row. Or for an even quieter oasis, try Catherine's Landing. This quaint woodland retreat, nestled along the shimmering shores of Lake Catherine about six miles southeast of Bathhouse Row, is a 400-acre campground filled with cottages, tent sites, RV sites, and glamped-out yurts.
Matt Kirouac
is a travel writer with a passion for national parks, Disney, and food. He's the co-founder and co-host of Hello Ranger, a national parks community blog, podcast, and app. Follow him on IG
@matt_kirouac
.