The Best Reasons to Go to Alaska Are All Cold, Difficult, and Badass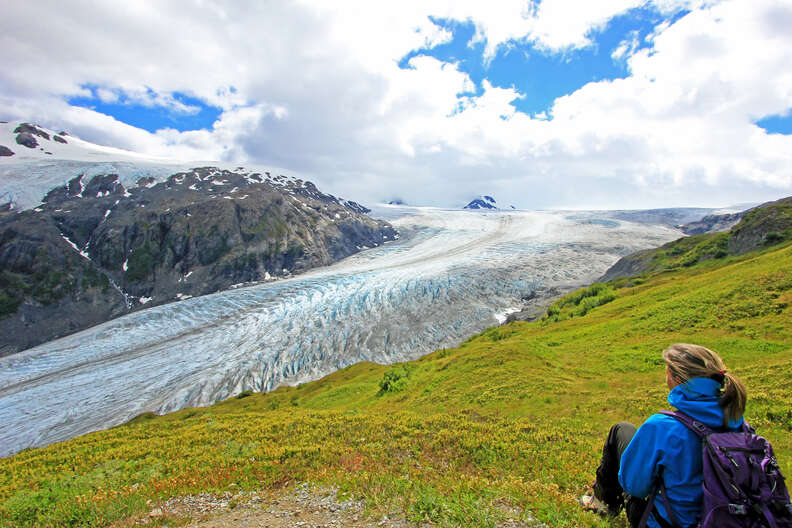 I took a walk in a blizzard around Anchorage one day in late February. Swarms of quarter-sized snowflakes drifted down while 10-degree air tickled my lungs. The cold and the snow swallowed sound, giving me the illusion that I was in a remote forest, even as the city of 300,000 people hummed right along, unfazed. It was Alaska, after all.
I marveled at my sensory underload as I turned onto the Chester Creek Trail and headed toward the Tony Knowles Coastal Trail, which would take me toward downtown. I looked up and saw a statue of a moose munching at a tree. That's a weird place for a statue, I thought. I wonder if kids climb on it … and hey -- are statues usually brown and hairy? Then the statue moved its head because it was, yeah, an actual moose.
After an ill-advised selfie, I kept going. Dozens of people passed me running, biking and cross-country skiing, even though, as I mentioned, it was 10 degrees out and snowing like crazy. The next day, I walked along the same trail and watched the sun slow-motion explode in yellow, pink and purple as it set behind the Tordrillo Mountains. The day after that, I returned in the morning, faced the other direction and exhaled white clouds watching the sun rise over the Chugach Mountains.
A blizzard, two mountain ranges, a sunset, a sunrise, a moose: in just one location, I experienced much of the very best Alaska has to offer. And there is so very much more to the 49th state, as I learned in two trips there spanning two weeks in the last two years. The list of things to do in Alaska starts and ends with "go outside," and in the middle is a warning: Be prepared.
Visit Denali National Park
On my first day in Alaska, I flew from Anchorage to Fairbanks and watched out my window as the sun burned hot pink behind Denali,
the highest point in North America
at 20,310 feet. It felt like a welcoming party thrown just for me and also illustrated this truth: to see something inspiring in Alaska, just look around. Whatever your vantage point, it's likely to be breathtaking. Denali is spectacular whether you walk in it, fly in a bush plane over it, or tour it on a bus.
If you have some more time to prep, and a few more dollars to spend, consider hitting up one of Alaska's lesser-known expanses of raw nature. The state is home to the three least-visited of America's 59 National Parks. It's nuts to consider Denali the junior circuit of anything. But the really advanced courses are at Gates of the Arctic, Kobuk Valley, and Lake Clark -- warm-weather trips, all.
Buy some reindeer sausage
The joy of traveling is collecting new experiences, so when I see an item on a menu that I've never had, I order it. My favorite question to ask a waiter is, "What's the most (insert location) dish on your menu?" Reindeer sausage checks both of these boxes. It's tangy and gamy, and the pop of sausage skin is one of life's rare gifts. If you buy it from a street vendor while wearing gloves to avoid frostbite and have to take off your balaclava to eat it, all the better. Be forewarned: You will hum Rudolph the Red-Nosed Reindeer for hours.
Go ahead and rent you some incredibly warm clothes
I learned this the hard way: Your Lower-48 boots aren't going to do much in subzero temperatures for long. And if you're not going out in subzero temperatures, why even bother going to Alaska?
Embrace the Swedish axiom that there's no bad weather, only bad clothes. Get good clothes, in fact, so you don't die. In March, I rented boots (the most important), a bib, a parka, and mittens for $35 a day and would have been in big trouble without them, as my assignment required extended time outside in deep snow. The ambient temperature never climbed out of single digits; all I wore underneath was a wicking shirt; I was fine.
I used Alaska Element, and they were crazy easy to deal with. They will bring the items to the airport/your hotel/wherever, and they will come get it at the airport/hotel/wherever. On top of keeping you warm -- that parka was like wearing an oven -- another benefit of renting is you can leave a lot of your cold weather gear at home. It's not good enough anyway.
Rent an SUV and drive slowly
The first time I went to Alaska, somebody else drove the whole time, and that was a good thing because quite frankly I wouldn't have been able to get to where I had to go. On my most recent trip, I stuffed an SUV into an invisible snow drift.
Northerners, don't bother with the bravado. You haven't seen anything like this. Every road is covered in a thick layer of ice. It took me several days to work up the nerve to go more than a few miles at a time (which is why I was walking around Anchorage). Eventually I decided to simply never go faster than 40 mph, and that worked out OK. Even then, I would not have driven more than 60 miles or so by myself.
When I arrived at one of my assignments, I was almost out of breath from the stress of driving 20-plus miles on a sheet of ice. The person I was there to interview told me it's like that from November to May. As much as I advocate going to Alaska in the winter, if you can't/won't drive on icy roads, you'll have to either find someone to drive for you, or disregard my advice about going in the winter.
Go to the Totem Heritage Center
Alaska is so vast -- more than double the size of Texas -- that it's hard to recommend specific things to do: If you're not already in a particular place, getting anywhere is no easy task. Take, for example, the
Totem Heritage Center in Ketchikan
, in the southeast corner of the state. It has one of the world's largest collections of 19th-century totem poles. After visiting, you'll never use the cliché "low man on the totem pole" again, because the low spot is actually the spot of honor. Several totem pole artists live and work in Ketchikan, so seeing one being made seems doable. But the drive from Anchorage to Ketchikan takes 39 hours and covers 1,675 miles. (Driving from my house in St. Louis to Los Angeles takes only 27 hours.) Like so many attractions in this state, it rewards the deliberate, determined traveler.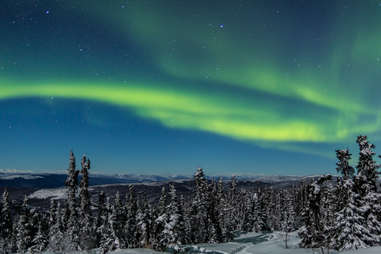 Chase the Northern Lights
Imagine your kid cuts long strips of green and red wrapping paper, stands halfway across the room, holds them so they're vertical, and shakes them slowly so they do waves. Now imagine that everything else in your line of sight is black. That's what the Northern Lights look like.
The farther north and more remote you are, the better the viewing will be. Check here for daily forecasts. You can pay for a Northern Lights shuttle, but that's like paying someone to show you the stars. Just drive a few minutes outside of whatever city you're in and look up. And if there are no Northern Lights, maybe there will be a moose. As I learned in Anchorage, they're everywhere.
Whatever you're up to, be prepared to improvise
That's always true when you're on on the road, but it's more true in Alaska, because the forces that compel improvisation are massive. Last year, the temperature swung 72 degrees in two days, from negative-40 to 32 degrees. Which sounds OK, until you realize it just as well could have been the other direction.
This year I wanted to drive from Anchorage to Seward to see that city and the spectacular views that would present themselves along the way. But the roads were covered with ice, and I didn't have the confidence to drive on them yet. (See: Rent an SUV and drive slowly.) When my nerves finally snapped and I had to turn around, I was at an entrance to Chugach State Park. So I hiked there.
Turnagain Arm Trail climbs a few hundred feet as it runs parallel to Turnagain Arm (part of the Gulf of Alaska). The Kenai Mountains stand watch over the frigid sea, which appears to have flash-frozen in an instant -- it looks like a collage of angry faces trying to escape from the depths. Signs on the trail say this is a good place for whale watching. I'm sure that's beautiful, but I stood mesmerized by the accidental art of those souls tormented by their icy imprisonment.

Take Alaska with you wherever you go
You will be a better traveler when you leave. You will know more about how to plan ahead, how to dress for the cold, and how to drive better in ice, to say nothing of how to take moose selfies. Just about any trip you make after a winter adventure in Alaska will seem like a snap.
Sign up here for our daily Thrillist email and subscribe here for our YouTube channel to get your fix of the best in food/drink/fun.
Matt Crossman has written more than 40 cover stories for national magazines. Read more of his work at mattcrossman.com.