It doesn't get much better than Alaska.

| Travel Alaska
It doesn't get much better than Alaska.

| Travel Alaska
There are few places on earth that can top Alaska—in size, in extremity, or in beauty. The 49th state is home to thousands of miles of untamed yet accessible wilderness, remarkable wildlife, eccentric attractions, and other opportunities to experience the Great Outdoors in a way that you just can't get anywhere else.
While it's a beacon for hikers, fishermen, powder-chasers, adventure fiends, and outdoorsy types, those more interested in the art, food, beer, history, and culture side of things won't go wanting. Given the state is 663,300 square miles—larger than Texas, Montana, and California combined—there's more than enough room for everybody to join in.
With so much to do, see, and frankly, get lost in, planning a trip to the Last Frontier can be overwhelming. Consider this your guide to the best it has to offer.
The best time of year to visit Alaska & how to get there
The best time of year to visit Alaska depends entirely on what you want to get out of your visit. Summer is an understandably popular time to visit—the sun hardly sets, the weather is divine, and if you want to fish, hike, see wildlife, and dine alfresco, it's the season for you. But don't discount a winter trip. It's the only time you can ski, snowmachine (or "snowmobile," if you're a Lower 48er), see the Northern Lights, and go for a dog sled ride.
As for getting to Alaska, you have a few options. You can catch a direct flight to Anchorage International, the state's largest and busiest airport, from a number of West Coast cities as well as Chicago and Minneapolis.
During the summer months (usually mid-May to mid-September), it's also possible to come on a cruise, most of which focus on the Southeast region of the state. And if you're looking for a nice, loooong road trip, make your way up via the Alaska-Canada Highway.
It bears repeating that Alaska is big. Like, really big. Too many visitors make the mistake of not factoring in the distance between destinations and spend their entire visit in the car. To get the most out of your trip, consider immersing yourself in one region rather than trying to ping-pong across the state. Oh, and if it wasn't obvious: pack your best coat.
Visit one of Alaska's best national parks
By area, Alaska contains more than half of the United States' national parklands, including a whopping 17 national park units and 16 national wildlife refuges. And although several of the state's national parks count themselves among America's least-visited, it's the far-flung location—not the vistas—that's to blame. As you venture further north, you'll be met with view after view that'll make your eyes grow to the size of dinner plates.
Wrangell-St. Elias—the largest national park in America, at 13.2 million acres—is home to an impressive list of natural wonders: four major mountain ranges, nine of the 16 highest peaks in the US, the second and third highest peaks on the North American continent, the largest glacial system in the country, diverse wildlife, and a quirky former boomtown with a year-round population that could fit in a large passenger van. There's also Gates of the Arctic, the second largest park at 8.5 million acres, where you'll find the rugged Brooks Range and an impressive caribou herd.
Denali National Park comes in at number three, packing 6.1 million acres of idyllic punch. It's home to (and is named after) the tallest mountain in North America and offers travelers all manner of escape, from casual bus tours that'll chase moose, bears, and Dall sheep sightings to Jeep expeditions and flightseeing opportunities.
All of this is not to mention Kenai Fjords, Katmai, Glacier Bay, Lake Clark, and Kobuk Valley, each and every one of which is just as impressive as the last. Essentially, you could travel Alaska over the course of five lifetimes and see about 1/1000th of all that its parks have to show off.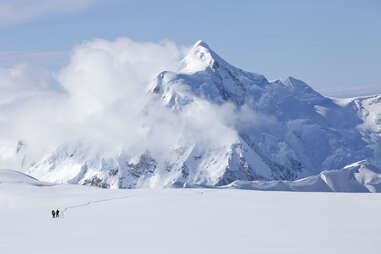 Scale an ancient glacier
There are a whopping 100,000 glaciers in Alaska; in total, they cover more than five percent of the state. Some are so seldomly seen or so challenging to get to that they simply don't have names. However, others are fairly easy to visit—if you don't mind a bit of a hike, that is.
At 27 miles long and four miles wide, the Matanuska Glacier is the largest glacier accessible by car in the United States. About 100 miles north of Anchorage, you can drive right up to its outer reaches and walk around on the ice. Others, like Exit Glacier in Kenai Fjords and Byron Glacier about an hour north of Anchorage, only take about a mile hike to get to. There are various companies, like Kennicott Wilderness Guides and Above & Beyond Alaska, that can help you safely explore the cracks and crevices (and also provide gear, like crampons and helmets).
For substantially more dough, it's possible to hire a small plane to take you to some of the more far-flung glaciers, like Ruth's Glacier about 10 miles from the summit of Denali. And if you want a fuzzy buddy to enjoy the view with you, several kennels also operate summer dog sledding programs that'll take you flying—first, up into the air on a helicopter shuttle, then out across a glacier behind a team of excited huskies.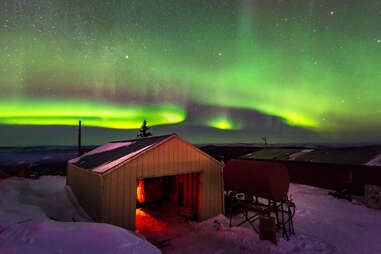 Chase the Northern Lights
No matter what you do or how far north you go, it's always hard to predict exactly when nature's most impressive light show will happen. Scientists gauge the likelihood on what's called the KP Index, a scale of zero to nine—but even when the number is high, there's no 100% guarantee the elusive Aurora Borealis appear. Still, you've got a pretty decent shot at spotting them in Alaska, especially if you visit sometime during fall or winter when there's next to no sunlight.
While even brightly-lit downtown Anchorage has been known to get sightings, if you're serious about catching the show, you'll need to find a darker spot further north. Arguably, your best shot at seeing the Northern Lights is in Fairbanks, the only true city in interior Alaska. It sits smack dab in the middle of the Auroral Oval, a band that hugs the northernmost region of the globe where the Aurora Borealis appear most frequently.
The tourism board estimates that the Northern Lights will paint the sky 80 percent of nights during the winter months, provided there aren't clouds and the sky is dark enough. Book a tour, and best of luck!
Drink at the top of the world
Alaska is full of characters, so it makes sense that its bars lean quirky. In Anchorage, check out Chilkoot Charlie's ("Koot's" to locals), which is actually nine or so bars haphazardly pieced together. Each room has a theme, like a "calling card" bar (it's wallpapered with business cards and bras), an Alaska history bar (it's covered newspaper and magazine clippings, including a framed Playboy article naming Koot's one of America's best bars), and a Russia bar, complete with a Czarist-era ballroom.
Also in Anchorage, you'll find Mad Myrna's, a legendary gay bar with some of the best drag performances in the country; Darwin's Theory, a watering hole popular with old-timers and service-industry workers; and F Street Station, where there's always inexplicably a 42lb block of Tillamook cheddar on the bar.
Outside Anchorage, favorites include the Salty Dawg Saloon in Homer, where everything is covered in a layer of dollar bills; Midnite Mine in Fairbanks, where there's a nano-brewery upstairs and a dog-friendly dive in the basement; and the Chicken Creek Saloon in Chicken (yes, that's the towns real name), home of the famous "panty cannon" (yes, that's a real thing).
There are also more than 40 breweries within the state. Anchorage has the lion's share, with Anchorage Brewing Company, Midnight Sun Brewing Co., Onsite Brewing Company, 49th State Brewing Company, and a dozen or so others packed into town. And if your cooler runs empty as you make your way around the state, there's a good chance you'll be able to find a brewery in many of the popular tourist towns, like Grace Ridge Brewing in Homer, Seward Brewing Company in Seward, Denali Brewing Company in Talkeetna, and many, many more.
Get to know Alaska's Indigenous culture in Anchorage
With 229 sovereign tribes, Alaska Natives play an essential role in the state's culture and commerce, and their history in the state can be traced back over 10,000 years. There are plenty of places to learn more about Indigenous history—the Anchorage Museum, The Alaska State Museum, and the Sealaska Heritage Institute, each of which includes exhibits on dance, art, traditions, and storytelling, as well as programming and demonstrations.
Also be sure to check out the Alaska Native Heritage Center, if only for the Ch'k'iqadi Gallery, the only Alaska Native-owned and operated gift shop in Anchorage. There, artists are working to redefine and invent new art using traditional practices.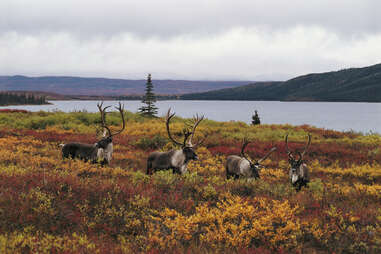 Make friends with the local animals
Seeing animals is at the top of many an Alaskan bucket list. While your chances of seeing them in the wild (or, ya know, in a regular-old parking lot) are pretty damn good, there are a few ways to stack the deck. Interested in seeing a few of the 35,000+ brown bears that call Alaska home? Book a flightseeing tour to Katmai National Park, one of the world's premier brown bear viewing areas. Want to see whales, otters, sea lions, and shorebirds? Go on a day cruise out of Seward or Juneau. Hoping to see moose, Dall sheep, and caribou? Take a bus tour on Denali Park Road.
Alternatively, you can check out multiple species at once at the Alaska Wildlife Conservation Center in Portage (about an hour south of Anchorage), a sanctuary that takes in injured or orphaned animals including everything from foxes to black bears. There's also the Alaska Sealife Center in Seward, or the Reindeer Farm and the Musk Ox Farm, both in Palmer. You'll find that it's not difficult to make a furry new friend 'round these parts.
Land an "It was THIS BIG" fishing story
It's no secret that Alaska has some incredible seafood: salmon, halibut, rockfish, king crab—the list goes on. While you can certainly sample it at local restaurants, it's unlikely you'll hold onto those memories the way you will a day spent on the salt. With a fishing permit, you're welcome to wade into Alaska's famed Kenai, Kasilof, and Russian Rivers in search of dinner—with any luck, you'll soon be calling "Fish on!"
But if you're a more novice fish slayer (or don't want to go through the hassle of bringing your own gear), consider hiring a charter company. The professional, local guides know the spots where the fish are biting, walk newbies through the entire process, and even take care of cleaning and filleting the catch afterward. Plus, if you want, they can work with processing companies to have your bounty vacuum-sealed and shipped all the way home.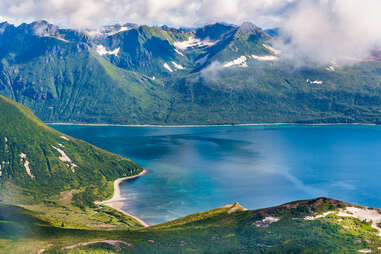 Get an aerial view of it all
It's hard to fully grasp just how large Alaska is from the ground. But from the air, that reality is put on full display. Aircraft are ubiquitous in Alaska—here, there are six times are many pilots and 16 times as many planes per capita than in the rest of the nation—so getting a seat on a bush plane or helicopter is fairly easy.
There are oodles of flightseeing tours in Alaska. Some land on mountaintop glaciers or do laps around the highest peak on the continent, while others take guests to remote bear-viewing locales and even do jaunts to the Arctic Circle and back. And unlike your everyday flight, no matter which plane or helicopter you hop on, there are no bad seats.
Bailey Berg (@baileybergs) is an Alaska-based journalist covering travel, beer, the outdoors, & more.