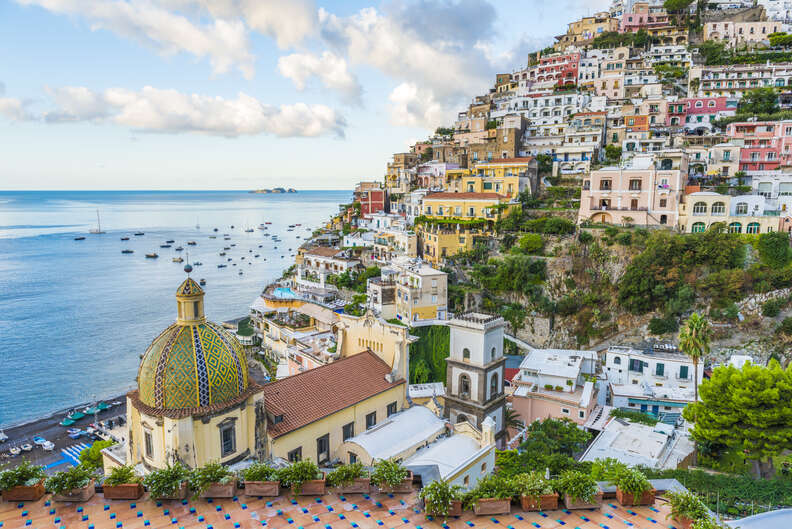 Positano, Amalfi Coast, Italy

| Andrea Comi/Moment/Getty Images
Positano, Amalfi Coast, Italy

| Andrea Comi/Moment/Getty Images
Let's All Pretend We're Somewhere on the Amalfi Coast
Get lost in a daydream. The limoncello will help.
Just looking at photos of Italy's Amalfi Coast is transportive. Timeless and breathtaking, its feels almost completely fabricated by the imagination, one magnificent swirl of pastel colors, lemon groves, seaside cliffs, cobblestone staircases, multi-course feasts, and vacationing celebrities who want nothing more than to invite you onto their yacht. Tourists flocked to the Amalfi Coast for centuries before the words "UNESCO World Heritage Site" made any sense, and they'll continue to do so as soon as it's safe. Until then, order up some limoncello to stoke your daydreams and get lost in these pristine, not-to-be-missed Amalfi Coast destinations.
Positano
When most of us think "Amalfi Coast," this is the exact thing we have in mind. While its trademark pastel buildings buildings are exceptionally beautiful when viewed from the deck of a boat, they don't lose any of their luster when you're wandering steep footpaths that cut up and down the cliffside. Crucially, there's also a Positano shuttle that transports tourists to and from the airport when tourism is humming, which is handy since traffic throughout the coast can bottleneck, especially in the summer months.
Ravello
Ravello is probably best-known for its terraced cliffside gardens, which all but demand to be wandered endlessly on warm afternoons. But this is also home to the two-month-long Ravello Festival, which will hopefully be making its triumphant return in 2021 (along with tourism in general). During those days, you're in for live music and art shows spanning countless genres, drawing both local artists and ones that are known around the world. And as long as you're already in Ravello, do walk about 45 minutes (downhill!) to the smaller town of …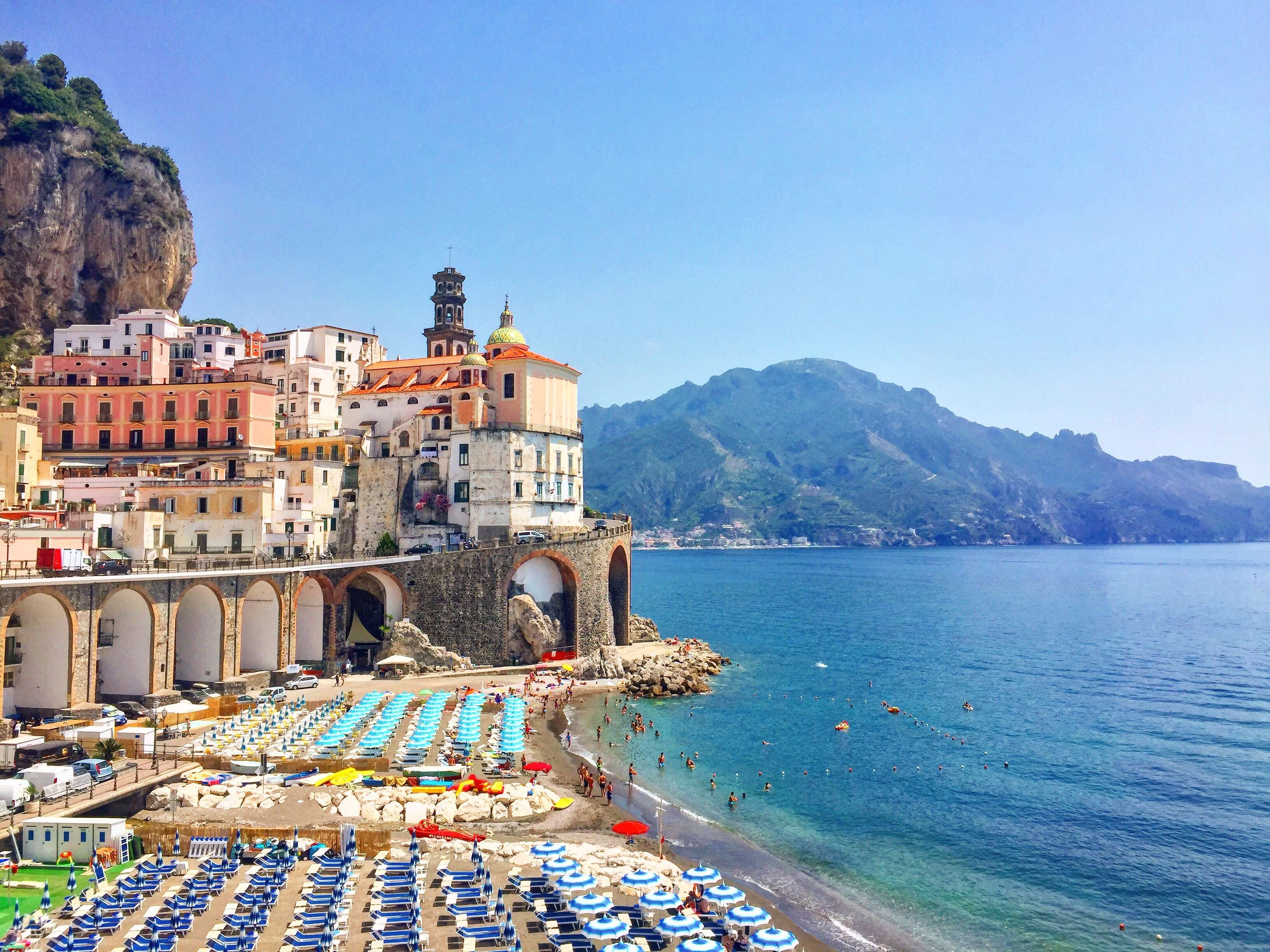 Atrani
Stop for lunch and a glass of wine in the central piazzetta (that's a piazza, but small) of Atrani. In a region full of tourist hot spots, this small fishing village is a less-trafficked breath of fresh air that still holds all the charming elements that drive people into the bigger resort towns like Positano. You'll find tiers of pastel houses and Baroque churches and winding stone staircases running up the cliffs from the beach. Stroll along the quiet port before you walk a few minutes further into ...
Amalfi
The namesake coastal town of Amalfi is among the most enduringly popular among tourists, and serves as a hub for accessing the neighboring towns by either land or sea. Plan your visit for late spring or early fall, when the temperate weather is at its peak but the crowds of tourists are not (you're welcome to try in the winter, but a lot of the hotels will be closed until tourist season resumes). And while you're there, make sure you head to the Piazza del Duomo to visit the ...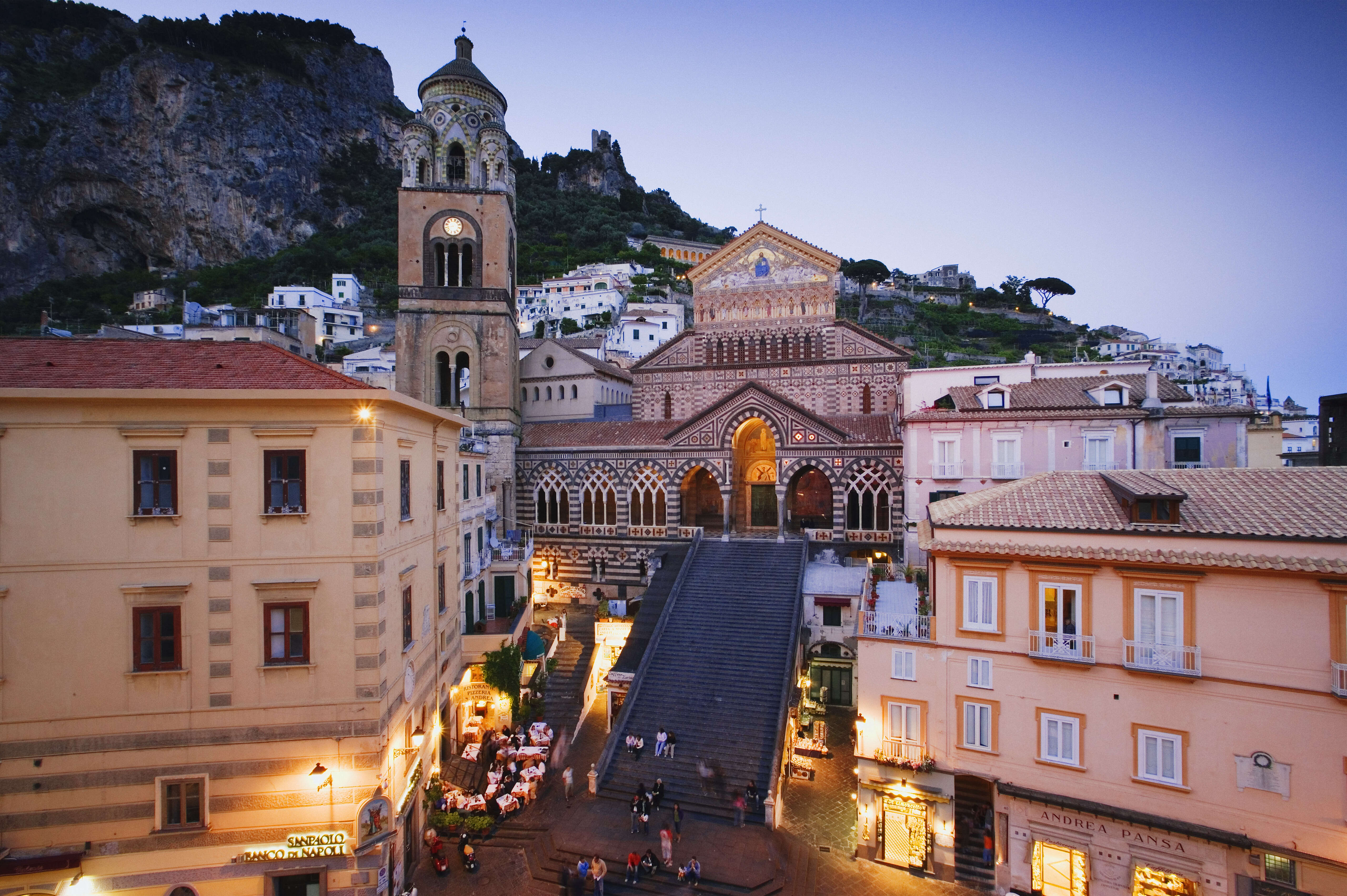 Amalfi Cathedral
This 9th century Duomo is notable for its eclectic mix of architectural influences, spanning Byzantine to Gothic to Rococo. Walking up to it, you'll be greeted by the oldest post-Roman bronze doors anywhere in Italy; they were originally cast in Constantinople. Pack a picnic of local breads and cheeses and find yourself a good view of the Cathedral's medieval bell tower, covered in glazed Maiolica tiles.
MORE: Heading to northern Italy next? Eat your way through our favorite small towns
Maiori
Maiori boasts the biggest beach anywhere along the Amalfi Coast, and has the added draw of being a bit cheaper than the more popular, better-known resort towns. It's also a great stop for archaeology and history buffs -- it's the site of the renowned Roman ruins known as Villa Marittima Romana. When you're done there, take a boat tour to the nearby sea cave Grotta di Pandora.
Cetara
Neighboring Maiori at the base of Mount Falerzio, Cetara is a no-frills fishing village where you'll very likely eat the best seafood of your life. Try the tuna and definitely the fresh anchovies. You're looking to escape the crowds and eat spaghetti alle vongole at your leisure while you take in the sea breeze? Cetara will be the highlight of your trip.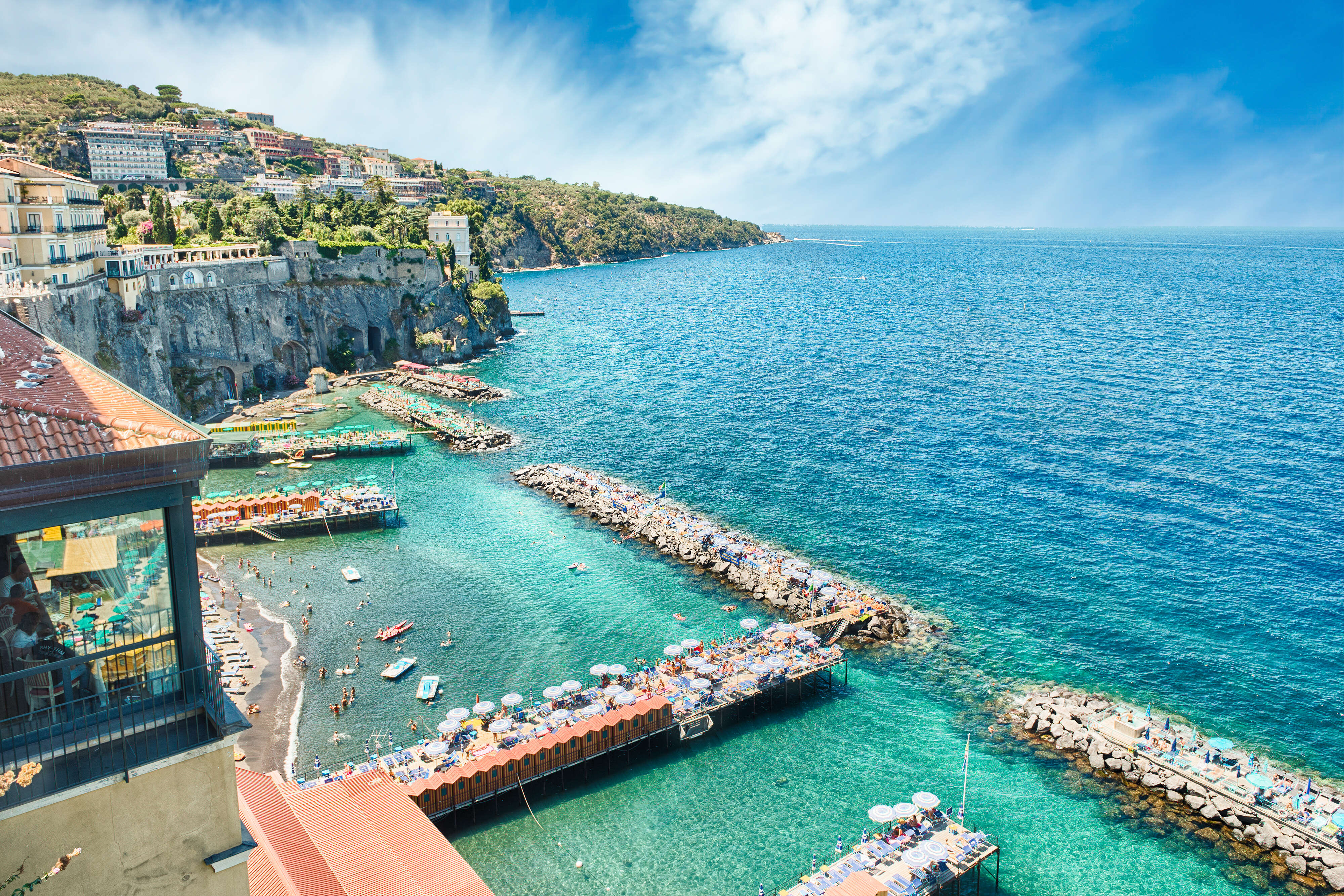 Sorrento
Technically Sorrento, located on the Sorrentine Peninsula, is not one of the 13 municipalities of the Amalfi Coast. But it's considered a gateway to the Coast from Naples, and it's every bit as popular a stop as Amalfi or Positano -- and easily accessible from those towns, too. It offers a cliff-top view of Mount Vesuvius that can't be beat, and makes a great home base if you're planning to explore farther north.
MORE:40 things you need to know before your first trip to Europe
Praiano
Praiano is a quiet, often-overlooked gem nestled against the cliffs just a few minutes from its crowded, more touristy neighbor Positano. If you're looking for Amalfi Coast charm with less of its hustle and bustle, this relaxed fishing village is for you. More of a local town than a tourist one, it also provides the perfect location to set off on a loop around ...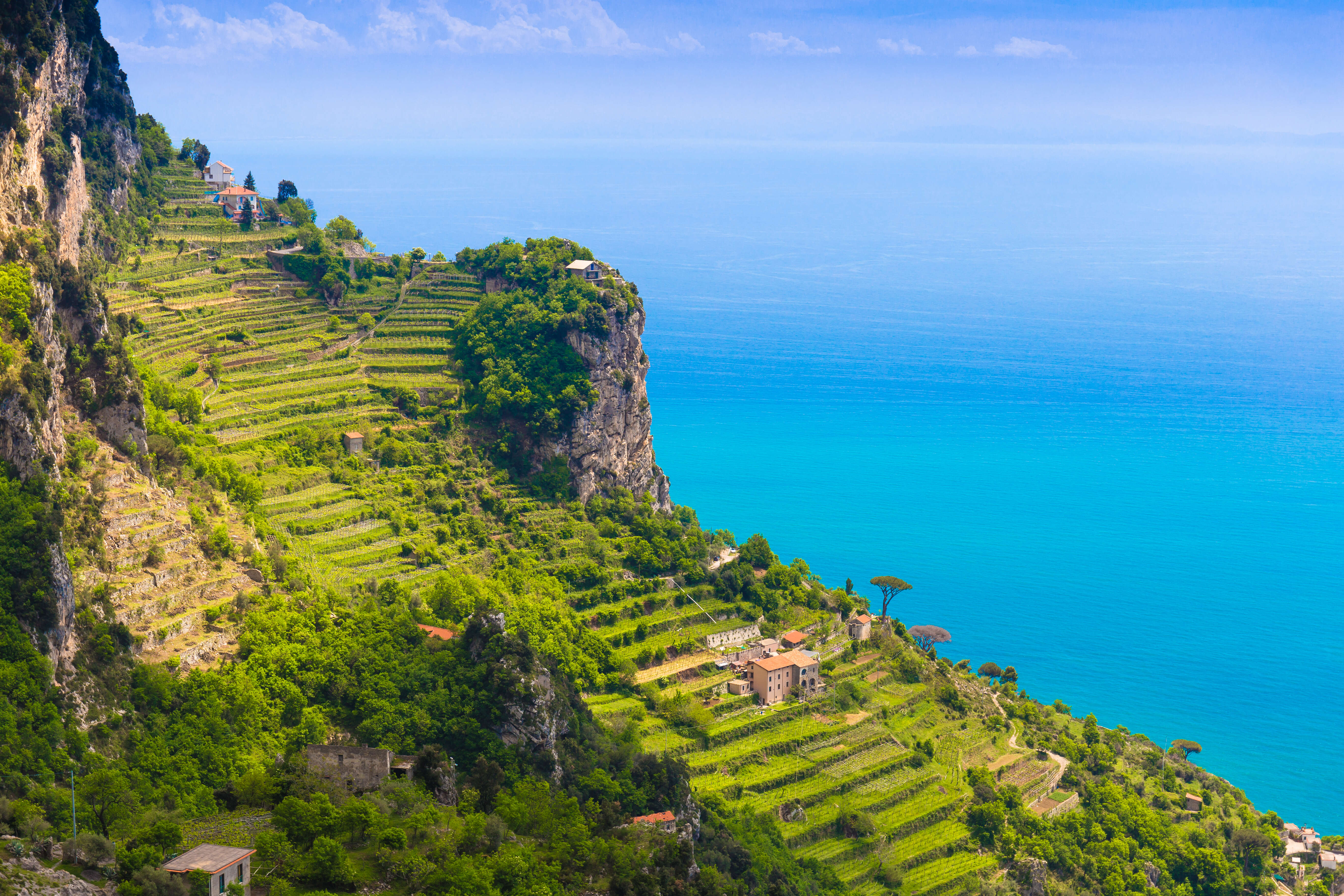 Path of the Gods
If you're in the mood for a hike (which you should really try to be) set aside a half-day to walk the Path of the Gods. This five-mile hike will take you along ancient mule trails, through luscious farmland and quiet valleys, and along the tops of the cliffs overlooking terraced vineyards and lemon groves and the sea. Start from Praiano, or from Sentiero degli Dei in Bomerano; you'll end near Positano.