A Workation in Aruba Wouldn't Be So Bad Right About Now
Aruba is enticing remote workers with discounted hotels and unlimited sunshine.
Presented By

Photo courtesy of Aruba Ocean Villas
Photo courtesy of Aruba Ocean Villas
The perks of working remotely from the Caribbean are pretty obvious: It is almost certainly more scenic than your current WFH setup, and most of the islands are on East Coast time, if not an hour ahead—meaning you can keep up with colleagues even as you lounge poolside with a coconut-infused beverage.
Now for the counter-argument: With the ongoing pandemic, actually getting to the Caribbean is not without its risks and hassles. But for the virtually employed with flexibility at home, escaping for a few weeks of unlimited vitamin D wouldn't be the worst idea.
To make it worth your while, many Carribean destinations are offering discounted hotel packages and expanded visa options for longer-term stays. In Aruba, you're invited to stay for up to three months with a US passport, no visa required. The program, One Happy Workation, has already seen over 2,000 participants since it launched last summer.
The longer you stay, the deeper the discounts—whether you're embracing local island life in a rented condo or beach bungalow, or getting fancy at a resort that rents out private beach palapas for your Zoom calls. With cruising on hold for the foreseeable future, crowds on the island are way down. So are airline prices—carriers like JetBlue, Southwest, and Spirit Airlines are offering flight deals to Aruba that start in the double digit territory.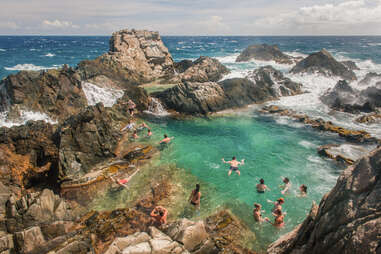 How to book a workcation in Aruba right now
There's no lengthy approval process or special forms required to take a workcation in Aruba… honestly, you don't even technically need a job. All you need is to book your stay via their special online portal, and plan to stick around between 7 and 90 days.
You're guaranteed free and decent Wi-Fi on any participating property, and if for some reason your plans change, most include flexible cancellations or rebookings. Currently, stays in Aruba start as low as $995 per month. Did we mention you can bring your dog?
Shop around for accommodations via Aruba's portal, including private condos and townhouses. For a discounted hotel setup, the Eagle Aruba Resort & Casino offers suites for $100 per night for stays of a month or longer. This workation package comes with the perk of a $100 food and beverage credit which you can easily apply at the pool bar.
There are more discounted suites to be found at Boardwalk Boutique Hotel Aruba, which offers cushy extras like outdoor showers and private patios. The property itself features a private beach, two pools, outdoor yoga deck, and smoothie shack from Eduardo's (a much loved local juice bar). Poolside cocktails like the famous Aruba Arriba will make sorting through your inbox downright delightful. Plus, there are poolside work desks available for reservation.
On the other end of the price spectrum, you can splurge on an overwater bungalow situation at the Aruba Ocean Villas. Perks, like breakfast delivered to your door and a stocked fridge, are on the house. Their workation special includes a 20 percent discount if you stay at least seven nights, plus a fancy dinner for two on the beach (also on the house).
We let go of a lot of norms in 2020: like shaking hands, wearing pants, and (most importantly) working in an office. You're no longer tied to a commute — so why should you be tied to one place? Enter: Landing, the startup that's reinventing apartment living. Thanks to its network of fully furnished (and unfurnished) apartments across the country, you can have the freedom to live (and work) practically anywhere. With perks like a 24/7 online member support, fast and easy lease transfers, and waived security deposits, you'll have more flexibility than ever before, too.
Booking's easy, but actually flying there and clearing customs… you're going to need a negative Covid test for that, taken within 72 hours of arrival. Those PCR-rapid tests can be pricey, although some US airports and airlines have started offering them. Alternatively, you can take a rapid test upon landing in Aruba for $75 (the trade-off is an extended line at customs and a mandatory self-quarantine until the results are verified).
Yes, testing is strict, but it also helps ensure a safe trip. So does visitors insurance ($30 for trips of 180 days or less), which covers any expenses should you become exposed or test positive for the virus. You can read up on Aruba's health requirements here. Once you're on the island, social distancing rules are in play, with many hotels handing out free N95 masks. Restaurants and bars also contact trace, a primary reason why there is generally a low rate of spread on the island.
When you're done fulfilling your contractual obligations to your employers, don't forget to get outside and eat, drink, and explore the island. Aruba's diverse topography is unlike any other island in the region: It's a rocky, desert landscape with limestone cliffs and spindly cacti, plus the obligatory crystal blue waters and gleaming beaches. That means a diverse array of activities, from diving shipwrecks to off-roading through Arikok National Park. Here are a few highlights.
Lie around on Aruba's best beaches
Eagle Beach and Palm Beach are where most of the action is, but even with a deceivingly-limited 21 miles of coastline, you've got options. Head north to Arashi Beach for calm and quiet, or far south to a cove called Baby Beach for snorkeling. Kite surfers should check out Hadicurari Beach to catch the best trade winds. And if you're into reef diving, then Mangel Halto Beach is a must. It's slightly hidden in the town of Savaneta; look for a staircase that descends into the water, and that's where your dive adventure begins.
The Fontein Cave features a bit of Aruban history with drawings from the Arawak people and graffiti left by early Europeans. The Guadirikiri Cave is where you'll get the 'gram, with two separate chambers that bathe you in streaming sunlight.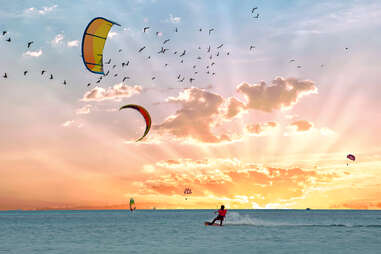 Go off-roading to Aruba's famous Natural Pool
Only reachable by 4x4 vehicles, the volcanic natural pool known as "Conchi" offers one-of-a-kind snorkeling and incredible cliffside views. It's part of Arikok National Park, which has plenty of off-road trails for a DIY-day hike or guided adventure.
Tour Aruba's unique street art
Aruba attracts muralists and artists from around the world thanks to its annual Aruba Art Fair. Join the daily art tour led by the fair's organizer, Tito Bolivar, or take a walk through the historic city of San Nicolas to spy works by local talent like the 16-year-old street artist Rasheed Lowe.
Get your caffeine fix at Island Grind Coffee before hitting The Dutch Pancakehouse for a diner-style breakfast. They have socially distanced outdoor seating where you can chow down on razor-thin Dutch-style pancakes—essential eating on this island.
Two lunch spots that locals love are Zeerovers and Local Store, where you can oder up fried seafood platters and a Chill beer with a side of free Wi-Fi.
Up a hill to the historic California Lighthouse, you'll find the famed Faro Blanco Restaurant—a great pick for a celebratory dinner with a view of the entire island. Or book a sunset reservation at Flying Fishbone, Elements, or The Old Man & the Sea. All three restaurants offer oceanside views, freshly caught seafood, and a seat with your toes in the sand.
Last but certainly not lease, don't go home without popping in for a drink at Charlie's Bar—a dive bar that's been a neighborhood institution since 1941.