20 Cool Things to Do When You're Visiting Aruba
Jo Ann Snover/Shutterstock
General vacation rule: If a place is mentioned in the Beach Boys classic "Kokomo," it's gonna be a picture-perfect island vacation. If it's mentioned first, ahead of "Jamaica" and "Ooh, I Wanna Take Ya," it's probably one of the best places to go in the Caribbean. This is why there are so many cruises to Aruba. But once you've booked that cruise to Aruba, there's the big question of what to do when you get there.
Nature is going to provide your best options. The island is unlike most of the Caribbean in that it's an arid, desert climate, more prone to cacti than royal palms. Arikok National Park is one of the great wilderness treasures in the region. Whether you favor hiking along limestone cliffs, swimming in natural pools, or horseback riding along the shoreline, the best things to do in Aruba are here.
If course, your options aren't limited to the park, and there's also plenty of other activities from watersports to waterfront dining. If you find yourself with a cruise stop in Aruba, here are 20 fun things to do with your time there.
Steve Photography/Shutterstock
Aruba isn't one of the world's top windsurfing destinations because windsurfers enjoy the sounds of Papiamento. It's because the island is freaking windy, and if you're at all inclined to try wind-based sports, do it here. The wind blows at a consistent 15 knots and the water along most of the island stays flat, creating perfect conditions at spots like Boca Grandi, Arashi, or Embarcadero.
This turquoise pool set on the far-northern shore of Arikok National Park takes a long trek through rocks, ravines, and unfavorable terrain to reach. But once you jump in the cool, clear water and look around at the towering limestone around you, the long hike to this shell-shaped swimming hole will be worth it.
Grab dinner with a sunset view
Aruba is all about nature, but you don't go to Caribbean to NOT take pictures of your dinner by tropical seashores, right? Aruba has over 25 waterfront restaurants for your Instagramming -- and maybe dining -- enjoyment. Among the best are
Pincho's Grill and Bar
, set out at the end of a dock, or the
Flying Fishbone
for the best seafood on the island.
Darryl Brooks/Shutterstock
The California Lighthouse on the island's north shore once stood as a beacon to ships carrying cargo through the Caribbean. Now it marks the starting point for Aruba's Cove Coast, a series of colorful grottos and inlets offering a diverse view of Aruba's natural features. Rent a Jeep and take the 30-minute ride, stopping at Andicuri for a little bodyboarding, or Boca Prins for the best views of the coast and the only restaurant in the park.
Some people complain about the wind in Aruba, but when it's brutally hot the strong, cool breeze blowing across the island is a welcomed respite. It's especially relaxing when you're sprawled out on Palm Beach, which has the dual advantage of fewer crowds than Eagle Beach and better scenery. The wide, white sand is the perfect place if your ideal vacation involves doing absolutely nothing, and the beach can make a solid claim as the
best in the Caribbean
.
The topography of Aruba is unlike anything you'll find in the region; a rugged, desert island that looks like someone dropped the Sonora in the middle of the ocean. Its striking hills, rocky landscape, and diverse cacti are best experienced whilst bouncing in a Jeep through Arikok National Park. Jeep rentals are plentiful on the island, or you can book a guided tour if you don't feel like going all Caribbean
Mad Max
.
Take a horseback ride on the beach
Maybe hiking up limestone boulders is a little rigorous for your time off, but you still want to experience the unusual coastline of the One Happy Island. Aruba has plenty of horses willing to lug you to the sites. No experience is necessary, so hit up
Rancho La Ponderosa
,
the Gold Mine Ranch
, Rancho Notorious
, or
Rancho Daimari
before you go to reserve your steed.
One of the most quintessentially Aruban experiences involves constructing a tower of rocks in the Rock Wishgarden. This curious stretch of coastline starts just east of the California Lighthouse near the Tierra Del Sol golf course. What looks like it might be some mysterious remnant of a lost Aruban civilization is actually a collection of artfully crafted rock towers built by visitors who wish upon them after completion.
Luiz Felipe V. Puntel/Shutterstock
Diving in the Caribbean is as big an attraction as rum and white sand. But Aruba is special because of its abundance of wreck diving, with one of the highest concentrations of wrecks in the islands. It boasts 11 diveable wrecks, the most-accessible of which is the SS Pedernales -- a World War II lake tanker sunk by a German U-Boat, 25 feet below the surface off Palm Beach. Or for a better challenge try the SS Antilla, the second-largest wreck in the Caribbean.
Hike to the top of the island
The best views of the island are atop Yamanota, a 620-foot peak that's easily hikeable in a few hours. The highest point on the island, it's set in Arikok National Park, and offers panoramas of both coastlines as well as Frenchman's Pass.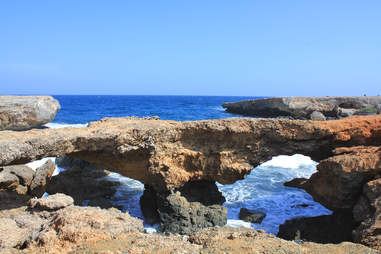 Studio Barcelona/Shutterstock
Sadly, Aruba's most famous natural bridge between the Bushiribana gold mine ruins and Andicuri Beach collapsed in 2005. However, the island still has plenty of these limestone cliffs, carved into bridges by years of ocean erosion. Head to Seroe Colorado near Baby Beach, Wariruri Beach, and Black Stone Beach for the best ones remaining.
The porous limestone that makes up most of Aruba also lends itself to some fascinating cave hikes. If you have only a short time, hit Guadirikiri Cave, most likely the Aruban cave you've seen in pictures with sunlight pouring in. The most interesting, though, is Fontein Cave, whose walls are decorated with pictographs from the ancient Amerindians.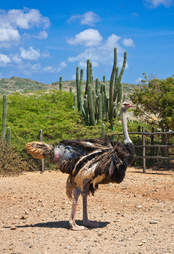 Francois Gagnon/Shutterstock
With kids in tow, an animal experience is always a safe bet for daytime entertainment. The Aruba Ostrich Farm provides a place where kids can feed live ostrich, see chicks and baby emus in the incubator, and learn all about the speed and intelligence of the world's surliest bird. Just don't tell them what's on the plate when you hit up the African-themed restaurant.
Aruba's underwater world isn't limited to those with a scuba certification. The water is exceptionally clear, and much of the reef life can be seen with just a mask, fins, and snorkel. The best spots are Boca Catalina, De Palm Island, and Mangel Halto, where visibility can be up to 100 feet, even over the wreck sites.
Junior Braz/Shutterstock
Snap a photo with the Divi-Divi tree
Probably the most recognizable photograph of Aruba is a windswept tree set against a blue-green coastline. It looks a little like a giant bonsai set in the Caribbean, but it is in fact the Divi-Divi tree at Eagle Beach. Yes, it will probably be swarming with tourists, but the twisted trunk and leaning branches are something only found in Aruba, and the best photo-op on the island.
Seabob might sound the sad flea market rip-off DVD a cheap relative got you for your fifth birthday. But it's actually a badass underwater scooter that powers you through the sea at about 10 mph. This allows you to explore the reefs and marine life with more depth and distance than snorkeling, without the daylong-commitment of scuba.
Imagine an amped-up hybrid of beach volleyball, pickle ball, and badminton, and you've got one of the most popular recreational sports on Aruba. Beach tennis involves competitors batting the ball over the net on soft, sandy courts. The sport has regular events and tournaments, but if you just want to play a few points head to
Tropicana Resort
or
Moomba Beach Bar
, where lighted courts and racket rentals are available.
Steve Photography/Shutterstock
The Tierra del Sol Golf Course is like playing golf along the coast of Scotland, with the crashing waves of the ocean combining with a stiff wind to blow your shots off-course. Only it's in shorts, with a lot more sunshine and a lot less dreary mist. This rough, windy par 71 is designed by none other than Robert Trent Jones II, and is equal parts relaxation and frustration.
Aruba has more 220 species of birds, and even if you're not an avid birder an afternoon as Spanish Lagoon can be a colorful lesson in ornithology. The tropical lagoon fronts a protected marshland that's the best birding spot on the island, with bananaquit, parakeets, herons, troupials, and ground doves in abundance.
Cigars are a time-honored Caribbean staple, but Aruba often doesn't get the credit for its tobacco that it deserves. For some of the most underrated cigars in the region head to the Aruhiba Tobacco, where you can tour the grounds, buy fresh-from-the-table stogies, and even learn to roll them yourself.
Sign up here for our daily Thrillist email and subscribe here for our YouTube channel to get your fix of the best in food/drink/fun.

Matt Meltzer is a contributing writer to Thrillist who just needs to visit Kokomo to complete his Beach Boys checklist. See if he makes it on Instagram @meltrez1.