Thrillist Snow Guide: Banff, Alberta
Sunshine Village -- Paul Zizka, Banff Lake Louise Tourism
Sunshine Village -- Paul Zizka, Banff Lake Louise Tourism
Established in 1885 as Canada's first National Park, Banff's 2,500sqmi of majestic mountains boast three world-class ski resorts (and hot springs!) -- Mount Norquay, Sunshine Village, and the Lake Louise Ski Area -- within 45min of town. And with a SkiBig3 tri-area lift ticket, skiers and riders have a nearly 8,000-acre winter playground in which to get lost in the snow, then get rescued by one of those smartly-dressed Royal Canadian Mounties.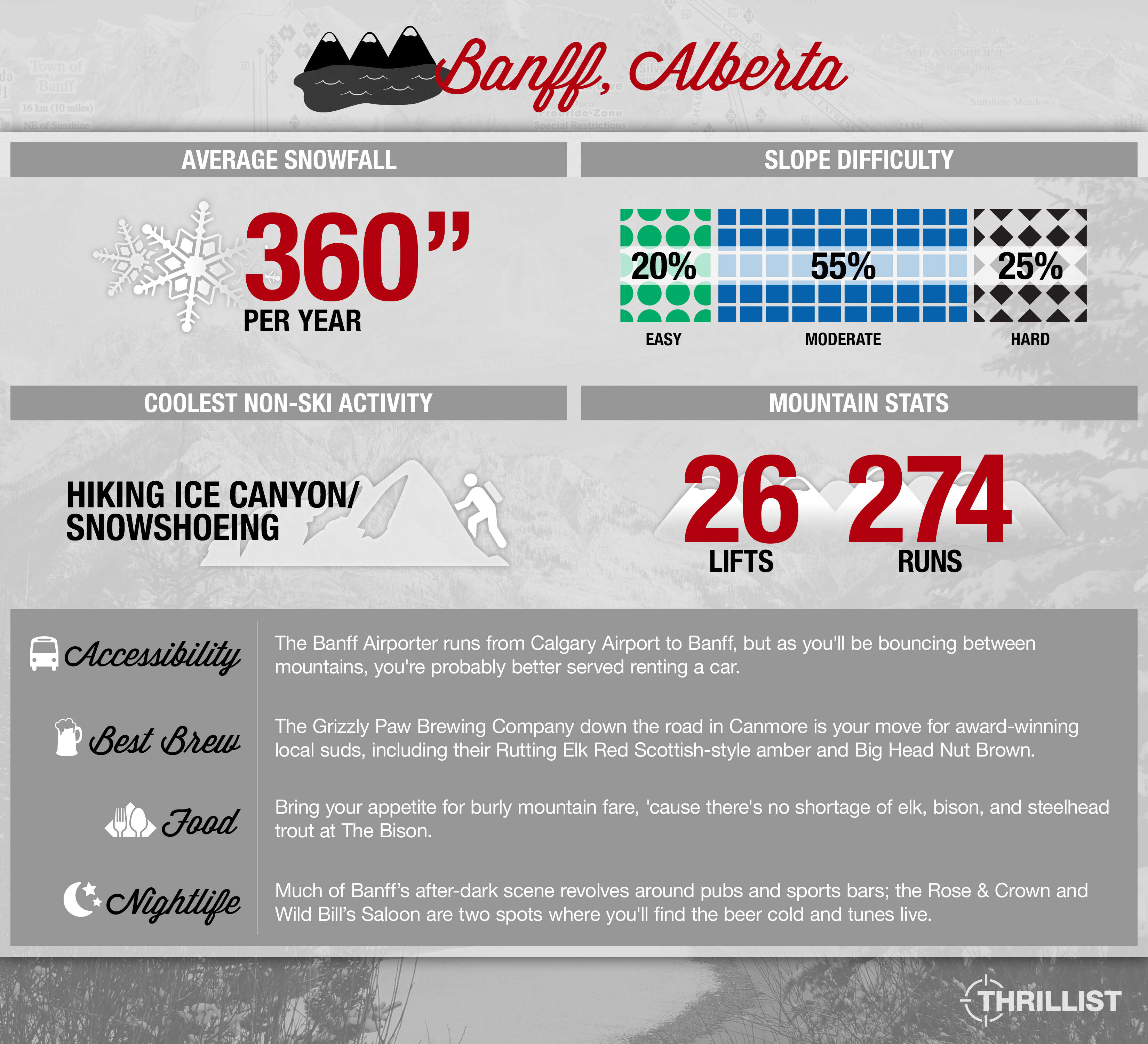 When to go: The Banff season usually begins in early November and runs through late April. If you want to scale a 40ft ice wall in the middle of town, though, book your flight for Mountain Adventure Weekend on January 10.
How to get around: There are free public buses (called 'Roam') that shuttle you around Banff, as well as a dedicated ski bus to take you from your hotel to the resorts.
Three runs not to miss:
1. With its 1,300 vertical feet overlooking the base area, The Lone Pine at Mt. Norquay was one of the first runs in North America to be designated a double black diamond.
2. Brown Shirt at Lake Louise Ski Resort is ideal for those who enjoy off-piste terrain. Take the Summit Platter and head down the ridge to the left for plenty of powder, even days after a storm.
3. Delirium Dive at Sunshine Village -- one of three free ride zones at the mountain -- is a double black not for the fainthearted. Skiers and boarders must have an avalanche transceiver, a shovel, and a similarly equipped partner to access the Dive.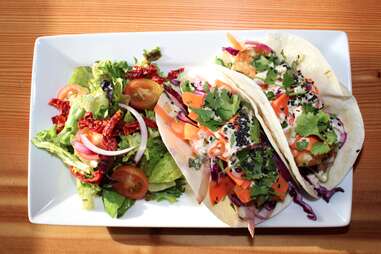 Dining: Banff eating ranges from home-style cooking and pub grub to fresh Rocky Mountain fare. Go local right off the bat and head to The Bison in downtown Banff, or The Trough in nearby Canmore. Both are perfect for trying the likes of bison ribeye and steelhead trout without worrying about wearing a dinner coat. Get a reservation, though. Assuming you can't get enough meat (as if that's possible), hit up Salktlik for the juicy steaks and chili-rubbed ribs. Need a pizza or sandwich? Head over to the Bear Street Tavern, right below The Bison.

Local brews:Banff Avenue Brewing Company, a brewpub and restaurant downtown, pours a handful of craft suds ranging from their flagship Head Smashed IPA and Banff Avenue Blonde Ale to the Reverend Rungle Stout and Lower Bankhead Black Pilsner. The Grizzly Paw Brewing Company makes its home in nearby Canmore, and offers brewery tours and tastings; roll with the Powder Hound Pilsner -- it's brewed with fresh Saaz hops, pure glacial water, and local pale malts.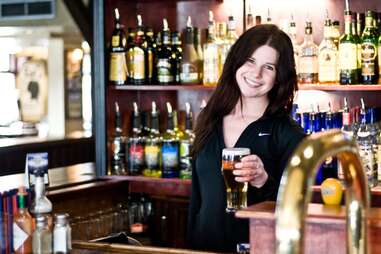 Après: If you've been skiing at Sunshine Village, stop off in the Mad Trapper's Saloon before heading back to Banff; the historic lodge with log-cabin walls sits at the base of the Strawberry and Standish lifts. Back downtown, après skiers in search of a comfortable stool should hit The Bears Den Pub, which slings locally brewed beers and traditional bar eats. The Paddock Pub is known for its tasty 'tails, although it's actually more of a sports bar. So try to figure that one out. If you're looking for a pint and some peace, grab a seat at the Larkspur Lounge in the Rimrock Resort Hotel; it's a classy après, and less raucous than other spots.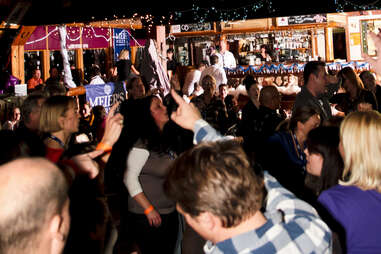 Nightlife: Depending on your mood, your après-après in Banff can run from quiet wine and cocktail dens to foot-stomping bars and untz-untz nightclubs. Tommy's Neighbourhood Pub offers a casual vibe, draft beer, and dart boards, while the similarly-suited Rose & Crown brings it with live tunes, shooters, shots, and suds. Meanwhile, the dance party is usually on at Wild Bill's Saloon. For a quiet night of 'tails whilst wearing something other than your finest ripped jeans and trucker hat, find a cozy spot at the Rundle Lounge.

Other than skiing/ boarding?
1. Traverse steel catwalks through ice falls on an trek through the Johnson Canyon. Although, if you yearn to walk directly on the ice, take the grotto canyon tour instead, and tip-toe across the frozen creek bed.
2. Cruise along the snow with a gang of enthusiastic huskies on a sled dog tour; Winter Adventure Tours allows you to drive your very own team of dogs. Or, strap on your snowshoes and head out on a guided excursion.
3. If relaxing's more the name of your game, enjoy a nice outdoor soak in the park's famous Upper Hot Springs.

Where to stay: If you're going to ski/ ride all three resorts, stay in Banff -- you can easily catch the resort shuttle from your hotel to each mountain. Banff Lodging Company offers ski packages with hotels like the Caribou Lodge & Spa or The Fox Hotel & Suites, which can include a restaurant credit or a discounted room rate if you buy a lift ticket. For an awe-inspiring luxury stay at one of those majestic chalet castle-like hotels that sit at the base of a giant mountain, the Fairmont Banff Springs will blow you away. And if you're trying to save some cash, nearby Canmore is a good play -- and you can snag the Roam bus if you don't rent a car.