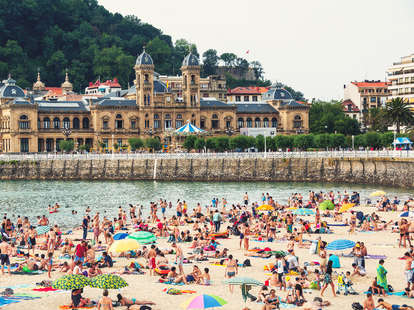 SAN SEBASTIAN

| Madrugada Verde/shutterstock
SAN SEBASTIAN

| Madrugada Verde/shutterstock
This Unique 'Country' Straddling France and Spain Is Basically Paradise
As I drove away from the pristine shores of Barcelona through a downpour, I figured my trip to Spain had already peaked. What was even waiting for me to the northwest, in Basque Country? Hell, what even is Basque Country?
I neared my first stop, outside Urkiola Natural Park, and the rain started to break. As my eyes adjusted, incredible scenery spilled out before me, with shimmering sun revealing mountains wreathed in fog. I felt like I'd just road-tripped into a religious experience.
Straddling the border between Spain and France, Basque Country (Euskadi in the Basque language) is not even a country, formally. It's a community bound by distinct language and culture. Foodies know it as a pocket of culinary trailblazers who have racked up a heap of Michelin stars. Linguists know that speaking French and Spanish will get you around, but if you learn some of the ancient, distinct Basque language, locals will be tickled.
Mostly, you'll find mountains and beaches dramatic enough to appear at first glance to be Photoshopped fakery. Even the Basque cities, resurgent from an industrial past, are reveling in beauty these days. If you go, leave yourself time between meals of cheese and ham to gawk accordingly.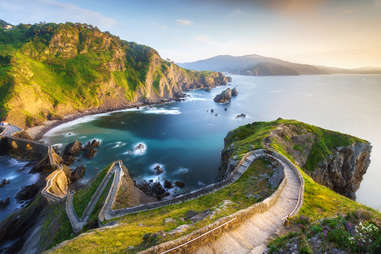 San Juan de Gaztelugatxe
The Bay of Biscay is home to this quiet island east of Bilbao, connected to the mainland by a zigzagging stone bridge and path that contains 241 steps. Climb the stairs, take in the stunning views of the coast, and arrive at the beautiful 10th-century church, where legend demands you ring the bell three times for good luck.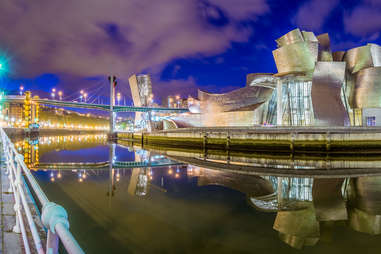 Guggenheim Museum
Located in Bilbao, the largest urban area in Basque Country, the Guggenheim is not to be missed. Frank Gehry's famous design is astounding and ahead of its time, and what's inside is a fittingly modern 100,000 square feet of exhibit space. While you're in Bilbao, check out the Plaza Nueva for its remarkable architecture, shopping, food, and drinking, as well as La Ribera Market for delicious fresh fish, meats, and produce.
Barrika Beach
A 15-mile jaunt from Bilbao is the town of Barrika, which hosts a stunning beach by the same name. A visit to this gorgeous beach requires a little planning. It disappears completely at high tide, so it's often referred to as the "Hidden Beach." Dramatic cliffs make it a favorite for climbing, medium-sized waves are perfect for surfers, and nudists love it (probably because of the whole "hidden" aspect).
Getxo
Getxo, part of the greater Bilbao area, offers boating, sailing, a strong food scene, and actually cool historical sites. Take a walk across Bizkaia Bridge, aka "the Hanging Bridge," and tour a couple of churches known for their unique architectural style: Saint Anne's Chapel and the 12th-century Church of Andra Mari.
San Sebastian
This vibrant resort town on the Bay of Biscay is the beach, epitomized. Almost every hotel boasts gorgeous ocean views. Let the funicular take you up Monte Igueldo for fantastic views and a just-for-LOLs theme park at the top. Come in September for the San Sebastian International Film Festival, a full-on extravaganza of celebs and red carpets.
Pintxos
The other best move in San Sebastian, home to Europe's highest concentration of Michelin-starred restaurants: eat, drink, repeat. Your passwords are pintxos (pronounced "pinchos") and Txakoli (chack-o-lee.) Know 'em. Say 'em. Repeat 'em. Pintxos are Basque Country's tiny snacks (cue record scratch if you call them tapas). Wash them down with a glass of Txakoli, a low-alcohol sparkling white wine that bartenders pour from almost comical heights to aerate it. A night of bar-hopping can consist of a dozen places for a snack and a drink each before finally descending upon a full dinner at midnight.
Lekeitio
Lekeitio's unique landscape makes it a catch-all: It has a beach, an island, a mountain, and a river. Halfway between San Sebastian and Bilbao sits this tiny village, which swells to four times its population during the popular summer tourist season. Take a walk to San Nicolas Island during low tide and enjoy the marvelous views from the top. Clear and calm waters make the beaches of Karraspio and Isunza popular for lazing about.
Txindoki Mountain
Rising like a pyramid from the lush green countryside of Aralar Natural Park, Txindoki, or the "Basque Matterhorn" as it's sometimes known, is one of the highest peaks in the Guipúzcoa province, and a relatively easy climb. The views from the top may just steal what breath you have left after summiting. Of course, being a mountain, you can see the thing from miles away. Those less inclined to -- I don't know -- climb a mountain, can still enjoy striking vistas while sipping wine and gorging themselves with some fine Basque flavors at a restaurant in the nearby village of Larraitz.
Urkiola Natural Park
A 20-minute drive from Durango will get you deep into the center of the seriously stunning mountains of this natural park. At the foot of Urkiola mountain is Abadiño, a quirky village with bars, restaurants, and inns. Local legend holds that to prevent cavities, you need only to drink from a fountain that springs from the hermitage of Santa Apolonia, walk around it three times, and recite the Lord's Prayer. All way cheaper than insurance.
Gorbea Natural Park
The largest Basque natural park, Gorbea also has some of the most impressive scenery in the entirety of the Iberian Peninsula. Hike up to the peak of the cross-capped Gorbea Mountain or the thundering waterfall of Gujuli. Or spelunk Mairuelegorreta Cave and Itxina Karst. A walk to the mysterious, fog-shrouded Otzarreta Forest will take you through knuckled beech trees knee-deep in fog. One imagines Tolkien wandering through, furiously taking notes.
Ayala Valley
Along the western edge of Basque Country is the Ayala Valley, full of artisans making cheeses and curing meats and barreling Txakoli. In the southern part of the valley is one of the most impressive waterfalls in all of Spain, the Nervión Falls, 1,000 feet of pure rushing bliss that'll just make you hungry for more cheese.
Biarritz
On the French side, Biarritz is a seafront resort town and a top favorite of surfers, rich people, and royals. Grand, giant houses still attract the upper crust, but you're just as likely to see surf bums and non-trust-funded foodies frequenting the shores.
Sopelana Beach
Hop off the Metro in Sopelana (just north of Bilbao) to discover the beaches of Barinatxe, Arrietara, and Meñakoz. They're not the commercialized beaches of Spain's southern coast. Dramatic cliffs guard pristine patches of sand and Bay of Biscay waves. Surfers love the waves here; board rentals are available, or you might also consider hiking -- or even paragliding from -- the wind-swept cliffs. Make a note of the clothing-optional Barinatxe Beach's annual nude race.
Mundaka
Who knew that ocean waves could be left or right handed? Well, surfers, that's who, and every September they descend on the town of Mundaka, scrambling to catch one of the world's best "leftie" waves. Mundaka is a quaint little village where locals are happy to sunbathe on the dikes or watch the surfers from afar.
Vitoria-Gasteiz
If, somehow, you've tired of stunning beaches and glorious mountains, take a culture trip to the beautiful sights of Basque Country's capital. Vitoria-Gasteiz is known for its museums, green spaces, and medieval city center, all very walkable. It's also famous for its palaces, most notably the Bendaña Palace. This truly inspired architectural wonder now houses an archaeology museum and a museum dedicated entirely to playing cards.
Sign up here for our daily Thrillist email and subscribe here for our YouTube channel to get your fix of the best in food/drink/fun.
Kylie writes and copy-edits from Madison, Wisconsin. Her goals include visiting the 11 tropical destinations in the Beach Boys song "Kokomo" (really) and drinking a beer at all the filming locations for the 1988 Tom Cruise film Cocktail (almost halfway there). On Twitter, she's @kylie_maxcy.