The Gateway to Death Valley Is Lined with Ghost Towns, Saloons, and Dunes
Plus a lot of friendly burros!
Fasten your seatbelt and adjust your mirrors—this is Rerouting, your one-stop-shop for mapping out the ultimate summer road trip, no matter what gets your engine going. Cruise over to the rest of our coverage for pit stops at offbeat roadside attractions, sweeping desert panoramas, epic mountaintop vistas, oceanfront oyster bars, dynamic public art, and so much more.
Just under two hours northwest of Las Vegas on a dusty stretch of US-95, Beatty, Nevada, sprung to life in 1904 as a supply center, when gold was discovered about 8 miles down the road in the region around what would later become Death Valley National Park. But as boomtown stories go, the glory was fleeting: what looked like a golden opportunity quickly turned into one of the shortest-lived (albeit biggest) gold rushes in the area.
Still, unlike nearby Rhyolite and 600+ other ghost towns in Nevada—most of which were promptly abandoned after the gold dried up—Beatty is still going strong to this day. Known as the "Gateway to Death Valley," you'll now find 800 year-round residents living here, plus hundreds of thousands of annual tourists streaming through en route to the national park.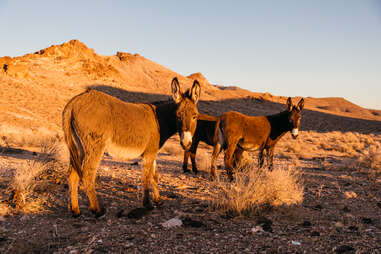 The historic downtown's buildings—whose classic wooden facades will make fans of Old Westerns downright giddy—were salvaged and moved from Rhyolite and now serve as home to popular spots like the Sourdough Saloon and Happy Burro Chili & Beer. The surrounding Oasis Valley holds miles and miles of mountain biking and hiking trails, and thanks to some year-round water sources along the Amargosa River, migratory bird watching is particularly popular in this area. Oh, and there are wild burros, leftover workers from the mining days, roaming around everywhere. Like, everywhere. (Just don't feed those bad boys.)
If you find yourself looking for a solid pit-stop to break up your time in the desert—essential on any road trip through the utterly weird and wonderful state of Nevada—here's some of what Beatty has to offer.
Head out into the desert
Being so close to Death Valley and relatively isolated otherwise, Beatty is surrounded by much of the same rugged desert beauty, scenic points, and outdoor recreation opportunities that you'll find within the park itself.
Don't have time to make the long, rough, risky drive to see the mysterious (and seemingly sentient) sailing stones? Head about an hour north of Beatty to the Bonnie Claire Dry Lakebed, just off Highway 267. It has the same moving rock phenomenon, but it's easier to get to and has even fewer people than its famously uncrowded twin in Death Valley. Want to avoid the crowds at the Mesquite Flat Sand Dunes?
Head to Big Dune 30 minutes south of Beatty. The rolling sand dunes—some of which reach up to 500' tall—are mostly known to locals only and are especially popular for off-roading, camping, and stargazing on weekends. While you're in the area, stop by the Alien 51 Travel Center to gas up, grab a burger and stock up on extraterrestrial-themed souvenirs (and liquor). And while you're at it, get your fortune told by an alien Zoltar, if you dare.
Over the past several years, outdoor recreation and conservation group Trails-OV has been building a growing network of mountain biking and hiking trails in the Oasis Valley around Beatty. The Spicer Ranch trails are especially worthwhile, leading you through a true desert oasis (hence the name of the valley) with ponds, lush green meadows, and croaking toads. Here, you'll also find the Torrance Ranch Preserve, a 130-acre conservation area ideal for bird-watching and spotting other wetland wildlife.
Dine in at old saloons and 50s-style diners
The food scene is relatively limited in Beatty, but the places you'll find are full of character (and full of characters), not to mention that many of the dive bars here are among the most glorious Old Western watering holes you'll ever lay eyes on.
Get your day started with espresso drinks, pastries, omelets, crepes, and waffles at Death Valley Coffee Time located inside the Eddie World Convenience Store, a gas station that's billed itself as the "prettiest gas station in the world" with burbling fountains, lush tropical landscaping, and an exterior reminiscent of a Mediterranean villa. Also inside, Jed's Jerky offers a fantastical selection of dried meats, from beef to ostrich, all of which you can sample (the Carolina Reaper is not for the faint of heart), while Death Valley Nut & Candy claims to be one of the largest candy stores in America. Maybe, but based on what metric or whose word, I have no idea. Regardless, this is a good place to stock up on road trip snacks.
Another popular breakfast and lunch spot is Mel's Diner—an old-school, 50s-style joint with checkboard flooring and red vinyl bar stools that serves classic American diner food and only accepts cash—while Gema's Café serves a mix of hearty American and Mexican favorites for all three meals of the day.
The Sourdough Saloon is known for its dusty, rustic selection of "99 bottles of beer on the wall" and its eclectic décor, including Christmas lights, walls covered in signed dollar bills, other "graffiti" from patrons over the years. They serve burgers, fried chicken, hot sandwiches, and—the clear customer favorite—pizza. (In true Wild West fashion, you can also smoke inside! Head to the back of the saloon for smoke-free dining.)
At the Happy Burro, order up a bowl of their competition chili made with a top-secret family recipe (it's got a kick!) and a couple cold beers, then head outside to the spacious patio to people watch under the sun. If you're in the mood for barbecue, hit up local favorite Smokin' J's BBQ for their brisket, pulled pork, pork spareribs, and more (don't skip the sides!)—fans swear it's some of the best barbecue in the West. And whether you're staying for the day or just passing through, make it a point to stop at the Mama's Sweet Ice trailer for espresso and blended coffee drinks, Hawaiian shaved ice, and LOTS of friendly burros.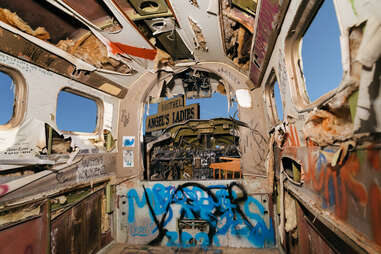 Get educated on the ways of the Wild, Wild West
If you want to learn more about Beatty's history and culture, stop by the free-to-visit Beatty Museum & Historical Society in an old wooden Catholic church on Main Street, where you can check out a collection of books, photos, equipment, and other artifacts that chronicle the formerly-prosperous mining district.
At the Angel's Ladies Brothel, nab a great photo opp at the old, long-abandoned building and vintage sign—as well as the remnants of a 1978 twin-engine plane crash that's remained on the site for years. (Don't worry: No one was hurt in the crash and the plane was left there by the owners to be a tourist draw). And although you probably won't be checking out any books while you're in town, the Beatty Library District building is still worth seeing: it's the only library in Nevada housed within a geodesic dome.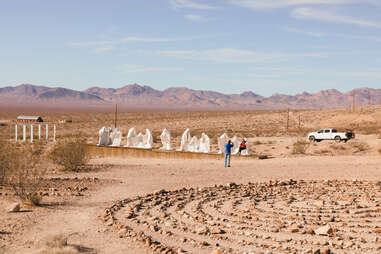 There's also a number of festivals that'll give you a solid taste of what the town's made of: the annual Beatty Days celebration the last weekend of October (where you may get to see the Beatty Cowboys, Floozies, and Petticoats re-enact an Old West gunfight); the Old Fashioned Fourth of July; and the three-day Bullfrog Biennial arts festival at the Goldwell Open Air Museum, which goes down the same weekend as Beatty Days.
Speaking of which: one does not simply go to Beatty without visiting Rhyolite ghost town and the Goldwell Open Air Museum just five miles west of town. These are two of the most Instagrammed, most listicled, most bucketlisted sites in the state of Nevada: Rhyolite with its phenomenally preserved, century-old ruins, and Goldwell with its eerie six-foot-tall shrouded plaster sculptures and giant Lego-like depiction of the Venus de Milo, which now just looks to me like a fleshy pink naked Donald Trump. Good luck unseeing that, you're welcome.
Where to stay in Beatty
Lodging options are, for the most part, very much on the humble side here in Beatty. You've got your bare-bones motels like El Portal Motel, Death Valley Inn, and Atomic Inn. Then you've got your bare-bones motels with casinos attached, like the Stagecoach Hotel & Casino and the Exchange Club Motel & Casino (note that the steampunk-themed casino is still under construction, and a coffeeshop and speakeasy are also in the works). And for our road-tripping bunch, anchor yourself at the Death Valley Inn RV Park, the Beatty RV Park, or Space Station RV Park with water, sewer, and electric hookups, as well as showers and laundry facilities.
The two Death Valley Getaway Cabins, bookable through Airbnb, offer private covered porches and beautiful views of the surrounding mountains and desert landscape, as well as more space and creature comforts (think full kitchen, outdoor grills, sleeping space for six guests) than most of the other local lodging options. Meanwhile, design enthusiasts should look no further than the "Desert Gold" house located about 40 miles northwest of Beatty in the Bonnie Claire ghost town. This midcentury-inspired, Dwell-worthy home—featured everywhere from the New York Times to Audi and Airbnb commercials—is great for catching unparalleled desert views. If your idea of a good time includes stargazing in a sunken-in hot tub located on 80 acres of private land, this is the secluded desert retreat for you.
Located about 30 miles north of Beatty, Shady Lady Bed & Breakfast in Scotty's Junction is a great option for those who enjoy some interesting history and thematic flair in their lodging. Once one of the most (in)famous brothels in Nevada, the Shady Lady is now a bed and breakfast with themed rooms—there's an Asian room, a Victorian room, and a separate "cabin" with wood-paneled walls, a wooden tub, even a log bed and log furniture for maximum rustic appeal. There's WiFi, a pool, plenty of showy peacocks roaming around the property, and (for better or worse) not much else.
Finally, if you prefer more of a traditional camping experience, Space Station RV Park has designated tent sites right next to a flowing creek, and since Beatty is surrounded by BLM land (with the only developed sites being inside the national park), dispersed camping is always an option.
Nicole Rupersburg
is a freelance writer covering food, travel, arts, culture, and what-have-you. She winters in Las Vegas and summers in Detroit, as does anybody who's anybody. Her favorite activities include drinking beer and quoting Fight Club.