Walk in the Footsteps of a Horror Movie-Master in Kentucky
John Carpenter slept here. Do you dare?
You never know what's lurking around the corner in Bowling Green.

| Photo courtesy of the Reel Sites, Real Scary Tour
You never know what's lurking around the corner in Bowling Green.

| Photo courtesy of the Reel Sites, Real Scary Tour
This month Halloween: Kills hits theaters, making it over 40 years since that rascal Michael Myers first began terrorizing Jamie Lee Curtis and Co. (You'd think he'd find a more fulfilling hobby!) If you've ever looked at that expressionless white mask and thought: where did this guy come from?, it's time to take a trip to Bowling Green, Kentucky—the hometown of Halloween director and master of horror, John Carpenter.
The son of a music professor (who also wrote the Halloween franchise's iconic score), Carpenter moved to Bowling Green when he was five. And though none of his movies were actually filmed in the city, he peppered them with easter egg references to his hometown. The fictitious Warren County-Smiths Grove Sanitarium that Myers escapes from is culled from local street and community names. About half an hour into Halloween when they mention a guy over in Russellville? That's about 30 minutes outside town on Russellville Road, past whitewashed churches and the charming Melissa's Country Cafe (a "chicken fried chicken" with bread and three sides will run you a cool $8.25).
The city of Bowling Green reciprocates with a "Reel Sites, Real Scary" self-guided driving tour. Download the map and retrace Carpenter's steps to 17 locations; some are mentioned in his movies, others are biographical sites like his high school and the Capitol Theater, where he started his film education. (Probably not meant to be spooky but kind of is: the pioneer log cabin where he lived as a boy, located on Western Kentucky University's campus. Seriously, check it out.)
Make it a Halloween weekend: Bowling Green also has plenty of other spook-factor fare. Take a haunted walking tour with UnSeen Bowling Green, which includes stops at the Fairvew Cemetery (where other famous resident Duncan Hines—yup, the cake guy—is buried) and a locally-infamous Murder Mansion—a gorgeous Greek Revival mansion on Cemetery Road that served as the site of a heinous 1948 double homicide. The Bowling Green-based Evermore Paranormal Research (aka a guy named Steve Miller) does regular ghost hunts, and this season leads novice ghost hunting at the Octagon Hall Museum in nearby Franklin. You may come up against the ghosts of Civil War soldiers or Mary, a young girl who burned to death in the 1800s.
Western Kentucky University's campus is apparently riddled with apparitions, as is the National Corvette Museum, the landmark Bowling Green is probably most famous for. Employees have reported car pieces missing and later returned, and mysterious sounds like running water and someone clearing their throat. Don't get caught there alone at night (though it would make a good John Carpenter film. Haunted cars a la Christine, but Corvettes).
When you're through with the paranormal, here's what else this Southcentral Kentucky town has to offer.
Get your motor running at the National Corvette Museum
Since it first arrived on the scene in 1953, the sleek yet beefy Corvette—the first true American sports car— has proliferated pop culture, an avatar for our open road dreams. It had prominent movie roles , including in Apollo 13 because—true story—GM made a deal with NASA to supply the newly-minted astronaut celebrities with Corvettes for cheap. It's been name-checked in songs from The Beach Boys to Sir Mix-a-Lot ("Got it going like a turbo 'Vette") to, of course, Prince's "Little Red Corvette" (which… is probably not actually about a Corvette). The Eagles' have said their hit "Life in the Fast Lane" was inspired by a wild night in the slick muscle car alongside a drug dealer and his hefty mound of cocaine.
Whether or not you've had a similar experience in a Corvette, you can get up close and personal with one in Bowling Green, home of the Corvette since 1981 and the car's sole production facility. Enthusiasts can make the pilgrimage 60 miles north of Nashville to tour the plant which has produced over 1 million Corvettes in its tenure (though tours aren't right now, presumably because of Covid). They can also nerd out at the National Corvette Museum and drool over a complete collection of every generation of Corvette ever manufactured (maybe don't drool—they're worth quite a bit). And maybe the coolest offering: Test drive a car or book a Corvette driving school experience, both available at the museum's Motorsports Park, and which lets you loose on an actual 3.2-mile racetrack.
Go underground into Bowling Green's incredible caves
A less-obvious attraction to check out at the National Corvette Museum: the site of the massive sinkhole that, in February of 2014, swallowed up eight cars in the wee hours of the morning. With an underground made of limestone and other easily-eroded rocks, sinkholes, caves, and karsts are just a fact of South Central Kentucky life.
You can tour some of these underground wonders, like Diamond Caverns in nearby Park City, discovered in 1859 and lit up with thousands of stalactites, stalagmites, and flowstone deposits. Mammoth Cave National Park offers ranger-guided cave tours of the world's longest cave, with over 400 miles of mapped passageway.
But Bowling Green is best known for its Lost River Cave—claimed by Ripley's Believe It or Not to be the shortest and deepest cave in the world—which you can tour via underground boat. Rumor has it this was a hideout of Jesse James, and the site of an illegal alcohol operation during Prohibition. It also served as a shelter during the Civil War—bullets have been found, and soldiers wrote their names, ranks, and companies on the walls. In the 1930s it was turned into Cavern Nite Club, a literal underground club that attracted big-name performers like Dinah Shore and sold an ice bowl for $2.00 with whiskey hidden inside. The club was gone by the 1960s, but a dance floor still exists for special events.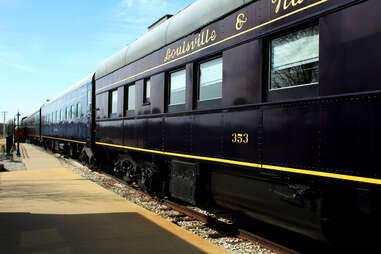 Not just Corvettes: See some planes and trains, too
Besides all the Corvettes, gearheads should check out the totally free Aviation Heritage Park. They have eight restored military aircraft on display, like a F-4D Phantom II 550 used in the Vietnam War, and a Cub honoring an African American woman who trained the Tuskegee Airmen. And yes, you're allowed to touch them.
Trains are also big here: The Historic Railpark and L&N (Louisville and Nashville) Depot has a train museum displaying historic rail cars like a Railroad Post Office Car, a 1953 Pullman Sleeper, and the 353 Presidential Office Car, built in 1911 as the personal car of the president of the L&N. And there's the Duncan Hines dining car, named for the cake mix magnate—a native of Bowling Green and, fun fact, a former food and travel writer.
From fast cars to horses and buggies
If the name Bowling Green sounds familiar, it's because it is, in fact, named after Bowling Green, New York. But that's where the similarities with city life end. Here, you indulge the simpler things. Sure it's a college town, and around the charming Fountain Square Park downtown—where you'll find free weekly concerts in June—there are coffee shops, restaurants, and places to drink including the popular Dublin's Irish Pub, and dance club Brewing Co. Underground. (Outside of downtown you'll find a high concentration of delicious eats on Scottsville Road, or Highway 231, including Fayrouz Market, an international grocery store and restaurant specializing in Middle Eastern fare. )
But Bowling Green celebrates its makers. You'll also see stores like the mother-daughter owned Little Fox Bakery, and Mary Jane's Chocolates, a vintage candy shop using only sustainably-grown cocoa beans (try the Kentucky Bourbon truffles). Candle Makers on the Square sells only locally-made gifts including, yes, candles, and The Pots Place Co-op Studio and Gallery is home to eight potters and other local artisans.
Make sure you stop at Chaney's Dairy Barn to say hi to the cows on a farm tour, sample some housemade ice-cream, and navigate the corn maze in the fall. And there's antiquing galore, especially at amazingly-named Flea Land, Kentucky's largest indoor flea market.
And definitely try some Amish fare. Just outside of Bowling Green, in Allen Co., you'll find Amish and Mennonite communities, with woodworking, quilts, jams, candies, and plenty of homemade pastries for sale. You'll know you're there when cars give way to horses and buggies.
Vanita Salisbury is Thrillist's Senior Travel Writer. Find her at Chaney's Dairy Barn, having a donut sundae for breakfast. She will be nowhere near that log cabin.