This Punk Rock European Capital Is Seriously Underrated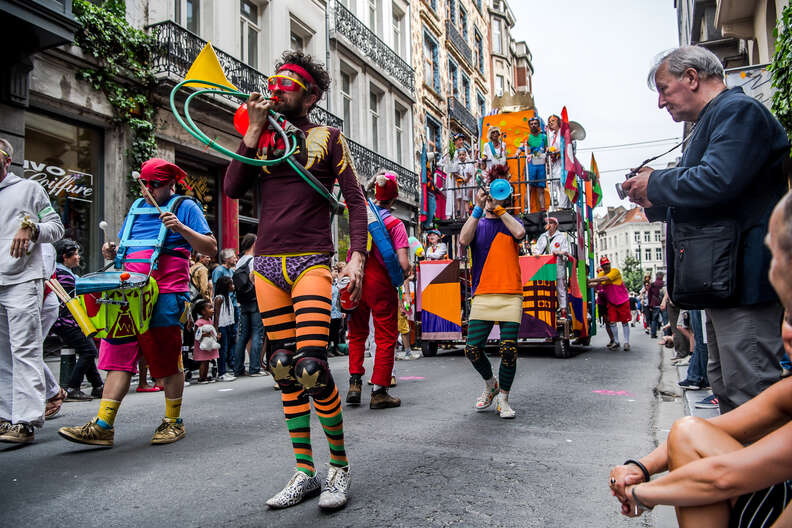 The Zinneke Parade.

| Eric Danhier/Visit Brussels
The Zinneke Parade.

| Eric Danhier/Visit Brussels
When I think of the capital of Belgium, I don't think the words "highly cosmopolitan." I think "waffles." Surely I can't be alone in this clichéd line of thinking?
On a recent trip to Brussels, my mind was cracked right open. Ubiquitous gritty graffiti, obscene traffic, and rundown concrete that seems to constantly be under some sort of haphazardly unfinished construction suggests that Brussels may not be the most classically attractive urban locale in the world. Outside of a historic city center that resembles a movie set, you'll find a rather disorganized arrangement of 19 eclectic neighborhoods, but what Brussels lacks in picture-perfect scenery, it more than makes up for in its diverse food and cultural scene.
Brussels is anything but showy. Visiting it feels like you're delving into a real place where actual people live, work, and enjoy a high-quality life, rather than an overrun, overrated city with frequented tourist sites that grace Instagram on the regular. In fact, Brussels couldn't give two shits what you think, and that makes me like it even more. If you're jonesing to explore a surprisingly affordable and open-minded city tinged with rebellion, then Brussels might just be your jam.
The city is pretty punk rock
Deemed as the "DC of Europe," the weekdays are a bustling hub for business meetings and political figures who don't seem to stick around for weekend shenanigans. It's difficult to party hard in a suit.
Brussels is a bit like a defiant teenager. Belgians prefer to err on the side of improper with a spunky attitude and don't like to be told what to do. It's as if the city doesn't conform to a watered down version of itself for tourists, which is applaudable -- it's a wild-card city. From one street to the next, you can't be sure what you'll encounter. And that keeps it exciting.
Will the buildings be Art Deco or Nouveau? Will there be a bar in an old church? Will I step in dog poop while waving to a diplomat? Will I stumble upon the most scrumptious sandwich in all of the world? Will I be offended by some grungy street art? A roll of the dice.
The main square, or Grand Place, is a showstopper and located in that aforementioned historic "movie set" area. It's the single major place in the city where fanny packs and absurd selfies can be forgiven. (Tourists just can't help themselves.) The ornate gilded buildings stand regally on cobblestone, seemingly rendered from architectural chocolate -- touristy for a reason. Pro tip: venture to the square at sunrise to avoid throngs of peeps.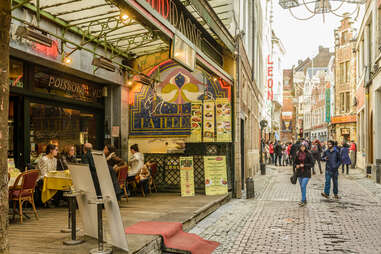 It's easy to go deep or enjoy an extended stopover
Brussels is accessible and can easily be combined with a visit to other European cities. (Here's looking at you, London, Paris, Amsterdam.) Although you can't pack everything in, you can scratch the surface in a real way over a long weekend. Divided into 19 funky districts, each proudly sporting its own vibe, Brussels is an easy city to enjoy -- you don't have to be an art buff or history aficionado to throw a slow clap to the rich presence of both.
For the frugal traveler, visiting on a weekend provides a chance to snag cheaper hotel rates. Confusing, I know, but during the week, nicer hotels are swarming with diplomats and other people of importance. Us lowly peasants can slumber for a lot less Euro when they've all gone home and we're ready to whoop it up. Score.
The city is a global melting pot of personality
Brussels is a place fitting for every kind of traveler; young, old, families, expats, foodies, art history enthusiasts, etc., and its geographic positioning makes it a cocktail of worldly fusion.
Inhabitants of Brussels are known in French as Bruxellois and in Dutch as Brusselaars -- they eat and drink like the French but model their values and standards like the Dutch. Even so, that's a limiting description, as they employ a work ethic like the Germans and cop a cheeky humor like the Brits. Denizens here seemingly pluck some of the best European qualities from its neighbors and smashes them all together, appropriate for a metropolis with a hodge-podge vibe. There's an inclusive atmosphere, and it's easy to feel like you fit in when you're in a place as diverse as Brussels.
The food scene here is incredible
A mish-mash of international cuisines awaits -- you will want for nothing.
Sip coffee from Guatemala in the morning at Corica, an artisanal roaster with roots dating back to 1850. Follow your morning java with pasteis de nata, a flaky Portuguese egg tart, available in a slew of flavored fillings at Forcado Pastelaria. Don't forget to save room for an indulgent Italian lunch at Ricciocapriccio, where southern seafood influences from Puglia and Sardinia shine in signature dishes of sea urchin and grilled octopus. Alternatively, keep it simple with artisanal French baguette from the adorable Charli Bakery or go all in with a Lebanese dinner at Chatelain du Liban, where an oversized meal of small plates is accompanied with a side of live music and belly dancing. All in a day in Brussels.
Do yourself a favor and sample shrimp croquettes at Noordzee's outdoor tables, or pick your own cut of meat at The Colonel to wash down the pile of frites cooked in beef fat. Beef tartare sandwiches are a thing you need ASAP, and here, you'll find "oeuf parfait," aka the perfect egg. Presented as an appetizer, the over-easy egg comes garnished with seasonal ingredients (think leeks and seaweed foam, or cooked with pickles and topped with truffle foam and bread crisps). What you get is a dish that's equal parts fluffy, runny and creative.
And if you want to eat a waffle like a true Belgian, steer clear of the syrup. To do it up right, head over to Maison Dandoy and order up that light, crispy confection with just a sprinkling of powdered sugar.
You simply can't speak about Belgium without mentioning chocolate. Oh my lord, the chocolate. We're talking eyes-rolling-in-the-back-of-your-head levels of good. You might not find a Wonka-esque chocolate river, but you'll come close, especially at Laurent Gerbaud. Anywhere you can learn how to make legit chocolate is a win in my book.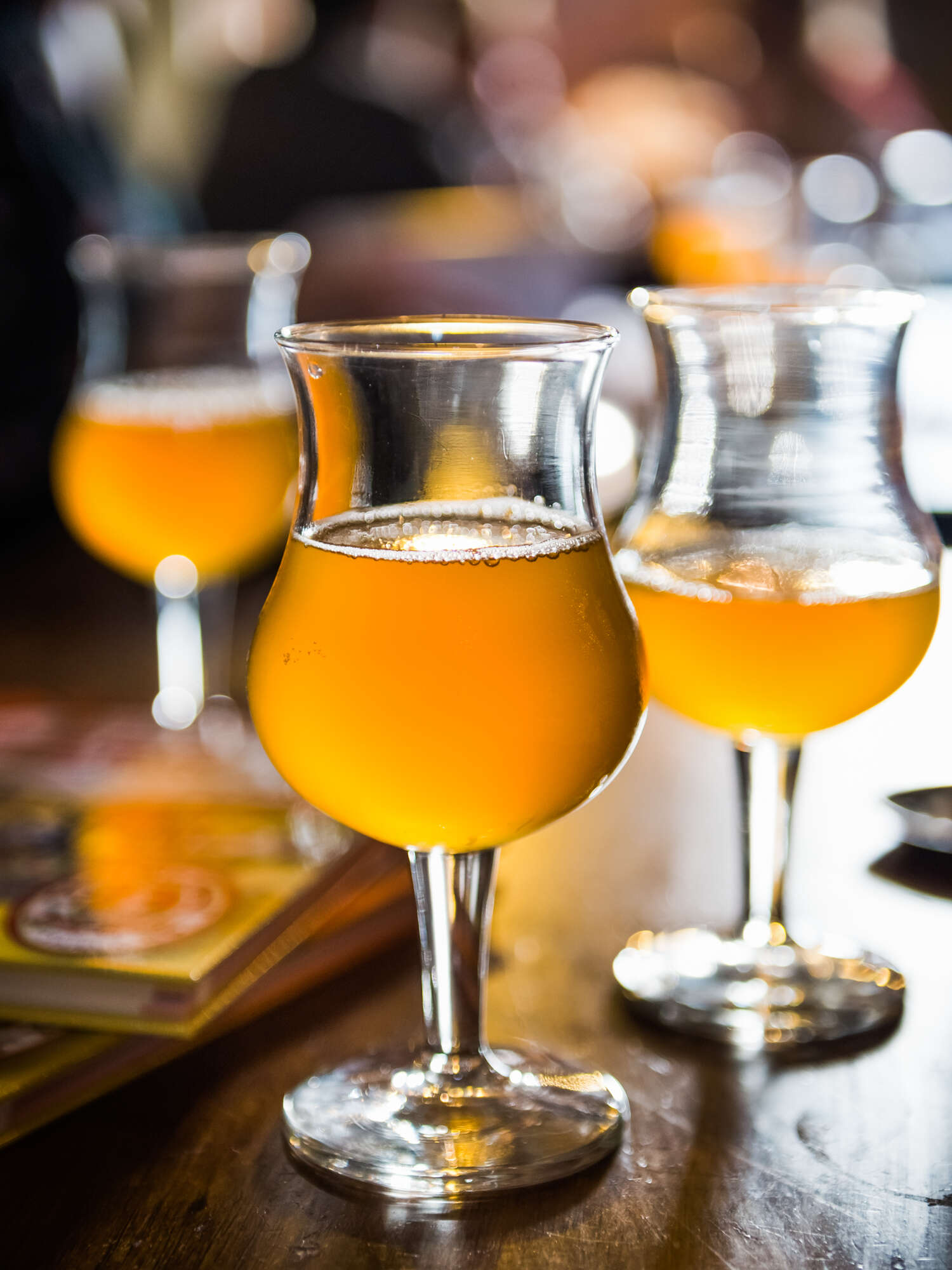 You won't be parched
Belgium is, of course, the land of beer, but don't limit yourself. From cocktail bars to worldly wines and an innovative craft beer scene, you certainly won't go thirsty.
Sip back in time (get it?) in an old row house where artsy and literary lovers unite to throw a few back. La Fleur en Papier Dore is one of Brussel's oldest cafe/bars and was once a choice watering hole for a bunch of French poet dudes way back in the nineteenth century.
To raise the lively scale, visit the famed Delirium Cafe. Go for the party, stay for the experience. Here, multiple bars connect and you find yourself Alice in a Beer Wonderland, as you maze your way through the connected rooms, brew happily in hand. With over 2000 varieties (including Trappist and Abbay beers and other unusual offerings, like chocolate and banana), Delirium overflows with atmosphere and beer. So much so, the nightly party spills onto a cobblestone'd alley tucked into the old section of the city, particularly on Thursdays, the bar's busiest night.
Looking to really get your nightlife on? Clubs abuzz with life until the wee hours of the morning have got you covered. Probably in sticky alcohol, confetti, and regret, but covered nonetheless.
The streets are as artsy as any museum
Stuffed? Walk it off, as Brussels is an alfresco museum in its own right. The city is riddled with unapologetic street art that pushes all the boundaries (i.e. the mural of the masturbating woman draped casually on the side of a building and the "penis wall" -- link NSFW).
While the street art isn't all sexually explicit, it is almost always making a bold statement. Take the city mascot, for example. With the Mannekin Pis statue urinating all over the city, you can feel the air of nonconformity.
Brussels is also known as the "Comic City" and for good reason. If you're looking for a light-hearted way to explore the city, find yourself in a colorful comic strip scavenger hunt through the streets with an online map from Visit Brussels, which will guide your way through the city's numerous comic book art points. Discovering the famous TinTin and Smurfs plastered on brick walls, as well as some of the lesser known characters like the mystery-solving figure, Caroline Baldwin, will have you feeling like a kid again.
Don't skip the legit museums, though
The city is a hoarder of museums as much as it is forward-thinking in its street art. There is one for every taste.
Tour the MIMA, a former brewery-turned-modern art museum, and a key part of the movement to revitalize and rebrand the Molenbeek-Saint-Jean neighborhood after the 2016 terrorist attack. Get down and dirty, quite literally, and explore the Sewer Museum. Tour a privately-owned Art Nouveau mansion and pretend to be fancy. For a full European tour, check out Mini-Europe, next to the Atomium and home to tiny icons of, you guessed it, European cities. Speaking of the Atomium, it's hands down the best view in town. Who knew metal balls could offer such a panorama. There's even a restaurant at the top, because who doesn't want to eat lobster in a metal sphere?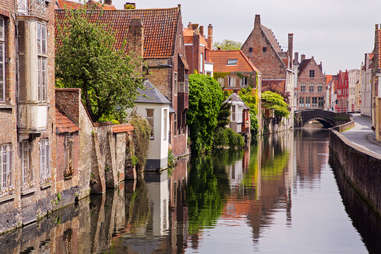 Day trip in search of storybook-worthy scenery
You don't have to choose fairytale scenes over culture-dripping grit. In fact, I encourage you to do both. Hopping Intercity trains in any direction can land you in a page ripped from a storybook narrative.
Picturesque Bruges is about an hour from Brussels and where I learned about the real hot chocolate, none of that powdered Swiss Miss crap. I'm not afraid to say it was life-changing. Bruges is also annoyingly photogenic with its canals, cobblestones, and general medievalry.
Stumbling upon a hidden alley bar rewards patrons with house-brewed De Garre beer, just off the main tourist route. Test your tolerance with the Tripel Van De Garre, a cool 11% alcohol content brew that definitely packs a wallop. Or fulfill your enchanted fantasy in any of the numerous shops where intricate teapots and pocket-sized treats are presented on posh platters, making a hard case for daily waffle tea parties.
A half hour's train ride from Brussels will get you to Ghent, a city still emerging from its under-the-radar post in a solid way. Big on culture, big on architecture, and big on food, Ghent is just, well, big… without being huge, you know? If you trek two hours south from Brussels by train, you can discover Dinant, pretty, little hamlet where two rivers meet and giant saxophones hang out on the streets. Grab a local Couque de Dinant biscuit, a hard, but sweet, treat native to the city. Let it melt in your mouth as you tour some caves, and marvel at castles. Fairytale? You betcha.
Lauren Breedlove is a Thrillist contributor.