This Bohemian Capital Is One of Europe's Most Exciting Cities Right Now
Mention Bucharest to most Americans and here comes the reply...
"Did you mean: Budapest"
And a wonderful city Budapest is! But overlook the Romanian capital of Bucharest and you'll miss easily one of the most interesting places in Europe right now -- a bohemian, Balkans-meets-Mediterranean city that wears its recent history on its sleeve as it redefines itself in real time.
After growing up in Bucharest, I left it in 2005 to spend the better part of a decade in New York City, followed by a few more years in France. Upon return in 2017, after traveling extensively and living in the world's greatest cities, I can say for certain that you must come here -- and now.
Just a generation removed from its still-too-recent past of communist opulence, sterility, tragedy, and revolution, today's Bucharest brims with possibility. Driven by an entrepreneurial spirit, it charms with its leafy garden bars, thumps with its nightlife, dazzles with cultural and creative richness, and simultaneously impresses and rends the heart with the history of its past centuries and decades.
There are old, magnificent bones to discover, such as centuries-old Byzantine churches straddling Belle Époque grandeur. Bucharest's Old Town is home to Curtea Veche (the Old Princely Court), the 15th century home to Wallachian ruler Vlad the III the Impaler and centuries of Romanian history that somehow survived both the allied bombings of WWII and the wanton destruction of communist dictatorship.
MORE: Why the Balkans are the most underrated part of Europe these days
A ghost town not so long ago, the Old Town today is fully in the midst of revival. While some corners exude full-on tourist trap or a dazzlinging number of cafés and music-pumping bars, others display marvelously restored, and repurposed historical monuments, such as the Instagram magnet of Cărturești Carusel, one of the most beautiful bookstores in the world, as well as the cultural center of ARCUB Gabroveni, in what used to be a historic inn. Walk the maze of cobblestone streets and let yourself be surprised by the old, and in equal measures, by the new.
The city is healing its still-visible scars, and charging ahead. So sure, come and see monuments of Communist dictator Nicolae Ceaușescu's depraved indulgence, like his enormous, iconic 1,100-room Palace of Parliament or his 80-room mansion, opened to the public in 2016, where you can tour his gold-plated bathroom. They are a part of the city, just as Bucharest's inter-war architecture -- when it was considered the Paris of the East -- or today's New Romanian cuisine, a truly multicultural gastronomy that draws from the country's agrarian riches.
In truth, Bucharest cannot be described in any one way because if anything, it's eclectic. At the crossroads of East and West and influenced throughout history by its neighbors and occupying forces, Bucharest is unique precisely because of it all; the living proof of its dramatic history and vibrant future. The city is a canvas of contrasting realities on which new directions are being played out.
Bucharest is now more effervescent than ever, but it's also safer, cheaper and more entertaining than better-known European destinations. Wi-Fi here is the fastest in Europe, most people speak English (and probably two more languages), and it has parks -- lots and lots of parks. This is why I moved back, and why you should undoubtedly visit.
MORE: Great cities in Eastern Europe you shouldn't miss out on
Soak in a dramatic history of glory and pain
The colossal Palace of Parliament speaks to Romania's most recent history -- perhaps not its most emblematic, but the Palace is ubiquitous, intimidating, and not be ignored. Go visit, if only to better understand the circumstances under which it was erected -- a monument to the personality cult at the enormous cost of a beleaguered nation.
Today, visitors are welcomed to view blatant opulence spread over nearly four million square feet (70% of which still remains unused), which hosts the Parliament of Romania, as well as the National Museum of Contemporary Art. But erecting this building, whose construction started in 1984 and lasted until 1997, meant wiping out the entire neighborhood of Uranus, demolishing churches of priceless historical value, and displacing thousands of people. All at a cost of an estimated 3 billion euros, and the bleeding dry of a whole population. This Bucharest "symbol" is not to everyone's liking.
Perhaps, even more evocative is the decadent Spring Palace, the former residence of Ceaușescu, his wife Elena, and their three kids. Built at a time when the country's population was facing daily power cuts, strict food rationing and limited heating during long winters, visiting this gilded mansion is a jarring experience. You'll be transported back to 1989, as the mansion has been left exactly as it was then -- including the couple's pajamas still lying on the bed, as Ceaușescu fled in the face of revolution before being caught and quickly tried and executed on Christmas Day. On the same Primăverii Boulevard, the new Museum of Recent Art (MARe) offers a more contemporary outlook, featuring communist-era modern art from the 1960s onwards in a monolith-like minimalist building.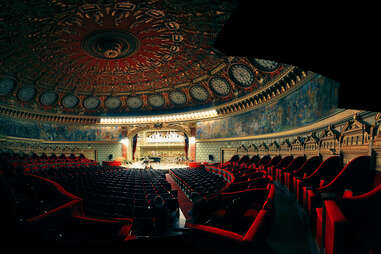 Bucharest's history goes far beyond Ceaușescu however -- take a walk down Calea Victoriei, the city's main historic thoroughfare, to peek at the glories of the city's Belle Époque passed on from its days as a monarchy. Within a mile's distance, you'll walk past the most representative landmarks -- the former Royal Palace, now home to the National Art Museum, and Revolution Square, where the scene of Ceaușescu's infamous last speech took place in 1989 to a sea of jeering revolutionary crowds.
Don't miss the Neo-Classical Romanian Athenaeum, perhaps Bucharest's most iconic sight. Designed by French architect Albert Galleron, the domed, ornate building is home to the Romanian Philharmonic and the biannual, ever popular, George Enescu Festival started in 1958 to honor Romania's celebrated composer.
MORE: Underrated cities to hit in Germany
The streets and neighborhoods of Bucharest demand to be explored
The best way to discover the hidden, bohemian Bucharest is to venture on foot. Aside from the inescapable communist legacy that has radically altered the city's fabric by wiping out entire neighborhoods, Bucharest's architectural heritage is striking, with Neo-Romanian, Art Nouveau, Art Deco, and modernist styles.
Step away from the tourist-clustered areas and take the side streets. Leap back to 19th century Bucharest in the Armenian or Jewish quarters. Gritty and grand at the same time, the changing face of Bucharest is evident as one villa stands in decay, while the one is gloriously restored back to life. Stroll through the elegant Cotroceni district, a tree-lined neighborhood exuding quiet elegance and some marvelous Art Deco. Or through my own district, Icoanei, that preserves the charm of old Bucharest.
If you're up for a different kind of beauty, tour companies like Bucharest Urban Adventures provide some of the most insightful tours, including visits to farmers markets, some of the city's best street art, and urbex explorations inside dramatically decayed monuments not open to the public. Communism tours are also available from a wide variety of tour companies.
For an encounter with bucolic Romania within Bucharest, make your way to the National Village Museum set on the shores of Herăstrău Lake. Dozens of peasant homes are on display, original ensembles brought in from all across the country alongside barns, farmsteads, wooden churches, windmills and more. While there, take a long stroll through the expansive King Michael I Park (formerly known as Herăstrău Park), particularly charming on the walkway surrounding the lake. As you exit the park via Kiseleff Road, note Bucharest's very own Triumphal Arch, symbolizing Romania's victory in World War I.
A new wave of young chefs redefines old-world food traditions
The culture may have drawn me back to Bucharest, but it was the food that convinced me to stay.
Romanian cuisine is an amalgam of Balkan eats on the hearty side, in which Turkish, Greek, Germanic, and Hungarian flavors all play their notes. But as an agrarian nation at its roots, Romania takes prides in its native crops and ingredients specific to the country. The best place to test that is at one of Bucharest's farmers markets such as Piața Obor, the largest and one of the oldest in the country. Go for the vibe of this market, with everything from fruits and vegetables, to local meats and cheeses, and don't leave without a portion of Obor's famed mici or mititei (which means "little ones"): grilled skinless sausages said to be the best in the capital.
For a typical home-cooked meal of sarmale (stuffed vine or cabbage leaves with minced meat and rice) with mămăliga (polenta), head to the revived Old Town. Admittedly very much on the beaten track, start at Bucharest's oldest brewery, Caru' cu Bere, for its timeless Neo-gothic décor with stained-glass windows and a pint of house beer whose recipe dates from 1879. This epicenter of old Bucharest also puts you close to other must-see historic architecture. Caru' cu Bere is just a stone's throw from Stavropoleos Church, the city's most picturesque church built in Brâncovenesc style, while the imposing CEC Bank Palace can be admired in all its glory from the restaurant's terrace.
The food isn't all traditional cooking though -- a wave of young chefs are returning to Bucharest after stints abroad and are redefining the New Romanian cuisine, using only local, seasonal ingredients to create uniquely Romanian plates you won't find anywhere else. For a superb molecular gastronomy experience at a fraction of the cost you'll find in other cities, head to the ARTIST Restaurant -- top rated in its seven years of existence -- or to newer award-winning venues such as Noua Bucătărie Românească, Kaiamo or Kané – New Romanian Cuisine. For a unique alchemy of French and Romanian cultures (and an impressive cellar with 900 wine labels), look no further than the refined Relais & Châteaux Le Bistrot Français.
Take a tour through the garden bar J'ai Bistrot through this silent concert from local artist Mădălina Pavăl.
And the best part of Bucharest… atmospheric garden bars
Come to Bucharest in the summertime for one of the city's best charms, the long withstanding bohemian café culture. In a Balkans-meets-Mediterranean atmosphere stemming from our Latin roots, meeting friends over drinks at one of Bucharest's many garden bars -- like Dianei 4, Grădina Eden, or Grădina Dorobanți -- is a hallowed ritual. Stepping away from the often unruly hustle of Bucharest's streets, garden bars pop up as these unexpected, hidden pockets of tranquility and Zen in the heart of the city. Usually tucked away in the luxuriant courtyard of an old ivy-covered villa, these serendipitous garden bars are some of the things I've missed most while living abroad.
Much more than a drinking spot amidst friends, these beer gardens of sorts are an open invitation to linger on for hours and socialize, relax over lemonade in a hammock and a garland of warm lights, or take in an atmospheric indie or jazz concert. Many also offer delicious brunch on site or lunch fares and dinner.
When late fall sets in, socializing moves into idyllic tea houses like Infinitea, cozy wine bars, and sleek gastro bars like Pâine şi Vin. Romanian craft beer is coming into its own as well -- hop into Fabrica de Bere Bună for pints of local brews, such as my personal favorite, Hop Hooligans.
Perhaps most surprising to first-time visitors is the overwhelming amount of exceptional coffee shops, one of the biggest concentrations per capita in Europe following cities like London and Berlin. Bob Coffee Lab is a favorite in Charles de Gaulle Square, where roaster and co-founder Alexandru Niculae is the World Coffee Roasting Champion for 2016, while Origo remains one of the pioneers of the city's specialty-coffee scene.
If you're after rooftops and cocktails, Linea/ Closer to the Moon is your best bet for panoramic views (and some fantastic igloos come the winter), while Fix me a drink makes the best botanical cocktails in town. Nearby, Control Club is the place to be for live indie rock and electronic music, with a lush green terrace open all year long.
Romanian-American travel writer Monica Suma is always on the hunt for art, foodie haunts and architectural treasures. After twelve years abroad, and far-flung travels as far as Papua New Guinea, Sri Lanka and South Africa, she is back in her native Romania, unraveling its uncharted beauty. She has written for National Geographic, BBC Travel, Lonely Planet, CNN Travel and more. Find her on Twitter @monicasuma.