There's no way to feel the pulse of a place quite like actually feeling the pulses of people you're out partying with.
 
That's especially true in Buenos Aires, where socializing is a top priority and locals pride themselves on raging nightlife. There are clubs for all types and tastes, too, as pretty much everyone capable goes out dancing regularly. And yes, everyone knows how to dance.
 
For the unaccustomed, going out -- "salir de joda", as the saying goes -- in Buenos Aires the way porteños do requires serious mental and physical preparation. While locals have been hitting the clubs and powering through until the wee hours since age 15, the prospect of not showing up to your nightlife destination until 2am is enough to exhaust a foreigner before they even leave home.
 
Here's how to make it all the way to 7am in Buenos Aires -- drinking, dancing, and living to tell about it.
Recommended Video
Casa Madalena is a Florida Beachfront Palace
Mate
That beverage everyone is sipping and passing around in parks across the city is Argentina's national drink, and it's called yerba mate. The loose leaf, tea-like beverage is loaded with caffeine and keeps people buzzing all day and into night. Fun fact: It also functions as an appetite suppressant. Now you know how everyone's so hot and svelte.
That, and they have good genes.
 
Yerba mate requires special equipment: the mate gourd, also confusingly called "un mate," and a metal filtered straw. Pick one up -- it can double as a souvenir -- at the Plaza Francia fair any weekend in the plaza near the Recoleta Cemetery or the famous Sunday fair in San Telmo, the city's oldest neighborhood. You'll find the yerba in any supermarket. Preparation is something of a ritual, but one any Argentine will be thrilled to teach a foreigner. You could always watch a YouTube video on the subject, but why not make a social event out of it? That's what you're here for, anyway.
Merienda
Don't miss merienda, the tea or snack time everyone observes in the lull between lunch and dinner, and a crucial bridge to surviving that seemingly interminable stretch before dinner. Plus, it's another chance to pump your body with caffeine.
 
You can't turn a corner in the city, particularly in the Palermo Soho and Hollywood neighborhoods, without seeing a merienda-serving café. Most, in fact, have a section of their menu dedicated to this quasi-meal. Think of it as a happy hour, but with food. Make taking your merienda a cultural outing, and head to the city's historic Gran Café Tortoni downtown. Le Blé, which has locations across the city, is a tea time favorite, too.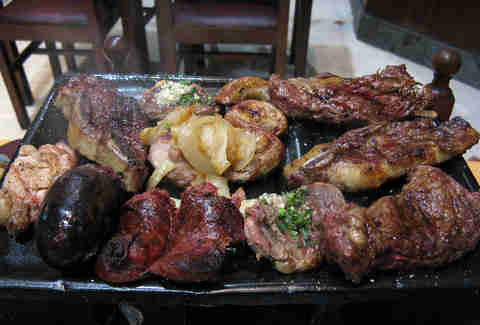 Dinner
Dinner in Buenos Aires requires a balance of eating enough to sustain you through the night, but also not eating so much as to impede you on the dance floor or drive you to bed early -- both entirely unacceptable results. Also, if you dine any earlier than 9pm, you'll mark yourself clearly as a tourist.
 
Steak is obviously always a wise choice in Argentina. You can start the night at the chi chi parrilla (steakhouse) Cabaña Las Lilas along the water in the city's sleek Puerto Madero barrio. Or, the "Gran bife Las Cabras" -- a platter with a slab of steak, provoleta (a hunk of cheese that's grilled), French fries, pureed squash and more, proves one of the most impressive dishes in the city at the considerably cheaper parrilla Las Cabras in Palermo Hollywood, which always has a festive atmosphere, but also a wait. For someone looking to carbo-load on pasta, Salgado Alimentos in Villa Crespo offers inventive, delicious dishes as well as the classics; or the no-bullshit, Italian cantina La Mamma Rosa in the same hood always hits the mark.
Drinks
Around 11pm, following often-boozy dinners, people start to filter into bars. Palermo Hollywood is the city's nightlife epicenter with a multitude of bars. The Steve and Festival are good places to head for a few rounds -- good vibes with music grooving, and good drinks that won't blow your nightly budget just yet. Ferona, a bar popular with the hipster crowd, is in an old house in Hollywood and invariably turns into a dance party. Consider it for a warm up exercise before hitting the late-night dance floors.
 
If your wallet can handle higher prices, the bartenders at Victoria Brown in Palermo Soho work magic. Also in Soho, the upscale Isabel Bar & Restaurant, has a lounge feel and great DJs. Speakeasy Frank's, with drinks and décor that epitomize the word "sumptuous", hasn't faded in popularity since it opened a few years ago. And Ocho7ocho, one of the city's first bars to take cocktails seriously, never fails.
 
As for drinks you might not see as often elsewhere, Argentina consumes more fernet -- which is said to come hangover-free -- than anywhere else in the world. Well, except maybe in bartender circles. Still, fernet is almost always mixed with Coke. Aperitifs also are popular, especially Campari.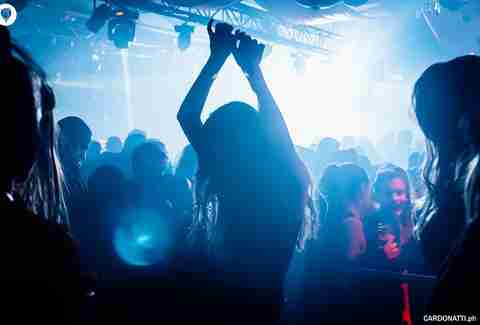 Dancing
The night naturally progresses to dancing in the Argentine capital, and the witching hour is  2am. People finally migrate to clubs, or "boliches", as they're called. The bar masses mesh with pregamers (a pregame is a "previa" or "preboliche") who drank in their houses with friends before heading out.
 
Clubs boom across the city, but are concentrated in a couple key areas. The intersection of Honduras and Juan B. Justo, where the Soho and Hollywood barrios meet, claims clubs like Rosebar and Kika, both places where you'll hear your share of dance hits and reggaeton.
 
Most of the city's top venues run along the Costanera Norte coast, where boliches, including Terrazas del Este, Pacha, Jet and Tequila, come one right after the other. Jet and Tequila are considered the city's best. Stay long enough -- highly likely -- and you'll catch the sunrise over the water. Somehow, a sunrise over water makes being up so late feel reasonable.
 
If your energy starts to wane at any point, sip a Speed, the local version of Red Bull, and many an Argentine's nighttime fuel. And don't be surprised when your phone says it's 6am and you had no clue. Nobody moves to head home until about 5am at the earliest, anyway.
Recovery
Draw the blinds and don't set an alarm. Be honest with yourself -- you won't get out of bed before 2pm. Don't feel bad about it, either. Argentines won't judge, since most outfit their bedroom windows with blackout blinds for the very purpose of being able to rest as long as they damn well please. They get it.
 
When you finally rise, resist the urge to just roll out of bed and out the door for food. There's no looking slouchy in Buenos Aires; sweatpants and pancakes are not a good combo here. Argentines manage to constantly look polished, bright and fresh. You should follow suit. Oui Oui in Palermo Hollywood is a favorite destination for its brunch/lunch fare and draws plenty of eye candy, if that's what you're into.
 
But honestly? You should probably just go for a steak again. Because when is another steak a bad choice?