"Keep Buffalo a Secret." It seems to be a mantra in the Queen City. It's even painted on the side of Oxford Pendant on Main Street in Buffalo and printed on shirts, making it the "Keep Austin Weird" of NE New York. But folks are increasingly whiffing when it comes to keeping that pledge of secrecy. Buffalo's reputation continues to evolve from ice-coated Rust Belt punching bag to destination for folks craving seriously fantastic food, a buzzing nightlife, (frigid) outdoor adventure, and one of the friendliest (and rowdiest) sets of locals in the Northeast. There's just too much cool shit to do in Buffalo to keep the lid on the place. 
As a born-and-raised Buffalonian, I find myself wanting to shout from the rooftops why I think this place I call home is as wonderful as it is. To outsiders, the renewed interest in our city might be a surprise. To locals accustomed to the big city vibes and community spirit, the accolades are long overdue, and we're eager to show the massive changes that have undergone our city in the past 10 years. 
We are a hub of artists and eccentrics, adventurers and super fans. We eat more than just wings, but we also eat a ton of the bar snack the city invented. We love craft beer and macro lagers so much that we built a damn brewery in an entertainment complex sporting a multi-story six pack of Canadian beer. And no matter the weather, we'll always be outside. You can experience all of these things and more in Buffalo. Here are the coolest things to do when you're here.
MORE: Buffalo is America's most underrated city to spend a weekend
Recommended Video
Please Don't Hang Up: The Best Things to See, Eat, and Do in Seattle, WA
Hit the ice… on a bike
When you live through long, punishing winters like folks in Buffalo do, you find extremely inventive ways to entertain yourself beyond simple snowball fights and contemplating cannibalism. Behold -- dramatic pause -- ice bikes! One of Buffalo's best innovations since the invention of Buffalo wings and Rick James, the ice bikes allow people to hit the rink outside downtown Buffalo's centerpiece, Canalside, without fear of wiping out on skates. The bike sits on top of stable bars supported by blades, so it's easy to stay balanced. You just pedal like you would on a normal bike to glide across the sleek ice. 
It's not all Fast & the Furious: Northeastern Tundra Drift on the ice. The rinks around town are constantly trying to think of new excuses to get you outside in the winter. Of course there are average ice-skating rinks like Rotary Rink at Fountain Plaza and one at Canalside. But there's also curling, which is best done with a broom in one hand and a beer in the other at Buffalo Riverworks, a brewery and event venue with countless year-round activities (more on that later). Canalside is also home to ice bowling and ice bumper cars, which involves gliding around on mechanical tubes. Ice bumper cars are also a fixture at The Cornerstone Arena, and an accidental feature of most roads after an ice storm.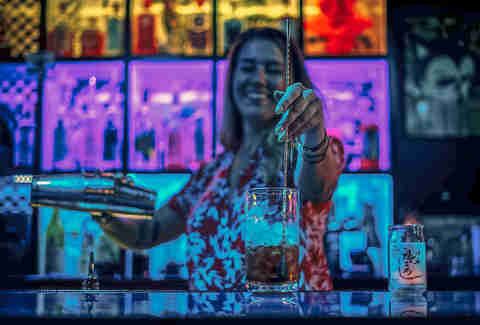 Let your senses explode at neon bar Misuta Chow's
There's a misconception that Buffalo is drab and lives on a steady diet of fried food. One look at Misuta Chow's blows those misconceptions apart like a neon-drenched bazooka to the senses. Bringing all the vibes of a Japanese street market to a downstairs dining room with an open kitchen, Misuta Chow's is pure stimulation. That starts with the eclectic dishes, which range from octopus-tentacle hot dogs to salmon roe deviled eggs and bao tacos, representing some of the city's best, most playful, and, yes, unexpected fare (don't worry, there are chicken sandwiches, rice bowls, and ramen for the less-adventurous). After gorging, head upstairs to the bar filled with Skeeball, pinball machines, and classic arcade games. On your way up, you'll see what is perhaps Buffalo's most popular non-wings-based Instagram magnet: They might not seem like much, but the hot-pink, sparkly stairs leading upstairs have been photographed by basically every Buffalonian, including the famous streaker at the Bills game. (Yes, he did in fact pose naked on the stairs, too.) If you come here and don't take your picture on the stairs with a glass of frosé in your hand, it's basically like you didn't even visit the city. 
Find unexpected adventure in a grain elevator
If you're a history buff with a sense of adventure, the Silo Vertical Tour is the perfect activity for you. The elevators are one of the city's most well-known icons, and the tours allow you to learn about their history in Silo City while taking in beautiful views of the city, Lake Erie, and... the other grain elevators. If that sounds dull, you've clearly never climbed 100 feet up to discover the history of the 109-year-old grain elevator: It's pretty physically demanding for a history tour, but Explore Buffalo will guide you through it while actually keeping you intrigued.  For an even more adventurous angle, Elevator Alley Kayak -- housed inside a 110 year old historic building located in the Old First Ward in Buffalo -- takes the tours to the waterways.
Explore the green spaces of Outer Harbor
Not to keep harping on Canalside, but just so many activities are based around the area in every season that it's hard not to: the newly revamped waterfront area is home to markets, concerts, restaurants, and the ice rink, and it's kind of the heart of Buffalo's revitalization. But people tend to forget about the quieter side along the Outer Harbor. The area has more than 200 acres of greenery, a bike path, kayak rentals, bike rentals, and more. For $1, you take a boat ferry across the Buffalo River, where you can bike along the path to the Buffalo Lighthouse. After visiting the lighthouse and taking pictures near the pier, relax near the water, rent kayaks or water bikes, or just enjoy the quiet... something a lot of people forget can be had in a city this busy. 
Zipline out of a 6 pack and into a brewery
Buffalo Riverworks is another centerpiece of Buffalo's waterfront renaissance, a sprawling entertainment and adventure complex where you can see live music, kayak, check out roller derby, and crucially, mix craft beer while indulging your adrenal gland. It's a place where you can scale the historic grain silos of Buffalo's industrial district or, if you're feeling really frisky, zipline from them, soaring 110 feet over the sprawling beer garden and straight into the mouth of a giant shark mural. If that's not trippy enough, the silos from which this high-flying adventure begins are painted to look like giant cans of Labatt Blue, earning them the name "The Six Pack." And yes, there's a brewery inside, specializing in cereal beer. That means you can follow your adventure with a sour beer that tastes like Froot Loops. Buffalo is magical like that. 
Tailgate at a Bills game (bonus points if you break a table)
There is perhaps no fan base more rabid than the Bills Mafia. Our tailgates are so insane we are regulars on Barstool, and when the Bills Mafia took over Houston during the playoffs a while back, they literally sold out of folding tables at every single Walmart in the area because somebody started the ridiculous, yet awesome, trend of smashing through them in a tailgate-induced frenzy. We are diehard Bills and Sabres fans no matter what the season looks like, and tailgating in Buffalo is an absolute must-do for any sports fan. The crowds will welcome most anyone who wants to experience the madness (except Patriots fans). Newbies are always welcomed with open arms and handed an ice cold can of Labatt Blue --  if you're wearing Bills gear. If you're supporting the other team, I'd suggest hiding in your car unless you enjoy being verbally abused. 
Wings line the grills, along with the usual hotdogs and burgers next to it. Chicken wing dip and Wegmans subs are a must along with chips and Bison Dip. The food, gameday energy, and mania of the crowd is like a distillate of Buffalo's unique energy, and is definitely an unforgettable experience, even if you maybe forget some of the details. You know, like smashing that table. 
Down wings where the locals do
Here, they're not Buffalo wings. They're just wings. And it's not Buffalo sauce. It's just hot sauce. And I'm sorry, no one cares where you're from, if you come here trying to order ranch for your wings we are immediately going to judge you. Hard. It's blue cheese. I mean, you're talking about a city that has a festival at the national wing festival in September where people bob for wings in a baby pool filled with blue cheese. Not ranch. I mention all this because when you're in Buffalo, you're all but required to crush your weight in wings. And when you do it, you don't want to look like a schmuck. And you want to do it not only how the locals do, but where the locals do. 
I get it: While you're here you have to try Anchor Bar, the place credited with creating America's favorite bar snack waaaay back in 1964. They still make a mean wing worth ticking off your bucket list. But after that, prepare to go wing hopping. You can basically choose your own adventure, but there are a few you'd be a moron to sleep on, among them Gabriel's Gate, a rustic tavern in Allentown that also has unbelievable French onion soup. Bar-Bill is a small, constantly packed bar where you can get a delicious spicy bloody Mary to go with your order, which can be requested all flats or all drums. La Nova is a takeout pizza joint known for having some of the best slices in Buffalo, but their wings are something they don't always get enough credit for --they're super crispy, with charred brown bits and a generous coat of tangy BBQ sauce. If you're looking for something really out there, try the casual Dalmatia Hotel for flavors like PB&J, curry, mango habanero, lavender allspice, mojito, and more. And you'll definitely want to hit up Wingnutz to sink your teeth into one of their jumbo crispy wings, which Thrillist's named among the best in the US.
Niagara Falls is way, way cooler than you realize
Growing up just 20 minutes from Niagara Falls, I'm guilty of taking it for granted. My friends and I used to head to Canada in college because the drinking age is 19 in Canada, so it was like having two 21st birthdays. Whether you're on the kitchy American side or decide to cross the border into Canada for a great view, stopping to take in the amazing attraction is something you should definitely make time for during your visit. Niagara Falls State Park is America's oldest park and open year round all day and all night. You can get a great view of the falls from there any time, even in the winter when it partially freezes. 
Last call, 4am
Buffalo isn't the city that never sleeps. But it IS the city where, on the weekends at least, nobody seems to go to sleep until 4:30am, after last call, when bars have a habit of turning into raucous pre-dawn town halls. It's spectacular, and if you don't make it to last call at least once during a trip to Buffalo, you did something wrong. 
For a taste of Buffalo's rowdy side, hit up the clubs along Chippewa Street --aka the "Chip Strip" -- among them Bottoms Up where you can dance while holding a fish bowl filled with some mysterious blue drink; Soho, which is always filled with energy and packed with people; Rec Room, which manages a NYC club feel complete with live shows; or Sky Bar where you can party at the rooftop bar and enjoy the fresh air. For a relatively more mellow night -- emphasis on Mellow -- head to Allen Street, home to rustic bars Mulligan's Brick Bar and Allen Street Hardware, which are always alive with live music and dancing. And if you're looking to get rowdy on the dance floor with drag queens, downtown's Club Marcella is the city's rowdiest LGBTQ bar. 
But no matter what, you have to end the night at the Old Pink. The Pink kind of looks like a weird haunted house and the floors are always slightly sticky from people spilling their cheap beer after a night of too much drinking. They have a famous steak sandwich and enough bathroom graffiti to fill a (really gross) library. It's spectacular, an American dive-bar icon that might be worth a trip to the city in and of itself. Most locals out on Allen end up there after 2am to finish the night. Make it a goal with your friends visiting that you can't leave until you hear that those famous words, "last call 4am." Then, enjoy your bed. You've earned it.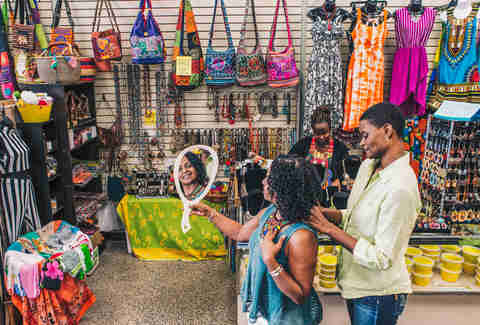 Eat around the world at the West Side Bazaar
Believe it or not, we don't just have wings and beef on weck in Buffalo. People are often surprised to see the wide variety of restaurants we have to offer, dishing out all kinds of cultural cuisine. Sure there are plenty of standalone restaurants, but if you're looking to explore multiple kinds of cuisine in one building, check out the indoor West Side Bazaar. The sprawling market -- open Tuesday-Saturday on Grant Street near Buff State College -- is focused with supporting immigrant communities and houses many small upstart entrepreneurs. This one-stop culinary experience can feed your craving for Thai and Burmese street eats, Mexican fare, sushi, and Ethopian mainstays. It's basically the most delicious way to learn about the cultures that come together in Buffalo. And although the food vendors are the standouts, there are also retail vendors and food retail vendors bringing products like clothing, jewelry, accessories, skincare, and more to locals from around the world. 
Experience the magic and weirdness of Dyngus Day
Buffalo is well known for having an epic St. Patrick's Day celebration that you should absolutely experience, but did you also know that Dyngus Day is also a huge thing there? Taking place on April 20, some say Dyngus Day began in 966 Poland, though given the presence of flamingos, we're still not entirely sure how the celebration became what it is in Buffalo. The main event is a raucous parade, during which floats douse onlookers with water and people in the crowd smack each other with pussy willow branches (it's some sort of mating ritual, just go with it), making for one of the most unusual experiences you'll ever have. Everything is also very decked out in pink flamingo yard decorations, which we're not sure fully relates to the celebration's roots, but whatever.  After the parade, everyone heads to the Central Terminal, an abandoned train station that still holds occasional events in Buffalo, for a beer-soaked, polka-sountracked, pierogi-fueled Dyngus Day. There's nothing quite like it, anywhere.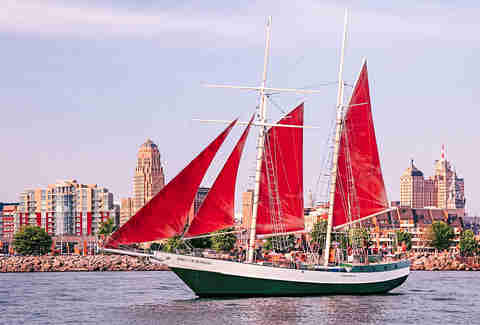 Booze cruise? Booze cruise!
During Buffalo's brief summers, locals try to squeeze in as much time in the sun as possible. That includes some time on the Buffalo River. And since it's Buffalo, that river time is best enjoyed with booze. The Spirit of Buffalo sailboat hosts wine in the winds throughout the summer. You'll get to sample plenty of wines from the Niagara region and from around the world. And since they really know the way to our hearts, the cruises also include a cheese-and-cracker buffet. Wine is not your thing? There's also a craft brew sail where you can try some of the cities best craft beers while taking a ride along the water, likely with similar end results of struggling with your sea legs afterward.