Actually Cool Things to Do in Buffalo, New York
Plus all the best wing joints in town!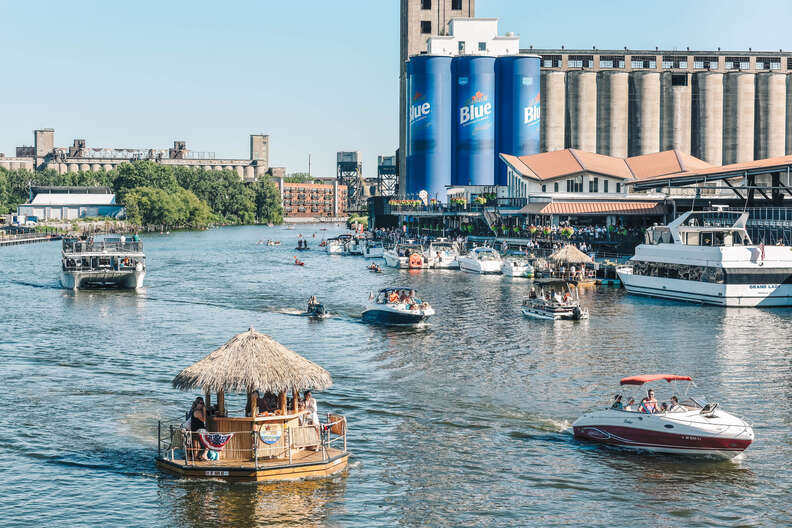 Plastered on t-shirts and murals around town, "Keep Buffalo A Secret" is an ubiquitous mantra in Queen City, essentially the "Keep Austin Weird" of Upstate New York. But the cat (or buffalo?) may already be out of the bag: Despite the pandemic lull, the city's reputation has continued to evolve from ice-coated Rust Belt punching bag to a destination primed for anyone after fantastic food and nightlife, exciting nature outings, and some of the liveliest locals you'll meet in the Northeast.
To outsiders, the surging interest in Buffalo might come as a surprise—but for locals, the accolades are long overdue. It's a hub for adventurers and eccentrics, foodies and super fans, beer enthusiasts and Canadian transients and everybody in between. From breweries with built-in zip lines to classic outdoor excursions, there's no shortage of fun in Buffalo. Here are the coolest things to do while you're in town.
Chow down on food from around the world
Believe it or not, Buffalo isn't all wings and beef on weck. Begin by expanding your mind (and your stomach) at the West Side Bazaar, a sprawling indoor market on Grant Street focused on supporting small upstarts and immigrant communities. This one-stop culinary experience will satiate your craving for all sorts of international meals, from Thai and Burmese street eats and Mexican fare to sushi and Ethiopian mainstays. While the food vendors are the standouts here, there are also retail vendors bringing you clothing, accessories, jewelry, and skincare from around the world.
Later, head to neon-drenched Misuta Chow's, and you'll find your misconceptions about Buffalonian food blown to bits. The joint is pure stimulation, with all the vibes of a Japanese street market packed into a downstairs dining room with an open kitchen. Their more eclectic dishes range from octopus-tentacle hot dogs to salmon roe deviled eggs and bao tacos while chicken sandwiches, rice bowls, and ramen hold down crowds happy to stick to the classics. After gorging, head up the hot-pink, sparkly stairs—perhaps Buffalo's most popular non-wing Instagram magnet—to the bar outfitted with Skee-Ball, pinball machines, and classic arcade games.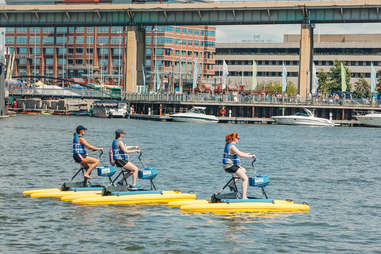 Explore the green spaces of Canalside and the Outer Harbor
Home to markets, concert venues, restaurants, an ice rink, and heaps of year-round activities, the newly-revamped Canalside is the real heart of Buffalo's revitalization. In the summer, you can take a water bike or kayak for a spin; in the winter, try a ride on an ice bike, one of the city's best exports since Buffalo wings and Rick James. On the quieter side of the canal along the Outer Harbor, you'll find more than 200 acres of greenery, winding bike paths, longboard, paddleboard, and kayak rentals, and more. From there, take a $1 boat ferry across the Buffalo River and a quick bike ride up to the Buffalo Lighthouse, where you can relax waterside and enjoy the quiet.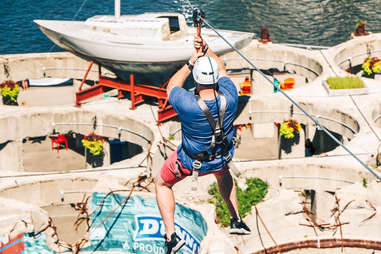 Zipline through a shark's mouth and into a brewery
Yet another centerpiece of Buffalo's waterfront renaissance, Buffalo Riverworks is a sprawling entertainment and adventure complex where you can see live music, kayak, check out a roller derby, and—most crucially—mix craft beer while indulging your adrenal gland.
Here, you can scale the historic grain silos of Buffalo's industrial district, now painted to look like giant cans of Labatt Blue and nicknamed "The Six Pack." If you're feeling bold, you can even zipline from them, soaring 110 feet over the sprawling beer garden and straight into the mouth of a giant shark mural. (As a heads up, they're building a ferris wheel on the property, so only one zipline is running at the moment; once the wheel is up and running, the entire experience will be back in business.) Once you've conquered your fear of heights, hit the cereal beer brewery for a brew that tastes like Froot Loops.
Get what you came for: the wings
Here, Buffalo wings are just wings; Buffalo sauce is just hot sauce; and above all else, it's absolutely vital that you order them with blue cheese. (Ranch-lovers, go home!) With those rules established and memorized, head to Anchor Bar, the place credited for creating America's favorite bar snack back in 1964 (and where they still make a mean wing worth ticking off your bucket list). Then, it's time for some all-night wing-hopping.
There's Gabriel's Gate, a rustic tavern in Allentown with killer wings and unbelievable French onion soup. Bar-Bill's small, often-packed bar serves a delicious spicy bloody Mary to go with your order, which can be requested as all flats or all drums. La Nova, a takeout pizza joint with some of the best slices in Buffalo, also serves super crispy wings doused in tangy BBQ sauce. If you're down to try something a little more out there, hit the Dalmatia Hotel for flavors like PB&J, curry, mango habanero, lavender allspice, mojito, and more. And at Wingnutz, sink your teeth into jumbo crispy wings, which we personally consider among the best chicken wings in the US.
Take a history lesson 100 feet in the air
If you're a history buff with a sense of adventure, the Silo Vertical Tour is for you. Ride the 109-year-old grain elevators up as many feet into the air, learn all about malt production and Silo City, and take in beautiful views of Buffalo, Lake Erie, and...well, the other grain elevators. It might sound dull, but don't knock it 'til you try it: The heights make for a pretty exciting (if dizzying) history tour, and Explore Buffalo does a killer job of keeping you intrigued. And if you'd rather take to the water than to the sky, Elevator Alley Kayak will launch you on a kayak tour from a 110-year-old historic building in the Old First Ward out onto the city's waterways.
Enjoy Niagara Falls, no matter the season
Open 24/7/365, Niagara Falls State Park is America's oldest. Whether you're on the kitschy American side or decide to cross the border into Canada, stopping to take in the titanic waterfall is something you should definitely make time for during your visit. If you visit in summer, bring a change of clothes: The plastic ponchos they hand out for the Hurricane Deck work about as well as a flimsy bodega umbrella in—well, a hurricane. In other words, they're absolutely no match for the powerful spray of the falls and will leave you soaked. If you visit in winter when the water partially freezes over, check out the newly winter-proofedCave of the Winds experience for a special glimpse of the icy falls, cascading down toward you as if frozen in time.
Drink in the other New York city that never sleeps
In Buffalo, last call often doesn't come around until 4:30am when bars have a habit of turning into raucous predawn town halls—a sight well worth pulling an all-nighter for. Luckily, it's easy to stave off the sandman with a few (or more) drinks.
For a taste of Buffalo's rowdy side, hit up the clubs along Chippewa Street (aka the "Chip Strip"), among them energetic, always-packed Soho; Sky Bar, a solid rooftop option; or Rec Room, which perhaps promises the zaniest time: Along with doling out bizarre cocktails, during Thursday live shows they take audience requests and hand out instruments like maracas and tambourines so the crowd can play along. For a more mellow outing, head to Allen Street, home to rustic bars like Mulligan's Brick Bar and Allen Street Hardware, or turn it up to 100 and get on the dance floor with drag queens at downtown's Club Marcella, the city's best LGBTQ bar.
No matter what, you have to end the night alongside locals at The Old Pink. The Pink might remind you of a weird haunted house, except with stickier floors, bathroom graffiti, and a pretty excellent steak sandwich. It's spectacular, an American dive bar icon that might make Buffalo worth a trip all on its own. Try to stick it out until you've heard "last call, 4am." Then enjoy your bed. You've earned a long rest and your Buffalo stripes.
Or take it easy with a booze cruise
During Buffalo's very brief summers, locals try to squeeze in as much time in the sun as possible. That includes some time on the Buffalo River. And since it's Buffalo, that river time is best enjoyed with booze. On summer Wednesdays, the Spirit of Buffalo sailboat hosts their Wine in the Wind cruises, where you'll get to sample wines from the Niagara region and around the world while snacking on a cheese-and-cracker buffet. Wine not your thing? There's also a craft brew sail, on which you can try some of the city's best craft beers while cruising along the water.
Tailgate at a Bills game
Ah, the Bills Mafia: a fanbase that loves tailgating so much, they once sold every single Houston-area Walmart out of folding tables because they were so excited to uphold the tradition of smashing through them during especially exciting games.
After a year off of stadium life due to the pandemic—which, unfortunately, turned out to be one of the Bills' most epic seasons yet—folks are ready to flood the stands yet again. Whether you're already a diehard fan or you don't know the difference between a touchdown and a homerun, get your fill of game-day eats—Buffalo wings, hotdogs, burgers, Wegmans subs, and chips and bison dip—and prepare to soak in the mania. Being part of the gameday crowd is like a distillate of Buffalo's unique energy and makes for an unforgettable experience, even if you forget some of the details afterward. You know, like smashing that table.
Experience the magic and weirdness of Dyngus Day
Some say Dyngus Day began in Poland in 1966—but given the presence of flamingos, no one is entirely sure how Buffalo's annual celebration became what it is today. The main event is a raucous parade during which floats douse onlookers with water and people in the crowd smack each other with pussy willow branches, making for one of the most unusual experiences you'll ever have. After the parade, everyone heads to the Central Terminal, an abandoned train station, for a beer-soaked, flamingo-decorated, pierogi-fueled party with a polka soundtrack. You'd be hard-pressed to experience anything like it anywhere else.