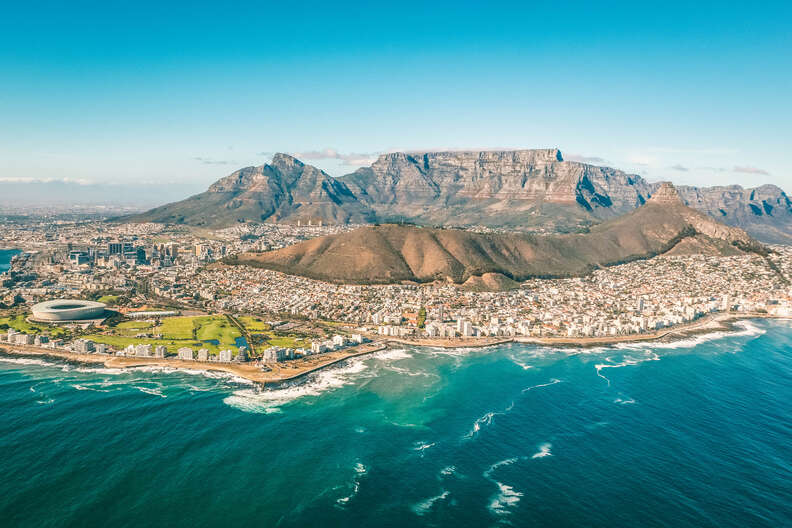 Cape Town has risen above its past to become a vibrant, welcoming cultural hub.

| Christopher Loh/Moment/Getty
Cape Town has risen above its past to become a vibrant, welcoming cultural hub.

| Christopher Loh/Moment/Getty
Art, Food, and Beach Life Have Catapulted This South African City to Must-Visit Status
After several visits to this South African city over the last few years, if there's one thing I've realized it's that there's always another natural wonder or whoa panorama around the corner in Cape Town-- and another South African out-hiking me, cracking me up, or drinking me under the table.
The charm of Cape Town, South Africa's first city founded on the Spice Route, is equal parts beautiful scenery and incredible people. Maybe it's the steady regimen of year-round sunshine, but you're sure to meet a lot of friendly and fun-loving folks during perfect days that start with dreamy vineyards, transition to post-day-drinking rides to modern art galleries, and end with a grand finale sunset at the beach.
Along with good vibes, there's historical wisdom to take away with you. Diverse ethnicities and backgrounds from across Africa converge here in post-apartheid South Africa, Desmond Tutu's aptly-named Rainbow Nation. Right now, a cosmopolitan cadre of artisans, artists, gastronomes, winemakers, and designers are shaping Cape Town into a seriously cool creative capital.
Many people are kept away by the sheer distance down to Africa's southern tip -- from the US, 25+ flying hours with a layover in Europe, and at least $800 a seat -- but in the end, it's worth the time and money. After all, it's a once-in-a-lifetime trip to Africa you'll never regret. Now that your flight alerts are on, here's a rundown of the breath-taking backdrops, best neighborhoods, places to eat, and things to do.
When to visit -- and where to stay in -- the Mother City
First thing's first: People presume that Cape Town is dangerous, but contrary to foreign misconceptions and political history, the entire city does not look like a Die Antwoord video. It's not hard to stay safe by using common sense and staying in safe areas. In reality, this is a relatively easy destination, even for your mom who's never left Ohio. English is the main language, ride-hailing apps are popular, and American bucks go far against South Africa's currency, the rand.
The best time to go is summer, from September to February, when there are lots of events (yes, Capetonians are patio-drinking with a fabulous 17 degrees, while some of us are shivering in Uggs). During the dog days, there's an outdoor concert series in Kirstenbosch Gardens (this year's acts include the philharmonic and "John Cena" bopper Sho Madjozi), the Love Ball queer festival in December, and several vino festivals in the Winelands. That being said, there's really no bad time of year to visit Cape Town -- even winter, June to August, is a sunny, warm 12 degrees.
Cape Town is huge, comprising inner-city neighborhoods, nature-heavy suburbs, beaches and sprawling, unspoilt eco-expanse like Table Mountain National Park. Downtown is easy to navigate, but having an international SIM and Google Maps is the best way not to get lost. On the plus side, Cape Town's areas are really diverse and distinct, so depending whether you're up for nature or an urban vibe, it's possible to mix things up a lot.
Camps Bay is where Cape Town's beautiful people lounge on white sands and toss Frisbees, while dressed-up Europeans spill out of beach-bar parties on the boardwalk. Dodging tourist traps can be a task here, but the mise en scène is worth it -- postcard-perfect sunsets and a potential dolphin- or whale-sighting, anyone?
Much different from Camps Bay and more relaxed beachy 'burbs like Simon's Town and Muizenberg are inner-city areas like Bo-Kaap and Woodstock. Bo-Kaap is the former "Malay Quarter" township where slaves were segregated to live. Today's residents have carried on ancestors' tradition of painting houses with rainbow-bright colors, and the area features mosques, halal restaurants, and spice shops. Not far away is Woodstock, a historically multi-racial neighborhood that's now synonymous with cool and edgy in Cape Town. Gentrification is spiffing up run-down and neglected industrial buildings with fresh facades and splashy graffiti. All that hipster spitshine has turned Woodstock from an impoverished no-go area into a base for the creative scene with art galleries, craft breweries, and boutiques. More on that later.
You'll need wheels to get around Cape Town, but it's better if they're not your own. They drive left, motorways are many-laned, and parking can be sparse. Some township signs declare "smash and grab hotspots." So sit back, relax and just swipe for a ride: Uber is reliable and surprisingly inexpensive -- much more convenient than the confusing public transport. There are also two more ride-hailing apps if you want to do a little bargain-hunting before committing to "Confirm": the taxi app Bolt and local startup Jumpin Rides.
Where you choose to hole up is important in Cape Town, as, just like LA, the city's really spread out and traffic blows. Camps Bay has the widest range of accommodation, including hostels, guesthouses, and fancy-schmancy hotels. Airbnb also has lots of options in the heart of the city, and you can get a pretty nice pad to yourself for about $60 a night.
We recommend checking out Airbnbs in the residential suburb Green Point, which is affordable, safe, and more low-key than the city center. Green Point is just a five-minute drive to the V&A Waterfront and 10 minutes to Woodstock when the traffic's right.
History is a key to understanding Cape Town
You can't enjoy the multicultural, vibrant juggernaut that the Mother City is without understanding its past. South Africa's history -- from the slave trade to apartheid -- may be difficult to hear, but there's a lot that relates to our crazy world today. The tips-based Free Walking Tours Cape Town offers a good intro via several landmarks; dig deeper at venues like the Bo-Kaap Museum and District Six Museum, spotlighting two fascinating multi-racial neighborhoods.
No trip to Cape Town is complete without time at Robben Island, where Nelson Mandela was imprisoned for 18 years. The tour includes a lot of background and a look inside Mandela's tiny cell. You'll need to book well ahead via the website, and plan to be on time to catch the ferry included in the ticket price.
Cruising around Cape Town, you are sure to pass by townships, shanty-towns made of aluminum shacks and tarp, so it's understandable to be curious about them. Several companies offer township tours, and many will make you squeamish in a voyeuristic, "let's gawk at the impoverished" kind of way. No bueno. We strongly advise doing research (starting with reading this article) about the murky morality behind slum tours, and before choosing a company, ask them tough questions about their ethics and business models. Uthando is a non-profit organization we strongly recommend, as it works closely with local groups and is transparent about how funds go back into communities.
An emerging art scene and world-class shopping
Cape Town's artistic resurgence has been percolating ever since South Africa's racist apartheid regime ended in 1994. Creative and political expression is essential to healing, as for decades, South Africans were segregated and silenced according to skin color. Now, Cape Town's gallery scene is flourishing with allegedly more than 50 spaces that cost nothing to visit.
If you can, plan to attend for First Thursdays. On the first Thursday of every month, galleries, shops, and restaurants around the city throw open their doors for free late-night exhibitions, performances and events. In Cape Town's downtown City Bowl and East City areas, it's a big ol' street party. In Woodstock, street artist Juma Mkwela also offers a fantastic tour around graffiti murals and galleries most days of the week.
The Zeitz Museum of Contemporary African Art (MOCAA) is also an essential stop. Opened in 2018, it's the world's premier gallery of African contemporary art. The museum is massive, spread across nine floors inside a beautiful 1920s granary, one of the tallest buildings on Cape Town's skyline. WHATIFTHEWORLD, a downtown design and art collective, is also worth a detour, credited with kick-starting this new appetite for modern art in Cape Town.
If you're more in the mood to shop, Cape Town is a consumerist's dream. Cape Town's main shopping area is the V&A Waterfront, with several big indoor malls and shops lined along the harbor. The busy boardwalk has buskers, a Ferris wheel, comfy outdoor seating, and some yacht action off the wharf -- your standard touristy stretch, but worth a pit-stop if only for the people-watching.
Meanwhile in Woodstock, a string of boutiques, design studios, and vintage shops are spread across Albert and Roodebloem Road within about a kilometer. Be prepared for a sweaty walk in the gray industrial area, but it's worth a little perspiration for cool surprises like The Woodstock Foundry, a shopping complex in a century-old heritage building, and The Woodstock Exchange, a mall showcasing independent fashion and design. In the latter, look out for Chapel, makers of stylish yet value-priced leather bags and upscale bean-bag Fatsak.
Unforgettable food and drink on a shoestring budget
Budgeting $50 or $60 for a day's worth of restaurants will get you far in Cape Town. The local ingredients are good (read: seafood and booze), and available for a fraction of what you'd pay elsewhere. And thanks to the nearby Cape Winelands, good wine and MCC (bubbly that's essentially Champagne but can't legally be called that) is everywhere.
A bib-worthy dinner of seared salmon and jumbo prawns awaits at Pigalle, an elegant Portuguese restaurant in Green Point where you'll also get a free side of cheesy live cover music. You can also get fancy at the oyster and bubbly bar at SeaBreeze Fish & Shell.
Woodstock has become the de facto headquarters of craft beer in Cape Town thanks to the Woodstock Brewery and Devil's Peak taprooms. The don't-miss spot, though, is Brewers Coop, a collective of 16 microbrewers who show off their wild variations of ales and onwards in one venue. Woodstock Gin Company is also worth a stop if only to take home a bottle of delicious gin infused with rooibos tea.
Neighbourgoods Market takes place in Woodstock at Old Biscuit Mill, a restored factory complex of shops. On weekends, it's bursting with milling bodies and stands selling world street food from paella to South African bunny chow, but also take-homes like clothes and art.
Down for a splurge? Old Biscuit Mill is also home to Cape Town's hottest restaurant The Test Kitchen. The tasting menu of global cuisines is inspired by the chef's world travels from South Africa to Japan. Bookings are made three months in advance and a 600 rand ($40) deposit is necessary.
Also of note: In Cape Town, day-drinking is totally acceptable. There are several vineyards in the nearby Cape Wineland, but right in the city, you can get tipsy and tanned at Shimmy Beach Club on the touristy V&A Waterfront and Café Caprice in Camps Bay. Be forewarned, both clubs do thrive on an overall pretentious vibe (think beefy bods and bottle service), but the beach views can't be beat.
A good drive from downtown is also the famous parties at Mzoli's. Located in Gugulethu township, this open-air shack has cult status for its barbecue cookouts and open-air dance parties. Gugulethu is not safe to wander aimlessly; take an Uber to and from the venue.
Dive deep into nature without journeying far
Few cities are as overflowing with gorgeous landscapes as Cape Town. Smack-dab in the middle of the city is Table Mountain, with lots of hiking opportunities around it or neighboring peaks like Lion's Head and Signal Hill. There are beautiful beaches like Muizenberg, still a popular surf-spot in South Africa, and Boulders Beach where a penguin colony saunters and preens.
The best-known harbor is V&A Waterfront, but there are also charming, less touristy docks in Cape Town's outskirts suburbs like Kalk Bay (there's a fresh fish market here and sometimes, sun-bathing seals), Hout Bay (good for snorkeling), and at locations around False Bay, where great white sharks have been spotted.
And just an hour's drive outside of town is the Cape Winelands we've been talking about, a sweep of magnificent vineyards and pretty mountains. Cute boutique hotels and posh, historic wineries are worth exploring for a day or two, but can also be a day trip. Check out Spice Route, an old farmhouse where tastings of wine and artisan goods take place between lush green fields. A little closer is Groot Constantia, one of South Africa's oldest wine farms.
The ability to plunge into such a fascinating and eco-diverse countryside is alone worth the journey. But packaged with everything Cape Town's great food, vibrant neighborhoods, and incredibly welcoming people, it pushes the South African metropolis toward the top of any must-visit destination.