14 Beautiful Places That Make South Africa a Once-in-a-Lifetime Trip
For years, I dragged my feet on visiting South Africa. Too far, I said. It wasn't until this year, when I finally gathered the time and funds to visit a friend in Cape Town that I finally got it. If this country isn't on your list of must-visit destinations, at least scribble it there in pencil. It is a journey you must set out to make, to the farthest edge of perhaps the world's most challenging continent for American travelers. But it's a trip you'll never forget, nor regret.
What you'll find here: life-changing scenery, powerful ocean sunsets, and a dynamic blend of culture and history. Travel itself is more straightforward than in many other countries. English will get you around, as will Uber, and the American dollar goes far right now. If you're not convinced, just consider these spectacular views. We've rounded up some of the grandest in South Africa.
Johannesburg
After decades of decay, Jo'burg's exterior is rapidly changing; think chic lofts and hipstery pockets of urban rejuvenation, à la other raw, edgy cities like Krakow and Berlin. The Nelson Mandela Bridge, perhaps the city's biggest symbol of South Africa's struggle for unity, embodies that dueling glitter and grime. Completed in 2003, it's a colossal beacon of light by night, using LEDs to alternate colors for a spectacular show.
Pretoria
Don't let Pretoria's affluence and authority in South Africa lull you -- this is not your typical government city. Jacarandas (that Dr. Seuss-worthy tree above) blow up the city around October and November, contrasting whimsical purple onto statuesque state buildings and 'burbs. It's a thoroughly Afrikaner city with high-energy locals. One sunset session steeped in local wine and South African accents, and you're hooked.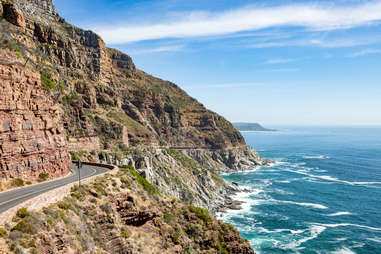 Chapman's Peak Drive
This curve-hug in Cape Town is one of the world's most beautiful coastal highways, offering an unforgettable green slice on the Atlantic. Follow it out of Downtown to a daytime buzz at Cape Point Vineyards or to Noordhoek, a scenic area with boutique shopping and rustic eateries. Eat, drink, and gape off winding edges Ubering back.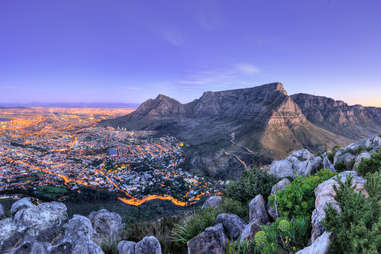 Table Mountain
Climbing into the tiny cable car up Table Mountain elicits fears of another overstated tourist attraction, but this is anything but. The rotating ride sets up stomach-churning views reaching the top for impressive precipices and wacky cloud waves, which local legend says is from a smoking contest between the devil and a pirate. If you're feeling sporty, skip the cable car and hike down.
Kogel Bay
This sandy beach lies in an enclave of rugged paradise, shielded from the wind by craggy mountains. Kogel Bay is smack dab on the Whale Route, a winding, gloriously undeveloped coastal drive known for humpback sightings and peppered with charming towns.
Kirstenbosch Botanical Gardens
You just can't miss Kirstenbosch, especially after the park ranger at your recent wildlife reserve adventure refuses to stop raving about it. Diverse and exotic flora converges here across striking, fragrant fields. On Sundays during summer it stirs all the senses, with regular open-air concerts amid the greenery.
Cape Winelands
This dreamy region on Cape Town's outskirts is a bucolic spread of vineyards and little village escapes like Stellenbosch and Franschhoek, former Dutch and French settlements with the architecture to match. Spend days barreling between tasting rooms and feasting at some of South Africa's best restaurants before witnessing perfect sundowns.
Camps Bay
Camps Bay, known for its white sands and dolphin sightings, is considered Cape Town's most beauteous living. Trendy restaurants and cafes, cozy accommodation -- it's all a skip from the beach. Because you haven't lived until you've stayed in an oceanfront villa or boutique resort, drinking bubbly and mountain gazing from a private pool.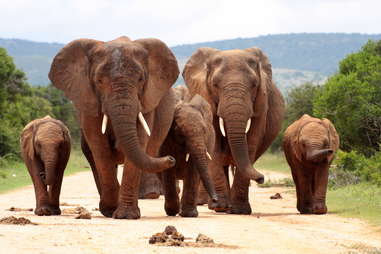 Addo Elephant National Park
This national park on the Eastern Cape is a melting pot of African wildlife: lions, zebras, black rhinos, all the deluxe critters. The jewel is the 600 elephants in varying constellations of herds. Watching African pachyderms will awe you -- for their sheer size, and for the glimpse into their personalities and tight family bonds.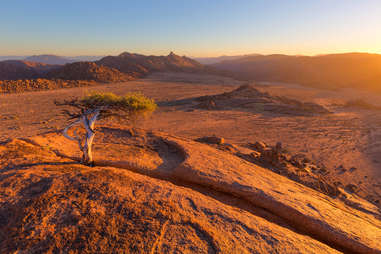 Richtersveld
South Africa's most remote national park is the closest thing you'll find to Mars. Crafted by millions of years of harsh elements, steps reveal bursts of red dust in a desertscape defined by lava rocks and warped trees. Despite all this it's home to so much wildlife that UNESCO has classified it as the planet's only biodiversity hotspot that's entirely arid.
Tsitsikamma National Park
South Africa's famous Garden Route has abundant stops for no-holds-barred adventure. The Bloukrans Bridge caps them all. The highway arch is the world's highest commercial bungee jumping site, at a height of 700 feet. Plunge into depths of verdant green, or just drive across -- that might be enough of a rush.
Golden Gate Highlands National Park
Near the border of the landlocked kingdom Lesotho, a single flat crag called the Brandwag Buttress is the most iconic site in this national park. Walking trails might reveal a rare vulture, distant galloping antelope, or, if you're really lucky, a trace of dinosaur life.
Coffee Bay
With tropical vibes, surfer swells, and happy hippies, this idyllic coastal wedge wouldn't feel very South African if it weren't for the evening djembe drum sessions and all the fresh Eastern Cape mussels. Come to catch beginner's waves and you may never leave.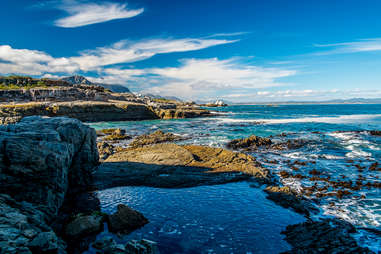 Hermanus
About an hour and a half drive from Cape Town, this developed fishing village is where you'll likely get to see your first whale. Climb in a boat and you might even be treated to penguins, seals, or a dolphin pod amongst crystalline waters.
Sign up here for our daily Thrillist email and subscribe here for our YouTube channel to get your fix of the best in food/drink/fun.
Barbara Woolsey is a Berlin-based writer who drove for the first time in left-handed traffic in South Africa, and lived to tell the tale. Follow her on Facebook and Instagram.