10 Reasons Why Winter Is Actually a Great Time to Visit Chicago
Paid Content For
Choose Chicago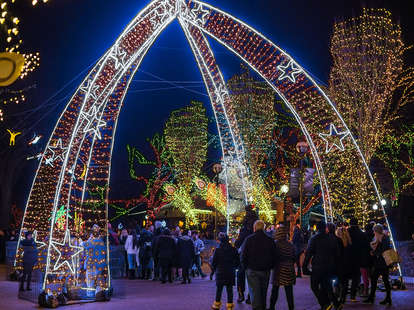 Phil Parcellan- Zoolights
Phil Parcellan- Zoolights
We're going to let you in on a local secret: Winter is actually one of the best times to visit Chicago. The city goes all-out in the colder months, with magical holiday light displays, hot chocolate options worthy of your Instagram feed, and plenty of cozy restaurants and bars where you can snuggle up with a bite or a glass of wine (or even try your hand at curling). Still not convinced? Here are 10 reasons you need to book a trip to Chicago this winter.
Winter starts with awesome holiday events
You know it's winter in Chicago when Christkindlmarket pops up in downtown's Daley Plaza; the German-styled outdoor bazaar is brimming with crafts and a sleigh's worth of holiday cheer. For Christmas lights, you can't do much better than the BMO Harris Bank Magnificent Mile Lights Festival, when a grand tree-lighting parade makes its way through the iconic Michigan Avenue shopping district amidst much wonder and fanfare (also: fireworks). Or, hit up Lincoln Park Zoo's popular ZooLights for every type of Christmas display you can imagine, constructed out of 2.5 MILLION lights.

Lights are great and all, but what about parties? We're glad you asked. Annual pop-up Frosty's Christmas Bar will get you in the mood to sip seasonal drinks in your favorite ugly sweater, while the yearly SantaCon bar crawl sees throngs of costumed Santas stop over at local bars and popular tourist sites.
New Year's Eve in Chicago is insane
Figuring out where you're going to ring in the New Year can feel as stressful as the holiday season that just preceded it. Luckily, Chicago has your bases well covered in that department. This year marks the 20th anniversary of the iconic New Year's Eve at the Drake, when 40 bars are set up in one of Chicago's fanciest hotels for a night you will never forget. Other popular NYE parties go down at the Hilton and Congress Plaza Hotel while smaller, more intimate experiences can be had at local music venues, art galleries, and comedy clubs. Or, skip the parties and head out to Navy Pier where you can ring in the new year in truly spectacular fashion at its annual fireworks display. Bottom line: you're gonna need to stay an extra night after this thing.
The season hosts some of Chicago's most iconic events
Sure, everyone knows the top Chicago summer events like Lollapalooza and Taste of Chicago. Winter is often overlooked in the events department, yet the season more than holds its own by stuffing in some of the city's most iconic events. January kicks off the year with a bang as Sketchfest (January 9-19) flexes Chicago's winter comedy muscles and the hipster-approved Tomorrow Never Knows indie music fest (January 15-19) brings a mini-SXSW to the Midwest. February means it's time for the massive Chicago Auto Show, the largest show of its kind in the US, which also hosts one of the fanciest nights of the year: First Look for Charity. And don't forget about Chicago Theatre Week, where you can get marked-down tickets ($30 or $15 a seat, or sometimes even less) to performances at participating venues around the city.
Winter includes Chicago Restaurant Week
With more than 350 participating restaurants across the city offering special prix fixe menus -- ranging in price from $24 for brunch or lunch and $36 or $48 for dinner -- Chicago Restaurant Week (January 24 to February 9) is the perfect time to try something new (in addition to the requisite Chicago classics such as hot dogs and Italian beef). Chicago is a world-class culinary destination for a reason, and this event proves it. Get an early jump on the action at the First Bites Bash opening event. Note: although it's called Chicago Restaurant Week, it actually lasts for 17 days. Chicagoans make no small plans. Especially when it comes to food.
You can hone your curling, shuffleboard, archery & axe throwing skills
Just because it's not t-shirt and flip-flop weather doesn't mean you can't stay active. Yes, you could run on the treadmill at your hotel, OR you can hit up a local bar like Kaiser Tiger and do some curling on their playful outdoor rink. Shuffleboard is cool again, so discover what all the fuss is about at the lively Royal Palms, where DJs and a hip cocktail bar vibe round out the experience. Those with a penchant for chucking axes at walls can get out their winter aggression at a local axe throwing venue like Backyard Axe Throwing League, while archery makes a fun winter (or anytime) outing at the under-the-radar Archery Bow Range Chicago.
The ice skating, sledding & snowshoeing options are no joke
Like most Midwesterners, Chicagoans take their winter sports seriously. And skating at Millennium Park's McCormick Tribune Ice Rink is a long-running tradition well worth your time. Yet it's far from the only game in town, with newer entrants including the excellent Maggie Daley Park skating ribbon and the ice rink outside Wrigley Field at Winterland at Gallagher Way, which runs from late November to late January.

A wonderful sledding option in the city is the 33-foot hill outside of Soldier Field (BYO sled), which sports excellent views -- the city even creates fake snow in the absence of actual flakes. And yes, there's also snowshoeing. Get that done at the picturesque lakeside winter wonderland that is Northerly Island, where the Chicago Park District hosts a range of free activities at Polar Adventure Days.
Hot chocolate is taken very seriously
Bear in mind: with cold, also comes hot chocolate. The quintessential winter beverage gets kicked up several notches at superstar chef Mindy Segal's beloved Mindy's Hot Chocolate, where everything is so good you'll want to throw on a Snuggie right in the restaurant and make yourself comfortable. BomboBar's Instagram-worthy creations (seriously, they even recommend a filter right on the menu) upgrade your typical hot cocoa with two flavors: s'mores (topped with chocolate biscotti, house-made fluff, caramel sauce, graham cracker crumbs) and funfetti (whipped cream, blue icing, sprinkles, funfetti biscotti), both served with their signature mini donut. For a ridiculously decadent treat, the "drinking chocolate" at Katherine Anne Confections is made with real chocolate (not cocoa powder) and comes in 10(!) different flavors, including salted caramel, strawberry butterscotch, and coconut lime.
The 'hygge' options are ridiculously on point
Get your fill of the Danish phenomenon known as hygge (which translates roughly to coziness) at the alarmingly cute Elske, where an uber-talented husband-and-wife duo (our pick for top Chicago chefs of 2017) are serving up an array of delectable delights that pair perfectly with a cold winter's day. For curling up with a good book (along with drinks and games), the Wi-Fi-free Kibbitznest bookstore is tough to beat in a snowstorm. And while rosé season is long gone, you can still sip a glass of vino in view of the water in one of the heated "wine igloos" at City Winery at the Riverwalk.
Beyond cozy bars and restaurants, Chicago offers plenty of other venues for hiding out from the cold. Garfield Park Conservatory features two acres of lush indoor gardens and is like stepping into a tropical rainforest oasis where the heat is always on full blast. The city also has a number of cool old-school movie theaters, like the Logan Theatre and Music Box, where you can attend screenings surrounded by ornate architecture. Gamers are also encouraged to try their hand at one of several arcade bars around town, like the always-happening Emporium.
You can dive into frigid Lake Michigan (or participate in all sorts of other quirky events)
Just because it's cold outside, doesn't mean it's not beach season for some Chicagoans. Every year, the Chicago Polar Plunge brings out crowds of hearty revelers to a frozen North Avenue Beach (in costume or in standard beach attire) to dive into the icy waters of Lake Michigan for charity. Winter in Chicago also means it's time for Cupid's Undie Run, which takes place around Valentine's Day, where you can streak through the city in your underwear (or just watch others do so). And if that's not enough, there's also the CHIditarod. The annual late-winter activity (usually held in early March) is modeled after Alaska's Iditarod, but instead of dogs pulling sleds, it features teams racing shopping carts through the streets of Chicago, all dressed up in outrageous costumes. And it's for a good cause, with food gathered along the route going to the Greater Chicago Food Depository.
Winter culminates with the St. Patrick's Day Parade
Ah, St. Patrick's Day in Chicago. The unofficial end-of-winter bacchanal where legions of Chicagoans reconnect with their fellow citizens over green beer and the best damn parade in America (make that two parades, as the annual South Side Irish Parade is on par with the more famous downtown parade.) Not to mention, the city dyes the Chicago River green. Yeah, this is a day that needs to be seen to be believed. And much like winter in Chicago, it's made all the better because you braved the elements to experience it.