Cincinnati might seem like one of those "not-a-major-tourist-destination cities," but it actually has a quite a lot going on. From the rapidly-revitalizing Over-the-Rhine (OTR) to the suburbs and even all the way across the river into Kentucky neighborhoods like Newport and Covington, the city really feels like it's on the up-and-up. Inventive new restaurants and experiences opening almost weekly combine with a rich history and a strong sense of Cincy pride to make The Queen City a really fascinating place to explore, as an out-of-towner or as a local.
If you've got visitors coming to Cincinnati, there's a simple, totally foolproof plan for guaranteeing that they have an unforgettable time: just take them along to the fun stuff you normally do. But whether you're doing the visiting or are the one being visited, we made things easy for you. Here the best things to do Cincinnati has to offer:
Recommended Video
Debatable: It's Fine To Recline Your Seat On a Plane
Take a brewery tour
$$-$$$
Multiple Locations
Any attempt to put into words just how strong the bond is between Cincinnati and its beer would probably fall short. It's always been this way for the city, which boasts a very strong German heritage (In fact, in 1880, the Cincinnati Reds were kicked out of the National League for about a year because they refused to stop selling beer). These days, it's all about craft beer. There are more than 30 craft breweries in the area. Book a brewery bus tour to hit as many as possible, as quickly (and safely!) as possible.
Here are a few highlights. Rhinegeist in OTR is popular for its huge space and its incredible rooftop; MadTree has a massive variety of great brews, along with a stellar dog-friendly patio; Urban Artifact is located in the basement of an old church in funky Northside and serves up their signature, almost smoothie-like Midwest Fruit Tart beers, often with a fresh fruit garnish; and Christian Moerlein is an old-school, pre-Prohibition brand that has a sleek Lager House at the Banks which offers an incredible view of the river. I could keep going, but I'll spare you.
Watch an FCC game from The Bailey
$$
Nippert Stadium
Cincinnati has a reputation for being a baseball town (Reds, I'll always love you, even if you keep "rebuilding" the team forever), but that's quickly shifting. The city's minor league soccer team, FC Cincinnati, was an instant hit with locals, and in 2018, the city got an upgrade when it was awarded a Major League Soccer franchise. Don your best orange and blue, grab a Moerlein Blood Orange IPA, and (if you're feeling brave) buy some tickets to sit in The Bailey, the superfan seating section where you'll experience all of the flags, colored smoke, and cheers first-hand. While the team is waiting on a new stadium as part of their major league deal, games are played at the University of Cincinnati's Nippert Stadium, so save some time to explore campus before or after the game.
Get a drink at a speakeasy hidden in a video rental store
$$
Walnut Hills
Welcome to Cincinnati's premiere Quentin Tarantino-themed video store speakeasy! It's also Cincinnati's only Quentin Tarantino-themed video store speakeasy, but that's neither here nor there. The front half of The Video Archive looks just like a classic video rental store, complete with shelves of VHS tapes. The clerk will give you a hint as to which tape to pull to open the secret door into the bar, cleverly hidden in a sliding shelf. The drinks menu rotates, but the delicious, bourbon-infused, Pulp Fiction-referencing $5 Milkshake is always available (and yes, it's actually $5). They frequently host movie screenings on their patio on Saturday nights and even host evenings dedicated to favorite TV shows, as well as holiday themed pop-ups. Gorilla Cinema, the company behind the Video Archive, also runs The Overlook Lodge, a Shining-themed neighborhood bar, and Tokyo Kitty, a Lost in Translation-inspired karaoke bar that slings Japanese tiki drinks.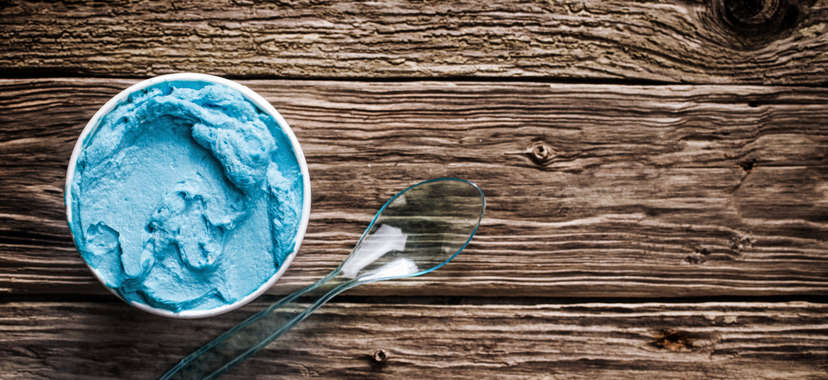 Fall in love with blue ice cream
$
Multiple Locations
You'll only find this in the summer, and if you're able to snag a cone, be warned: you'll be dreaming about the day when you can roll up to an ice cream stand in shorts and flip flops and order a blue cone topped with rainbow sprinkles all winter long. The trend of serving blueberry-flavored soft serve started at Kings Island, a theme park just north of the city, in the 1980s, when it was created as a promotional special to go along with a Smurfs-themed ride. When the Smurfs ride closed in 1992, the blue ice cream was replaced with a cherry-red soft serve... and the people revolted. K.I. brought it back, and it's been on menus across the park ever since. It's also now offered at various ice cream stands and creamy whips like Putz's and Norwood Delite. It's especially great in a blueberry-vanilla twist cone.
Breakfast at Findlay Market
$$
Over-the-Rhine
There's no better place to be on a weekend morning than Findlay Market. Cincinnati's oldest covered public market offers inventive food at various stalls, fresh and local goods and produce, and occasional live music at the beer garden. Grab a pastry from Blue Oven, a Honey Bear latte from Deeper Roots, and enjoy people-watching and browsing through the various shops and stalls. And don't forget to pick up some goetta from Eckerline (Seriously, you can't leave Cincinnati without trying goetta, our beloved mystery meat made from sausage and pinhead oats. It tastes better than it sounds, and makes great hangover food... I promise).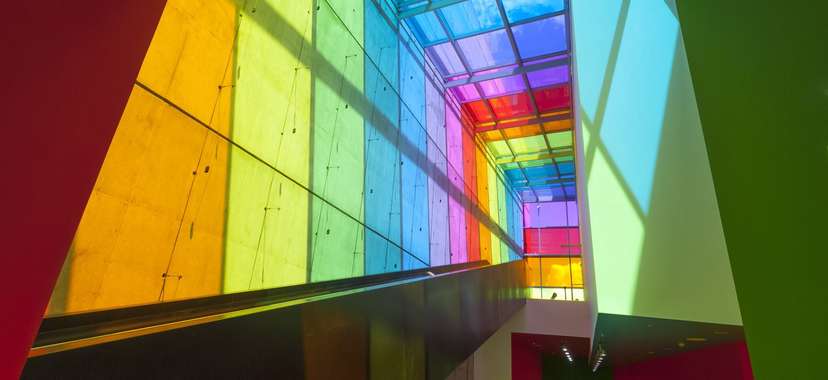 Take a picture with Shark Girl at the Contemporary Arts Center
Free
Downtown
Right downtown, in a distinctive building designed by Zaha Hadid, is the Contemporary Arts Center. The non-collecting museum's exhibits are constantly rotating, and has brought in works from famous artists like Andy Warhol and Shepard Fairey, as well as countless up-and-comers. It has also attracted its fair share of controversy (it and its director at the time were acquitted for obscenity charges related to an exhibition of seven photographs by Robert Mapplethorpe in 1990). Start at the top (which houses a children's museum that even adults will enjoy; make sure to pose for a picture sitting next to Shark Girl, Casey Millard's beloved statue) and work your way down to the lobby, which houses a killer gift shop and cafe that comes complete with a full bar. Bonus points if you attend one of the awesome events they put on: yoga, art labs, and the always popular Drink and Draw nights.
Try some Cincinnati chili
$
Multiple Locations
It feels like Cincinnati chili is one of the most hated regional cuisines on the internet. Sure, not everyone will like it, but some of the names it gets called are.. extreme. Love it or hate it, you have to at least try it. Skyline is the most popular chain serving up coneys (chili and cheese on a hot dog, optionally topped with mustard and onion) and ways (a three-way is chili and cheese on spaghetti, a four way adds either beans or onions, and a five-way adds both). For a more authentic experience, hit up a local chili parlor like Camp Washington Chili, Price Hill Chili, Dixie Chili, or Empress. If you're still unsure about whether or not you'll like Cincinnati chili, think of it as spaghetti or a hot dog topped with a Greek meat sauce instead of a traditional chili. Or just try it so you can at least tell everyone that you had a three-way on your trip. And don't forget to grab a peppermint patty on the way out!
Indulge in some booze at Party Source
$-$$$$
Newport
The Party Source ain't your average liquor store. It's one of the country's largest, with over 20,000 products (mostly booze). You'll find the usual liquor store fare along with tons of exotic offerings (from moonshine and grappa to absinthe and ancho chile liqueur, and everything in between) and, since the store is in Kentucky, you can bet that you'll find loads of bourbon for sale. If you feel overwhelmed, there's a brewery in the back where you can have a pint and some popcorn while you mull over your options. Local brewer Braxton uses it as their experimental "lab". Order a flight of some of their classic beers or something more out-there. If nothing else, at least grab a box of bourbon balls before you leave.
Get lost in Jungle Jim's
$-$$$$
Fairfield
Jungle Jim's is part theme park, part grocery store, and 100% incredible. You'll find singing animatronic statues tucked away among the maze of aisles in the 200,00 square foot megastore. Besides their normal grocery, there's plenty of beer and wine and a huge international section, with aisles upon aisles dedicated to various countries. The original location also has a kombucha bar, a cigar shop, an enormous natural foods section, and one of the largest displays of hot sauce you'll ever see… it's even topped with a vintage fire truck.
Step back in time at the American Sign Museum
$$
Camp Washington
Cincinnati has plenty of museums (there's the Cincinnati Museum Center inside Union Terminal, there's the Cincinnati Art Museum, there's the National Underground Railroad Freedom Center, there's even the Cincinnati Reds Hall of Fame and Museum), but the American Sign Museum is the one most worth repeat visits. It's supremely Instagram-able since the huge space is lit up with flashing lights and buzzing neon. But beyond the one-of-a-kind retro aesthetic, there's some truly fascinating information on the history of sign-making (they even have a rare vintage McDonald's sign with a single arch and Speedee, the mascot who was eventually dumped in favor of Ronald McDonald.) Even the parking lot is loaded with antique signs that they're in the process of restoring, so it's hard to miss the place.
Walk along (or across) the river
Free
The Banks / Newport
Though the Ohio River is technically a part of Kentucky, not Ohio, it's the main focal point of Cincinnati. The riverfront has gone through a bit of development in the past few years, and the water's edge area between Paul Brown Stadium and Great American Ballpark is now home to Smale Park. As you walk along the park, you'll pass by swings, slides, fountains you can play in, a labyrinth, and even a carousel. Further down the river is Sawyer Point and Yeatman's Cove, home to the annual Bunbury Music Festival. If you're feeling motivated, keep walking to the Purple People Bridge, a pedestrian-only bridge over the river that ends right at Newport on the Levee. Here you'll find a mall that boasts an aquarium and one of the best views of the Cincinnati skyline (it's particularly great at night.)
Meet Cincinnati's most famous celebrity
$$
The Cincinnati Zoo
The Cincinnati Zoo just so happens to be home to the city's most famous resident. Yes, I'm talking about Fiona the Hippo. The hype is very, very real. She has her own beer and is getting her own mural… at this point, she might even be more famous than Nick Lachey, the previous most famous person from Cincinnati. But there's more to the zoo than just Fiona. It's the country's second-oldest zoo, and the exhibits are among the country's best. The Elephant Reserve, the Lords of the Arctic area (and its polar bears), Manatee Springs, Giraffe Ridge, and the komodo dragon are not to be missed (have you ever seen a komodo dragon being fed? It's wild.) And if you're dead set on seeing Fiona, know that the hippos are only out when the temperature is above 50 degrees.
Stroll through Spring Grove Cemetery
Free
Northside
There's nothing quite like a romantic walk through an old graveyard. Seriously, though, Spring Grove Cemetery and Arboretum might secretly be one of the prettiest places in the whole city. The grounds are beautifully landscaped and you'll find countless examples of Gothic Revival design. It's the final resting place of Civil War generals, the founders of Procter and Gamble and Kroger, legendary baseball players, and more. And, if you keep your eyes peeled, you might find some truly unusual headstones; there are two shaped like Spongebob Squarepants (which caused a bit of a controversy) and in section 75, you'll find the marble bust of a clown, along with the graves of several circus members. Pack a picnic to enjoy after your stroll… or if walking through a graveyard gives you the scaries, you can always head to nearby Northside to distract yourself. A shot of peanut butter tequila and Creature Fries from the Northside Yacht Club should do the trick.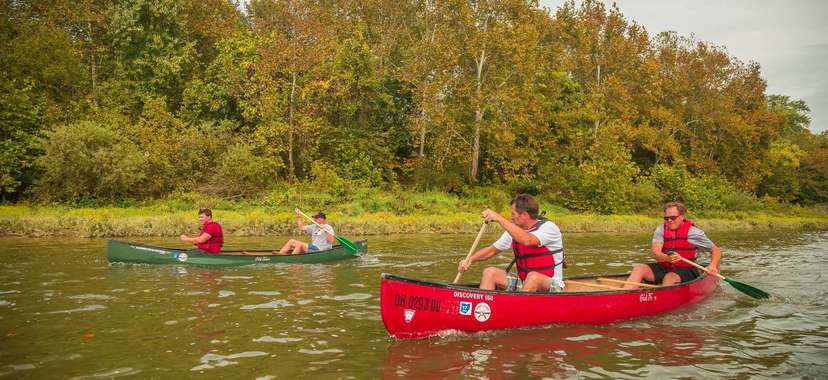 Canoe on the Little Miami
$$
Newtown
If you're kicking around Cincinnati during the summer, the best way to beat the stiflingly humid heat is with a canoe or inner tube float down the Little Miami River; everyone should do it at least one time per summer. Local brewery 50 West has built something of an empire in the Newtown neighborhood that includes a brewpub, bike shop, sand volleyball courts, and a canoe/kayak livery that runs 2 mile tube floats and 5 mile canoe, kayak, or raft trips. Take as long or as short as you want on the water, and feel free to pull your boat over to hop out for a swim if you start to feel a bit sweaty. They even bus you up to a put-in, so every trip ends back at the brewery.
Drive across the Roebling Suspension Bridge and visit Covington, Kentucky
Free
Downtown / Covington
No, you're not imagining things… there's a bridge in Cincinnati that's a dead ringer for the Brooklyn Bridge. Both wire rope suspension bridges were designed by John A. Roebling, and Cincinnati's bridge, appropriately named the Roebling Suspension Bridge, actually came first. It connects Cincinnati to Covington, Kentucky, a neighborhood that you could easily get absorbed in -- Braxton Brewing's original location is a great place to grab a drink, the Madison Theater is a rad concert venue, and KungFood Chu's AmerAsia is a quirky Chinese food joint that makes a mean Ho Fun Noodle, an off-menu special. But back to the bridge. You can either walk or drive over it; if you cross it in a car, roll the windows down and enjoy the almost-musical humming sound you'll hear as your vehicle cruises over the metal grates that make up the road.
Catch a show at Arnold's, an actual speakeasy
$$
Arnold's
You'll know you've arrived at Arnold's when you see the bathtub out front. This is Cincinnati's oldest bar. It's been serving up drinks since 1861, and was even an actual speakeasy during Prohibition. At one point, that bathtub out front was allegedly used to make bathtub gin. While the whole building is pretty cool, the back patio is the place to be; it's adorable, and there's usually live a bluegrass or jazz performance happening. It's one of the best relaxed evenings Cincinnati has to offer. And as for food, they make a mean burger… there's even one topped with goetta.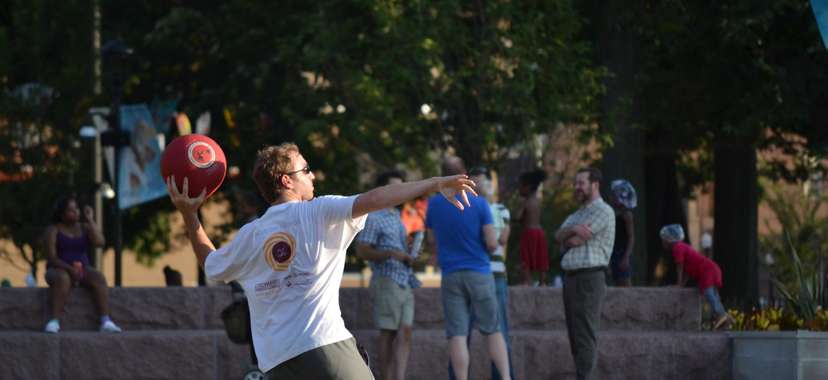 Beers and cornhole at the Washington Park patio
$
Over-the-Rhine
Washington Park is the heart and soul of rapidly revitalizing Over-the-Rhine, which happens to be one of the largest intact urban historic districts in the US, loaded with detailed Greek Revival and Victorian architecture. The recently renovated Washington Park sits below the watchful eye of Music Hall, a breathtaking concert venue boasting some of Cincinnati's most elaborate architectural design, built in 1878. The park frequently hosts popular events like City Flea and the Asian Food Fest, movies on the lawn, food trucks, frequent live music, and more. But the best way to enjoy? Grab a beer and take part in a friendly game of cornhole.
Feast at Eli's BBQ
$
Columbia-Tusculum
Eli's has two locations, one at Findlay Market and one on the river in Columbia-Tusculum. The one in CT has loads of outdoor seating and a BYOB policy, making it the perfect place to kill an evening. Pack a cooler with a few cans of your favorite craft beer (or a bottle of wine) and order up a feast; Eli's makes the best barbecue in the city, so you can't go wrong with anything you order. The ribs, burnt ends, pulled pork, and even the smoked turkey are all to die for, but the hot dogs, topped with BBQ sauce, coleslaw, and pork crispins, are the hidden gem on the menu.
Sign up here for our daily Thrillist email and subscribe here for our YouTube channel to get your fix of the best in food/drink/fun.