Synonymous with Montecristos and mojitos, Castro and classic cars, the Caribbean's largest -- and perhaps the world's most enigmatic -- island is enjoying a new moment in the spotlight. Thanks to a relaxing of US regulations, American travelers are now legally allowed to visit Cuba -- without having to get one of those dubious "World Passports" and fly out of Montreal. There's a catch, though: Trips are highly structured and focus on educational experiences. Yea, exactly: lame. That said, tour operators usually leave some free time to actually do fun, non-learning stuff with actual Cubans. And this is how you should spend that time.
When to go: The tourist high season runs from December through March, so hotels/ resorts are likely to be crowed and expensive. For cooler temps before the scorching Summer months, you can't go wrong with April or May. Finally, if you want to save cash and don't mind potential winds of up to 150mph, hurricane season (June through November) offers your best shot at a deal.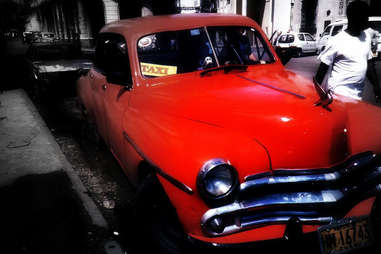 How to get around: To travel between cities, take the bus (Viazul is relatively dependable) or, for more flexibility, rent a car (though you should speak decent Spanish to attempt it). In town, taxis are your best bet; the state-run ones are everywhere (although expensive), but for an experience you can talk about endlessly at bars, until your friends sigh and wander off to get more drinks, flag down a classic, pre-Revolution American car, or colectivo (communal) taxi. They're not supposed to take foreigners, but many do -- and they're cheaper and more fun than their state-run counterparts. Also, don't expect change from any taxi driver. Ever. So always be cool and casually say, "Hey man, keep the change". See, now you win.
Traveler's tip #1: There're two currencies in Cuba: Cuban pesos (or CUP, moneda nacional), and Cuban Convertible Pesos (CUCs, pronounced "kooks"). Stay stay with us here: locals use CUP, while tourists will pay CUCs, which have a 1-1 ratio to the US dollar. Confused? Don't worry, just remember one thing: You MUST bring enough US cash to last your entire trip (exchange it at the airport or larger hotels), as US debit and credit cards (and cell phones, for that matter) won't work.
Traveler's tip #2: With state-controlled salaries so low, Cubans are constantly struggling to earn extra coin, especially via tourism, and larger cities are thick with street hustlers, called "jineteros" (jockeys). A firm "No, gracias" (or ten) should do the trick, but if you snap photos of women smoking cigars, or wearing colorful traditional dresses, or smoking cigars while wearing colorful dresses (!!), be ready to pony up. That ish ain't free.
Traveler's tip #3: Best to carry toilet paper on you at all times; the restrooms rarely stock it. You've been warned.
Dining: Travelers can thank Raul Castro for the recent uptick in Cuba's culinary scene, as his initiative to increase private business has raised the quality and quantity of "paladares", or privately-owned restaurants, that offer a uniquely Cuban dining experience. Several that warrant a visit in Havana include San Cristóbal, a funky, eclectic spot serving up Cuban-Creole dishes in a 20th-century mansion; Doña Eutemia, where the owner pampers patrons with grandmotherly love and traditional Cuban fare; and La Carboncita, just the spot to indulge in serious carb craving, with pizzas and pastas that rival those in the best Italian joints Stateside. Wherever you end up, Cuban staples like ropa vieja (which literally means "old clothes", and describes the over-the-top tenderness of the shredded beef), cerdo asado (roast pork), and the rich and ridiculously strong Cuban coffee are safe bets.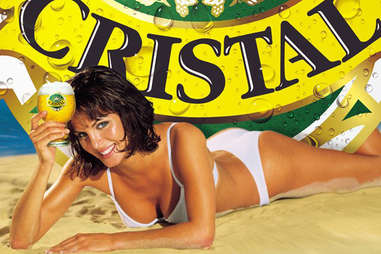 Local brews: While no one's going to mistake Havana for Portland, OR anytime soon, or ever, Cuba does have a few local beers to try. Cerveza Cristal (a 4.9% ABV lager) is by far the predominant national beer, but there's also the pirate-themed Bucanero Fuerte -- a "full flavored" lager -- and the 4% ABV pilsner Mayabe, both from the same brewer.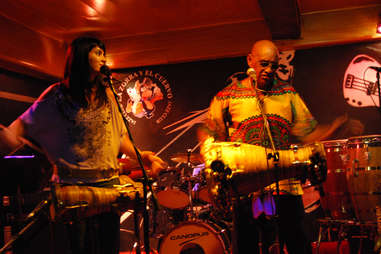 Nightlife: Havana brims with Cuba's best nightlife, which hinges on music and dancing. Bars and clubs are aplenty, and some even throw a drink or two in with the cover. Kick off the night with a daiquiri -- yes, they're so good you won't even feel (that) ashamed ordering one -- at Madrigal, a swank but breezy bar that attracts artists and movie types. One standout hotspot is La Zorra y el Cuervo, a subterranean club that churns out great live jazz nightly. For Havana's biggest and best party, La Casa de la Musica (the Centro Habana location is the edgier of the two) draws scantily clad chicas (both local and tourist) who salsa with reckless abandon to live tunes. And, to take a preventative edge against a wicked hangover, be sure to kindly request "no mucho azúcar" (not much sugar) in those mojitos you're knocking back.
Activities:
Hemingway haunts: Even travelers who only read Marvel comics can appreciate the general bad-assery of this legendary American writer and outdoorsman, who spent several years relishing in the riches of Cuba; namely, its fishing and rum. You can make a pilgrimage to Papa by visiting his home-turned-museum outside Havana (he penned The Old Man and the Sea here), or Room 511 at the classic Hotel Ambos Mundos, where he lived for seven years in the 1930s. The hotel's rooftop bar is the perfect spot to toast Hemingway and his myriad vices.
Beisbol, Cuban style: Nowhere in the world outside of the US will you find more fervor for America's Pastime than in Cuba. Fidel Castro did try out for the New York Yankees, after all. Gloriously free of gimmicks, commercialism, and overpaid players, the Cuban baseball league revolves around passionate, talented athletes (who haven't figured out a way to defect yet) and extremely knowledgeable fans who live for the sport. Best part, games cost about $5 per ticket.
Where to stay: Like its paladares, Cuba has a thriving industry built on family-run accommodations called "casas particulares", which are essentially Cuban B&Bs. They're an economical (some as cheap as $30/nt) and authentic way to experience local culture, but be forewarned -- you may be sharing common spaces (and bathrooms) with host families. Stogie lovers should check out Hostal Conde de Villanueva in Old Havana, a charming property with cigar décor and one of Havana's best cigar shops. Across the country, the Melía hotel chain is a safe bet for service and cleanliness, but remember that the star rating system in Cuba -- especially in hotels outside Havana -- doesn't carry the same weight as it does elsewhere.