The Dominican Republic may place second in size and population among Caribbean countries, but it's number one in sending players to Major League Baseball. Suck it, Puerto Rico! It's also numero uno in tourism -- no other Caribbean destination welcomes as many visitors each year, and with good reason. Santo Domingo's pulsating nightlife, manicured golf courses, and inspiring natural wonders (like the regions's tallest mountain, and humpback whales doing it) contribute to the popularity. But the real draw is price; there's simply no better value in a Caribbean getaway -- especially if you opt for an all-inclusive resort -- than the DR.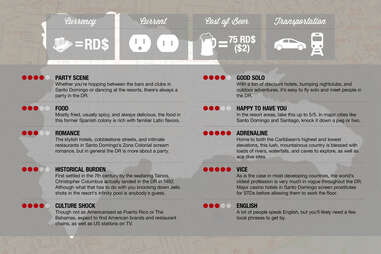 When to go: The weather's beautiful all year (83 degrees is the average annual high), but if you want to witness the aforementioned mating whales, head down between January and March. Or if you prefer the other side of life's circle, the bullfights in El Seibo take place in May.
How to get around: While traffic can be tight in Santo Domingo, hailing a cab is still your best bet to get across town. That said, the country is investing heavily in a new subway system to help relieve congestion, and more stations continue to come online. (We even included the picture above to prove we didn't make that up.) Outside the city, rent a car and enjoy one of the Caribbean's finest roadway systems.
Dining: Sure, you can score almost any type of cuisine in the DR, but why settle for resort pizza when you can indulge in the national dish, La Bandera: a hearty plate of red beans, white rice, and beef (or chicken, pork, or fish), sure to keep your stomach full well into the night. Or, for a special evening out with your lady friend, try Santo Domingo's El Meson de la Cava, an upscale eatery whose underground dining room is nestled at the bottom of a spiral staircase in a series of limestone caves.
To keep yourself fueled for all the action sports fun in Cabarete, check out Parilla Luis; the local eats here are as warmly authentic as the smiles on the waitstaff. And if you do happen to hanker for a taste of home, then head to Pomodoro Pizzeria. Real born-'n-bred Italians run this joint, combining the best of Italy with some of the most potent mamajuana you'll find anywhere.
Traveler's tip #1: Mamajuana is not what you think. In the DR, mamajuana is a local bush rum drink that's widely available and enjoyed by all. If you get offered some, feel free to accept graciously -- but don't reach for your lighter.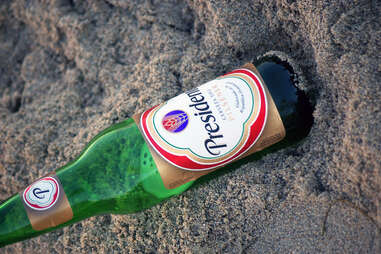 Local brews: The DR doesn't have a huge brewery scene, but it does boast one of the most recognizable national beers in the Caribbean -- Presidente (produced since 1935). Want to drink something you don't see as often in the States? Try Quisqueya, a 5% ABV pilsner, Bohemia Especial, or Ambar Cerveza Oscura, which's billed as the first dark beer brewed in the DR.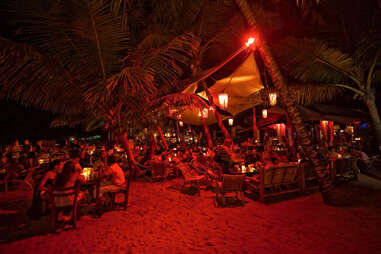 Nightlife: Santo Domingo's nightlife is some of the most dynamic in the Caribbean; bars, dance clubs, lounges, strip joints, casinos -- you name it, they've got it. Hot spots include the Malecon and Zona Colonial areas, both of which're geared toward an international crowd. Clubs and bars on San Vicente and Venezuela Street, meanwhile, are very local, so you'd best bring along someone in the know if you venture that way. While nightclub Guacara Taina is popular for the simple fact that it's built underground in a real cave (!!), El Sarten, a high-energy spot on Calle Hostos, offers a more authentic DR experience.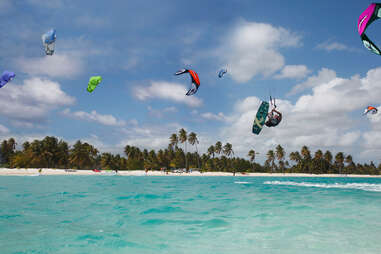 Activities:
Kitesurfing in Cabarete: The small seaside town of Cabarete serves as the action-sports capital of the Caribbean, offering all kinds of surfing -- kite, wind, Internet… JK! That'd be totally lame. Check in with the pros at Laurel Eastman Kiteboarding for lessons.
Sail to Saona Islando: Located just off the Southeastern tip of the country, Saona Island is the quintessential picture of paradise. It's home to just 300 people, and some of the most brilliant white sand beaches you'll find anywhere in the world. The surrounding waters are crystal clear and teeming with life, making Saona an ideal spot for snorkeling.
Canyoning in Ciguapa Falls: If leaping from the top of one waterfall to the next sounds like your idea of fun, then you probably played way too much Mario Brothers growing up Ciguapa Falls is for you. After trekking through the wilds of northern DR, you'll get to jump off 30ft cliffs into pools of pristine water.
Where to stay: Santo Domingo hotels and guesthouses vary greatly in terms of size, quality, and price. Ritzy casino properties like the Renaissance La Jaragua -- with their lively lobby bars and non-stop gaming action -- are a solid option for business travel and a guys' getaway. On the flip side, Santo Domingo also offers budget travelers a number of hostels priced under $20/nt, including breakfast. In the Zona Colonial, the Hostal Nicholas de Ovando and Hotel Frances, both Sofitel M Gallery properties, ooze with 16th century Spanish colonial charm and romance at affordable prices. And then there're those all-inclusive resorts, offering sweet room deals made even more enticing by all-you-can-eat buffets and free-flowing booze.
Steve Bennett is the Editorial Director of UncommonCaribbean.com.