Europe's Most Fun and Friendly City Needs to Be on Your Travel List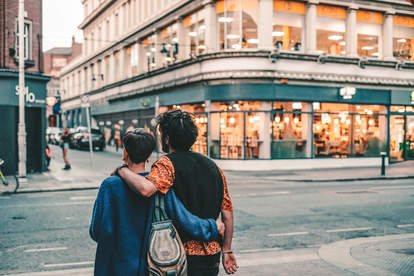 Dublin just begs you to throw down. The streets are choked with pubs, the whiskey is fantastic, and the locals are friendly to the extreme. Get a taxi from the airport and you'll end up with a full itinerary written out for you by the cabbie, plus some titillating gossip about someone you'll never meet.
In every pub, expect to be chatted up in a not-at-all-creepy way by basically anyone and everyone. A couple of hours in, and you'll be swapping stories, buying rounds, snapping selfies, and tipsily pinkie-promising each other that you'll visit each other always. This joviality isn't strictly Guinness-fueled, either -- you'll have unexpected conversations wherever you go, so keep your ears open for a hot new restaurant recommendation or unmissable gig.
A popular misconception is that Dublin is simply about boozing, but this historic city also boasts lush parks, impressive museums, and a zippy food scene. Perhaps owing to the generous flow of whiskey and tall tales from strangers, Dublin has a fierce literary heritage, which you can tap into with a visit to Oscar Wilde's house, or a musty ancient library that looks exactly the same as it did 300 years ago. And since the whole of Ireland is no bigger than the state of Indiana, when you get tired of shooting the breeze, the peaceful seaside is just a 30-minute train ride away.
When to visit Dublin
Seriously, don't even bother Googling "Dublin weather." It can be freezing cold in June, or gloriously sunny in October. You simply never know. Rain is a constant threat here, so prepare accordingly.
The city is overrun with tourists during the peak summer months, when hotel rates can be extortionate. Ditto for the week around St Patrick's Day: while some people see it as a bucket-list experience, the hotel prices go through the roof and the city is filled to the brim with people.
You're better off waiting until September or October, when things are a bit quieter, the air is a little cooler, and the leaves in the city parks turn a glorious shade of red. Plus, the turf fires will start to be lit, and there's nothing cozier than the smell of smoldering peat.
Where to drink in the world's greatest drinking city
Dublin may be known for its bars, but its residents aren't all hard drinkers -- it's usually the tourists who come into town and "go on the absolute rip," as a Dubliner would say. Pubs essentially function as the city's de facto living rooms: places to meet a friend for a few pints, have a snack before you go for dinner, or sit with the papers for an hour or two. It's not all Guinness, either -- there are plenty of other solid craft beers. Visit
Against the Grain
to sample a huge array of ales on tap.
Don't be afraid to stray from the classic pubs.

| Peruke & Periwig
Pubs, Whiskey Dens, & Cocktail Bars: The Coolest Places to Drink in Dublin
Dublin has a lot more to offer than just Guinness. We tapped some fun-loving Dubliners for a list of essential bars in the world's greatest drinking city. Sláinte!
Though the cocktail scene has waned over the last few years, there are still loads of places that do it right -- try the
Lucky Duck
or
Peruke & Periwig
for top-notch mixology. For a city known for its whiskey, Dublin loves its gin, so you can get a decent bucket of G&T almost anywhere. Try one of the Irish craft brands like Gunpowder or Shortcross, with a Fever Tree tonic.
If you're all about the whiskey, check out the Jameson distillery's Bow Street Experience: For 25 euros, you'll get a full tour and history of the distillery, a comparative tasting of Jameson, Johnny Walker Black, and Jack Daniel's, and a Jameson cocktail served at their swanky bar.
What to do when you're not in the pub
Dublin's small and compact, so you can easily nip around the city without having to navigate trains, buses, and trams. That also means you can cram a fair amount of sight-seeing into one day. All of Dublin's national museums are totally free, so check out some of the local
archaeology
or
natural history
(Ireland has plenty of both), as well as
the Irish Museum of Modern Art.
For $10, you can also take the "Dead Interesting" tour of
Glasnevin
cemetery, which provides an atypical, fascinating view of the city.
Find a pub with a "snug" to wait out the rain.

| Unsplash/Anna Church
If you're blessed with a bit of sun, make like a Dubliner and head straight to the park. Stephen's Green is worth a visit if only to see the pond's aggressive seagulls who have figured out how to disguise themselves as ducks in order to get fed by tourists. A quieter option is the Iveagh Gardens, which has its own little waterfall and great spots for a picnic (stop at the nearby Green Bench Café for a grilled chicken sandwich to go).
Like every other visitor to Dublin, you'll undoubtedly want to snap a selfie in front of the famous Ha'penny Bridge, but the water is good for more than just an Instagram backdrop. Book online for a 15 euro
river boat tour
, or spring for a two-hour
kayak tour
down the River Liffey, right through the heart of Dublin.
I'd also challenge you to walk half a block in the city center without encountering free live music, and lots of it. It comes pouring out of the pubs, from the street performers, and at festivals like July's City Spectacular or August's Beatyard.
Dining in Dublin
There's so much good food to eat in Dublin that it makes me hungry just thinking about it. That said, as a general rule, the restaurants on the main tourist drag of Temple Bar aren't worth bothering with… the exceptions being
Klaw Café
,
Bunsen
,
Banyi
, and
Dollard & Co
. And please, swear that you'll never eat in a place that also has a live Irish dance show. It won't end well.
Dublin's culinary scene is having a comeback.

| The Butcher Grill
If you can, get invited to a local dinner party with Gruel Guerrilla. This is such an amazing time: Basically, chef Kevin Powell throws regular pop-up suppers around the city, where he feeds you an amazing seasonal meal of exclusively Irish-sourced ingredients, many of which have been foraged from city parks around Dublin. He's also really into traditionally Irish methods of preservation and preparation, so venture into his kitchen and chat him up about it. It's 35 euro for seven courses, which has to be one of the better deals imaginable, and it's BYOB.
Where to stay on a trip to Dublin
Dublin may be small, but there are plenty of distinct little neighborhoods worth exploring within the city. The good news is that most of them are only a short walk from the center of town, so you won't be too far from the action, no matter where you choose to post up. Here's the lay of the land:
The city center
Most of Dublin's big tourist attractions are here, along with the bulk of its restaurants and pubs. For a super affordable boutique stay, Kelly's Hotel is slap bang in the middle of the action on George's Street, lined with the best places to drink and eat in Dublin. If you want to push the boat out, The Shelbourne is one of the finest heritage properties in the city, in a gorgeous building overlooking Stephen's Green park. Their bar is prime for people watching.
The Liberties
One of the oldest and most charming neighborhoods in Dublin, the Liberties has undergone something of a renaissance over the last few years. Historically, this was the whiskey-distilling district (back in 1875, a warehouse fire sent a river of burning spirits through the streets). Loads of new distilleries have popped up, like Teeling and Roe & Co. With new whiskey, comes new hotels… try the Aloft Dublin City for its rooftop bar, with views over the city's spires out to the mountains. The new Hyatt Centric is right next to Fallon's, one of the most crookedly charming pubs in the city. Rates are far cheaper here than in the city center, and it's only a 15-minute walk to most of the places you'd want to go.

Smithfield
A kind of hipster, techy enclave, Smithfield (and its neighboring village of Stoneybatter) is a teeny bit further away, but filled with cool little cafés, bars, and restaurants. The Hendrick is a sleek new pod hotel, while Generator Dublin is on the square right next door to the Jameson distillery. They offer both super cheap dorm rooms and private rooms at a great value.
Ranelagh
About a 30-minute walk from the city center, Ranelagh's streets are lined with red brick Georgian houses, lending the neighborhood a quaint village aesthetic. Stay here if you're looking for a more peaceful, local vibe away from the tourist throngs; there are still loads of cool little pubs and restaurants on the main street. Try The Devlin, a chic, artsy hotel with a rooftop bar and rooms on the smaller, cheaper side.
Contributing writers: Nicola Brady, Yolanda Evans, Jess Novak