Eaux Claires music festival in Eau Claire, WI

| Mike Diskin
Eaux Claires music festival in Eau Claire, WI

| Mike Diskin
This Small Midwestern Town Is the Mini-Portland of Your Dreams
In early June, when you saw headlines about a music festival with names like Paul Simon, Bon Iver, Chance the Rapper, and Wilco leading the bill, maybe you raised an eyebrow when you realized it was in... where was it?... Wisconsin? Eau Claire, Wisconsin?
Yep, a crowd of 20,000 showed up for Eaux Claires, a two-day fest in the west-Wisconsin woods co-founded by The National's Aaron Dessner and Bon Iver's Justin Vernon. Vernon calls this dot on the map 80 miles east of the Twin Cities his hometown (so do I, coincidentally), and has helped champion a Midwestern music scene here reminiscent of a younger Austin.
But the city of Eau Claire has street cred that goes beyond Vernon, and music is only a taste of what makes the place great -- and one of the best small towns to visit. A growing roster of breweries, quirky businesses, diverse dining, and respect for all things local is evidence of larger creative forces at work. In a region flush with natural beauty, Eau Claire is like a homey, beer-battered, cheese-filled Portland -- big enough that it doesn't feel like you're walking into an episode of Cheers, small enough to feel like a breath of fresh air.
Its homegrown music scene is only getting bigger
Vernon's Eaux Claires fest, now on its third year, has been a powerful driver in putting this city of 68,000 in the cultural limelight. At his start, Vernon was playing to tepid crowds in musty local haunts like the Stones Throw, House of Rock, and Downtown's Acoustic Café before seeking a bigger indie hub in Raleigh, North Carolina, along with brothers Phil and Brad Cook (now of Megafaun). But Eau Claire has continued to spawn an impressive list of bands that have made a national mark: Gayngs, The Daredevil Christopher Wright, S. Carey, Peter Wolf Crier, Laarks, and Arms Aloft, to name a few.
Eaux Claires, likewise, follows a festival tradition that includes the older-skewing Rock Fest, Country Jam, and Country Fest. The University of Wisconsin-Eau Claire's jazz program attracts a prestigious lineup for its annual Eau Claire Jazz Festival. You'll find free genre-spanning outdoor concerts multiple times a week throughout the summer, with plenty of spaces to hear locals play; though House of Rock is closing its doors this month, the town has gained spaces like The Local Store's art gallery, hotel stages, and outdoor nights that are thriving with the support of the city.
Vernon's vision for Eaux Claires is to celebrate that city while amping up its cultural offerings. Headliners are big-name acts like Chance and Paul Simon, but there's also a dedication to local artists, local businesses, and collaborative performances that highlight Wisconsin's surprising wealth of artistry (at least, it's surprising to outsiders).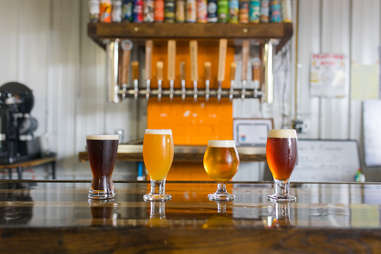 In true Wisconsin tradition, there's beer
Besides music, there's a whole lot of beer in Eau Claire. This is Wisconsin, after all. For years, beer in the Chippewa Valley was associated with Leinenkugel's, a Miller subsidiary and the oldest business in neighboring Chippewa Falls. Now, craft breweries have spread like milkweed. Lazy Monk Brewing and its German beer hall, established in 2010, has become a city staple (the Rye IPA is a must-try). Nearby, the Chippewa River Distillery and Brewster Bros. Brewing, joined in a single facility, have made a name for themselves. Being in the same building means there's something for hops lovers, vodka drinkers, and that one dude who really wants cinnamon-flavored whiskey. Yeah, they make it.
The most exciting brewery right now might be The Eau Claire Brewing Projekt. Though expansion is on the horizon, its taproom is currently a garage with a handful of tables lined up by the canning machine, or sometimes set askew around a parked forklift loaded with tallboys. Despite the limited seating and a patio that looks out on a pothole-strewn dirt road, it's an outstanding place to hang.
Of the brewery's creative concoctions, the local favorite is the Gunpowder IPA, made with gunpowder green tea. And while you can grab some of these beers at hubs around the region, this is the only place you can get the No Shit Shandy. It combines the lemon zest-fueled Stolen Mile golden ale with homemade lemonade.
It's these kinds of growing businesses that make the city worth checking out. They're also why people in other Wisconsin cities with Scandinavian names like Stockholm and, well, Scandinavia, are sick of hearing about Eau Claire. There's a bustling creativity at the city's core that has inspired many residents to stay (or return) and build something, rather than flicking a cigarette into the wind on graduation day and muttering, "I'm outta here."
The waterfront Downtown spotlights all things local
You could make an entire weekend of hanging around Eau Claire's renovated Downtown and the relatively new Phoenix Park along the Chippewa River. Which is convenient, because it's the only part of the city that's walkable. You'll find a weekend farmers market -- you know, when it's not 20-below outside -- with live music, delicious food carts, and local farmers and artisans, many from the city's large Hmong community.
Two very cool, very new Downtown hotels mean there's no way you're Airbnb-ing. The Lismore, the larger and more traditional of the two, houses the cleverly-titled EC/DC coffee shop (Eau Claire Downtown Coffee) as well as The Informalist, a restaurant with a spare and generally delicious menu cultivated from local farmers and foragers.
Not far away is The Oxbow. It's a lovable renovated motel (part-owned by, what d'you know, Justin Vernon) aimed at delivering a true Eau Claire experience, rather than just a pillow, toilet, and continental breakfast. Everything there (almost everything) is local. The Lakely restaurant has local food and a stage for local musicians. There's an art gallery featuring local artists. The blankets are local. So is the art in the rooms. The record player in every room isn't locally made, but the vinyl you can check out from the front desk frequently is.
To boot, the town is so damn charming you can rent a tandem bike for free at the front desk. Rent one and Wicked Witch your way along the river, stopping to get ice cream at Ramone's (try the lemon poppy seed), coffee at Racy D'lene's Lounge on the bar-saturated Water Street, flip through vinyl at Revival Records, and otherwise live out your small-town Portlandia dreams.
Cheap eats mean you don't have to subsist on cheese curds
Though, to be clear, you can definitely subsist on cheese curds if you want. It's not an inaccurate rumor that Sconnies love cheese. Ask a local where you can find some curds, and they'll ask if you want squeaky curds or deep-fried curds. (The proper response is "both.")
Once a hub for chains and cookie-cutter bar and grills, there are some exciting food options here, much of which are locally sourced and tap into the region's history. A recent event hosted by The Local Lounge recreated the menu of Woo's Pagoda, a Chinese restaurant with delightfully gaudy architecture that closed years ago when options weren't as plentiful for diners put off by bottomless breadsticks. It was an acknowledgment from the new guard of restaurants that good food here isn't new. Places like Stella Blues and Mona Lisa's have long been fixtures in the fine-dining scene.
Reclaimed wood and seasonal menus abound, but there are loads of delicious cheap eats you have to ask a local to find. For instance, Egg Roll Plus -- which is somehow not a clothing outlet for egg rolls -- has, no shit, the best flaky egg rolls in the Midwest, and they're just a buck each. Getting there will take you out of the tourist-friendly Downtown and toward the city's working-class neighborhoods.
After an afternoon sipping $1 pints at The Joynt on Water Street, you'll need to hit Ray's Place. It's the kind of dive you'd expect from any respectable Wisconsin town, where regulars sport Packer jerseys year-round. Many towns claim to have a "world-famous" something or other, but it's a fair title for Ray's hot beef sandwiches. They come out fast and cheap and served on a napkin. Ask a local, and they'll advise you to get the thing doused with homemade horseradish. Buy a local a drink, and they'll reveal that the hot ham sandwich is actually better than the famous hot beef, but don't you dare tell anyone.
Naturally, there's nature
All of this sounds about on par with what you'd expect if your conception of Eau Claire is Bon Iver's "Skinny Love" playing on loop while bearded dudes in flannel dine at farm-to-table restaurants built from reclaimed barn wood. And there's certainly that, but it's not all sensitive lumberjacks sipping lattes.
Eau Claire, like any suburban town, has its share of characterless shopping centers, KFCs, and a mall with a Hot Topic. Looking past that, it's a haven for anyone who likes small-town charm and the outdoors. The Chippewa River weaves through the city, and there's loads of waterfront -- like Carson Park, a 134-acre peninsula on an oxbow lake. There are beaches where you can swim, find a rope swing, tube lazily, or canoe like you're a French fur trader tracking beavers with a six-pack of New Glarus in the back of the boat.
Hit the Chippewa River State Trail or stroll large, lush parks where the smell of pine trees mixes with charcoal grills. (You don't have to bring your own. Most parks have free grills available.) It's Wisconsin. The summer is frustratingly short, but it's outstanding, and everyone is spending every possible moment outdoors.
This town has always been an interesting spot, but a movement to support what's special here -- what's uniquely Eau Claire -- has made it a destination. It's the music. It's the food. It's the art and beauty and affordability. It has a visceral local pride, but unlike so many cities that have become a little too-cool-for-school, the Midwestern-nice locals actually welcome you to hang out and stay awhile. Spend a weekend here and you might catch the small-town bug, move and open that restaurant or weirdly-specialized shop you've always dreamed about. (Eau Claire eclairs? Just saying.)
Sign up here for our daily Thrillist email and subscribe here for our YouTube channel to get your fix of the best in food/drink/fun.
Dustin Nelson is a news writer for Thrillist and once lived in Eau Claire. He had to move away before he learned to enjoy it. Follow him at @dlukenelson.