How to Get Down in One of India's Overlooked Cities
Between the bustle of Mumbai, the palaces of Rajasthan, and the food of Delhi, India's westernmost state of Gujarat is often lost in the mix for travelers. But don't let the lack of hype fool you, Gujarat is serious travel goals. Ahmedabad, the capital, recently beat out all those other big cities and snagged the title as the country's first UNESCO World Heritage City. With a population of 5.5 million, Ahmedabad offers all the color and activity of bigger Indian states but with much less hassle. (It's also located in the only dry Indian state, which makes drinking an interesting challenge.)
Spread out over the banks of the Sabarmati River, Ahmedabad displays a mix of ancient buildings and busy markets. It's easy to see why this 600-year-old walled city represents so much cultural importance. Shops, shacks, and havelis (traditional mansions) invoke living museums everywhere you look. A vegetarian's dream, the city serves up a tantalizing array of street food and restaurant fare brimming with spiced veggies and freshly baked flatbreads. As a mid-sized city, Ahmedabad isn't as daunting as Mumbai but it still ripples with excitement and action. Here is everything you need to do in this dynamic city.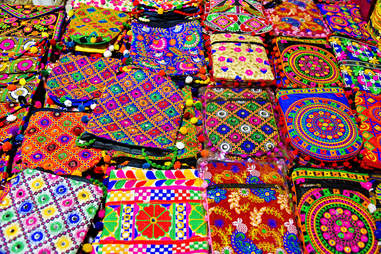 Ahmedabad's Law Garden night market

| AjayTvm/Shutterstock
Hit up the markets to haggle for amazing textiles
Ahmedabad has numerous markets that sell everything from stainless steel dishware to ridiculously affordable jewelry. The most famous one, however, might be the night market at Law Garden, which was my first stop. I jumped off the deep end and right into the shiny displays and intense bargaining practices that are common practice here. Don't be afraid to negotiate! 
I was determined to wear a traditional chaniya choli, or crop top and long, flowing, skirt that is often embroidered with mirror work. Accompanied by a guide, I squeezed through the crowds illuminated by street lights and gazed at the rainbow bright piles of textiles and clothes. It wasn't easy to decide between a yellow number covered in beads and an electric blue ensemble with tiny mirrors, but I chose the blue when the vendor lowered the price after a couple of rounds of bargaining.
Dancers perform at the Navrarti festival

| SAM PANTHAKY/AFP/Getty Images
Experience the energy of the world's longest dance festival 
I was not expecting the pomp-and-circumstance of the opening night of Navratri, the nine night and 10-day long Hindu festival that takes place in the fall each year. My small group of travelers entered the GMDC Ground Amphitheater on a red carpet with flashing spotlights and throngs of elegantly dressed locals. Billed as the "world's longest dance festival," the first night was an explosion of processions, video projections and hundreds of dance troupes and musicians performing garba-raas or traditional Gujarati folk dances, on a large stage. They twirled, chanted, and jumped through the aisles and on the stage in honor of the Hindu goddess Durga. Dancers traveled from all over the region to perform and filled the arena with a joyful energy that alone makes a trip to Ahmedabad worth it.
Stonework at the entrance to the Hutheesing Temple in Ahmadabad

| JeremyRichards/Shutterstock
Spend Time at the Temples and Mosques
Hindus, Muslims and Jains have lived in Ahmedabad for centuries and the architecture reflects this diversity with carved wooden houses, tiled temples, and yellow sandstone mosques. I can't stop thinking about the delicately carved columns, steeples and sculptures of the Swaminarayan Temple. Each bracket and arch was splashed with vivid, fairytale colors. I roamed through the temple with a mass of Swaminarayan followers when bells announced a ceremony. A group of women chanting held tea lights as they formed a procession down the temple's winding halls. I stood aside to watch, but was pulled into the action when one of the women handed me a candle and showed me how to place it to honor the deity. 
Another landmark is the Jama Masjid mosque, which displays intricate stonework, including 260 columns and a courtyard covered in marble. Huge Arabic calligraphy accents the arcade but the most striking aspect of the mosque is the complete serenity that fills it. Outside, the bustling city seems eons away.
Jain temples, known as derasars, are also scattered all around the city. One of the most famous is Hutheesing Jain Temple, a white marble showcase that dates back to 1848 AD and features an expansive courtyard, 12 carved pillars, and a 78-foot tower.
It's worth driving for two hours to Modhera (you can also take a bus or taxi) to see the spectacular Sun Temple. Rising up in a circular design with 52 pillars to represent the 52 weeks of the solar year, Modhera Sun Temple is one of only two major temples in India dedicated to the sun deity Surya. Dating back to 1026 AD, the temple is a complex of three structures with carvings on every wall, ceiling and pillar. Leaning closer to the images, I realized that many are erotic, depicting characters in various sexual positions. 
Something worth remembering is that temples and mosques (as well as houses and stores in Ahmedabad) often require removing your shoes as a sign of respect -- so make sure to wear a pair that is easy to slip on and off.
Adalaj Stepwell

| LEOCHEN66/Shutterstock
Don't Forget to Visit the Stepwell 
My shoes were a big benefit when I climbed the Adalaj Stepwell just outside of Ahmedabad. An Indian answer to restops, stepwells supplied water and cool chambers for ancient caravans. The octogonal opening and intricately carved pillars and walls made it one of the most stunning structures I'd seen in a country filled with beauty. Climbing down the five stories, I stopped to sit and catch some shade. This prompted several requests for my photo, with and without the photo takers -- a frequent occurrence with locals.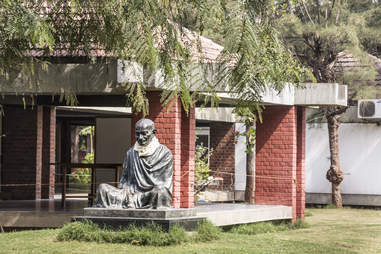 A statue of Ghandi at the ashram where he mobilized India's march for independence

| anandoart/Shutterstock
Remember History and the Importance of Gandhi 
Gujarat is the birthplace of Mahatma Gandhi. There is a whole Gandhi circuit around the state but the Gandhi Ashram in Ahmedabad, the spiritual hub where he strategized India's march for independence, is an important place to start. Located on the banks of the Sabarmati River, the ashram is as tranquil as you'd expect, with Gandhi's sparse possessions and photo galleries and a museum telling the story of the father of the nation. A large marble statue of Gandhi sitting in meditation overlooks the grounds of the ashram which also includes a guest house and open air prayer ground.
It all feels peaceful now, but while Gandhi was alive, the ashram was at the center of major struggles. It was from here that Gandhi marched in protest of the British Salt Law in 1930 (the law increased taxes on Indian salt to promote British salt sales) which inspired thousands to join the illegal production, buying and selling of salt. Thousands were jailed and the British government shuttered the ashram. Gandhi vowed never to return to the ashram until India gained independence -- and he never did.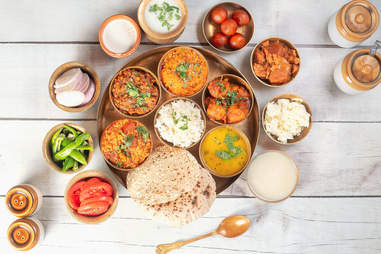 Gujarati thali

| 52 grapes/Shutterstock
Indulge in amazing vegetarian food -- and mayyyybe a beer
There are tempting eats everywhere in Ahmedabad, especially on the streets, but for those with western digestive systems, it's probably best to stick to restaurants. 
I loved trying the famous Gujarati thali -- a feast of several different dishes on one plate. I sipped heavily spiced chai and ate dishes like khandvi, a tightly rolled snack made of chickpea, and fermented rice and lentil cakes called dhokla and of course, lots of curries. My fave was the thick mix of potatoes and tomatoes called pav bhaji. The thing to know about Gujarati cuisine is that it's primarily vegetarian and that the spice is typically balanced with jaggery, or unrefined and raw cane sugar. This gives the dishes a balances of spicy and sweet at the same time. 
One man in our group wanted a beer with his dinner, which is a tricky situation to navigate because Gujarat is a dry state. Drinking is prohibited unless you are a foreigner. Then you have to apply for a permit to drink alcohol. After much panicking and scurrying around, the waiter explained that our guy would need to go to a state office to apply for an alcohol permit.
The trip required a stop by a building where no photos were allowed and a six pack of beer was individually scanned to trace them back to the owner. The beer was only to be sipped in the privacy of his hotel room. After finally obtaining the permit, Sam, the guide, casually mentioned that they also have bootleggers that get the job done much quicker. As a Chicagoan, I appreciated this hilarious bit of info. Maybe next time.
Rosalind Cummings-Yeates is an award-winning writer specializing in travel and arts topics. She also appreciates quirky rituals and traditions, especially ones that don't require her participation.