View from Iowa Capitol Dome

| Monte Goodyk/Moment/Getty
View from Iowa Capitol Dome

| Monte Goodyk/Moment/Getty
This Midwest State Is So Much More than Corn, Caucuses, and Flyover Country
As a kid, I couldn't get out of Iowa fast enough. There was nothing to do, nowhere to go. I was bored out of my teeny, tiny mind. All I could see around me -- all there was around me -- was space. What was I supposed to do with it -- all that nothing? How do you attach yourself to emptiness?
So I left. I left for a long time.
And, inevitably, I returned. This time around, though -- more than a decade older and moves-across-the-planet wiser -- I saw how Iowans were using that space. To them, it didn't mean an infinity of nothing; it meant room for something. Anything. Just ask the endless parade of Iowans who looked at the Hawkeye State and saw more than caucusing politicians, football tailgates, and corn fields. There's the neighbor who turned his farm into a successful winery. The latest Chicago transplant who opened an art gallery and a restaurant. The classmate who sold a local version of GrubHub to GrubHub (I'm still bitter about that one). I despise myself for saying it, but that cheesy slogan on the sign you see entering from I-80? The one that says "Fields of Opportunities?" If you've got good luck and a good idea, that sign is right.
After decades of "good ideas," the state has morphed into something our grandparents wouldn't recognize. Hell, it's morphed into something I barely recognize. The going narrative that Iowa -- that the Midwest -- is a cultureless wasteland deprived of basic necessities like craft beer and food not covered in cheese is an ignorantly perpetuated, outdated myth. If the rest of the world weren't busy "flying over," maybe they'd notice.
For starters, craft beer is everywhere, not just in pilgrimage-worthy Decorah, home of Toppling Goliath. Not all food is covered in cheese. (Ok, lots of it is, but whatever, cheese is delicious.) Small towns are home to world-class bars, eateries, and home-grown yoga studios. And in the literal open space -- the easier-to-see kind -- there are rolling hills, limestone caves, deep river valleys, and high, rocky bluffs, believe it or not.
"Flyover" is a state of mind, and it's time to get your brain out of the Dust Bowl. Iowa's a place that all but demands to be explored, from its vibrant cities to its sprawling naturescapes. Here's what you're missing out on.
Des Moines
Hot tip: Buy real estate in Des Moines yesterday. What was once a city lacking housing, retail, and straight-up vitality is now topping lists of the country's best places to live. The East Village -- a hotbed of counterculture growing along the edges of the gold-domed capitol -- is the ultimate harbinger of the city's next era: Grab a Steve-King-denigrating t-shirt at RAYGUN, chow down on baba ganoush at Open Sesame, sit on the floor at Gong Fu Tea, and top it all off with an East Village IPA from female-owned Peace Tree Brewing Co.
Closer to downtown and housed in historic Fire Station #1, MALO is the rising star in Des Moines' shining brunch game, serving up Latin-American fare all day long, including knockout steak & egg breakfast tacos. To impress your in-laws, know that Proof has three James Beard noms -- it's the kind of place where you can tell the chef to "go nuts" if you can't be bothered with a regionally focused menu. For a strong cocktail, give your support to Blazing Saddle, a gay bar serving holiday meals to those without families.
Outdoors, take a quick two-mile jog around Gray's Lake, just south of downtown, and be sure to walk the Sherman Hill neighborhood -- Des Moines' oldest -- come fall for a tree-lined, gold-hued tour of Victorian-era wealth. Hit up the 25-mile High Trestle Trail (technically starting in Ankeny) for your Instagram delight. You'll know the shot everyone talks about when you see it.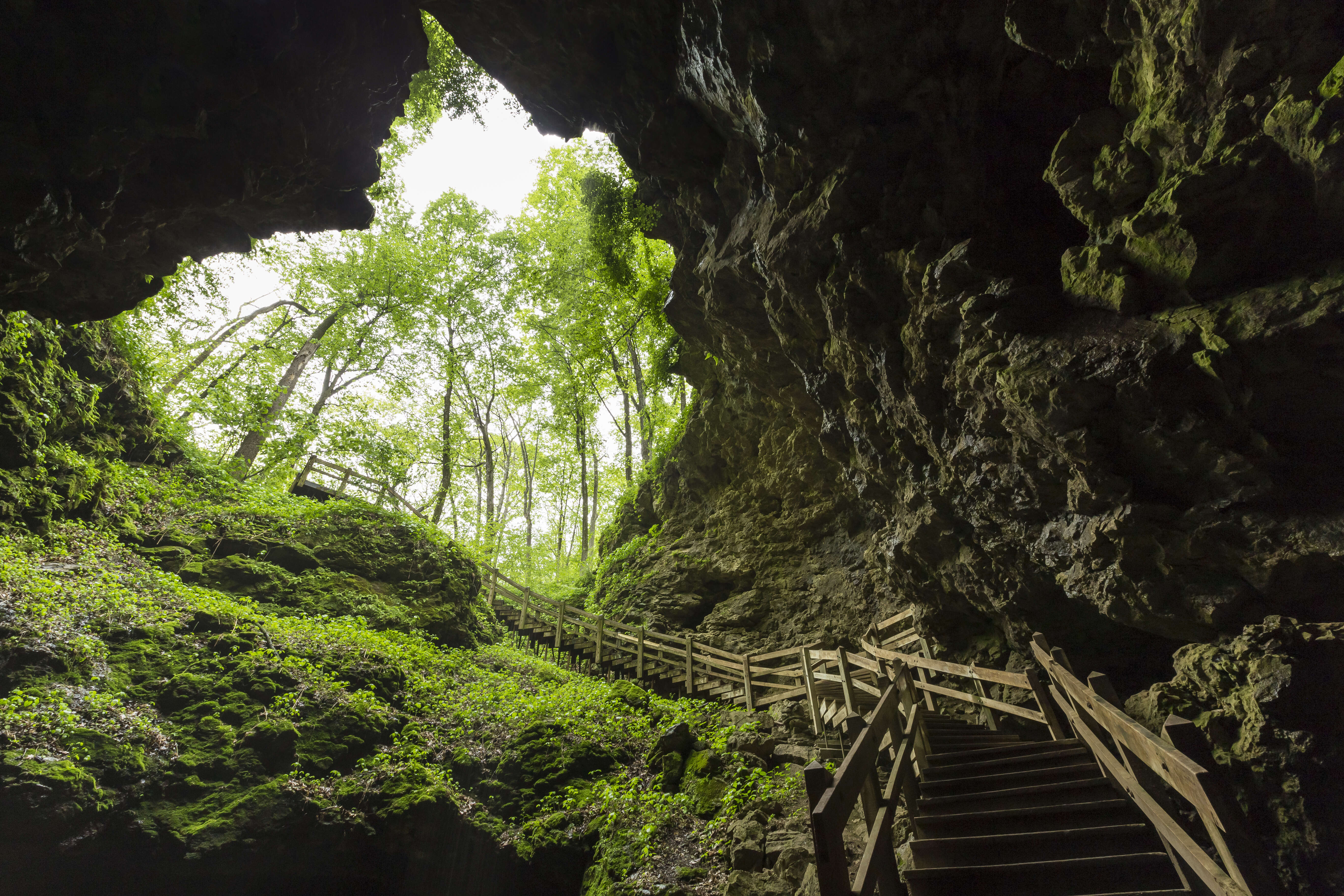 Maquoketa Caves State Park
South of Dubuque, Maquoketa Caves isn't false advertising for a fancy hole in a cornfield. This region of Iowa -- made up of limestone bluffs, forested ridges, deep river valleys, and, in Maquoketa's case, caves -- is known as the Driftless Area. It was spared glaciation 12,000 years ago, left to be a reminder of what the Midwest once was prior to being steam-rolled by ice.
Over a dozen caves are linked by a thorough trail system, some requiring long, grand stairways and some vast, open amphitheatres to practice your best echo. You can get inside most of them -- artifacts indicate Indigenous tribes certainly did -- though they're closed in winter to protect the native bat population.
Dubuque
Iowa's oldest city is arguably its most scenic, whether you're catching a glance of the red-brick downtown from Highway 61 -- cathedral spires, giant old-school warehouses, and one gold dome will steal your eyes from the road -- or hiking the hills around Pikes Peak (not that Pikes Peak; this Pikes Peak). Dubuque sits right on the Mississippi, a port city with an industrial soul napping in the wooded bluffs of Ol' Man River.
The Heritage Trail, a wooded 26-mile trail for walkers and bikers, runs from Dubuque, past old mining and mill towns, and all the way to Dyersville, home of the Costner masterpiece Field of Dreams. After sweating it out on two feet or two wheels, head to Brazen Open Kitchen + Bar or Oolong Asian Cuisine for duck tacos and pan-fried gyoza, respectively. When it's time, hit up the shops on 4th Street or book it south to nearby Codfish Hollow Barnstormers -- yep, it's a barn -- for whatever indie artist from around the country is vibrating the rafters that night.
Okoboji and Iowa's Great Lakes
Six glacier-carved lakes form a watery chain over northwestern Iowa, sort of like Minnesota's cup spilled over. West Okoboji Lake -- connected to its sister, East Okoboji -- is late-night party central (Iowans love a good lake party); Big Spirit Lake, the state's biggest, is better for your quieter sunsets and afternoon fishing expeditions.
Smushed between East and West Okoboji Lakes, Arnold's Park is the area's heartbeat -- it's technically a town, but it's better known for its 100-year-old theme park. You'll find boat rentals and fishing charters here, but more importantly, you'll find the Nutty Bar stand. The classic old-school ice cream joint is over 70 years old, and the recipe's never once changed (much like the vast majority of Arnold's Park). Grab a Nutty Bar, lest ye want to go home sans the true Arnold's Park experience.
For something a bit more updated, hit up West O Beer for their award-winning CoCo Stout and a game of giant Jenga. Iowans may not be the stereotypical "Iowa Nice" you hear about, but they'll gladly knock over a few blocks (and brews) with you. Just try not to say, "Wow, Iowa isn't actually terrible, huh?"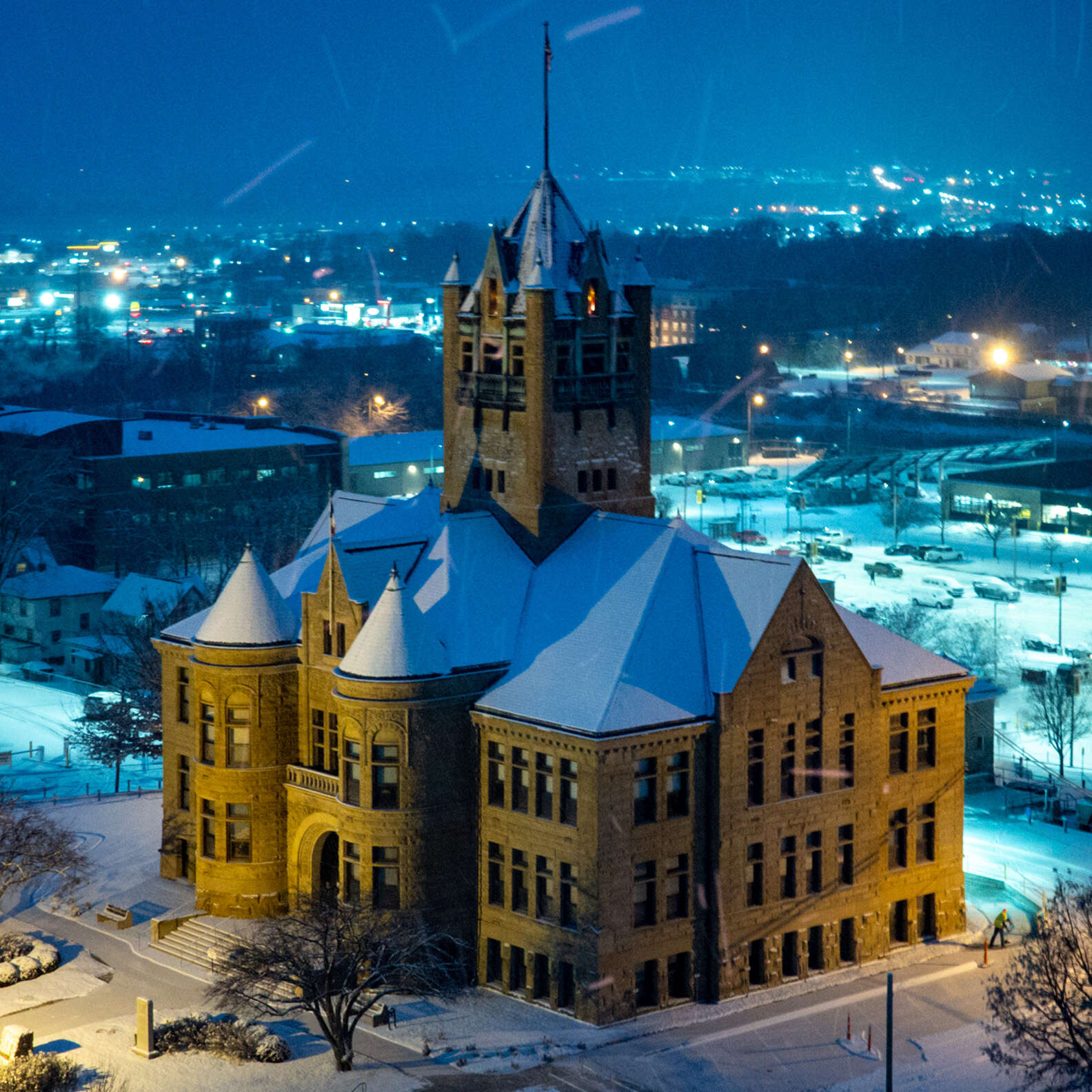 Iowa City
Iowa City was designated one of UNESCO's first World Cities of Literature back in 2008. The Iowa Writers' Workshop -- one of the most well-known writing programs in the country -- has seen the likes of John Irving, Flannery O'Connor, Robert Frost, and Kurt Vonnegut. Most of us won't get close to the workshop (save a public reading or two), but we can soak in the city's creative vibes any day of the week.
Start off on the Literary Walk downtown -- think two-story brick coffee shops, fancy salad joints, lazy pedestrian streets, the whole Big-10 package -- following the poetry engraved in the blocks of cement. Scoot into Prairie Lights, a bookshop that has both cats and (supposedly) ghosts. If time allots, check out the public gallery at the University of Iowa Center for the Book and scout out the Center for Afrofuturist Studies at Public Space One. After all that literature-ing, make time for a Bibimbap Bowl at Goosetown Cafe and a cold Wilson's Orchard at Rapid Creek Cidery.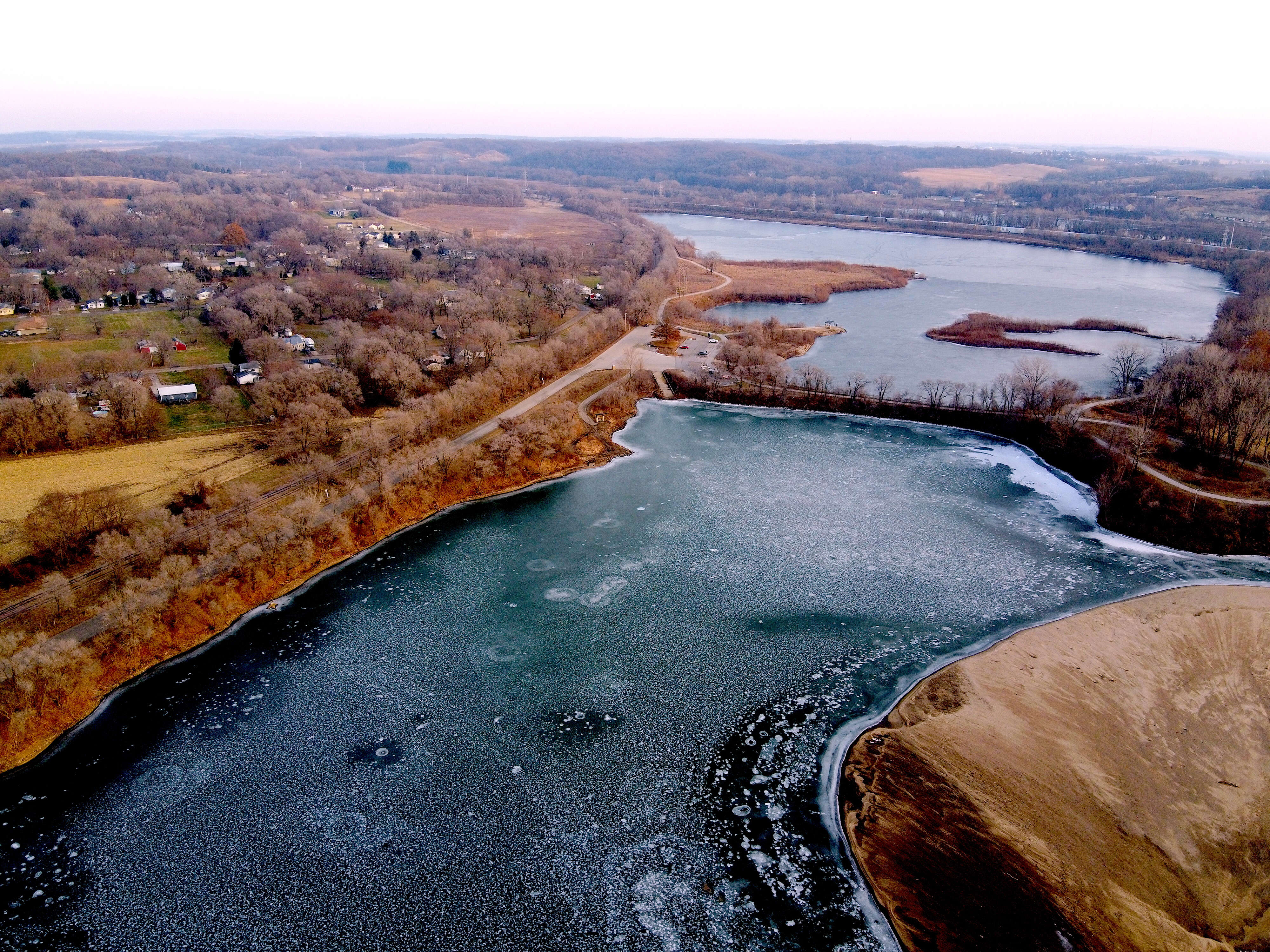 Waterloo/Cedar Falls
Iowa has its pockets of diversity, but let's be real: Iowa is pretty damn white. It's one of the preconceived notions of the state that actually holds up. But even that's changing, albeit slowly. Those pockets of diversity often butt up against more gentrified, affluent towns, a likely residual effect of the old sundown-town mentality. Those "pockets" of diversity still exist, largely because the strong grip of history that never truly loosens. But today, there's more fluidity between neighboring towns creating something much more exciting, such as with Cedar Falls and Waterloo, both of which are worth a visit, but together make for a true snapshot of modern Iowa.
Cedar Falls is very much a Midwest college town: relatively homogenous, gentrified, and affluent. If It's a Wonderful Life got a modern remake, Cedar Falls might play the part of Bedford Falls. Walk down the 20th-century Main Street and note homey coffee shop/local institution Cup of Joe; Chocolaterie Stam, which sells chocolates straight from Belgium; seasonally focused small-plates eatery Farm Shed; and Bar Winslow, slinging Prohibition-inspired cocktails in the historic Black Hawk Hotel. You'll eventually wind up on the banks of the Cedar River, where trails take you out into the woodlands and where the bluebells rage come fall.
A short drive away is Waterloo, a more immigrant- and art-focused community that offers up a welcome dose of diversity and underdog spirit that's essentially the opposite of what most people think of when they think "Iowa." Don't miss SingleSpeed Brewing Co., a game-changing brewery shilling sours and other European-inspired beers in an old Wonderbread factory. Check out Rodney's Kitchen for Rodney's very own brisket or gumbo, then ogle at gallery/restaurant/lounge Galleria de Paco's ceiling, a legitimate spray-painted masterpiece that replicates the Sistine Chapel (created by street artist and owner Paco Rosic). Finally, always nab a chocolate-covered strawberry at nearby dessert bar Boujee Berries.
Outdoors, the "Cedar Valley" takes biking pretty seriously. For a beer-to-beer ride, bike the trails between Waterloo's SingleSpeed and Cedar Falls' SingleSpeed -- it's 7.5 miles between the two breweries, and a great way to get a feel for both towns.
Yellow River State Forest
There isn't exactly a surplus of backpacking opportunities in Iowa, but Yellow River is your best bet to practice your off-gridding and map-reading skills. Hikers should beeline for the Paint Creek Unit: There are 25 miles of trails here, but the 14-mile loop makes for a solid weekend backpacking trip. The trails are marked, giving a good challenge to those new to the backpacking world. You won't be getting lost in the open prairie, either -- Yellow River is densely forested, with steep-walled river canyons and rugged bluffs towering over the water.
Beyond hiking and backpacking (and obviously stellar views), Yellow River has extraordinary trout fishing -- you can set up your tent right on the banks -- great equestrian trails, and maintained snowmobiling/snowshoe trails come winter.
Jacqueline Kehoe is a contributor for Thrillist.