Jamaica may be most famous for its beaches, but as locals will quickly point out, the island's lush interior will knock your socks off too, even though you probably won't be wearing socks. Think waterfalls, rivers, blue holes, lagoons, and soaring blue peaks, and a slew of outdoor activities. Don't leave Jamaica without trying one of these, even if you never tire of the beaches and the bashment.
Hiking Mayfield River
Where: About 60 minutes southwest of Montego Bay
Why: It's not every day you get to hike your way across a clear, cool river -- on foot, water shoes strapped -- while surrounded by a lush tropical forest. Some spots are deep enough to jump in, and you should definitely do that.
Bonus: The reward at the end of a challenging hike? Two waterfalls. Swim underneath and feel the force of nature smashing down on your face!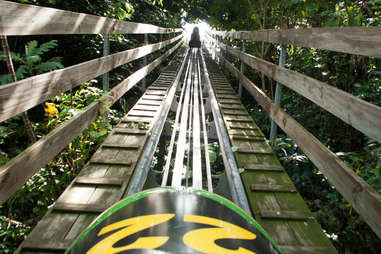 Bobsledding in the Rainforest at Mystic Mountain
Where: Ten minutes west of downtown Ocho Rios
Why: Because of the Jamaican Olympic bobsledding team! Hop into your sled and scream your lungs out as the pull of gravity takes you speeding along winding tracks through a dense forest. Pull on the break occasionally for ocean views that'll be taking whatever breath you have left.
Bonus: Ride the Sky Explorer, a chairlift that will carry you slowly at 700 feet above the canopy. Or brave the steel 252-feet high Mystic Waterslide that will chuck you into an infinity pool filled with pizza… no, bay views.
Biking in the Blue Mountains
Where: An hour north of Kingston
Why: Because there's no better way to absorb the scenery and villages of the 7,000-feet high Blue Mountains (yes, the peaks really do look blue) than to hop on a downhill bicycle tour. There are a host of little-known waterfalls tucked in the mountains that make for ridiculously idyllic rest-and-swim stops.
Bonus: Drop by the Craighton House Coffee Estate for a tour and a cup of Blue Mountain, and then rest your bones at the exclusive Strawberry Hill, not to be confused with the definitively nonexclusive wine.
Leaping into the Irie Blue Hole
Where: 15 minutes from downtown Ocho Rios
Why: Tarzan yourself a vine -- guides are on hand to show you how and where to jump -- and swing with abandon from the 27-foot high cliffs into the turquoise hole. Try not to land on your behind.
Bonus: Stay as long as you wish to swim and explore more of the pools and waterfalls on the grounds.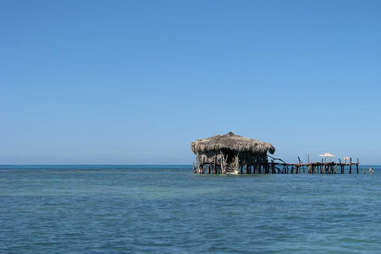 Catching Sunset at Pelican Bar
Where: 30 minutes off the coast of Treasure Beach
Why: Because there's no other bar like the Pelican -- a wooden thatch hut perched in the middle of a calm Caribbean Sea, where you can drink Red Stripes and eat fresh catch while pelicans flock nearby, pissed that you got the fresh catch.
Bonus: Grab a pen and leave your mark on one of the wooden planks inside the bar, and read the hundreds of messages scribbled over the years.
Crocodile Spotting on Black River
Where: 45 minutes west of Treasure Beach
Why: Cruise down the mangrove swamps, under the shade of fern trees, and spot birds… and American crocodiles, who'll glide toward to the boat and even stick their jaws out, the croc version "two tickets to the gun show".
Bonus: Nearby Treasure Beach is home to black sand stretches and fishing village vibes.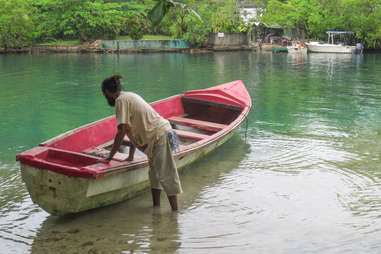 Rafting on the Blue Lagoon
Where: Port Antonio, Eastern Jamaica
Why: Jamaica's signature activity is floating on a bamboo raft and marveling at the scenery while a guide points out everything from flowers to fish. The most unique scenery of them all is the 180-foot deep, half fresh and half salt Blue Lagoon, with views of Port Antonio's cliffs and deep jade and sapphire water that'll remind you of that movie where Brooke Shields was, like, not particularly old.
Bonus: You can hop in the lagoon and cool off after your ride.
Negril's Reggae Marathon
Where: Norman Manley Boulevard, Negril
Why: It's a great way to see Negril and Jamaica's west coast, and get in some (okay lots of) exercise. In its 14th year, the Reggae Marathon -- which also offers half-marathon and a 10K -- takes place every first Saturday in December and attracts up to 20,000 runners from up to 29 countries. There are trophies and cash prizes for the winners, but you should just… do it for the experience.
Bonus: Afterwards there are live Reggae concerts and after parties, featuring acts like Luciano, Etana and Third World.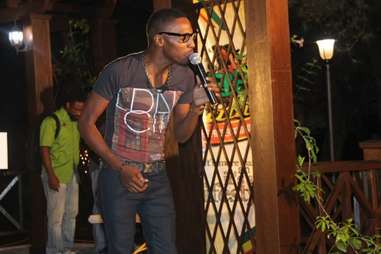 Jamming at Rebel Salute
Where: 20 minutes west of Ocho Rios
Why: Entering its 22nd year, it's the island's largest and most authentic reggae fest, which means despite the name, Kid Rock won't be there. The rager lasts from mid afternoon until the following morning, with performances from every roots reggae recording artist you can imagine.
Bonus: You can camp on site and chill out/sleep between sets.