Jamrock. The Land of Wood and Water. The Birthplace of Reggae. Regardless of what you call it, one thing is certain -- no island in the Caribbean has set as many mainstream trends or captured the world's imagination quite like Jamaica. Cool Runnings, anyone? Of course, you want to come here to party, to lime, to get in touch with your inner irie vibe. But Jamaica offers more than that. From bustling, cosmopolitan Kingston and the jumping resorts of Negril and Ocho Rios, to the bottomless Blue Lagoon and soaring Blue Mountains, this island nation of 2.7m intoxicates like few places on earth.
When to go: While Jamaica really is a year-round destination, there are benefits to visiting during specific months. Party people will want to pay special attention to Carnival Season (February to April) when Kingston's going off non-stop. Deal seekers, however, should opt for October to December, when the weather's nice and the fares/rates are low.
How to get around: If you're staying at one of the resorts, rent a car. Roads are pretty well-maintained, signs are in English, and locals are generally helpful with directions. In Kingston, however, cabs are your move; just make sure someone you trust (or your hotel concierge) arranges the driver.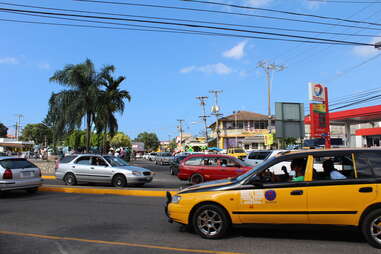 Traveler's tip #1: If you're taking a taxi from the airport to downtown Kingston, insist that the driver takes the longer, coastal road. The shorter route runs through Mountain View, an area where more radical factions of the island's two political parties reside on opposite sides of the street. They've been known to fire shots at one other across the road.
Traveler's tip #2: Bring snacks and water if you're heading to any resort not located in Montego Bay. If you fly into MoBay's modern airport, the drive to Negril or Ocho Rios can take upwards of four hours.
Traveler's tip #3: Everyone shortens the names of things in Jamaica. For example, Montego Bay is MoBay, Ocho Rios is Ochi, Usain Bolt is U-Bolt. OK, we made that last one up. But it works, right?
Dining: If you like your food smoky, spicy, and hot, then jerk's for you. This authentic Jamaican cooking style originated on Boston's Beach, but now's found all over the island. Scotchie's in MoBay is legendary and makes fantastic jerk, as does The Pork Pit. No hot and spicy Jamaican meal is complete, though, without an ice-cold Red Stripe and fried dough "festivals", both of which help take some of the sting out of all that heat. For a romantic evening, check out the Houseboat Grill. Asian-inspired in décor, this former houseboat serves up some of the tastiest surf and turf in a setting unlike any other in Jamaica.
Local beer: Obviously, this one's a no brainer -- everybody knows Jamaica's popular Red Stripe. But this former British colony also brews two really good stouts: Dragon's a 7.5% ABV from Desnoes and Geddes that's been in production since 1920, and Lion Heart's a newer -- but equally potent -- sweet milk stout, now brewed by Kingston's Razz.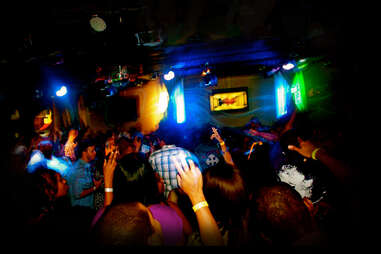 Nightlife: Kingston ranks high on the list of prime nightlife destinations in the Caribbean. One of the most popular hot spots, Quad, features DJs spinning reggae, dancehall, soca, and R&B over four separate floors. Fiction, on the other hand, rocks a similar vibe and music mix, but throws in live acts. The action about town generally kicks into high gear between midnight and 1a, with the party going strong 'til five in the morning. For a live and loud intro to Jamaica's outdoor sound-system party scene, Weddy Weddy Wednesdays, is not to be missed.
Out in the resort areas, the larger properties have their own on-site nightclubs and nightly Vegas-style shows. Clubs and bars along the Hip Strip in MoBay, meanwhile, attract locals and visitors alike.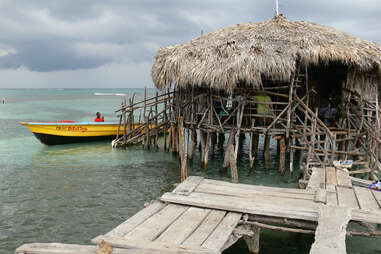 Activities:
The pilgrimage to Mount Zion: The mythical Mount Zion you hear about in all those reggae songs really does exist! While there are actually multiple Mount Zions in JA, the one near MoBay offers a nice glimpse into village life in the country. Not only that, it maintains some welcoming rum bars and an ancient church once frequented by the legendary Annie Palmer, better known today as the White Witch of Rose Hall.
Visit Bob Marley's house: No visit to Kingston's complete without a visit to Marley's "uptown" home at 56 Hope Road. Now a museum, it's packed with relics and mementos from his past. You can even see the bullet holes in the walls stemming from the 1976 attempt on his life.
Sail to Floyd's Pelican Bar: A decrepit shack (seemingly McGuyver'd together with random wood and thatch) that sits in the ocean about a quarter-mile from the coast of St. Elizabeth Parish, Floyd's Pelican Bar is as uncommon as bars come. It's a 20min boat ride from land, and the menu consists primarily of fresh seafood (sourced from the surrounding waters), cold Red Stripe, and very little else.
Where to stay: In Kingston, the Courtleigh, Knutsford, and Pegasus hotels are popular with business and urban travelers. Hostels offer rates as low as $14/nt, and airbnb options are available as well. If you overnight in town, stay in New Kingston -- it's nicer and closer to the nightlife than the downtown area, which shuts down after dark.
Outside the city, there're plenty of stylish (and historic) resorts from which to choose, including the recently renovated Goldeneye, the one-time island residence of famous 007 author (and British spy) Ian Flemming where many James Bond novels were penned. Strawberry Hill in the Blue Mountains is your move for a romantic getaway, while -- back along the coast -- the elegantly rustic Tensing Pen and Rockhouse in Negril both redefine sexy. Finally, if you want to feel like a welcomed local from the moment you arrive, then Jake's in Treasure Beach is your play.
Steve Bennett is the Editorial Director of UncommonCaribbean.com.