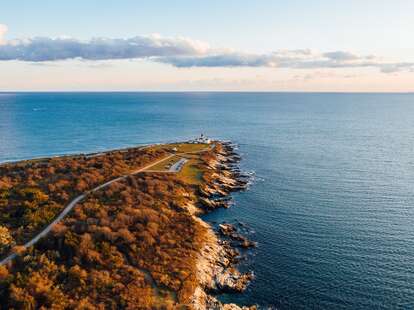 Now this is a place to get stuck.

| Discover Newport
Now this is a place to get stuck.

| Discover Newport
Get Marooned on This Quintessential New England Island
Lighthouses, lobster rolls, and more ocean-sprayed cliffs than you can shake your peg leg at.
Fasten your seatbelt and adjust your mirrors—this is Rerouting, your one-stop-shop for mapping out the ultimate summer road trip, no matter what gets your engine going. Cruise over to the rest of our coverage for pit stops at offbeat roadside attractions, sweeping desert panoramas, epic mountaintop vistas, oceanfront oyster bars, dynamic public art, and so much more.
It seems appropriate that I've been stranded on an island of shipwrecks. Before the bridges were built, it happened to people here in Jamestown—a village of 5,500 on Conanicut Island off the coast of Newport—quite often, including in the climax of Wes Anderson's movie Moonrise Kingdom: a work of fiction, sure, but one inspired by and filmed on this Rhode Island islet.
This time, it's a snowstorm that shuts down the two connecting bridges and maroons yours truly. White mist hovers above the ocean, enveloping the ruins of a stone house as six-foot waves crash against the giant boulders that line the shores. As ominous as that sounds, there's something romantic about being huddled with everyone on this tiny rock, so close to Newport yet so easily cut off by some water and fog.
Still, though the winters are enchanting in a classic New England way, if you'd rather not run the risk of getting snowed in yourself, it's safe to say the time to visit Jamestown is most definitely summer. Of course upcoming fall ain't hard on the eyes, either. Either way, I regularly visit the island starting Memorial Day to kick off Rhode Island's long-awaited (and well-deserved) warm-weather season.
Along with salty spray and seagull calls, you'll find wooded cliffside hiking trails, shacks slinging local oysters and warm chunks of buttery lobster, and breweries serving drinks strong enough to earn you your sea legs. There's an adorable main street with just a single blinking red light, shingled seaside cottages, and dozens of lighthouses surrounding the island. Though boats don't crash into this hunk of rock as frequently these days, the remains of several shipwrecks still litter the ocean floor; if you're experienced enough, you can even dive to see them for yourself.
In Jamestown, the story behind every building or cove seems to involve a hardy mariner, a missing ship, or a lost submarine. Come here to do some proper sea gazing, get your salty scruff on, and maybe pretend to be a pirate. Here's all the sunken treasure you can find around town.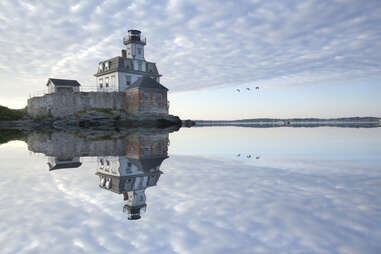 Sleep in a lighthouse or a sea captain's home
If you want to stay in Jamestown proper, book a room at the Lionel Champlin Guest House, the former home of an 19th-century sea captain (and former Victorian tea room, and possibly a sanatorium) that now offers a sitting room with a fireplace, large kitchenette, and welcome cookies upon arrival. Definitely stay in the Captain's Room, which has views overlooking the water, handy old-timey binoculars, and multiple levels in the room, like the deck of a ship.
If it's booked up, you can try your luck at the shingled Club Wyndham Bay Voyage Inn or the East Bay Bed and Breakfast. Options in Jamestown are few but quaint.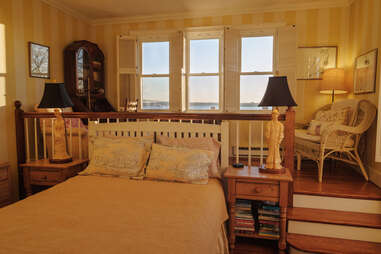 If you want to kick your nautical fantasies up five knots, you're obviously going to want to sleep in a lighthouse on an even tinier speck of land next to Conanicut Island. The Rose Island Lighthouse, seasonally open and accessible only by boat, sits on a tiny chunk of rock in the bay between Newport and Jamestown. You can either sleep in the lighthouse proper (as in the keeper's quarters), in the room where the foghorn was kept (don't worry, it's been removed for more peaceful, silent nights), or in bombproof soldier barracks (you know, just in case).
Some features—or rather lack thereof—are appropriately old-fashioned and will set the adventurous tone. A boat charters you in and out, so you'll want to bring food along if you plan to stick around and spend time staring out at the sea. There's a seasonal shower outdoors, and some rooms don't have a fridge, so you'll want to pack a cooler. There's also no electricity in the foghorn room, which means you'll also need to bring a flashlight or, better yet, a lantern that can swing in the dark while you practice your yarrr.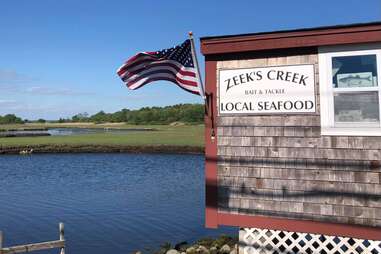 Eat fresh seafood and sip a Narragansett in Narragansett Bay
Whether you prefer yours refreshingly cool and covered in mayo or warmed up and shining with butter, you can put an end to the Maine- versus Connecticut-style lobster roll debate by testing both here in the heart of New England. Pop into Zeek's Creek Bait & Tackle to get the freshest seafood and lobster you've ever tasted from a small, shingled shack perched on a marsh. As the name implies, they also sell bait for just a few spare doubloons, so you can join the fishermen down on East Ferry Pier.
Like much of Rhode Island, J22 Tap and Table successfully straddles the line between upscale and divey. Top your Island Boy Nachos with shrimp or wagyu chili, or keep things clean and refreshing with local oysters and littlenecks. Later, head just down the street to Slice of Heaven for a Fish Naanwich, which has juicy flakes of haddock wrapped in a thick, warm, doughy naan and just a touch of a creamy chipotle sauce.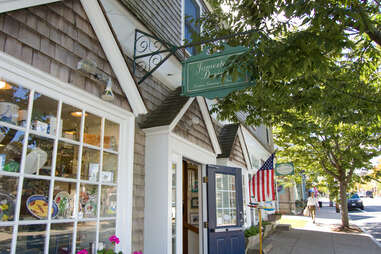 For an authentic Jamestown experience, head to Narragansett Cafe, known to locals simply as the 'Ganny. The clam cakes and fish and chips here are more of a side to the beer and live music performances, and you're bound to run into some salty seadogs. But for the best brews, the obvious choice is General's Crossing, where they concoct everything from Norwegian smoked ales and Gingerbread stouts to Mexican dark lagers and Caribbean brews.
An absolute must-visit is Village Hearth Bakery & Cafe, where you can dine in the leafy garden on smoked salmon breakfasts, bahn mi sandwiches, wood-fired pizza on Fridays, and all the pastries from scratch you can imagine. Or pack up a basket from East Ferry Deli and head to Beavertail State Park, where locals picnic on warm days. Make sure to finish off with a Narragansett beer while plopped atop the rocks along the Narragansett Bay, just under the Beavertail Lighthouse.
Do a lighthouse crawl
Jamestown's isolation out in the Narragansett Bay helps explain the many hey-look-out! lighthouses that surround the island; this is not a rock you want to run into in the middle of the night. Once upon a time, these many watchtowers expertly guided lost ships out of the wild, perilous ocean—and sometimes, not so much. Today you'll still find short stubby ones, tall ones that gaze majestically at a pointy tip of land, and some closely resembling houses because they are, in fact, residential. There are scores of watchtowers to look out for across the bay—Castle Hill Lighthouse, Goat Island Light, Poplar Point Lighthouse, and so on, and so forth—but on this Jamestown lighthouse scavenger hunt, there are a few essentials every visitor should hit.
The most obvious starting point is also the most famous and accessible: Beavertail Lighthouse, which sits like the crown jewel at the southern point of the island and makes a perfect place to sit and gaze out across the ocean at the distant horizon. Beavertail also hosts a museum inside that catalogs the 1,000+ shipwrecks that have occurred in this tiny area. Aye, there be treacherous waters here… and there also be a modest, one-room aquarium next door where you can poke your head in to see what's swirling in the tanks today, caught offshore and released after a couple weeks.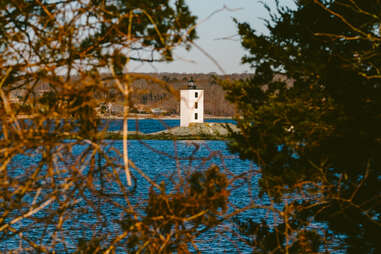 As you make your way north on the island, pull over at Fort Getty State Park to spot the Dutch Island Lighthouse. This tall, rectangular white-brick structure and the cute little shack next to it are the only buildings on an outcrop of rock. Next, if you didn't stay at Rose Island Lighthouse, you can spot this one either by driving over the bridge to Newport or posting up on East Ferry Beach and squinting pretty hard. Might be savvy—and fitting—to bring a pair of binoculars with you.
Continuing north, Plum Island Lighthouse is squat, striped red and white, and sits on a perfectly circular hunk of rock. It's actually best spotted from the Jamestown Bridge on the west side of the island, so you'll most likely see it on your way in or out. Just keep in mind it's not a good idea to stop on the bridge to snap pics, so you'll have to check this one out while moving.
End your hunt at Conanicut Island Lighthouse, where protagonist Suzy Bishop's family lives in Moonrise Kingdom, Wes Anderson's classic coming-of-age film. This one closely resembles a house because it is, in fact, a house. That being said, feel free to snap a pic, but try not to linger too long, since it's probably pretty weird to have strangers checking out your home all the time.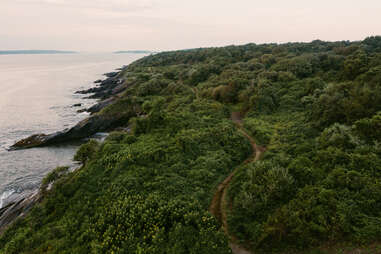 Explore scenic seaside bluffs, marshes, and WWII ruins
The most popular hikes with magnificent sea views are at Beavertail State Park and Fort Wetherill State Park. At Beavertail, the Red Dot Trail, Blue Dot Trail, and Green Dot Trail will all take you wandering through the woods. You can also meander closer to the water on some unlabeled dirt paths around the lighthouse. Heads up: the rocks spilling into Davy Jones' Locker have claimed many a life, so resist the urge to get too adventurous.
Over at Fort Wetherill, the paths are less structured and seem to dawdle along at will. Sometimes you'll find yourself in thick shrubbery (watch out for poison ivy, or else just wear clothes that cover your legs and feet). At other times, you'll suddenly emerge to see incredible cliffside views that'll make you feel like you're standing at the edge of the world.
Both state parks also come with old WWII facilities you can explore. Climb on top of hobbit-house-looking batteries swallowed by grassy hills, or brave the dark tunnels of former bunkers now covered in street art and graffiti.
In the Marsh Meadows Wildlife Preserve—aka Zeek's Creek Marsh, if you're local—put your best birdwatcher's hat on and try to spot nesting ospreys, snowy egrets, and great blue herons from the three or four lookout points scattered throughout. Directly nearby, the Conanicut Island Sanctuary Walk's easy one-mile loop is another excellent way to catch a glimpse at Rhode Island's wildlife or just breathe in the surrounding nature.
Cliff dive, scuba dive, and visit real-life Moonrise Kingdom
The locals may favor Mackerel Cove Beach for its long stretch of sand and surrounding cove dotted with New England houses, but you can't come to Jamestown and not check out the beach in Fort Wetherill, marked on Google Maps simply as "Moonrise Kingdom." Bring a portable record player, strip down to your underwear, and do a little shimmy to channel your inner child (or at least your 2012-era, Wes Anderson-watching, twee self).
From there, you can kayak out on the water, or watch (or join in!) the brave youth who cliff jump into the depths below. If you do choose to partake, just check that the coast is clear before you jump: this cove is especially popular with novice scuba divers. On clear days, divers have been known to spot pink and mauve vegetation, lobsters, squid, starfish, blue crab, and even tropical fish who are seriously lost. Advanced divers can also see an old submarine net, an anchor, and even torpedo remnants. The local boy scouts created a couple scuba diving racks here, because that's just too perfect. If you want to give it a dive, Bubbles Dive Center in next-door Newport offers lessons.
Visit Newport for ghosts and old-money mansions
Newport is certainly on the beaten track and has a reputation for millionaire mansions, but at just a 10-minute drive away, it's absolutely worth being wooed by its colonial old-timeyness. Wandering around Washington Square and Thames Street is an activity in and of itself, with olive oil shops, fancy soap bar stores, and a fudgery and toffee shop to enjoy. You can also tour the mansions of the Vanderbilts and the Astors, the first American multimillionaire family, or stroll right past them and head to the cliff walk for 3.5 miles of seaside views.
Since there are so many restaurants in Newport, you might want to consider continuing your lobster roll taste-test here. Your first resy should be White Horse Tavern. The oldest operating restaurant in the US, White Horse has been serving meals since 1673 and was even briefly owned by a pirate—a legitimate, booty-hunting and bottle-drinking pirate—in the early 1700s.
The White Horse became a boarding house in the early 1900s, a time that left ghostly marks; if you ask nicely, you can see a photo of the dining room today with an imprint of a child's face in the corner, thought to be a young girl who died here from polio during the Depression. Don't worry: the enormous log-burning fireplaces chase away all specters and warm up the cozy, wood-paneled interior. Further warm your soul with white truffle foam and pomegranates on seared duck breast, black truffle wild mushroom farro, or decadent chocolate goat cheese that sometimes tastes like fudge and sometimes like cheese, but each time is velvety and delicious.
After dinner, swing by Bar 'Cino to sip cocktails at a stylish long bar while glancing out windows that look out onto the town square. Go for the Chinato Sour made with chickpea juice whipped into a light foam and a hint of elderflower, or stick with the Seasoned Sailor rum and apple cider cocktail with maple syrup so as to stay in theme.
If you're looking for more low-key and kitschy, go to Brick Alley Pub, where you can have clam chowdah and a beer under a slew of vintage Coca-Cola signs, license plates, a wooden derby car hanging from the ceiling, and even a full-on fire truck that used to be perched on top of the building. It'll be like playing Where's Waldo, with extra points for finding the lifesize tiger head.
Danielle Hallock is the Travel Editor at Thrillist. She enjoys getting stuck on islands, no matter the cause.