20 Things You Can Only Do in Japan
To Westerners, Japan borders on the bizarre, with familiar allusions of weird foods, bat-sh*t game shows, and even game shows where people might actually eat bat sh*t. But in reality, the country's unbelievable coolness will leave you wondering whether all the stuff you experienced there was real, or just your imagination. If you can dream it, you can probably do it in Japan.
Here are 20 activities that prove that point. And just remember (for the sake of your Facebook friends), pictures or it didn't happen.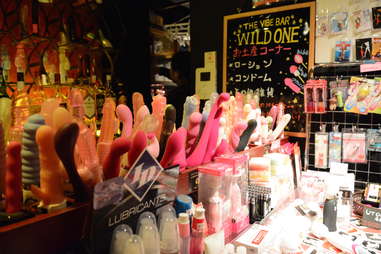 1. Get your buzz on at a vibrator bar
Tokyo
Upon paying about $20 (includes two drinks) at Shibuya's Vibe Bar Wild One, you'll get your very own cafeteria-style plastic glove. That's your ticket to touch and turn on all the vibrators, exploring more than 330 models from around the world. Heed the house rules, however, which state they can be held and touched, but not "used." Don't lie, you were wondering. Before you plan your visit, note that only women and couples are admitted, and groups of three or more must be majority female. Sorry, fellas.
2. Mingle with Super Mario maids
Tokyo
As if Super Mario Bros. weren't phallic enough on its own, real-life heroes can get off on the Maidreamin Digitized Cafe and Dining Bar, full of girls in French maid costumes leaping on trampolines and punching boxes for points. This Shibuya spot is a variation of the traditional Japanese maid cafe, which caters to sexually repressed males who are into Cosplay. This is considered commonplace, BTW. Pay a $5 cover and order at least one item off the food and drink menu to experience maid hospitality. "Activating" the maids to act like video game characters costs quite a bit more, but if you hang out long enough, some sucker at another table will pay the fee, which brings that 1UP sound with it.
3. Watch baseball, but better baseball
Multiple Locations
Spoiler alert: Japan takes popular things and makes them better. At Nippon Baseball League games, fans sip on drafts delivered by ballpark hawkers wearing beer-like jetpacks; the snacks range from the familiar game-day fare to grilled squid on a stick; and fans have a chant dedicated to each player. The season runs from March through October, and most big cities have a team with far-out names like Hokkaido Nippon-Ham Fighters or Tokyo Yakult Swallows. Purchase tickets at the ballpark (sell outs are possible) or at a convenience store like FamilyMart. Either way, it definitely beats watching the Astros.
4. Sip coffee with a furry cuddle buddy
Multiple Locations
Cat cafes have made their way to America, but obviously, that's too bland for Japan. With Bunny Rabbit Cafe in Tokyo's Asakusa neighborhood invites you to choose a bunny (from 30!) and a themed room to hang out in for an hour. Watch them knock into mini bowling pins and poop in every corner for about $70. Owl cafes like Osaka's Lucky Owl invite you to pay a small fee for a drink and the right to stroke the owls. That is not a euphemism for anything, either. These cafes are meant to cure loneliness. Try to resist saying they're a real hoot.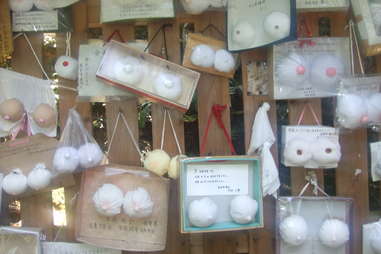 5. Bow down to boobs
Multiple Locations
There's a shrine for almost everything in Japan, including several dedicated to second base -- and not the kind in the Nippon League. Karube Shrine in Okayama Prefecture's Soja City, for example, is a fertility shrine beckoning women from all over Japan to pray to the goddess of breasts. Hanging out in Kyushu? There's also the Udo Shrine in Miyazaki Prefecture where you can ogle "boob rock" inside the cave where the mother of all gods is said to have nursed her children. All hail boobs!
6. Live out Lost in Translation
Tokyo
For a refreshing time, visit New York Bar atop the Park Hyatt Tokyo in Shinjuku. You'll recognize it from Lost in Translation. In addition to an impressive Scotch and Japanese whisky collection, the bar panders to film nerds by offering Francis Coppola "Sofia" Rosé by the glass. Expect "with a view" pricing, since you'll likely be looking out at Tokyo with your jaw hanging open. You should close that to prevent your drink from spilling. Note: the bar's also a little tight on its photo policy, as plenty of celebs frequent the lounge.
7. Get hooked on Sumo
Multiple Locations
Don't be surprised if you rub elbows with a sweaty bowling ball wearing a wide thong -- it won't cost you anything extra! Even the highest-ranked sumo wrestlers enter the arena through the same gates as spectators. With six tournaments each year spanning Tokyo, Osaka, Nagoya, and Fukuoka, it's worth planning your trip around one of these "bashos." The lead-up to when two fat men clash bellies is as intense as E. Honda's hundred hand slap. While action starts as early as 8:30am, the highest division doesn't start wrestling until the late afternoon. Buy your tickets in advance to avoid dealing with lines or a potential sell-out.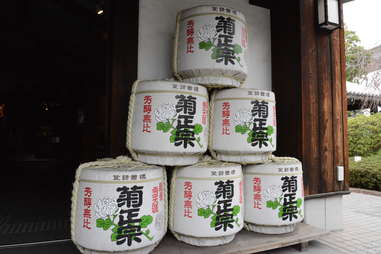 8. Learn sake secrets
Kobe
Sake has as many varieties as Robert Durst has aliases: Junmai Daiginjo, Junmai Ginjo, Junmai, Daiginjo, Ginjo, Honjozo, and beyond. Unlock some of its secrets by visiting the Nada district in Kobe, where 40 distinct breweries produce 30% of the country's rice wine. You'll likely recognize the name Hakutsuru, because it's wildly distributed in the US of A, but check out the smaller labels, like Kiku-Masamune. Most breweries offer free tastings and explanatory (though braggadocio) films in English.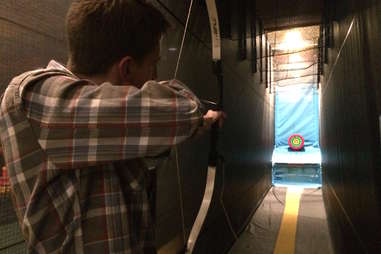 9. Play unlimited games for $20
Osaka
Imagine Dave & Buster's on steroids... and with a Japanese twist. Archery, basketball, tennis, soccer, badminton, bowling and beyond can be played under one roof at Round1/Spo-Cha in Osaka, just off the Dōtonbori. Fork over about $20 for a bracelet signifying three hours of unlimited, all-included fun spread over nine floors. If you don't want to get super sweaty, there's also a floor dedicated to video games ranging from the usual suspects like Mario Kart to a realistic flight simulator. No coins necessary, just that magic bracelet. Tired? Fatigued gamers can settle into a massage chair in the relaxation area with a book of manga. It's like going to the arcade when you were a kid, except you won't spend your entire allowance on Lethal Enforcers.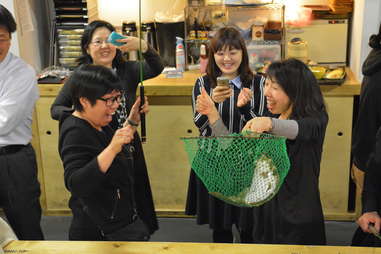 10. Fish for your dinner at a restaurant
Tokyo
Dinner at Zauo is as complicated as Mahjong, so bring a Japanese speaker. That's because if you want to eat, you have to first catch your dinner using a combination of rods with baited hooks and nets. The catch(!) is there's no tossing a fish back once you reel it in, and price tags vary by species. It's the Japanese version of picking out your lobster at Red Lobster. Once a fish is on your line, the staff will bang a drum announcing your success. Then it's time to decide if you want your haul sashimi style, grilled, or fried. Tables are positioned on a giant wooden boat structure overlooking persistent, hungry fishers at work. You're all in this together.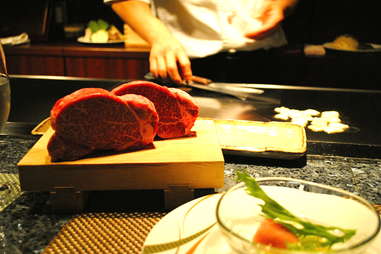 11. Eat Kobe beef in Kobe
Kobe
Eating Kobe beef in Kobe is a little like wearing a Destiny's Child t-shirt to a Destiny's Child concert. But whatever. Use it as an excuse to drop bills, bills, bills (yen, yen, yen) on one of the most expensive dinners of your life. The king of beef marbled with fat, grade A5, runs about $90 for a 5oz tenderloin at the more touristy restaurants (read: English menus) like Mouriya Sannomiya. Order it rare for best results, and try the first bite with just a sprinkle of salt before using the ponzu sauce for the rest of the meal. You will not regret this.
12. Sip the world's best whisky where it's made
Kyoto/Osaka
Call ahead to reserve a spot on the Yamazaki Distillery tour that's become increasingly popular since Japan stole the best whisky in the world title away from Scotland in 2014. It winds through washbacks, fermentation tanks, peculiar pot stills, and the cold and dank maturation cellar before finishing with a celebratory highball and trip to the whiskey library and tasting room. It's there you can set up a DIY tasting of 15ml pours ranging from about $1 to $24. Opt for a vertical (Yamazaki 12, 18 and 25 years), or compare some fine young co-eds (The Macallan, Hakshu and Yamazaki 18-years).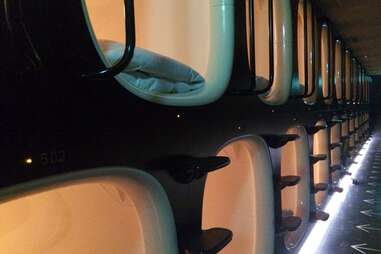 13. Sleep in a weird capsule hotel
Kyoto
If $17 sounds like the right price for a one-night crash pad, try a capsule hotel. Nine Hours Kyoto is a great bet, thanks to its futuristic feel and overall cleanliness. Men and women are separated by floor to prevent monkey business, given there's no curtain or lock to your pod. Shower facilities, Wi-Fi and luggage lockers add to convenience. Discounts or refunds for snoring neighbors are not given, so you'd better channel your inner LeBron and bring your Beats by Dre. Or at least a pair of ear plugs.
14. Play vending machine roulette
Multiple Locations
There are a lot of legends out there when it comes to Japanese vending machines, including the holy grail tale of the soiled panty dispenser tucked somewhere in Akihabara. If it exists, it's hard to find, so focus your time on other impressive vending machines for your IG selfies, like this one that dispenses emergency clothing in case you break a sweat, or one that blows up balloons. Make it your mission to one-up all who came before you in their quest to vend something stranger than a 100 Grand Bar or salsa-flavored Sun Chips.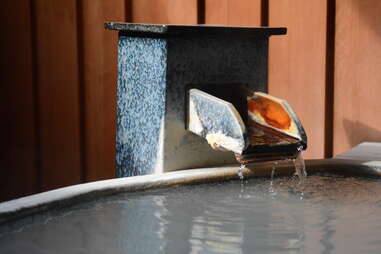 15. Get naked with strangers
Multiple Locations
Group bathing is so entrenched in Japanese culture, they don't think twice about stripping down and slipping into piping hot spring water promising health benefits. What differentiates this bath and your YMCA locker room is the step after disrobing and before the dip. You must make a spectacle out of showering and scrubbing before entering the bath, especially since all eyes will be on you — no one can resist a peek at foreign junk. These baths, known as "onsen" if they're indoors, and "rotemburo" if they're al fresco, make for soul-satisfying relaxation if you can get over showing skin. Public bathhouses are plentiful in both big cities to the countryside; look for this symbol when booking a hotel: ♨
16. Unleash your inner karaoke diva
Multiple Locations
Unless you actually have a shot at making "The Voice," belting out ballads in front of packed bars is no one's idea of a good time. Even after three Long Island Iced Teas. In Japan, they extrapolate the weirdness from karaoke by giving you the key to a private room, complete with English songbooks, mics, and an all-important doorbell. This buzzer is your portal to icy drafts and snacks. Safe in your room where no strangers can hear you, feel free to bust out songs you'd never try publicly; if you can hit the high notes in "Here I Go Again," then you're just lying about your prowess.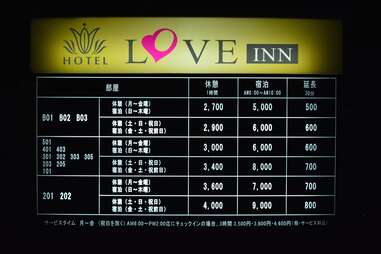 17. "Sleep" in a Love Hotel
Multiple Locations
You know how the big obstacle in study abroad hook ups is not having anywhere to shack up with your mate? What if there had been a hotel room that you didn't have to rent for the night? Enter the Japanese Love Hotel — the young love solution when you live with your parents forever. These short-stay spots offer rooms by the hour, and are often themed or kitschy, with amenities you have to see to believe: waterslides, aquariums, smoke machines, carousels and Jacuzzis. Oh, and they're designed for you to have sex and go home. A sign with hourly prices like this one will clue you in that you've found one.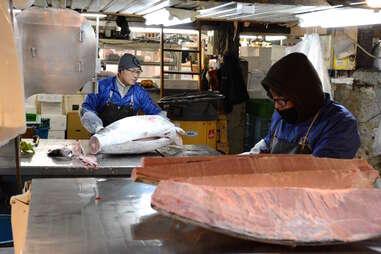 18. Be dazzled in Tsukiji Market
Tokyo
No actual bedazzling invovled, however. But if even a small part of you loves seafood, you have to walk the narrow stalls of Tsukiji Market. Play a little game of "would you eat that?" while glimpsing awe-inspiring tuna. While it's next-to-impossible for tourists to attend the tuna auction around 5:30a, the market is still worth visiting from 9-11a. Just watch out for the golf-cart-sized trucks driven by Japanese men who seem to value human life as much as they value tuna life. After you're worn out, pop into any of the nearby stalls for an epic bowl of chirashi sushi.
19. Climb Mt. Fuji by night
Shizuoka/Yamanashi
Your odds of being passed by a Japanese grandmother with purple hair and a walking stick are high as you start your hike to the top. You'll think to yourself, "Surely if she can make it, this will be cake." Well, don't forget these ladies have likely survived epidural-free childbirth, so they're tougher than you and your local bar's bouncer. To make the Mt. Fuji hike more about enjoyment than endurance, climb at night in order to see the sunrise at the top around 4:30am. If you climb in-season (July-August), there are noodle shops and places to rest your legs along the way, but save room in your stomach for a bowl of Japanese curry at the top. Pro tip: Wear sweat-wicking clothes, and spring for a headlamp.
20. Hit up a bonkers festival
Multiple Locations
Not only is the street food tasty, but the rituals will leave you in stitches. Take the annual Tamaseseri festival in Fukuoka, when a team of farmers competes against a team of fisherman to determine who will have the most fruitful harvest. Firemen hose the participants down as they pass a slippery bowling ball, trying to advance to the end of a path while sitting on each others' shoulders in questionable garb (in January!) It's as ridiculous as it sounds. Another popular party is Nagoya's Hōnen Matsuri fertility festival, where it's totally acceptable to reverently dress like a penis and eat penis-shaped snacks. Google image search this one for a good time. Or better yet -- just go there and experience it for your penis-shaped-snacks-eating self.