Two hundred years ago, Key West began as a far-flung island off an uninhabitable swampy peninsula populated by people running from the rest of the world. Not much has changed since. Today you'll find a sword-swallowing Vietnam Vet putting on a show next sun-soaked old hippies and guys who think 9am is a perfect time to start Happy Hour. It's an island where the real world isn't -- a saltier, loonier Las Vegas a four-hour drive from civilization, where visitors come to be as gleefully uninhibited as the locals.
In the summer of 2017, Hurricane Irma dealt that island a hard uppercut. Turned out the locals were more than zany. They showed their resolve early and often, and the most hippie town in Florida is back up and running. "We're pretty much 99% functional now," says Eric Dennison, the innkeeper at the NYAH hotel on the island. "It took about two months to get back up to full speed. But Key West itself is back at this point."
Dennison took the time to talk to us about the best things to do in Key West beyond the giant hippie party at Fantasy Fest and spring break. Among water sports, beaches, and entire museums devoted to somewhere Ernest Hemingway once ate a pork chop (or at least, that's how it seems) here are the 20 best things to do in Key West.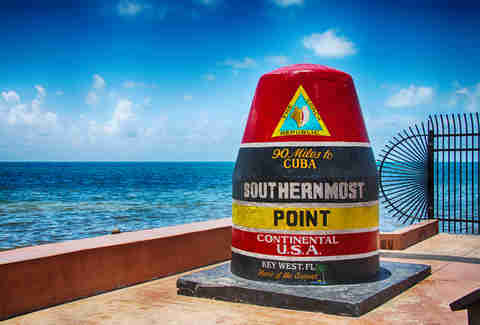 OK, so technically the southernmost point in the United States is in Hawaii, and the lower 48's southernmost point is in Ballast Key, Florida. But since when did Florida ever let facts get in the way of a good tourist attraction? Sidle up to the landmark buoy and get your requisite selfie, then block whichever geography geek tries to call you out.
If you don't have time to get out to  America's most overlooked National Park, plenty of operations in Key West offer the opportunity to stick your head in the water and see some colorful marine life. And even after Irma, Dennison says visibility is just fine. "A lot of guests have gone and said they had a great time, they've had no issues and say the visibility was great" he says. If you're looking to go, he suggests Fury, Sebago, and Sunset Watersports.
The Hemingway vibe on this island is strong, and its newest attraction is an 8,000-square-foot distillery for Papa's Pilar Rum. For $10 visitors can see how rum is made at the island's largest distillery, as well as Hemingway memorabilia and, of course, a generous tasting.
Doesn't even matter what time of day it is, the pineapple pancakes, lobster Benedict, and fresh-baked banana bread here make up the best breakfast in Florida. And it's not even close. Blue Heaven also boasts the only bathroom you'll ever go to just for the smell, since it's located right next to where they bake all that delicious banana bread. Just make sure you get there as early as possible. Lines can get painfully long as early as 8:30am, even on weekdays.
Perhaps the most interesting thing about this historic home in Old Town Key West isn't that Hemingway called it home for a decade. It's the famous Hemingway cats, several dozen six-toed felines that roam the property. Many are said to be descended from a white, six-toed cat named Snow White that Hemingway received as a gift from a ship captain.
Be warned: The other patrons might not exactly top your list of people you'd like to share a naked drink with. But for a truly uninhibited experience head to the Garden of Eden, a clothing-optional rooftop bar on Duval Street where you're encouraged to strip down and enjoy some booze in the buff. Clothed gawking is permitted, though your story will end much better if you go all in.
Key West is bite-sized, so if you want to see the whole island in a day it's easily done on a bike. Rent a beach cruiser and poke around the old section of the city, then venture along the coast to the beaches and into some lesser-visited residential areas. Or if you're not so big on decision making, Key Lime Bike Tours offers the best guided tours of the island.
Harry Truman ran his winter operations from this former naval station command center on Key West, making 11 trips here during his presidency. The museum shows logs from Truman's visits, giving visitors an idea of what crucial decisions were made here, as well as Key West historical documents and presidential artifacts.
Drink on Duval Street
Trying to find a quaint locals' bar on Key West is pretty much impossible. "There's not much left that's local," says Dennison. "Everything is full of tourists so just go out and have fun."  Maybe don't end up in the bar of the Hard Rock Café. There are still better spots: Irish Kevin's is known for its crowd-heckling live musicians and never-a-bad-idea Guinness chug. Captain Tony's is a dollar-bill covered dive that's unmistakable in pictures. And Sloppy Joe's is a landmark that's surprisingly also NOT a tourist trap, home of the sandwich that was famous long before Adam Sandler.
Mel Fisher was a legendary Florida treasure hunter in the early part of the 20th century, and much of the riches he amassed went to fund this maritime museum. The exhibits include artifacts from Spanish galleons sunk off the Florida coast nearly 500 years ago, with stories of how Fisher unearthed gold from the deep intertwined.
Like its swampy historic Southern brethren in Savannah and New Orleans, Key West is also rumored to be one of the most haunted cities in America. And haunted tours, while one of those hokey things "cool" travelers tend to scoff at, end up being a lot more fun than sitting in a dark dive bar. If you're here at night, absolutely hit Sloan's Key West Ghost Hunt, a more intimate, interactive tour that tells stories of a maid who hung herself from a rooftop and a man who kept his mistress "alive" for decades. You'll search for paranormal activity in haunted homes, theatres, and restaurants, and also hit the Key West Cemetery, a 170-year-old maze of above-ground coffins and statues.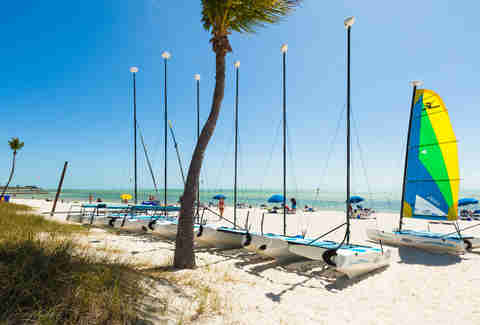 If you want to get your Florida Beach on without the rest of your cruise ship right up in your business, hit Fort Zachary Taylor Historic State Park. "Most of the people I work with take their day off at Fort Zach Beach," says Dennison. "The water is really clear, and you can do your own snorkeling without a tour."
If you came to Key West on a cruise, perhaps you'd like to enjoy the turquoise waters on a vessel that doesn't have 4,000 other people and a go-kart track. This island is the perfect spot to do it, where sailboat tours take you out to some of the outlying islands and around the entire key, sometimes including a Champagne toast at sunset. Danger Tours generally has the smallest crowds, and goes to some of the more distinct locations.
Flat, flat Florida doesn't get a lot of credit for its natural beauty outside of beaches. But take a kayak under a mangrove canopy and you'll begin to appreciate the state in a whole new way. Dennison suggests heading to Stock Island and hitting up Lazy Dog kayaking and paddleboarding. "They'll get you back through the salt ponds, and away from the cruise ships and Jet Skis. It's a much nicer experience," he says.
 
Usually, mansions associated with Florida have the word "Mc" in front of them and look like they were built just to annoy their neighbors. But the state's standout 19th-century mansion is this former home of Capt. John Huling Geiger, preserved by the Wolfson Foundation in 1958. It's cited as the impetus for Key West's restoration movement, and today is a fascinating look back at island life 150 years ago with calming gardens in the back.
 
Every sunset is literally a party at Mallory Square, where tourists, street performers, and people who've stumbled over from Duval Street converge to watch the day end over the water. "My suggestion is to work your way down the seaport, get a bite to eat or drink at Turtle Kraals there, then end up in Mallory Square for the sunset celebration," says Dennison. "Everybody who stays with us says that's their favorite thing." In high season it can get packed, so scope out your spot early. There's no shortage of bars that'll serve you a drink to go, or musicians who will entertain you until showtime.
The 169-year-old Key West Lighthouse was originally built to help ships headed to the US Naval Station, and stood as a beacon to ships along the coast of Florida for some 120 years. Interestingly, when it opened in 1848, it was helmed by one of the first women to hold that job in US history. Now it's a historic site across from the Hemingway Museum, where you can climb the 88 steps to the top for a sweeping view of the island.
The coolest way to see the entire island is from the air, and right next to the terminal at the Key West Airport, you can jump on a chopper at Air Adventures Key West and see all seven square miles at once. The tour takes you out over the clear waters of the Gulf of Mexico too, where you'll look down on sharks, stingrays, and other marine life swimming in just a few feet of water. It'll also take you past the U.S. Army Special Forces dive training center, and over shipwrecks from decades ago.
The Gen. Hoyt S. Vandenberg was a World War II-era transport ship, sunk in 2009 about 7 miles off the coast of Key West. Though it stands 10 stories high, it's under 140 feet of water, so extensive exploration is probably best left to experienced divers. Those with the skill will find this wreck the best way to spend a day in Key West, making those post-dive beers on Duval Street hit just a little bit harder.
Given we're talking about Hemingway, this could literally mean a random street corner in Ketchum, Idaho, but his favorite Key West hangout was Pepe's Café. Though this wood-paneled bar that dates back to 1909 doesn't hide its tourist-driving connections, it's also a complete unpretentious place to get a drink and some seafood that embraces its dive bar legacy. And looks every bit the part of the oldest "joint" in Key West.
Sign up here for our daily Thrillist email and subscribe here for our YouTube channel to get your fix of the best in food/drink/fun.