Every once in a while an island escape is totally necessary, but the idea of having to get on a plane and deal with hordes of out-of-practice travelers is all-too-often a complete nightmare. But for Miamians, a tropical vacation free from TSA-induced madness is actually super attainable—and with minimal planning, you can be there by lunchtime.
Often referred to as Miami's backyard, Key West is the southernmost island in the Florida Keys. It's an easy 3.5 hours away, but has the ability to make its visitors feel like they're in another country. It's a haven for dive bar-lovers who, down here, always seem to be living their best Jimmy Buffet life. There are tons of activities on both the land and in the water, the area is rife with historic sites dating back to the early 1800s, and, of course, opportunities to gorge yourself on conch fritters abound. What's not to like?
Here are 11 reasons to make your way down to Key West this summer.
Spend the day exploring the Dry Tortugas
Located 70 miles west of Key West's coast, the 100-square miles that make up Dry Tortugas National Park is only accessible by boat or seaplane and is made up of seven islands and lots of open water. Take a roughly two hour ferry from downtown Key West to Fort Jefferson, which happens to be the largest brick masonry structure in the Americas (made of over 16 million bricks), where you have the option of exploring on your own or taking a guided tour of the six-sided unfinished fortress. With less than 1% of the park being land, the crystal clear waters are ideal for swimming, snorkeling, and diving. There's more than 30 types of corals and hundreds of species of marine animals including tropical reef fish, lobster, grouper, sea turtles, octopus, and more.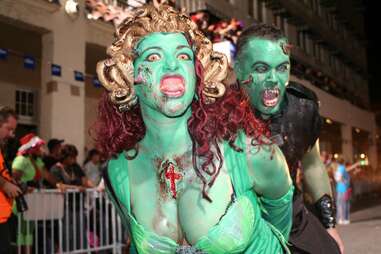 Get in the festival spirit
This laidback party town loves a theme and that's very evident in its festival schedule. In fact, there's a fun festival on the calendar more than once a month in the Conch Republic. From the Hemingway Days featuring the Annual Hemingway® Look-Alike Contest (going on 41 years this July) to October's wild Fantasy Fest to Truman's Tropical Fruit Festival in June, there's a party honoring every historical figure, beloved food, and outdoor activity. Seriously though, what other destination do you know of that has a Mermaid Festival and a Key Lime Pie Festival just days apart?
Don't rush—the drive itself is part of the experience
Before you can thoroughly lose yourself in Key West, you've got to get there. Just about 45 minutes south of Miami proper, you'll hit Key Largo, the largest of the Keys and the gateway to your 113-mile journey through the islands. There's only one way to get to Key West by car and it's straight down US-1 on a road that, for a majority of the trip, is a narrow two-lane trek. Sure, the speed limit doesn't go much above 45 miles an hour, and if you're behind a super cautious driver you might find yourself going a cool 40 the entire way, but luckily, the drive is breathtakingly scenic and a nice way to ease yourself into "island time." Along the way, 42 bridges connect the 44 larger, more inhabited islands of the Florida Key, with the most famous being the Seven Mile Bridge. It's—you guessed it—seven miles long, and stands as a promising indication that you're getting closer to the end, as it's just about 45 minutes north of Key West. You might recognize this bridge as the backdrop to iconic car chase scenes in action flicks like True Lies, License to Kill, and 2 Fast 2 Furious—but don't get any big ideas, pal.
Abandon your car upon arrival, you won't need it
Once you've made it to Key West, feel free to leave your car keys in the hotel room. This roughly 4.2 square mile island is super walkable, which is perfect for the amount of drinking you're likely to do on this visit. Most hotels, resorts, and Airbnbs are close to the popular downtown area and for those who really want to get out and see all Key West has to offer, you'll quickly learn that bicycles, scooters, and even golf carts are the preferred mode of transportation around these parts. Fortunately, there are tons of places all over the island that offer rentals by hour, day, or even the week.
Snap a selfie at America's (arguably) Southernmost Point
A visit to Key West isn't complete without a photo at the Southernmost Point Buoy. Located on the corner of Whitehead street and South street, the large red, black, and yellow concrete buoy was built in 1983 and is one of the country's most photographed tourist attractions. It's easy to spot, as there's typically a long line snaking down the block teeming with folks eager to get the perfect shot.
Fun fact: There's lots of controversy around whether or not it really is the country's southernmost point. Apparently, there's a point a mere 500 feet away that sits a hare more south than the famous buoy, but it's not accessible by the public. Oh, and technically the Big Island of Hawaii is also stationed slightly further south, though the buoy does say "continental U.S." so it seems to get a pass on that argument.
Prepare your liver—it's always 5 o'clock down here
There's no question that famed Conch (that's what Key West locals are called) Jimmy Buffett and Alan Jackson were definitely talking about their hometown in that country hit song. This island knows how to turn up and when it comes to day drinking, there's zero judgement in the Conch Republic. Well known bars like Sloppy Joe's, Green Parrot, Rick's, and The Bull open as early as 9 am (and don't close until 4 am), happily catering to those looking to get the day started with a killer Bloody Mary, beer, or hell, even a shot of tequila or two. All easily accessible down Duval Street, there's a no frills come-as-you-are vibe inside every watering hole in town. No wonder it was a favorite hideaway for Ernest Hemingway, who was notoriously fond of an ice cold spirited beverage. Along the strip, you're bound to stumble upon (or into) something for every type of drinker, whether you're a craft beer nut, fancy cocktail chaser, or just looking for the closest margarita.
Fill up on Key lime pie, conch fritters, and pink shrimp
No matter where you grab a table (or bar stool) in Key West, just about every menu is going to have the same three items made in their own unique way: Key lime pie, conch fritters, and Key West pink shrimp. Staples on the island, they're can't-miss dishes you're sure to devour multiple times during your stay. When it comes to Key lime pie, Kermit's Key West or Blue Heaven are the places where you'll find the most talked about versions. Kermit's pies are made with whipped cream and a pie crust, where Blue Heaven opts for meringue and a graham cracker crust—a very divisive and highly debated topic among sweets enthusiasts. As for conch fritters, you can't go wrong. Make them the start of your meal at The Conch Shack or indulge in a happy hour snack while grabbing a drink at Smokin' Tuna Saloon. And no dining experience is complete without a serving or two of pink shrimp—known for their sweet, tender flesh, these tasty crustaceans live just off Key West and are perfect for peeling and eating, frying, or cooking. Try them at Flaming Buoy in a red Thai curry, stuffed into a po'boy at Pescado, or keep it simple at Half Shell Raw Bar, where you can feast on steamed peel n' eat pinks right on the water.
Channel your inner ghost hunter
Perhaps one of the most haunted cities in America, Key West has no shortage of ghost stories and spooky haunts. Those brave enough to explore the haunted buildings and streets will delight in the sheer number of available ghost tours that share the historic tales of the many ghostly inhabitants on the island. From Robert the Doll (who straight-up inspired the Chucky movie series) to The Lady in Blue who is known to make regular appearances at Captain Tony's Saloon (aka the site where she was hung for murdering her husband and children) and historic hotel owners who are said to still protect the land they once called their own — some are friendly and others, not so much. Whether you'd like to walk through town and experience the undead or learn about it from the safety of a trolley, there's a tour for ghost hunters of all ages.
Going back as early as the 1500s there are tales of pirates off the coast of the Florida Keys. The outlaws of the sea were banished by Commodore David Porter in the early 1800s, but the tales continued to live on. For years, wreckers and treasure hunters have been searching the waters along the coast of the Keys for sunken booty. At the Key West Shipwreck Museum you'll find actors, films, and actual artifacts that tell stories of 400 years of shipwreck salvage in the Florida Keys. A visit to the Mel Fisher Maritime Museum, may stir up some desire to do a little treasure hunting of your own, as the museum is home to artifacts and treasures (think: a 77-karat emerald, gold chains, gold and silver coins, massive bricks of silver, and parts of the actual ship) from the Spanish galleon Nuestra Señora de Atocha, that sunk during a 1966 hurricane. A bounty that made Fisher one of the world's most successful and well known shipwreck salvagers after he found it off the coast of Key West in 1985 after a 16-year search. Looking to do a little searching yourself? Experienced divers can go down with Fisher's team to check out the Atocha for themselves or those who are a bit more novice may enjoy snorkeling along the artificial reefs that have been created out of the dozens of sunken ships during the island's history.
Embrace a clothing-optional lifestyle
One of the most eclectic characteristics about Key West is its affinity for nude-friendly resorts and activities. While it's illegal to be without clothing in most public places on the island, there are quite a few spots where visitors are welcome to embrace their birthday suits and go au naturale. Book a stay at one of the many nudist hotels like the Southernmost Inn or New Orleans House. Spend the day aboard a clothing-optional boat with Dream Catcher Charters, outfitted with a friendly non-judgemental captain, where they say anything can happen as long as it's among consensual adults. Don't want to commit to a full day in the nude? Pop into the Garden of Eden, located above The Bull, for a rooftop bar where imbibers can bask in the sun (or moon) while naked and sipping on a cocktail.
End the day (or start the evening) with Mallory Square's Sunset Celebration
Sunsets in Key West are a special thing, so special in fact they are celebrated every day of the year at Mallory Square's world famous Sunset Celebration. It's located on Wall Street — conveniently named because there's just a low wall that separates the pedestrian-only street from the ocean — just west of the northern end of Duval street. Every night during the two hours before the sun sets the street becomes flooded with performers, vendors, and live music, a tradition that's been taking place since the 1960s. Visitors are invited to watch magicians, artists, psychics, and more as they entertain and share their talents while the sun slowly sets creating a pink-orange hue in the sky.