A cold Gazelle beer rested in my hand as salty sea spray blew through my hair and and the dulcet tones of a band warming up played nearby. I'd just filled up on hard-boiled eggs and boiled peanuts, purchased from a woman who kept them in a large basket carried atop her head as she strolled the beach. The Atlantic stretched on over the horizon. It was my last day in Togo, and I couldn't believe it had taken so long to get to the beach. 
To be fair, I was preoccupied. I'd been immersing myself in the history and culture of this small equatorial nation. This is, after all, my husband's birthplace, and home to arguably the best versions of famous African dishes like foufou and akumin. For years, we scrimped and saved for this glorious whirlwind of family visits, spicy soups, and fresh fruits consumed while retracing thousands of years of history and tradition. After all of that, the beach offered a much-needed moment to reflect. 
Slightly smaller than West Virginia and tucked on the Atlantic Coast between Benin and Ghana, Togo has long been a nation in-between. Like most African nations, it was a colony in the 19th and 20th centuries. Uniquely, however, Togo was a colony of multiple nations. Designated part of Togoland by Germany in 1884 as part of the scramble for Africa, things changed quickly after World War I when Togoland was split between Britain (whose half became Ghana) and France (now Togo). This sudden shift had dramatic implications for the local populations; for example, the school systems suddenly taught French as the national language instead of German; street signs were changed overnight; and families could have different dominant languages for each generation, with grandparents, parents, and children struggling to communicate.
Recommended Video
Please Don't Hang Up: The Best Things to See, Eat, and Do in Seattle, WA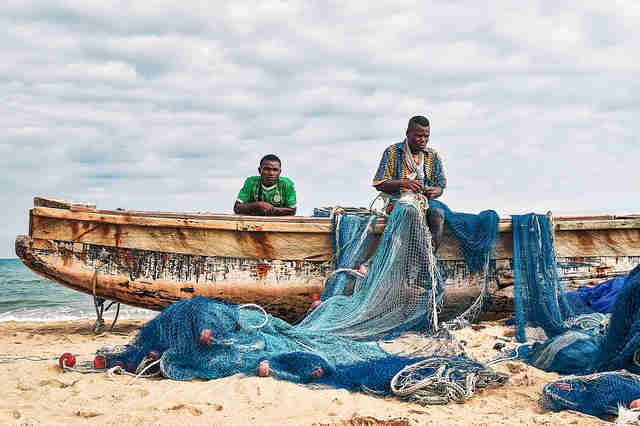 Its history is a study in divided loyalties which still plays out today. The majority of the population descends from the Ewé tribe, which historically extends from Benin westwards all the way to Ghana's eastern Volta region. The other major ethnic group is the Kabya in the north; a significant minority, they dominate the military and governmental offices throughout the country, a political point of contention that continues to simmer like the spicy pepper soup served throughout the country. 
The complexity and depth experienced on any given visit may be one reason that Togo (and West Africa as a whole) remains largely overlooked by tourists. And Togo is not an English-speaking nation, offering a barrier to travelers not fluent in French. (The U.S. Embassy has an approved list of translators.) But the small amount of effort -- and $25, extendable seven-day visa you need to purchase on arrival -- required to truly engage with Togolese culture and history results in endless fulfillment and a richer understanding of America's own identity. I saw the faces of my American friends mirrored in the friendly smiles of street vendors; the spicy soups, starchy sides, and seasoned deep fried snacks evoked the best of Southern cuisine; and, most importantly, I was challenged to view the world with completely fresh eyes. 
It's become harder to truly travel off the beaten path, to unplug and find places that celebrate their truly distinct heritage. Togo is one of those rare places. See it before it's gone. And save the beach for last. 
Togo is a "choose your own adventure" of nature and culture
Any trip to Togo starts in the capital of Lomé. It's a vibrant, fascinating city. You should plan to leave immediately.
Despite its small size, Togo has a wide range of topography, from savannas in the north to mountains at the center and beautiful beaches to the south, making the country a choose your own adventure game. The best way to start if you have time to really see the whole country is to take your farthest drive north, then work your way in shorter bursts back towards Lomé (and that luscious beach). Private drivers are widely available for around $100 a day, and it's recommended to hire one for the duration of your stay. 
The furthest point worth visiting is seven hours' drive north: Koutammakou, a UNESCO World Heritage Site, land of the Batammariba, whose traditional mud huts -- a thatch-roofed visual blend between a sand castle and a birdhouse -- are considered a national symbol of Togo. You can learn much here about life in Togo before colonialism while observing traditional cooking and medicinal techniques, listening to oral histories and music, and watching tribal dancing and tool-making. This idyllic area looks like an African take on The Shire, and visiting is like stepping into a time machine back several centuries. Koutammakou is near the village of Kara, which has several lovely hotels and is a good place to stay overnight.
For those who dream of a safari trip, Togo has several parks south of Kara that are far more affordable than more famous game reserves in Kenya or South Africa. Parc National de Fazao-Malfakassa is Togo's largest national park, a UNESCO World Heritage Site and one of the largest animal parks in West Africa. It is best known for elephants, but visitors can also see buffaloes, antelopes, hartebeest, warthogs, bushbuck, monkeys, hippos, red-flanked duiker, and a host of rare birds including hornbills and a variety of parrots. Safari visits run from November through April and can be coordinated through your local guide. Other options include the Keran National Reserve or Parc Sarakawa, which offer a less reliable range of animals to see (but still some favorites like ostriches, zebras, and buffaloes). These are a steal to visit, costing under $10 USD to arrange private game drives on-site. 
For newbies to the safari experience, there are two routes to booking. Type A planners should engage with one of the many available tourism services, who can arrange a full experience including a driver from Lomé, lodging, transportation, park entrance fees, and a schedule of activities. More cost-conscious and spontaneous travelers can take the "wing it" approach, hiring a private driver and car on-site in Lomé and negotiating their own lodging and park fees with their driver along the way. It's worth noting that because Togo's safari infrastructure is less developed than that of say, Kenya, it is much more affordable -- but with that comes less luxurious accommodations, and it is a bit harder to find specialty experiences like sustainability-focused ecotourism.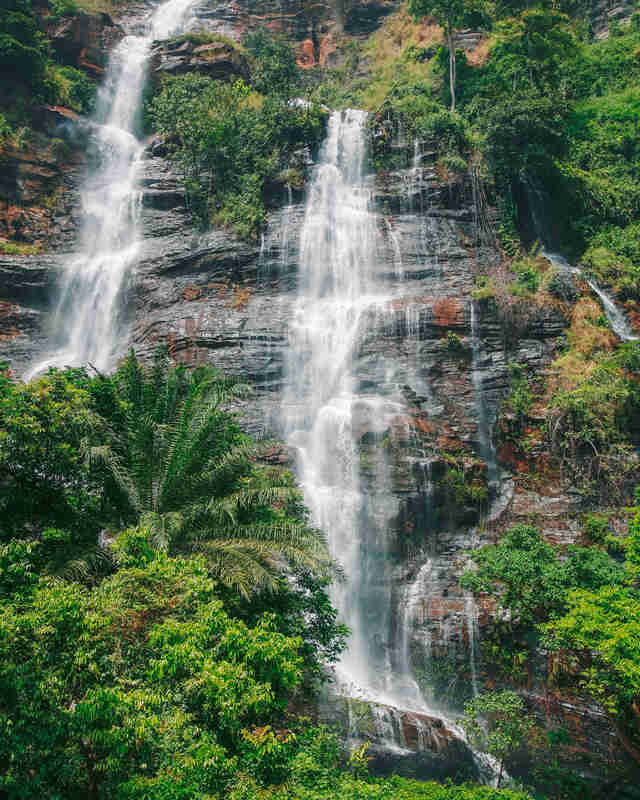 Dive into waterfalls and the world's greatest foufou
Stop in the city of Kpalimé next, capital of the Kloto Prefecture at the heart of Togo's plateau region, which has a host of activities to explore. The first stop should be Mount Agou, the highest point of Togo. From here you can get a bird's-eye view of the wider country and the Ghanaian border. 
On your way to or from Mount Agou, make a point of visiting one of the many waterfalls. Togolese cascades are a beautifully approachable slice of nature, warm water gently falling from a cleft in the jungle foliage into invitingly shallow wading pools. The Togo Tourism Center has a full list of waterfalls to see; the largest and most famous is Cascade de Womé, which charges a nominal fee of $2 USD for entrance. There are rarely admissions charged to visit the other waterfalls (we visited Cascade de Kpime, which was easy to access), and visitors are welcome to walk in the water and cool off from the hot. If the cascade is overseen by a local, try to score some sodabi -- a twice-distilled local palm wine that tastes like sour rum -- for an impromptu happy hour.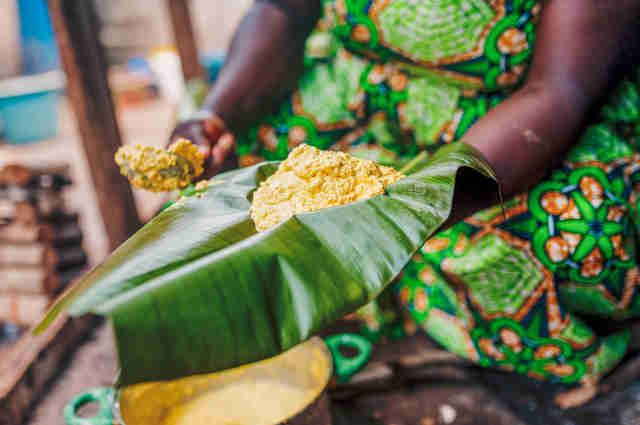 The city of Kpalimé is located in the epicenter of the wider cocoa- and coffee-growing regions of Togo, so it makes sense that the food there is very well known. A non-negotiable must-stop is Restaurant Macumba, which serves a hand-made version of the national staple foufou. It will take some venturing to find the corner of the city where this quiet restaurant lies tucked away, and the only sounds are the pounding of pilons and the braying of chickens. Settle into a deck chair in the pallote, or open-air gazebo restaurant, and prepare for the meal of your life.
Foufou is a porridge made of ground cassava or yams; think a starchy serving texturally somewhere between a mashed potato and a tamale, but slightly stickier. Foufou is served with a spicy sauce of goat or chicken, which is killed on-site. Most restaurants make foufou from a powder, but Restaurant Macumba pounds the yams fresh in a pilon, or giant mortar and pestle, which is quickly flipped by hand in the traditional manner. Ask the staff to watch the process for dinner and a show. 
Once you've stuffed yourself, say goodbye to Kpalimé but make one more stop on the way out to Château Viale. The closest thing Togo has to a castle, Château Viale was built in 1940 and has intriguingly questionable origins as the hideout of a German-French citizen at the top of Mount Kloto. Now abandoned, the beautiful structure is available for public tours, where you can learn about its later history as a presidential palace and savor additional spectacular views of this lush agricultural region. 
Tragic history and voodoo traditions
From Kpalimé, head back to the areas near Lomé for a final few days of exploration. An easy day trip from the capital is Lake Togo and Togoville, the first trading post with Europeans and the last site of slave trade in the country. Near the lake, in what appears at first glance to be an unassuming residential house like any other, is the Maison des Esclaves, or House of Slaves. Thousands of people once passed through this home by night and were kept chained in the basement by day. Visitors can still climb into and directly feel the claustrophobia-inducing areas that once held captives. This site is also the last point of illegal slave trade on the West Coast of Africa, where records show that people continued to be held 37 years after the abolition of slavery in America. It's an overwhelming, emotionally devastating, but vital experience.
Next stop is Togoville. To reach it from the Lomé side, you can drive around the lake, but you can also rent a canoe and paddle for about 20 minutes across Lake Togo. Visitors will first see a small coterie of buildings tucked between the green trees and red shores of Lake Togo. This peaceful landscape lies in striking juxtaposition to the turbulent history of slave trade and voodoo around it. First to visit once across the lake are the Togoville Cathedral, a large church covered in paintings of African saints, and the Maison Royale, a small museum that includes the throne of King Mlapa III, who signed the first treaty with Germany. Togoville also remains a hub of the voodoo religion, which is still practiced by 33% of the Togolese population. 
Speaking of voodoo: If you're interested, you can hire formal voodoo tours that include a stop in the Akodessawa Fetish Market in Lomé. All visitors are required to sign a book to enter the voodoo records before embarking on a more detailed immersion in the religion. Tours often then visit Togoville for a more hands-on exploration of voodoo with a local guide. Visitors can have readings from feticheurs (spiritual readers), shop for voodoo talismans, and witness demonstrations of voodoo feats. If you want more than just a taste of voodoo, consider going to Togo in January and expanding your trip to Benin to attend the annual Ouidah Voodoo Festival, which attracts thousands of voodoo practitioners from around the world and showcases unbelievable, mystical demonstrations of voodoo powers. 
Savor Lome's urban beach living
Back in Lomé, put all the pieces of your newfound knowledge together for a whirlwind through the most important parts of Togo's modern history and the heart of urban Togolese life. 
The Palais de Lomé, formerly the seat of colonial governments and a presidential palace, was recently converted into a multimillion-dollar arts center featuring  a lovely coastal 29-acre botanical park, detailed exhibits of Togolese history, and vibrant displays of contemporary African art. The stunning Independence Monument is a perfect place to appreciate the deep history of political struggle that has vibrated through Togo for two centuries, and the National Cultural Museum is small but contains precious artifacts of Ewé culture. A little-known fact about Togo is that it harbors the deepest port in all of West Africa, making it a vital point of trade for the entire continent: Drive by the Port of Lomé and marvel at its massive infrastructure supplying an entire region. 
No trip to Togo is complete without spending some relaxing time on the beautiful red-sand beaches, so end your journey on a high note. This is not the Caribbean with shallow, sandy lagoons, so don't expect guided excursions like snorkeling or windsurfing. Experiences tend to be more low-tech, so join a pickup soccer game, rent a horse for a sunset stroll, or go for a brisk swim or surf in the rolling waves. There are plenty of ad hoc vendors on hand for any snacks or drinks, but it's also accessible and affordable to set up base camp at a coastal club if you want enclosed bathrooms and more formalized service.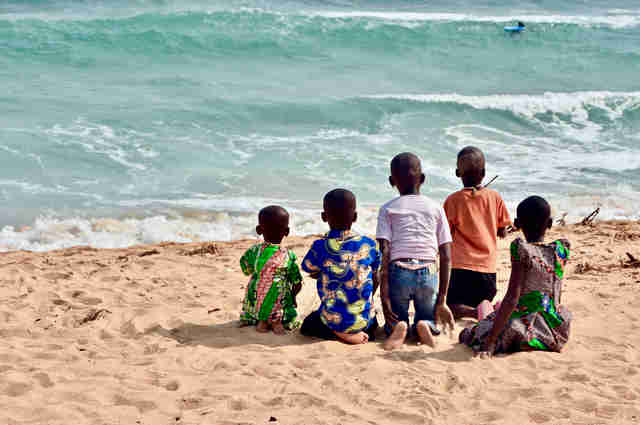 Marcelo Beach Club is one of the most popular options, offering easy public access, affordable local beer, live music in the evening, and a chance to dance under the stars. Other options abound, many including lodging. Hotel Riviera Ramatou Plage offers kid-friendly playground and outdoor pool for those too shy to dip into the ocean sans lifeguard. Hotel Ghis is a quiet oasis with a pool, restaurant, and lovely garden, and Pure Plage offers private bungalows with live music and a Mediterranean European vibe. Whichever you choose, don't be afraid to try local snacks or services from the people on the beach; just make sure to bring plenty of cash with you. 
And if you want one last blowout before departing, hit the many impromptu clubs that spring up at night in Lomé anywhere on the street and dance and drink your last night away. Just follow your ears to find spontaneous open-air clubs everywhere, teeming with people dancing to live music in this 24/7 city, bursting with life. After such an immersive, transcendent trip, it only makes sense to end it dancing.