Southeast Asia's Underrated Cultural Capital Has 2 Magic Hours
Plus sizzling night markets, preserved hill tribe arts, and beautiful buildings surrounded by mountains.
On the shores of the mighty Mekong River, saffron-robed monks line the streets, meat skewers grill over charcoal, and pointed temples or French-style buildings fringe towering palm trees. This is Luang Prabang, the cultural heart of Laos.
A less-visited and wildly underrated Southeast Asian destination, Laos is the only landlocked country in the region. France's brutal colonization of Laos in the late-1800s ended in 1954, but its influence is obvious in the colonial buildings, cuisine, and the large French immigrant community.
That's not to say Luang Prabang isn't uniquely Lao. A UNESCO World Heritage site since 1994, the gilded spires of dozens of temples dotting its narrow alleys, street food markets galore, and hill tribe textile stores on every corner contribute to its intoxicating beauty.
While three days is the typical stint here, I spent a month stuffing myself with street food, riding a bicycle around its winding roads, admiring hazy sunsets with a sugarcane juice in hand, and embracing the slow life that personifies this sleepy, lovely riverside town. From a double-magic-hour tradition to local handicrafts that support female education, here's everything to experience in Luang Prabang.
Get your street food fill
Lao locals are said to consume more sticky rice per capita than any other country on Earth. And while a dollop of rice lands on most dishes, there's loads on offer here, from Luang Prabang sausage (typically made from buffalo or pork mixed with local herbs) to just about any conceivable meat stuck on a skewer.
The town's Night Market is the typical go-to, but skirt the crowds and head down the narrow alley parallel for more traditional Lao food. Order a bowl of khao soy (a fragrant rice noodle soup) or a whole-grilled river fish, or pick up a plate for less than $1 and pile it high with various vegetarian dishes marinating in aluminum bowls.
Towards the outskirts of town is Unio Foods Garden (as labeled on Google maps). There are no English menus here, so you may have to whip out Google Translate or point at a picture of the dish you want. Hopefully at least one of your orders includes papaya salad doused in fish sauce, fresh or fried spring rolls, and Lao hot pot.
Where to stay in Luang Prabang
No hotel in town has a better location than Avani+ Luang Prabang Hotel. Once a French garrison, the European-style building sits directly on the town's main street, across from the Night Market. Outfitted with local art and textiles, each room has balcony views of its massive Banyan tree and the scenic pool decorating its inner courtyard.
The extravagant Rosewood Luang Prabang is just outside town, sandwiched between local villages. Designed by the award-winning hotel creator Bill Bensley, it's a showstopper for the senses, comprising 23 OTT rooms, suites, and hilltop tents that surround a private waterfall. Rooms include bright Lao patterns painted on the walls, black and white tiles, clawfoot tubs, and elephant figurines that carry throughout the property.
Located atop a hill on the town's perimeter, La Résidence Phou Vao, A Belmond Hotel makes for a scenic stay. Its infinity pool has sweeping views of a coconut palm jungle and the famous Mount Phu Si, the town's highest point (and well worth climbing its 300+ steps). Its rooms are shockingly spacious, but the real treasure here is the food. Traditional smoking, drying, and fermenting techniques are used to create the best upscale food in Luang Prabang, sourced solely from local farmers and growers. Even if you're not staying here, book a reservation.
And a few doors down is the new Souphattra Hotel. This four-star, Lao-owned boutique hotel elegantly blends Luang Prabang pointed roofs and patterns with French-style design. After a long day of sightseeing, its poolside happy hour is a welcome reprieve.
Learn what US history books don't say
Between 1964 and 1973, the United States military dropped roughly two million tons of bombs on Laos in a secret mission, making it the world's most bombed country per capita. It's estimated that 80 million unexploded ordinances (UXO) still litter the countryside, affecting 25% of villages in Laos. The UXO Lao Visitor Center teaches about the decades-long impact of these UXO, including the hundreds of Lao children and adults still dying every year, as well as how this non-profit is removing or detonating roughly 77,000 ordinances annually. This is an essential stop, especially for Americans.
It's hard to miss the National Museum of Luang Prabang in the center of town. Its ornate temple houses the country's most significant Buddha statue, and the former royal palace is a treasure trove of historical items, including fully-intact royal living quarters.
Nearby is the Traditional Arts and Ethnology Centre (TAEC). Celebrating the traditions, music and incredible handicraft skills of the country's 50 officially recognized ethnic groups, TAEC makes for a fascinating crash course in Lao culture. Its gift shop is also a prime place to pick up locally-made souvenirs.
Shop hill tribe textiles responsibly
Textile shops in Luang Prabang are like Starbucks in the US; there's one on every corner. But not all sell ethical or authentic handmade goods. Ock Pop Tok has a store in town and a Living Crafts Centre along the Mekong River that sells natural and organic blankets, clothing, bags, and jewelry made by Lao women championing an effort to preserve their culture while earning a fair wage.
At Passa Paa, each item, decked out in hill tribe patterns, is handmade by a local Hmong artisan using sustainable hemp and hand screen printing. LaLa Laos is a Lao-owned store selling Luang Prabang-inspired T-shirts, jewelry, and handcrafted textiles. Here, a percentage of the profits go towards funding education for Lao girls.
Ma Té Sai is another social enterprise that sells handmade home goods, clothing, and jewelry from nearby villages. They also sell unique necklaces, bracelets, and homewares made from upcycled bombs that litter nearby provinces.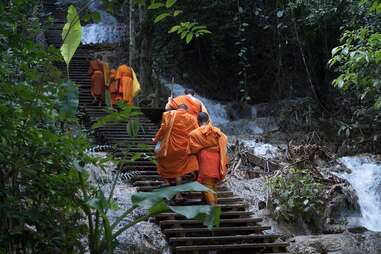 Experience the town's two magic hours
Loatians estimate there are more than 100 temples sprinkled throughout the streets of Luang Prabang, giving it a uniquely spiritual vibe. Every morning as the roosters start crowing around 6 am, young monks line the street for the Sai Bat (or Tak Bat) tradition, where they collect sticky rice from devout locals and, increasingly, tourists.
This ancient alms-giving ceremony is done barefoot and in silence by hundreds of monks dressed in Crayola-orange robes. Most tourists will line up along Sisavangvong and Sakkaline Roads to watch the ceremony or sit on tiny plastic stools to give alms to the monks. But in this area, you might witness quite a bit of people crowding and snapping photos in the monk's faces, which could easily become an episode of "Tourists Behaving Badly." Instead, walk to empty Kounxoau Road and stand quietly at a distance to watch the procession go by.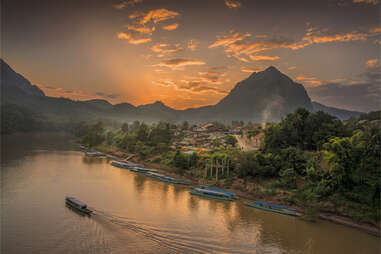 At dusk, when the sunset starts to match the color of the monk's robes, dozens of wooden longboats take to the Mekong for sunset cruises. Albeit touristy, riding one of the boats is a lovely way to spend two hours. Many hotels, like Avani+ Luang Prabang, work with companies like Mekong Kingdoms for a more luxe experience. If you'd rather keep it low-key, walk down to the water's edge and jump aboard a local's boat for less than $10. Just remember to bring your own Beerlao.