For many American wanderlusters, Spain is synonymous with Barcelona, that Catalonian coastal oasis famous for fresh seafood, amazing art, and, of course, loads upon loads of fanny-packed travelers. That's all fine -- especially if you love long lines and tourist prices -- but if you're in the market for a European getaway with the charms of a world-class destination at the prices of a quaint historic hideaway, book a flight to Madrid and get you a ciudad that can do both.
You'll find towering 18th-century landmarks among (literal) hole-in-the-wall curiosities. And thanks to recent re-zoning, the downtown is a 24/7 pedestrian paradise, so you won't need to worry about parallel parking that rusty stick-shift you rented. The laid-back culture will have you roaming the streets from sunup to, well, sun back up, every day of the week. I'm not saying you should stroll around solo at 4am, but don't be shocked if you see whole families yukking it up way past your American bedtime. Throw in a nice afternoon nap -- hot tip: don't try to buy anything around 4pm, since all the shops are closed for siesta -- and some tasty, super cheap local wine and you've got yourself a conspicuously chill European capital.
Recommended Video
Spoil Your Pup at The Dodo's Best Dog Day Ever Event
What to see in Madrid
Hit the Puerta del Sol, a massive public gathering spot in the shadow of the iconic Tio Pepe billboard. The square was built in the 15th century as a city wall, and the towering buildings on its perimeter were later occupied by some of Franco's top henchmen. Today, thankfully, it's less dictator-central and more of a spot for locals to chill and enjoy the temperate weather at all hours of the day and night.
Plaza Mayor -- with its bank of shops, bars, and restaurants -- is a great place to people-watch and grab a beer (try the Puerta del Sol Bullfighting Bar for a side of machismo history). While hanging in the Centro, stop in for a snack at the Convent of Corpus Christi, a modest 17th-century convent a few blocks away. The nuns there sell cookies through a picture window-sized slot near the front of the building. Walk up and ring the bell, pick your flavor (you want almond), drop the cash onto a mysterious Lazy Susan, spin it around, and an invisible, silent sister will spin the treats around to you. Later on, check out the Royal Palace, official home to the illustrious Spanish Royal Family (but now only used ceremoniously, much like the family itself). Come nightfall, this illuminated mid-18th-century stunner is more magnificent than anything DC has to offer.
For entertainment, the hulking neoclassical Museo del Prado teems with rarities from Goya, Velázquez, and other masters. No matter the season, there's almost always something popping off over at Real Madrid's Santiago Bernabéu Stadium, whether it's pro matches, concerts, or friendlies. If you've never seen a European soccer stadium before, this 81,000+ capacity monstrosity is definitely worth a look.
Even the best bars and restaurants in Madrid are mad cheap
The Spanish love a good meal, especially one that lingers late into the night. Food and drink in this part of Spain are delicious and affordable -- think less than 30 euro ($35) for a nice three-course meal for two, including drinks.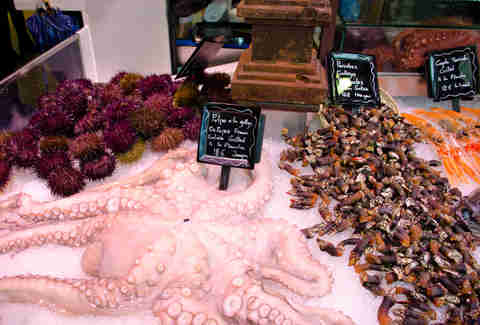 Make like a local and hit up the Mercado de San Miguel, a sunny indoor market hawking thinly-sliced buttery jamón, richly spiced chorizo, pastries, sushi, and traditional paella alongside plenty of sangria. For a fancy dinner, try the tasting menu at DiverXO, a three-Michelin-star wonder specializing in boundary-breaking molecular gastronomy. Or keep it low-key at the buzzy, counter-service-only meat emporium Sala de Despiece, and the homey Los Asturianos, which serves Spanish comfort favorites like tender pork and succulent lamb.
Madrid doubles as a fantastic drinking town, with more bars per capita than any other European city and a nightlife that extends till the break of day. Hotel rooftop bars abound; the best are atop the eco-focused ultra-modern The Hat and the boutiquey Only YOU Atocha. Gin bars like MACERA Taller Bar are famous for Spanish-style gin and tonics, delivered in a heavily garnished fishbowl-sized glass, and you can score craft cocktails on the cheap at spots like 1862 Dry Bar. You absolutely must visit the historic La Valencia sherry bar, a decades-old haunt once frequented by Ernest Hemingway with dusty old bartenders pouring even dustier bottles of world-class sherry.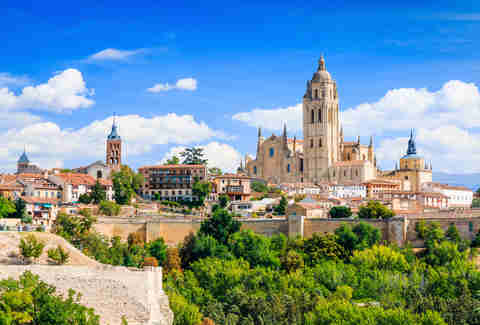 The day trips outside Madrid are prime for pork and wine
Madrid's central location makes it prime for day trips around Spain, a country about the size of Texas. Wine regions Ribera del Duero and Rueda, about two hours north of the city, are a no-brainer. This under-the-radar boozy destination is rife with quality winemakers with centuries of knowledge and impeccable taste; they anchor a diverse range of vineyards, wineries, and restaurants.
Highlights include modern spots like Ribera's Bodega Neo, which shares its hipster-chic winery with a professional recording studio; Rueda-based French transplants Belondrade, whose design-forward winery's been cranking out 100% Verdejo whites and 100% Tempranillo rosés; and Bodega Pago de Carrovejas' cutting edge facility, complete with a top-tier restaurant and unobstructed view of the famous Peñafiel castle. For more established outlets, explore the underground caves underneath Rueda's rustic Alvarez y Diez, Vega Sicilia's lavish, museum-like estate and high-end reds, and Bodegas Arzuaga Navarro, strangely located in the center of a wildlife preserve.
On your way up, make a pit stop in Segovia, a World Heritage City famous for its textiles, about an hour northwest of Madrid. Originally founded by the Celts, it later fell to the Romans, who built churches, an aqueduct, and other structures that remain today. It's also home to one of the oldest Jewish quarters in history. For lunch head to Mesón de Cándido, a traditional Castilian restaurant that dates to 1786. Order the oven-roasted whole suckling pig. If you're lucky, the owner might just come out to perform a unique ceremony that includes loud singing, chopping the animal down the middle with the edge of a plate, and, finally, smashing said plate against the wall. It's a true sight to behold.
As Javier Menor de las Casas, a well-respected Spanish tour guide and frequent contributor to inimitable travel master/professional vacation dad Rick Steve's life-giving eponymous podcast, once said, "Barcelona is a top model. She's beautiful, but inaccessible. But Madrid is the hot girl next door." Don't fritter your precious PTO days trying to woo some unattainable diva -- everyone who's ever seen an '80s movie knows the girl next door is the real catch.
Sign up here for our daily Thrillist email and subscribe here for our YouTube channel to get your fix of the best in food/drink/fun.