Why Now Is the Time to Visit Madrid
Museums, plazas, and all the tapas you can eat in Spain's ever-evolving capital.
If you're thinking about a trip to Spain, the algorithms will soon show you a slew of influencers taking selfies at Ibiza day clubs, staring up at La Sagrada Familia in Barcelona, or sunning themselves on the southern coast. There are arguments to be made for visiting each location, but don't sleep on Madrid. In Spain's capital city, world-class museums, Michelin-starred restaurants, and luxury hotels sit side-by-side with century-old tapas bars, public parks, and stately plazas—an essentially endless case for choosing your own adventure.
Like any large metropolis, Madrid is many things to many different people, a blend of culture and history that is constantly evolving. Stroll the streets on a tapas crawl, or eat your way through multiple courses of avant-garde cuisine. Pay your respects to Picasso and Velázquez, or hang with a Don Quixote statue in a historic plaza. Sleep the night in luxury, or opt for a smaller boutique hotel. Leave some room for flexibility when you go—you may think you want a certain type of vacation, but Madrid could surprise you.
All told, there's never been a better time to visit Madrid. Read on for helpful tips on what to do, where to eat, and the best places to spend the night while you're there.
See the sights, including famed museums and plazas
While Madrid keeps changing and providing travelers with new experiences across the city, many of its must-see sights have lengthy histories within the city—but they're still here because they're worth seeing. This includes a trio of heavy-hitting museums. Museo del Prado is a neoclassical gem housing rarities from Goya, Velázquez, and other masters. The Reina Sofía is home to some of the country's most important 20th-century art, including Pablo Picasso's Guernica, and works from Salvador Dalí and Joan Miró. And Thyssen-Bornemisza sits in a former mansion that now holds a prized collection of European art, with permanent and temporary exhibits displaying works from Picasso, Monet, Van Gogh, El Greco, and Chagall.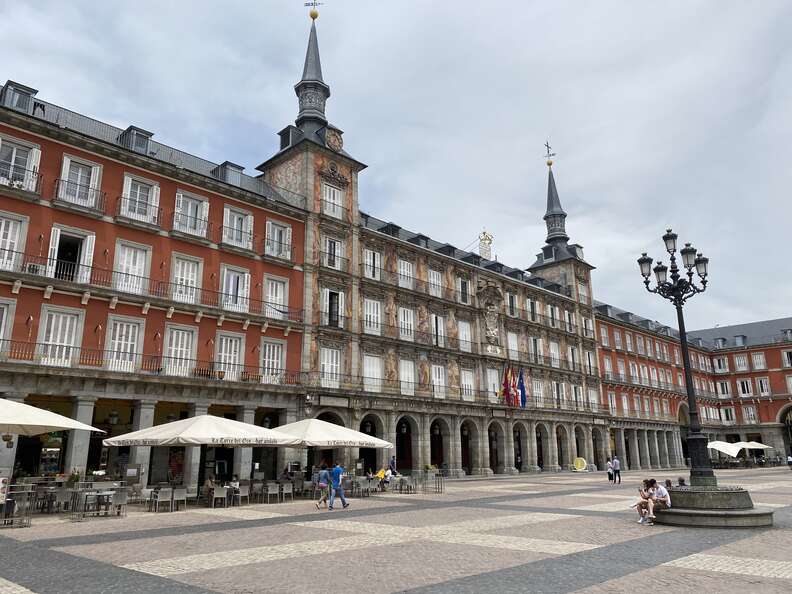 When you're ready for some fresh air, Plaza Mayor, Puerto del Sol, and Plaza de España are prime perches for people watching and craning your neck to admire the surrounding architecture. They're also great spots to brush up on some Spanish history. Stately Plaza Mayor was completed in 1619 and functioned as the city's cultural epicenter for centuries. Nearby Puerto del Sol is a bustling central point with shops and a couple iconic statues, plus the 18th-century royal post office building, whose ringing clock bells chime to signal the new year. And Plaza de España is best known for the large sculptures of writer Miguel de Cervantes and his famed characters Don Quixote and Sancho Panza, which are flanked by a rectangular pond and garden.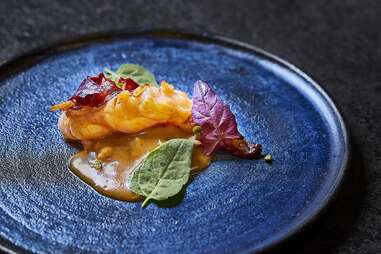 Dive headfirst into the local cuisine
Madrid is home to 22 Michelin-starred restaurants and countless other exciting eateries, serving up everything from traditional Spanish cuisine (think tiny tapas bars and paella practitioners) to French, Japanese, and artful molecular gastronomy.
If you want to check a few Michelin stars off your list, make reservations (well in advance) for the avant-garde tasting menu at DiverXO, which is the city's only three-star restaurant. Or get a table at Smoked Room, a polished subterranean den with a "fire omakase" menu featuring smoked and charcoal-grilled meat, fish, and produce. There's also the new Robuchon restaurant from the late, great French chef, Joel Robuchon.
When you've had your fill of fine dining, take a trip to Chamerí, a neighborhood north of the city center that's become a hotbed of good eating, with a dense concentration of restaurants on Calle Ponzano. Try DeAtún for tartares, salads, and tatakis, all featuring Almadraba tuna, a rare Andalusian delicacy. Toque de Sal is a comfortable bistro that pulls inspiration from France and Italy, and Sala de Despiece is a modern, counter-service meat emporium and wine bar whose menu is broken down by ingredient, origin, and cooking method. Try the hand-sliced jamón ibérico, grilled octopus, and deep-fried prawns.
But whatever you do, don't leave Madrid without embarking on a tapas crawl. For this mission, you'll need to head to the La Latina neighborhood and Calle Cava Baja, the city's most famous tapa-slinging street. Step through any door and you'll find assorted tapas served alongside beers, wines, vermouths, and elaborately garnished gin and tonics, but you can't go wrong with Taberna La Concha, La Taberna Errante, and Los Huevos de Lucio. Try as many dishes as you can reasonably fit in your stomach, and then try one more. Can't-miss tapas include fresh anchovies swimming in vinegar and garlic, ensaladilla rusa (a creamy potato salad), patatas bravas (spicy fried potatoes), and a variety of toasts topped with ham, steak, tuna, or cheese.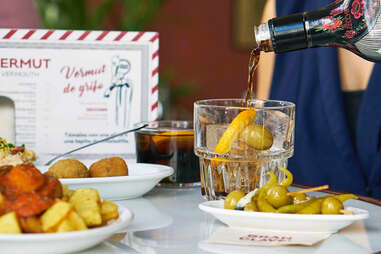 Partake in la hora del vermut
Take a pre-lunch stroll—which, in Madrid might be anytime before 3pm—and you'll see Madrileños sipping drinks in cafes and on sunny patios during the collective time known colloquially as la hora del vermut (meaning "vermouth hour"). There are no strict rules about how to spend this glorious time of day. You don't even have to drink vermouth, so if you'd rather fortify your pre-prandial resolve with beer or wine, go for it. But vermouth is the local favorite, served out of bottles or on tap and usually accompanied by a small snack, like bright green olives or potato chips.
Vermouth is best known for its use in cocktails, including the Martini and Manhattan, but in Madrid and many other European cities it's often consumed straight, over ice, or with a splash of tonic or soda. The low-alcohol, bittersweet aperitif is the perfect daytime drink, as it won't knock you off your barstool before lunch. And it can be found all over the city, from simple street-side cafes to specialty bars.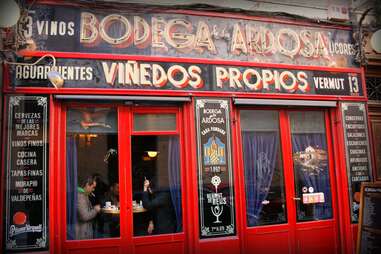 Bodega de la Ardosa has been open a cool 130 years and serves housemade vermouth on tap, plus beers, wines, and a full tapas menu. Casa Camacho is a bit younger at 100 years old, but it's another local favorite for drinking midday vermouth. The house specialty is yayo, a mixture of vermouth, gin, and soda. Alternatively, there's La Hora del Vermut, a tiny, aptly named bar situated inside Mercado San Miguel that serves one of the city's best vermouth selections alongside empanadas and other snacks. Then there's small, stylish La Violeta, which offers a range of more than 30 Spanish vermouths ranging from extra-dry to very sweet. Finally, for those who might want a bit more of a meal with their drink, Gran Clavel is a modern restaurant with a dedicated vermouth bar, serving up bottles from Rioja, Jerez, and Galicia alongside meats, cheeses, and tinned fish.
Stay in the city's newest luxury hotels
If you want a hostel or budget accommodations, Madrid has plenty of options, and available hotels range from business-oriented chains to quaint boutiques. But the city is currently experiencing a wave of compelling luxury hotel openings.
The newest of the bunch is Thompson Madrid. It occupies a historic two-building landmark in the Salamanca neighborhood's stylish Golden Mile district, providing easy access to Plaza Mayor, Puerta del Sol, and other attractions. The 10-story hotel is stylishly appointed with marble and leather accents, and offers a range of restaurants and bars run by Madrid restaurateur Nino Redruello, of Grupo La Ancha fame.
Other new and nearby options include the Edition, Four Seasons, and Rosewood Villa Magna, all of which debuted within the past two years.