Why Right Now Is the Time to Go to Madrid
As Barcelona erupts in rowdy protests, Ibiza struggles to stay hip, and San Sebastián heaves with more Insta-foodies than it ever bargained for, travelers are raising an eyebrow toward Spain's historically trendy vacation spots and refocusing on one hiding in plain sight: Madrid.
Madrid, like any other millions-strong metropolis, is a shapeshifter, easy to love but hard to pin down. To museum hounds, it's a bottomless trove of Goyas, Velázquezes, Sorollas, and Picassos; to partiers, it's a choose-your-own-adventure of world-class techno, house, flamenco, jazz -- any scene you dig, any night of the week. Food lovers may have the most fun: Dinner might be a fistful of olives and some sherry at a gloriously grimy tapas bar (like Bodega La Ardosa or Casa Revuelta), a €7 heap of thieboudienne at a Senegalese hole-in-the-wall (try Dakar Restaurante Senegalés), a 12-course tasting bonanza at a Michelin-starred gastro-temple (DiverXO is *goals*), or anything in-between.
What Madrid is not: a Hemingwayesque fever dream of bullfights and dirt-floored taverns and señoritas gently fanning themselves. Basta -- the city has outgrown those tropes, and it's all the better for it. Today it's a patchwork quilt of cultures hailing not just from around the Iberian Peninsula but far, far beyond. Here are the reasons there's never been a better time to visit the Spanish capital --plus a smattering of insider tips to knit you straight into the city's fabric from the moment you touch down. -- BK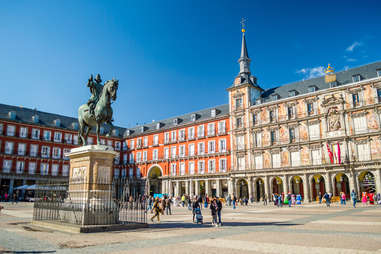 What to see in Madrid
While other cities around Spain have embarked on splashy new construction projects in recent years (see: Málaga's Centre Pompidou and Santander's Centro Botín), Madrid has been quietly consolidating its assets. Take, for instance, the Palacio de Liria, the former private residence of the Duchess of Alba (who died in 2011), situated smack in the city center but for centuries off limits to us plebs. It opened to the public in September, and now you can feast your eyes on the Duquesa's hitherto secret stash of Titians, Goyas, and Rubens, not to mention hand-written documents by Columbus and the first-known Spanish-language bible; together they constitute Spain's most impressive private art collection. (Pro tip: If tickets are sold out online, march over to the box office. The vendors always reserve a few tickets for stragglers.)
Like the duchess's palace, most of the centuries-old apartments lining the city's historic main square, Plaza Mayor, have historically been cordoned off. But last May a charming boutique hotel called Pestana Plaza Mayor opened directly on the plaza. Beyond the primo people-watching out your bedroom window, it boasts an underground hammam with antique brick ceilings and a flashy rooftop pool overlooking the terracotta roofscape.
Even the immutable Royal Palace, the largest palace in Europe clocking in at nearly 1.5 million square feet, is full of surprises. Last year it launched a "Royal Kitchens" tour that meanders past antediluvian hearths, giant copper cauldrons, wooden ice boxes, and nearly 3,000 kitchen tools and doodads, plus recipes and calligraphed menus dedicated to long-deceased kings and queens. For lovers of food and history, this could be Europe's greatest living museum.
For entertainment, the hulking neoclassical Museo del Prado teems with rarities from Goya, Velázquez, and other masters. No matter the season, there's almost always something popping off over at Real Madrid's Santiago Bernabéu Stadium, whether it's pro matches, concerts, or friendlies. If you've never seen a European soccer stadium before, this 81,000+ capacity monstrosity is definitely worth a look. -- BK/MH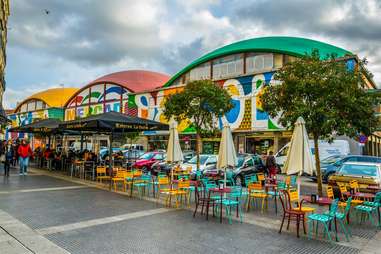 Shopping with a sense of place in Madrid
Resist buying the plastic bulls and chintzy castanets -- they're no more "Spanish" than the factory that made them on the other side of the world. Instead, stock up on Iberian artisan wares like knitted scarves, antique esparto grass baskets, and sumptuous Andalusian ceramics at Cocol, a pocket-size boutique on Plaza de la Paja. Hand-sewn espadrilles also make terrific and criminally affordable gifts. Choose from a panoply of colors and styles at Antigua Casa Crespo, a creaky old shop that's been shodding Madrileños of all ilks since 1863.

For memorabilia of the edible variety, traditional markets like Mercado de la Paz, Mercado de Vallehermoso, and Mercado de la Cebada ooze old-school charm and offer great value. Crowd-pleasers include acorn-fed jamón ibérico, canned seafood (cockles! albacore belly! mussels!), cured sheep's cheese, and gutsy DO Madrid wines (Bendito Vinos y Vinilos inside Mercado de San Fernando always has a tip-top selection of natural and biodynamic bottles). Pro tip: Ask vendors to vacuum-seal ("poner al vacío") your loot for easy -- and odor-free -- packing. -- BK
Endless tapas and incredible bars are all over Madrid
We love a down-and-dirty tapas crawl as much as the next chowhound -- who can resist Serrano ham croquettes and slices of ooey-gooey Spanish omelet? -- but what sets Madrid apart from other Spanish cities is its nueva cocina scene that throws the rulebook out the window. For that type of cooking, there's no hotter barrio than Chamberí, in northern Madrid. Jump-start your salivary glands at DeAtún, a tuna-obsessed cubbyhole serving tartares, salads, tatakis -- you name it -- made from melt-on-your-tongue Almadraba tuna, a rare Andalusian delicacy.
Three doors down you'll hit Arima -- though chances are the smell of flame-licked beef will hit you first. You can't go wrong with the juice-spurting txuleton steak that seems to grace every other table, but the vegetables sourced from chef Nagore Irazuegi's family farm are the sleeper hit on this modern Basque menu: A recent special was spoon-tender leeks anointed with fruity olive oil and a sprinkling of jamón salt.
From Arima it's a 15-minute downhill -- gracias a dios -- walk to PerretxiCo Chamberí, whose cocido donut is the current "it" tapa the Spanish press can't stop fawning over. You see, until chef Josean Merino came along with his alchemy, nobody had ever thought to turn cocido -- that abuela-approved Spanish stew of chickpeas, sausages, and umpteen sundry meats -- into a donut. Like frying a twinkie, the idea defied logic but sparked something deep in the reptile brain that made Merino want to keep experimenting and experimenting. The final formula: Two rings of yeasted dough wrapped around the mushed-up cocido ingredients and fried to golden perfection. The only thing missing was the broth, which Merino ladles into an espresso cup beside the donut… Dip, bite, slurp, repeat.
To scratch your sangría-and-paella itch, hit up Mercado de San Miguel, a sunny indoor gastro-market/tourist magnet that also hawks thinly sliced buttery jamón, spicy chorizo, pastries, and even sushi. For a fancy dinner, try the tasting menu at DiverXO, a three-Michelin-star wonder specializing in boundary-breaking molecular gastronomy. Or keep it more casual at the buzzy, counter-service-only meat emporium Sala de Despiece or the homey Los Asturianos, which serves Spanish comfort favorites like tender pork and succulent lamb.
Madrid doubles as a fantastic drinking town, with more bars per capita than any other European city and a nightlife that extends till the break of day. Hotel rooftop bars abound; the best are atop the eco-focused ultra-modern The Hat and the boutiquey Only YOU Atocha. Coctelerías like MACERA Taller Bar are famous for Spanish-style gin and tonics, delivered in heavily garnished fishbowl-sized glasses, and you can score craft cocktails on the cheap (at least by New York and Paris standards) at spots like 1862 Dry Bar. You absolutely must visit the historic La Venencia sherry bar, a nearly century-old haunt once frequented by Ernest Hemingway with dusty old bartenders pouring even dustier bottles of world-class sherry.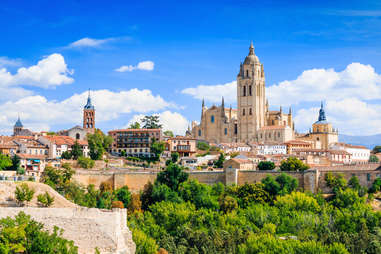 The day trips outside Madrid are prime for pork and wine
Madrid's central location makes it prime for day trips around Spain, a country about the size of Texas. Wine regions Ribera del Duero and Rueda, about two hours north of the city, are a no-brainer. This under-the-radar boozy destination is rife with quality winemakers with centuries of knowledge and impeccable taste; they anchor a diverse range of vineyards, wineries, and restaurants.
Highlights include modern spots like Ribera's Bodega Neo, which shares its hipster-chic winery with a professional recording studio; Rueda-based French transplants Belondrade, whose design-forward winery's been cranking out 100% Verdejo whites and 100% Tempranillo rosés; and Bodega Pago de Carrovejas' cutting-edge facility, complete with a top-tier restaurant and unobstructed view of the famous Peñafiel castle. For more established outlets, explore the underground caves underneath Rueda's rustic Alvarez y Diez, Vega Sicilia's lavish, museum-like estate and high-end reds, and Bodegas Arzuaga Navarro, strangely located in the center of a wildlife preserve.
On your way up, make a pit stop in Segovia, a World Heritage City famous for its textiles, about an hour northwest of Madrid. Originally founded by the Celts, it later fell to the Romans, who built churches, an aqueduct, and other structures that remain today. It's also home to one of the oldest Jewish quarters in history. For lunch head to Mesón de Cándido, a traditional Castilian restaurant that dates to 1786. Order the oven-roasted whole suckling pig. If you're lucky, the owner might just come out to perform a unique ceremony that includes loud singing, chopping the animal down the middle with the edge of a plate, and, finally, smashing said plate against the wall. It's a true sight to behold.
As Javier Menor de las Casas, a well-respected Spanish tour guide and frequent contributor to inimitable travel master/professional vacation dad Rick Steve's life-giving eponymous podcast, once said, "Barcelona is a top model. She's beautiful, but inaccessible. But Madrid is the hot girl next door." Don't fritter your precious PTO days trying to woo some unattainable diva -- everyone who's ever seen an '80s movie knows the girl next door is the real catch. -- MH
MORE: Don't sleep on Spain's most underrated destinations
Benjamin Kemper followed the siren song of Ibérico ham from Brooklyn to Madrid, where he writes about the places that make him hungriest.
Meredith Heil
is a former National Food & Drinks Staff Writer at Thrillist.