This Remote Island Nation Is Vacation Goals Personified
The Maldives is your desktop screensaver meets reality. If you're like me, you've probably stared at its winding jetties and impossibly blue waters on Instagram. This remote island nation south of India and closest to Sri Lanka is full of five-star luxury resorts for the rich and fabulous is where we'd all rather be at any given time. The postcard paradise is on the top of every honeymooners' list and in recent years has become a family vacation destination.
For those who have been, it's the type of place you think about when you close your eyes. Here, you'll experience the highest levels of service and hospitality the world has to offer, usually with your own butler. For some, it may be a waaaay too aspirational -- we're talking $500 a night minimum -- but if you do splurge on this over-the-top destination, you'll remember it forever…. and so will your bank account.
Apart from the glitz and glamour, the Maldives is a fascinating place culturally. There are a total of 1,200 islands, with 200 of them inhabited. Nearly 150 of those islands belong entirely to resorts. The local islands, as they are called, are, well, where the locals live. These islands are devoutly Muslim with strict rules on dress and a ban on alcohol. But once your feet touch the white sand of a privately-owned resort, anything goes.
The resorts of the Maldives are everything
In 2019, the Maldives saw 14 new hotel openings, a huge amount for the tiny nation of 436,000. Big names like the stunningly chic
JW Marriott Maldives Resort & Spa
opened along with the exquisite
Waldorf Astoria Maldives Ithaafushi
. These resorts offer bucket-list overwater bungalows with private pools suspended above some of the clearest turquoise water you've ever seen.
To reach the resorts, guests land in Malé's Velana International Airport. From there, you're greeted by a smiling representative from the hotel who whisks you off to a private boat or to a seaplane hangar where you take a 25-45 minute ride to the resort. Some of the most exclusive resorts like the Four Seasons and Soneva have their own private seaplanes, so there are no stops at nearby resorts.
There are plenty of otherworldly new resorts to choose from like one of my personal favorites, the design-forward Joal Maldives. But the more established resorts are nothing to scoff at either. A few of the Maldives top resorts and brands include Gili Lankanfushi, Soneva, Anantara, Shangri-La's Villingili, St. Regis Vommuli, Niyama Private Islands, and Jumeirah Vittaveli Maldives.
If you're on a tighter budget but still want to see this fascinating country, Crown & Champa resorts has a variety of properties for all price points. Resorts like The Sun Siyam Iru Fushi Maldives or Biyadhoo island Resort are other reasonable options. If you're really, really on a budget you can take a speedboat to the local islands like Maafushi, Guraidhoo, and Gulhi and stay in a guesthouse. Just keep in mind, no alcohol is allowed and women should be covered in accordance with Muslim law.
Another way to make the sticker shock (slightly) diminish: If you're into the point's game you can cash in your Marriott Bonvoy or IHG points at multiple properties including the fantastic St. Regis Vommuli, JW Marriott Maldives Resort & Spa, W Maldives, and Sheraton Maldives Full Moon Resort & Spa, or new InterContinental Maldives Maamunagau Resort. Just keep in mind, food is extra and it's not cheap.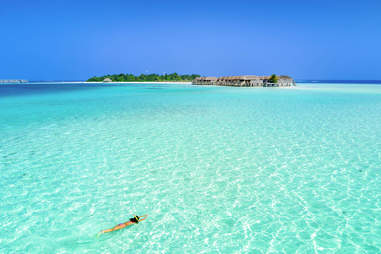 Mahibadhoo Island, Maldives

| Sven Hansche/EyeEm/Getty Images
Water is the essence of… well, everything
In the Maldives, water is the way of life. For the locals, it is how they get products delivered -- where they get their food and how they make their money. For tourists, it's how they arrive at the resort and where they have their fun.
Each atoll -- a ring shaped coral reef surrounding an island -- has different things to offer. In the Baa Atoll lives the world's largest manta ray population. Every year from June to November, hundreds of manta rays come here to feed on zooplankton found in the atolls. There are several resorts in the area with day trips to swim with the puppies of the sea, including the boutique Anantara Kihavah. During a stay at Soneva Fushi, their marine biologist took us on a boat ride to swim and snorkel with over 50 giant manta rays. To this day, it's one of my favorite vacation experiences ever.
Many traveling to the Maldives would rather see one of the world's largest mammals, the whale shark. They're elusive creatures, but once you see its shadow near the surface of the water, they're unmistakable. Some of the best resorts to go to if you want to swim with these gentle giants are LUX South Ari Atoll and Vilamendhoo Island Resort & Spa.
Every resort includes snorkeling on the "house reef" that encircles the property's island. Depending on how big the atoll is, some guests can swim to the house reef from the beach, while others can request a very short speedboat ride. Here you'll see colorful fish, green turtles, and even some reef sharks. Many resorts also offer kayaking, stand up paddleboarding, diving, sunset boat rides, dolphin watching, surfing, and fishing.
The Maldives is at the forefront of sustainable tourism
The islands in the Maldives are all at or below sea level. Scientists predict that this island nation will be the first country to see refugees due to the climate emergency. In an effort to lessen their impact and help the environment, many hotels are creating groundbreaking initiatives.
Gili Lankfanushi, voted the #1 hotel in the Maldives on TripAdvisor, is on a mission to be 100% plastic-free -- encouraging guests not to bring any onto the island, recycling every bit used, and allowing no single-use plastic on premises. They offer guests amenity packets with bamboo toothbrushes and glass water bottles with water from their desalination plant. The majority of resorts in the Maldives have desalination plants to limit the amount of plastic coming onto the island.
Many resorts in the Maldives also have coral-regeneration programs, including Gili Lankanfushi. The resort partnered with EarthCheck in 2014, and the Marine Biologist and Environmental Officers help restore the corals by planting new ones and getting the guests to do it too.
The Four Seasons Resort Maldives at Kuda Huraa opened the Marine Discovery Centre in 2011 and is the home to the Maldivian Sea Turtle Conservation Program. They're the islands' leading center for the protection and rehabilitation of endangered sea turtles. Along with the marine biologist, guests can look for nesting sea turtles along the shore, and if they're lucky, see them hatch.
Burj Al Arab Jumeirah

| Jumeirah
Everything is over the top in Maldives
The Maldives is known for excess. I'm talking about ridiculous levels of indulgence typically only seen in the palaces of Dubai. At the
Jumeirah Vittaveli
, a boat ride away from Malé, is the world's most expensive Indian dinner. Book in advance for a lavish meal costing $2,000 per person. It includes rare Iranian caviar, black summer truffles, Khasi lamb from Jaipur in Rajasthan, and edible gold on every course. The resort also has Rolls-Royce-style buggies to take you anywhere on the island.
The St. Regis Vommuli sabers champagne every evening at sunset on its whale shark-shaped overwater bar. A staff member leads a procession, walking stoically with saber in hand to dramatic symphony music. The bottle is popped as the sun sets, and everyone there to witness gets a glass.
At Anantara Kihavah and Niyama Private Islands, there is an underwater restaurant, also a popular offering at the Conrad Maldives and Hurawalhi Island Resort. Here, you can sit and enjoy a seafood meal and a bottle of vintage wine as turtles and fish swim by you.
Don't forget about the individual rooms full of food. At Gili Lankanfushi, there's an entire room dedicated to my three favorite things: chocolate, cheese, and charcuterie. At Soneva Fushi, they have a chocolate room that shares space with a selection of homemade ice cream.
Excessive? Absolutely. That's kind of the point of a once-in-a-lifetime trip to the physical manifestation of #vacationgoals.