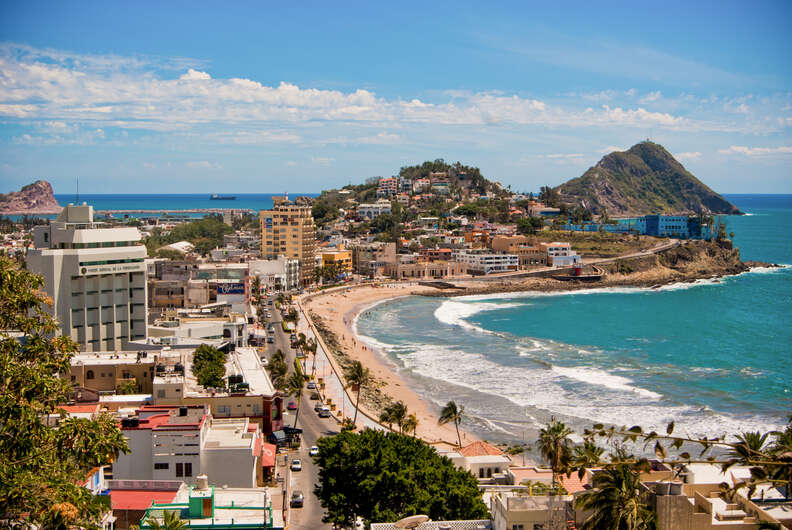 One of Mexico's Best Beach Destinations Is Still Totally Overlooked by Americans
Mazatlan is not a "rising" destination.
It's not "off the beaten path." And it's absolutely nothing like what you imagine when you think "top Mexico beach town." In fact, unless you're from the Southwest US, Canada, or Mexico, you're probably not thinking of Mazatlan at all. And that sucks for you.
Mazatlan is often glossed over by Americans in favor of shinier, sugary sands in Cancun, or posher digs in Los Cabos, or boho chic in Sayulita. Not a lot of Americans are going here. Their loss, frankly. Mazatlan is one of the most unique destinations in Mexico, and speaking as someone who spends more time in Mexico than anywhere else, I do not say this lightly.
It is one of the rare spots in the country that offers both historic colonial city and thriving beach capital. It's like if San Miguel de Allende and Puerto Vallarta had a baby. Picture cobblestone streets flanked with vibrantly painted colonial houses. Leafy plazas in a crown of cafes and restaurants, whose tables spill out into the street. There are beautiful churches, a historic theater, street vendors, and murals. And just a few blocks away, picture a sprawling malecon (boardwalk), the longest in Mexico, that hugs the Pacific shoreline, lined with beach resorts and palapa'd beach bars slinging ceviche and frosty Pacifico beers. It's all right here in one, neat little Mexican microcosmic package.
MORE: Post up on more of Mexico's best beaches here
Ok, so where is Mazatlan, exactly?
Mazatlan is a port city on the coast of the western state of Sinaloa. (Erm, yes. That Sinaloa. But more on that later.) If you had really, really strong binoculars you could look across the water from Mazatlan and see Los Cabos in the distance. It's basically right at the point where the Pacific Ocean becomes the Sea of Cortez.
And speaking of the Pacific, bet you didn't know that the Pacifico brewery was founded here. And not by Mexicans. Pacifico is actually German, founded by a family of immigrants in the mid-19th century. In fact, there's a long history of German settlement in Mazatlan. They brought with them their traditional Bavarian folk music, which evolved over time to become what we know as "banda." If you're staying at one of the beach hotels in the popular Golden Zone, keep an ear out for the steady "oompa-pa" of the omnipresent beach tuba player. I'll repeat. Beach. Tuba. Player.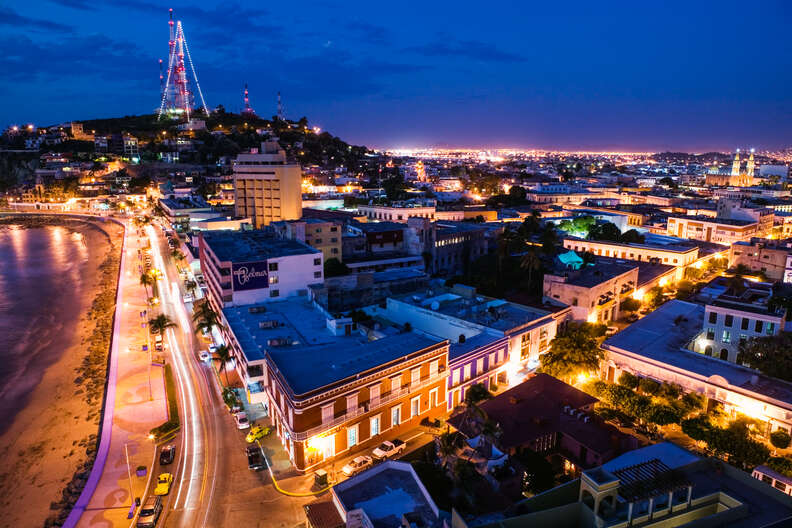 Don't worry -- you'll be safe in Mazatlan
Okay, real talk for a second, because I know you're all wondering about the Sinaloa safety factor. Even if you know nothing about Mexico, chances are you know the name Sinaloa. And if you don't know Sinaloa, perhaps you know the name El Chapo. Sinaloa is the state home to one of the most notorious cartels in Mexico, and while El Chapo is in prison the cartel still very much exists.
That said, you're going to be absolutely fine in Mazatlan. I cannot stress this enough, so let me repeat: You will be safe in Mazatlan. While other cities in the state, like the capital Culiacan, may be a little more precarious, Mazatlan remains an oasis of safety and one of the friendliest places around. Still, keep a smart head on your shoulders. Don't go looking for cocaine and/or meth. But that's honestly just good life advice no matter which country you're visiting, cartels or no.
The best time to visit the beaches of Mazatlan
Mazatlan is considered to be northern Mexico, which means it has a much milder climate than states in the jungly south. Plus it's got prime coastal real estate, meaning gorgeous breezes year-round. The best BEST time to visit Mazatlan is the fall, specifically in October and November. This is when you're going to enjoy ideal temperatures in the 80s, no rain, and, more importantly, no holiday tourists.
That said, there really isn't a wrong time to visit Mazatlan. The summers are hot and rainy, and the winters tend to be a bit more expensive because of holiday travelers. Regardless of season, what you're in for is year-round beautiful weather and prices that are noticeably lower than other Mexican beach cities, like, say, Tulum or Cabo San Lucas.
If you are into celebrations, Mazatlan has arguably THE best Carnival (you may know it as Mardi Gras) in the country in February. It is a city that loves to celebrate, with parades, costumes, colors, and, of course, a non-stop flow of Pacifico. Each year two big parades run down the entirety of the Malecon; the baseball stadium puts on epic shows; and there is a massive outdoor party on Olas Altas, one of the main outdoor areas near downtown along the coast. The other best time to visit Mazatlan would be at the end of October for Dia de Los Muertos, when the city comes alive with painted faces, brightly decorated altars, a parade, and, you guessed it, more Pacifico.
Everything you need to do in Mazatlan -- including the best beaches
Before you do anything, go to a baseball game. Obviously.
But then you're probably going to want to go to the beach. Keep in mind this is Pacific Mexico, so don't expect the sugar-colored sand of the Yucatan Peninsula. Sand here is a lot more, well, sand-colored.
Start with Playa Sabalo, which is a great relaxation beach at the northern end of the Golden Zone. You'll also find Playa Gaviotas and Playa Camaron. These are also along the Golden Zone, but the energy is completely different from Playa Sabalo. Gaviotas and Camaron are where you're going to go if you want a quintessential Mexican beach party, with beach bars, live music, and energy that keeps going after sunset.
One of the best-kept secrets of Mazatlan is Stone Island. First, it's not really an island, but you do need to take a boat to get there. It's a beach area to the south of the Port of Mazatlan, and it feels like it's another world away. The wide, sweeping beach extends for miles, backed by hilly jungle and a sweeping view unencumbered by development. There are a few small hotels here, and many outdoor restaurants perfect for a cold beer, a fish taco, or a shrimp cocktail.
But you don't have to be a beach bum to make the most out of Mazatlan. That's the beauty of it. Maybe you want to take a food tour or a cooking class -- Tomatl is a great one, created by a local Mazatleca, who has tours devoted to street food, or one specifically centered around tacos, mezcal, and beer.
Mazatlan is also surrounded by several "Pueblos Magicos," or Magic Towns of Mexico, which are villages that are government-recognized for their historic charm. Near Mazatlan you'll find three: El Rosario, El Quelite, and Cosala. What you're doing here is very much throwing it back to the old school Sinaloan way of life. Meander the tiny streets lined with colorful buildings, dip in and out of the churches, stop at a panaderia and pick up a delicious cake or cookie. Life slows way, way down in these outer villages, and they definitely offer the best glimpses of the way things used to be.
MORE: Dive deeper into Mexico's underrated destinations
Which neighborhoods to hit while you're in Mazatlan
Mazatlan is huge -- including its outlying communities it's more than 1,000 square miles. So if you're in town for a quick visit it's best to know the neighborhoods where you can maximize your time. What I love most about Mazatlan is that, because it's a destination mostly for Mexican travelers and Canadian snowbirds, it's not quite as delineated as other cities in terms of "tourist" and "local." Everyone melds together, from the Golden Zone all the way down to the Centro Historico.
Coming in from the airport you're going to pass Marina Mazatlan, which is a fairly new area that has newer condos, a golf course, and the big box stores like Walmart and Sam's Club. Keep moving.
Next you'll come into the Golden Zone, or the Zona Dorada, which is the main "tourist" area you'll find in the city. The main drag is Avenida Camaron Sabalo, along which you'll find the majority of the major hotels, restaurants, bars, and souvenir shops. If you want to label a section of Mazatlan as the tourist section, this would definitely be it. That said, this is still a pocket of the city where Mazatlecos (Mazatlan locals) are willing to visit for a good meal or a fun night out. Prices are considerably cheaper here, especially when compared to other tourist zones in the country (again, looking at you Tulum and Cabo). So if you stick around here, you're doing okay. But still, I encourage you to keep moving.
After the Golden Zone, you're going to come face-to-face with the beginning of Mazatlan's iconic Malecon. The 13-mile-long beach path had been under renovation and expansion since 2017, and has recently reemerged shiny and revamped, but with a retro vibe evocative of the sea paths in Old Havana or Nice. The Malecon area is framed by the beach and Avenida Del Mar. It's in this neighborhood that you'll find the Teodoro Mariscal Baseball Stadium. Yes, baseball. If you thought crazy Uncle Ned and his Red Sox were out of control, you ain't seen nothing 'til you see the Mazatlan Venados play the Culiacan Tomateros. The rivalry is much more intimidating than the team names. Trust me.
Finally, we come to Olas Altas and the Centro Historico. Follow the Malecon around the bend and you'll discover the small bay that is the oldest section of Mazatlan. Here there is a beach, a sea wall, and one of the best views of old world Mazatlan. Just across the street from Olas Altas is where you will find the Centro Historico, where some buildings are more than five centuries old. There are art galleries, museums, fabulous restaurants, great bars, boutique shopping, and more. If you're looking for #content, you cannot beat the late afternoon sunlight that bathes this part of the city in liquid photo-friendly gold. No visit to Mazatlan is complete without a stop in this magical part of the city.
Getting from area to area means you're going to want to want to take a taxi or an Uber (yes, Mazatlan Ubers!). Again, Mazatlan is really, really spread out. If you're feeling festive, you should try a pulmonia, which is a local open-air car. They're pretty cheesy and designed for tourists, but they're a lot of fun to ride in.
Everywhere you should be eating and drinking in Mazatlan
Being a port city, and one of the major North American port cities at that, Mazatlan has exposure to many different cultures, so you'll be able to find a bit of everything. But let's start with the most important: shrimp. All the shrimp. Like, insert Bubba's shrimp speech here, but in Spanish. Mazatlan is the shrimp capital of the world, so much so that the US gets about 5 million pounds of shrimp annually from there. If you're coming to eat, you cannot leave without going crustacean crazy. Start at La Costa Marinera in the Golden Zone. The coconut shrimp is en punto. But really, any beach bar serving shrimp is going to blow your mind.
Seafood in general is fantastic in Mazatlan. A personal favorite is La Marea, which sits on a hillside perch overlooking the historic lighthouse of Mazatlan, as well as down to the twinkling lights of the Centro Historico and downtown. The open-air restaurant has the best sunsets, and even better seafood tostadas, ceviches, and even sushi. If you're not a seafood fan you can also get excellent tacos and grilled meat.
If you'd rather something a little more upscale, El Presidio Restaurant is gorgeous in both food and ambiance. Built into a historic home within the Centro Historico, this is one of the coolest places to dine in the city. Opt for a seat in the courtyard around the massive banyan tree that grows from its center.
And if you really want to eat like the locals, be sure to snag a table at Claussen Restaurant (see? Germany!) at Olas Altas. This bright orange building is a focal point of the malecon. In addition to epic sunsets, they serve up an epic deal, too. Order the Ceviche de Sierra with one "ballena," which is the biggest size of Pacifico you can order, all for 100 pesos -- roughly $5.
Another local favorite is Panama, which is a diner-style restaurant perfect for massive group brunches and a menu that is purely Sinaloan.
You can find street food anywhere in any city in Mexico, so you'll have no problem scrounging up some street tacos. But the real Mazatleco way is to go to the Sea Food Market in Downtown. Here you can find a wide variety of shrimp, as well as smoked marlin, octopus, crab, and scallops. It is open every day from 6am to 6pm. After you've picked the shrimp that pleases you, you're heading over to La Palapa de Efren and having him cook it for in one of the styles are written on signs and plastered against the pillars of the restaurant. Tip: the Taco Gobernador is the best.
You never knew you needed fine French cuisine in Mazatlan until you found Hector's Bistro. Worth every gluten-, dairy-, fat-filled bite, Hector cut his teeth at the Four Seasons London before returning back to his home in Mazatlan to dish out seriously decadent breakfasts, lunches, and dinners. If you're going for breakfast you need the Italian skillet, with homemade sausage and eggs in tomato sauce. If you're going for dessert, you want the sticky toffee.
How to own the Mazatlan nightlife
Like any city in Mexico, Mazatlan knows how to have a good time after dark. And you can make a night out in Mazatlan anything you want it to be, whether it's live music and beers late night on the beach or an all-out dance party until dawn. There's no pressure to do it one way over the other. If you want to shrimp and chill, have at it. If you want to stumble home in stilettos, you also are more than welcome.
For dancing, La Consentida is really popular among locals. It's located in the New Mazatlan zone, which is north of the marina. It's called New Mazatlan because most of the development there is, well, new: new condos, new bars and restaurants, and a whole new neighborhood that shows that Mazatlan is evolving, even if a bit slower. Anyway, La Consentida is all about mixed drinks, music, flashing lights, and dancing. But unlike clubs and lounges as we know then in New York and LA, the vibe is way more casual in Mazatlan. You can dress to the nines if you want, but you'd also feel just as at home (and maybe much more comfortable) on the intimate dance floor in something more casual. What you're getting here are locals and tourists together and an all-around fun party.
If a little glam is what you are definitely after, consider Life En Espanol, a restaurant-lounge-club in the Zona Dorada that serves potent cocktails, small plates, and is very much all about bottle service and flashing lights. It's one of the more swank parties you can attend in Mazatlan, but still I would not expect the Kardashians to show up.
Beer is the beverage of choice in Mazatlan, so you're going to want to try a michelada. Some of the best in town are at Belmar's Bar. The Hotel Belmar is one of the oldest hotels in Mazatlan and its bar is really laid back. You're going here for the tables with the sunset views, and what you're ordering is a michelada (beer, Clamato juice, lemon, salt, and spices). It's hard to say what exactly makes them the best, since michelada recipes in Mazatlan are pretty standard. But the vibe itself is what sets it apart. It's a local experience in a historic hotel, with a view of the sea and the sunset. Put anything on that table and you're going to be giving it bragging rights.
If you like karaoke there's Vitrola's Bar in the Centro Historico. You'll find a mix of locals and tourists singing their hearts out to both American and Mexican favorites. Order the bucket of beers (la cubeta) if you need a little liquid courage. Also, Mazatlan happens to be LGBT friendly, and this is one of the city's three LGBT bars, though you don't have to identify with any of those letters to have a good time.
Where to stay in the city
When it's time to sleep, Mazatlan has some of the most affordable options in Mexico. First, there is El Cid Hotels & Resorts. El Cid is a Mazatlan-born company and it's employees are fiercely proud of their city. There are four El Cid resorts to choose from in Mazatlan: one in the marina, and three along the Golden Zone. While their designs are humble and retro (unironically), you aren't getting better beach views or service anywhere else. Truly El Cid has the nicest people who really try their best to make you feel at home. With a beach right out front, you also have the best views of Mazatlan's iconic three islands just off the coast.
For the best stay near Centro Historico, it has to be Casa Lucila. This boutique property is packed with history and charm (it was once a restaurant frequented by John Wayne and Ernest Hemingway). It has just eight rooms, overlooking Olas Altas and within walking distance to the Centro Historico. Plus, there's a small rooftop infinity plunge pool, which is perfect for sipping a Pacifico and taking in the views.
Airbnb culture is alive and well in Mazatlan as well. It's also really safe and convenient. Use it as you would use it anywhere else: Check the reviews and talk to the host and you'll have no problem. Now that you're an expert on the different neighborhoods, you can decide which is best when booking your Airbnb.
Regardless of where you stay, you're going to have an unparalleled experience. In a world where travelers are chasing trigger words like "authenticity," "local," and "the real [insert destination here]," you can't do much better than Mazatlan. It is not a luxury destination. It is very much affordable, local, and the "real" Mexico. You aren't coming here to escape the fray and hide in an all-inclusive compound. You're here to get down and dirty in the real culture, eat some bangin' good shrimp, explore the cobblestone streets and colorful architecture, and sip a Pacifico with a mind-blowing sunset.
Meagan is a travel writer living and breathing in NYC. But if you give her a plane ticket today, she will be somewhere else tomorrow. She like tacos, music, and making lists. But travel is her life.