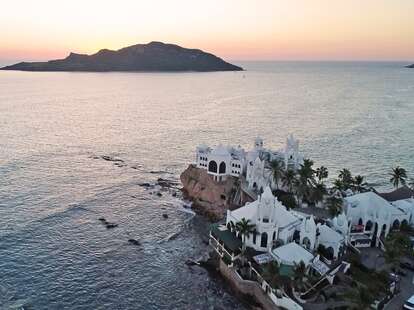 Skip Cancún and Cabo for This Hidden Beach and Food Town in Mexico
Organic street corn meets organic local culture.
If you're scouting Mexico for a beachy getaway, there's a decent chance you're waffling between Los Cabos and Cancún—and if you're looking for a simple spring-break-style splash, that's the right track to be on. But when you'd rather spend more time dipping your toes into local culture than the resort pool, take a savvy step over to Mazatlán, just across the Gulf of California from Cabo, instead.
Sure, Mazatlán also has resorts, but—unlike Cancún, a made-up "city" created by the hospitality industry with little beyond hotels and a modern mall—Mazatlán is a city born the old fashioned way, when enough locals gathered here to start deciding on things together. It's therefore rich with history and heritage of its own. You'll find plenty of 19th-century architecture painted vibrant colors, an oceanside walkway full of street performers, locals jumping 50 feet off cliffs into the ocean, leafy cobblestone plazas with cafe tables on the street, murals, and fresh ceviche and chili lime corn being sold out of residential windows.
Among Mexico's safest coastal destinations, Mazatlán is still one of the less visited by international travelers. That means you won't be overrun by tourists along the 20 miles of sandy beaches or disappointed by over-Americanized-everything, but there are still plenty of hotels at every price range and a culinary scene worth flying for. Plus, you'll find one of THE best Carnival celebrations (aka Mardi Gras) in the country in February, with two big parades and a massive outdoor party along the coast, costumes, and, of course, a non-stop flow of Pacifico.
When it comes to food, you won't find a more blessed city in all of Mexico. Mazatlán's beachfront locale brings bountiful seafood to tables across the city daily. Plus, the Pacific Pearl, as the city is sometimes called, happens to be in Sinaloa, the state that provides a full third of the entire nation's produce. A bulk of the agricultural production here is small-scale, family-farmed, and inherently organic—it's always been that way—so expect pure, fresh everything wherever you find yourself in the region.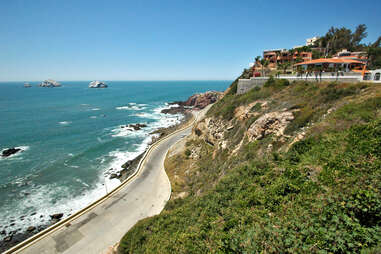 Getting to Mazatlán
If you had really, really strong binoculars you could look across the water from Mazatlan and see Los Cabos in the distance. But you'll be better off flying directly to Mazatlán. The city's international airport (MZT) receives daily nonstop flights from five US cities. If you're not coming through one of these, you can easily connect through Mexico City International Airport (MEX). Uber is delightfully cheap in Mazatlán, but they're prohibited at the airport. So your options are a taxi ride for about 430 pesos ($21) or a shared shuttle for about half the price, but keep in mind these only leave when there are at least four passengers.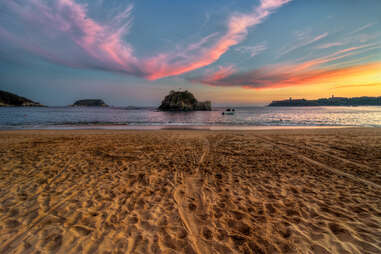 Soak up as many beaches as possible
It's almost impossible not to be on a beach as soon as you arrive in Mazatlán. But you'll still probably wanna know which ones are the best. Start with Playa Sabalo, which is a relaxing beach at the northern end of the Golden Zone. You'll also find Playa Gaviotas and Playa Camaron nearby, though these have more of a Mexican beach party vibe, with beach bars, live music, and energy that keeps going after sunset.
One of the best-kept secrets of Mazatlán is Stone Island. First, it's not really an island, but you do need to take a boat to get there. It's a beach area to the south of the Port of Mazatlán, and it feels like it's another world away. The wide, sprawling sands extend for miles, backed by hilly jungle and a sweeping view unencumbered by development. There are a few small hotels here and many outdoor restaurants perfect for a cold beer, a fish taco, or a shrimp cocktail.
Hit the street to eat
You won't have trouble finding street food in Mazatlán, and you should avail yourself of their tantalizing bites frequently. From food trucks to sidewalk carts and even plates served out of house windows, options are plentiful (and consider lines to be good signs). Look for charcoal-grilled chicken rubbed in spices, chili lime corn-on-the-cob, and ceviche fresh from the day's catch. Word to the wise: Hot dogs here are usually wrapped in bacon and dressed with condiments and sauces Americans would typically reserve for hamburgers. Definitely delicious, but know what you're getting.
If you want to try as much as you can, you could opt for a food tour—Tomatl is a fantastic one, created by a local Mazatleca. They offer tours devoted to street food or one specifically centered around tacos, mezcal, and beer.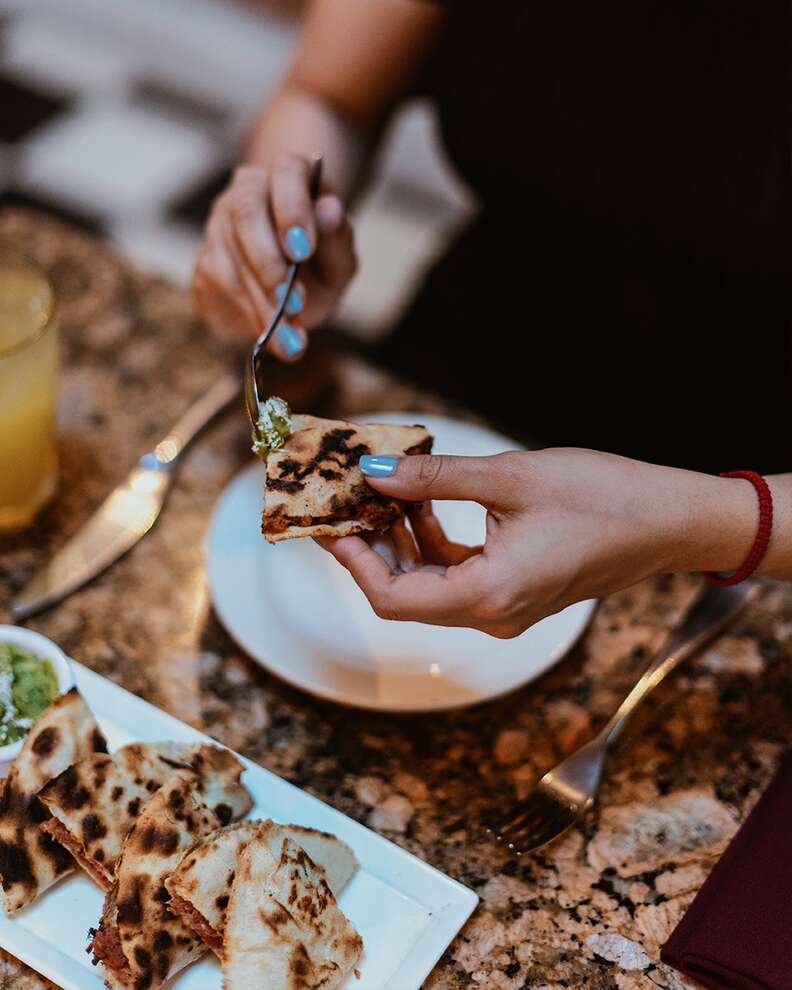 Elevate your dinner game
You could fill yourself from dawn till dusk toddling between street vendors, but step it up for dinner and visit some of Mazatlán's top-notch restaurants for a gussied up meal. Casa 46 dishes updated regional fare like confit duck enchiladas and zarandeado red snapper, along with plenty of international plates. The meal is crowned by a sweeping view overlooking the town square, Plazuela Machado, at the heart of historic Mazatlán—a perfect place for an after-dinner stroll. You'll find the restaurant across the plaza from the exquisite Teatro Angela Peralta, dating to 1874.
The top choice in town for al fresco dining is El Presidio where you can indulge in upscale Mexican cuisine in a lush courtyard of stone and vine, blessed with abundant greenery and a cool evening breeze. The chic space repurposes the remains of a 19th-century house, and you're well advised to secure a reservation here to assure a seat within.
Traverse the malecón
A staple of oceanside escapes, the beachfront esplanade known as a malecón throughout Mexico and Latin America is always popular with morning joggers, afternoon bikers, and evening gallivanters. But the malecón in Mazatlán's goes beyond all that. At six miles, it's not only among the longest in the world (and should take about 13,000 steps, if you're someone who tracks those), but its wide pavement is exceptionally clean and packed with art, monuments, and the occasional entertainer.
Time your trek to pass by El Clavadista at Paseo Claussen in the late afternoon, when you're most likely to catch the decades-long tradition of cliff divers plummeting 50 feet into the swelling surf below—a miscalculation in timing would limit the depth to only six feet of water and a catastrophic conclusion to the show. So far, no injuries have occurred since the unofficial daily feats began in the mid-1900s.
Take a day trip to El Quelite
There are several ways to reach the enchanting village of El Quelite from Mazatlán, and all that matters is that you choose one—this will be a highlight of your journey. If you've rented a car, the drive is straightforward and should take just under an hour. Otherwise, there are abundant options for booking a guided day trip, but you can also take a public bus for far less, and it only adds about 20 minutes to the commute, while giving you the full day to explore at your leisure.
Once in El Quelite, stroll the streets to shop for souvenirs, climb to the chapel overlooking the region, and appreciate the vibrant local cemetery (which is totally allowed) at your whim. Just be sure to enjoy lunch at the charmingly chaotic El Mesón de los Laureanos in the center of town. Let the cacophony of color and wild animal sounds entice you—you'll have all manner of exotic birds strutting around your table, iguanas scuttling about on overhangs, and likely a cat or two will cross your path. But understand that this single restaurant and its owner, former doctor Marcos Gabriel Osuna, revitalized the village of 1,500 by preserving the region's family farming and stimulating a steady outlet for its production.
The massive menu is powered by the organic output of countless local families who farm produce, raise livestock, and hand make cheeses with the support of Osuna and his restaurant, both devoted to healthy production and healthy consumption. You won't find fresher flavors or a better story of local renewal and success elsewhere.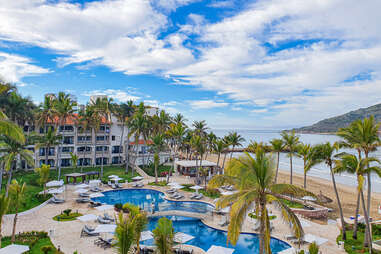 Where to stay in Mazatlán
You'll want to spend most of your time combing the city and exploring its inviting villages, but it doesn't hurt to allow yourself some creature comforts during your downtime. Bank on a solid stay like the recently renovated Pueblo Bonito Mazatlán, which just invested $27 million to update all 248 guest suites along with its pools and restaurants, giving the entire property a facelift while still remaining a recognizable beachfront favorite in the Golden Zone. Along with the sparkling spruce-up came a new seafood restaurant showcasing Mazatlán's best and an additional bar (a welcome addition to any resort) that bring new life to the tranquil atmosphere of this midsize resort. You'll find amenities galore, but won't suffer the mega-resort energy of the Cancún behemoths you're trying to avoid. Speaking of amenities, if all your exploring has your muscles sore, pop over to sister property Pueblo Bonito Emerald Bay to take advantage of The Armonia Spa, just a short cab ride away.
Another locally-owned option is El Cid Hotels & Resorts. El Cid is a Mazatlan-born company and it's employees are fiercely proud of their city. There are four El Cid resorts to choose from in Mazatlan: one in the marina, and three along the Golden Zone. While their designs are humble and retro (unironically), you'll have the beach right out front with the best views of Mazatlan's iconic three islands just off the coast.
For the best stay near Centro Historico, it has to be Casa Lucila. This boutique property is packed with history and charm—in fact, it was once a restaurant frequented by John Wayne and Ernest Hemingway. It has just eight rooms, overlooking Olas Altas and within walking distance to the Centro Historico. Plus, there's a small rooftop infinity plunge pool, which is perfect for sipping a Pacifico and taking in the views.
Meagan Drillinger is a travel writer living and breathing in NYC. But if you give her a plane ticket today, she will be somewhere else tomorrow. She like tacos, music, and making lists. But travel is her life.

Brandon Schultz is a contributor for Thrillist.