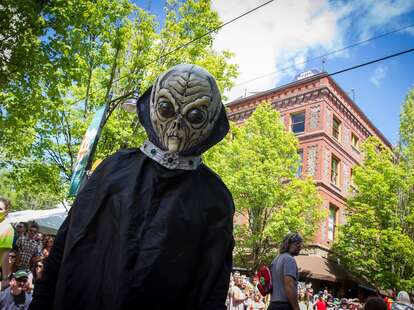 Whatever you think your spring travel plans are, cancel them. Reroute to McMinnville, Oregon. Pack an out-of-this-world costume.
Even on a regular weekend, this laidback town in the Willamette Valley is a worthwhile getaway. An hour southwest of Portland in the heart of Oregon's charming wine country, there are vineyards you can ride your bike through and tasting rooms to sample their famous terroir-driven Pinot Noir. There's a walkable, Rockwellian downtown lined with maple trees where you can catch a movie in a theater tucked inside of a pizza shop (yup, you can take your slice in), or duck into a store that specializes in artisanal jam. There's the Evergreen Aviation & Space Museum, home to Howard Hughes' massive wooden Spruce Goose.
And then, for one very special weekend each year since 1999, there are aliens. The town's population swells as thousands of ETs, Wookies, Yodas, Coneheads, astronauts, and possibly the family from 3rd Rock from the Sun all show up for the annual McMenamins UFO Fest, the largest of its kind outside of Roswell, New Mexico. This year, the close encounters happen on May 13 and 14.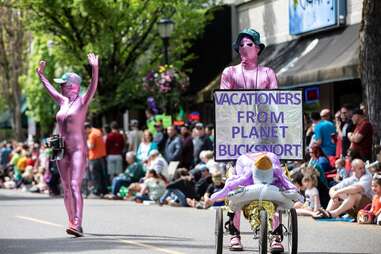 Base camp is the McMenamins Hotel Oregon, built in 1905, boasting a rooftop bar with 360-degree views—perfect for spotting flying objects. And you may actually see one, because unlike some of those other UFO festivals out there, McMinnville's is inspired by an actual sighting in 1950 when farmers Evelyn and Paul Trent took what is now the most famous photographic evidence of a hovering UFO. The photos made national news and were even published in Life magazine—and, to this day, they have yet to be debunked.
This year's festival will be particularly lit: after a two-year hiatus due to the pandemic, Saturday, May 14 will see the long-awaited return of the festival's UFO Parade, when a crowd of costume-clad believers (and perhaps some actual aliens hiding in plain sight?) will go marching around town. If you're there, you can also expect live music, vendors, an Alien Costume Ball, and a stacked series of speaker events.
Joining the speaker lineup this year will be ufologist and writer Whitley Strieber, who pioneered the Syfy Channel's UFO-search series Hunters and co-authored the book that inspired The Day After Tomorrow; journalist Alejandro Rojas and POLITICO senior correspondent Bryan Bender, who'll discuss how the US government plans to address and study UFO sightings after 2021's UAP report; UFO contact researcher Kathleen Marden, who'll take an in-depth look at the history and potential future of alien abductions; and more.
Shindigs and vendor fairs in and around the hotel are free, while tickets start at $25 for presenters; especially dedicated guests can also buy a VIP pass that'll allow access to all speaker events. Real-life extraterrestrials planning to visit Earth for the big weekend should feel free to park their starships wherever space will allow.