16 Reasons Why You Need to Visit Mexico City
Mexico City, the largest and most densely populated city in the Western Hemisphere, is at once chaotic, antique, verdant, dichotomic, and delicious. It´s a city of obvious contrasts -- socioeconomic, good and bad, old and new, colonial and indigenous, European and New World. The city offers an incredible number of museums, parks, ancient pyramids, international touring acts, architecture, lucha libre, soccer, pre-Hispanic, colonial, and contemporary art, and food from every region of Mexico -- all for a fraction of the price you would pay elsewhere... even other large Latin American capitals.
Despite the wealth of offerings and the low price tag, Mexico City remains an under-appreciated destination for Americans -- but here's why you should think about a visit… like, immediately.
It's so cheap right now
Mexico City (also known as DF for Distrito Federal and CDMX -- for Ciudad de México) is a cheap travel destination in general. But particularly when compared with other cities of Mexico City's caliber around the world, it's a total steal. Recently, the peso has been experiencing an all-time low (roughly 18 pesos/one US dollar), which has made it even more of a bargain. You're able to wine and dine in top restaurants, stay in a beautiful hotel or bed & breakfast, and cruise around town in Ubers -- all for less than $100 a day (or far cheaper, if you're a savvy budget traveler).
... and easy to get to
From most corners of the United States, Mexico City is no more than a five-hour flight, nonstop. The city's international airport is served by all major US airlines, including American, Delta, and Southwest.
The food is better than you can imagine
Featuring specialities from all over the country, plus inventive Mexican takes on foreign foods (Arabic tacos, yes, please), Mexico City is easily one of the best and most underrated culinary cities in North America. Taco stands are more common than traffic lights -- and that's just the beginning. On the street, there are tlacoyos, quesadillas, tlayudas, esquites, churros (and … and … and). In the markets, and in little mom & pop shops set alongside crumbling sidewalks, you can always find the delicious comida corrida: a quick three-course meal consisting always of a stewed meat, rice, beans and fresh fruit juice, costing less than $3 dollars for the whole shebang. There's also plenty of sushi to be found (bonus: many sushi restaurants offer two-for-one deals on rolls, sashimi, and nigiri on weekday nights), although maki rolls almost inevitably come with queso filadelfia/crema -- or, as you call it, cream cheese, so purists may find themselves offended. If you're looking to splurge, there's no shortage of high-end culinary experiments going on, making use of Mexico's extensive array of chile peppers, combining traditional elements with contemporary fusions and trends in the Latin American gastronomic atmosphere.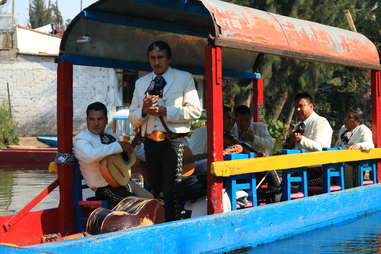 It's surprisingly friendly for a city of more than 20 million people
Our neighbors to the south have the well-deserved reputation for being hospitable, accommodating, and warm -- and it shows in the day-to-day interactions you'll have here. Sure, the traffic in this city could knock Siddhartha off his meditation pillow, but even so, Mexico City remains a shockingly friendly city for the amount of chaos and calamity going on at any given time.
And it's progressive
Mexico City was the first locale within the country to legalize same-sex marriage, and it's a popular destination for LGBT travelers looking for a tolerant and romantic vacation spot.
Its history comes alive in ancient pyramids and ruins
Here's a basic crash course: Mexico City sits on the former site of a salty lake that served as the main backdrop and sustenance for the ancient Aztec capital city of Tenochtitlán. When the Spanish first arrived in 1519, their arrival was taken as the promised return of the God Quetzalcoatl. When the Aztecs got wise, they banished the Spaniards further south to what is present-day Coyoacán. But the Spanish finally conquered the city -- and all of Mexico -- and built churches and cities over indigenous temples all across the country. This layered history is visible all over Mexico City. The city center is particularly fascinating, as you can tour the remains of the toppled Tenochtitlán over which the modern city was built, but beyond that Plaza de las Tres Culturas and Cuicuilco are well worth visiting. Of course, no trip to Mexico City would be complete without seeing the impressive pre-Columbian city of Teotihuacán, located about an hour north of the city in the state of Mexico.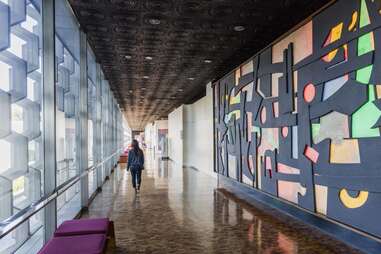 There are more museums than you can imagine
With more than 150 museums, Mexico City is second only to Paris in terms of the number of museums within the city. From ultra-niche museums, such as the Museum of Antique Toys, the Torture Museum (because, why not?), to the all encompassing Museum of Anthropology and Museum of Fine Arts, where you could easily spend multiple days, there's really no chance to be bored in this city. Imagine, you can drink all the tequila you want … and still learn something! Which brings us to ...
Exotic and rare local booze abounds
Mezcal and pulque are two ancient drinks native to Mexico that have not received quite the fanfare of tequila and world renowned Mexican lagers, but both -- mezcal especially -- are starting to garner more international attention. In Mexico City, they are everywhere. Both pulque and mezcal come from the agave plant, the same as tequila (which is a type of mezcal). Pulque is the result of fermenting the juice which grows in the plant's bulbous root, and mezcal is the distilled spirit from any number of agave species (while tequila can only come from blue agave). Pulque has an effervescent flavor and is known to provide nutritive properties and a relatively low alcohol content. Mezcal, well, just make sure you plan how you're going to get home after the bar before you delve into that realm.
It's the best starting point to launch an adventure through Mexico
Mexico City is basically the belly button of the Americas - not too far from any point. It's also the perfect jumping off spot to explore all corners of the Republic. From Mexico City, it's easy to catch a roundtrip flight to any point in Mexico, usually for between $100-150. Also, Mexico's bus travel puts the US's to absolute shame. It's efficient, easy, economical and comfortable - and you can get anywhere - granted, not quickly. But that's what the reclining seats and Spanish-dubbed gringo movies are for. Bus drivers typically wear suits and ties, and many buses are equipped with wi-fi. Depending on your preference between first, second and third class, you can expect to spend anywhere between $10-50 USD to go a great distance and catch the sprawling vistas of mountains, cacti, farms and coastline from the comfort of a panoramic window.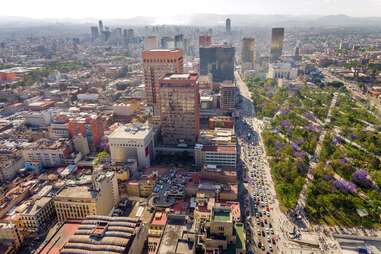 The weather is perfect
Think it's sweltering hot down there? Think again. Mexico City sits in a high mountain valley, with roughly two seasons: the dry season (from December-June) and the wet season (from June-November). Temperatures usually hover between 60 degrees and 85 degrees, with the coolest months being January and February. Temperatures almost always drop to the 50s and 60s and night, meaning it's never too hot or too cold. A word to the wise: there's typically no indoor heating or cooling anywhere in Mexico, so pack appropriately for the weather. If it's chilly outside, it will be chilly inside as well.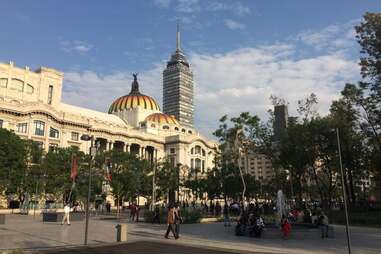 It's an extremely walkable city
With activity literally spilling out of every corner of the city, parks galore, cafés, bars, restaurants, etc., one can literally walk for miles upon miles, safely (as long you keep in mind that pedestrians DO NOT have the right of way here). It's a great city to wander and see the streets change from neighborhood to neighborhood. The quantity and diversity of sights and smells you experience will be overwhelming to some, and stimulating to others. The major drawback, though, is the air pollution. There are times when it is truly uncomfortable (and definitely damaging to your health) to maneuver in the city due to the contamination levels: mostly that comes from being a metro area with 20 million people, being at an elevation of about 7,200 feet (meaning less oxygen circulating in general) and the city having a high percentage of old and unregulated public transport vehicles on the road.
The mass transit is at once awe-inspiring and mind-boggling
And it can get you anywhere -- for cheap. Speed, of course, is a question of the time of day, however the subway is consistently the fastest way to travel longer distances in the city and of course to avoid whatever kind of madness is going on above-ground. It takes some time, but once you understand how it works, you can cross all 760 square miles of the beast for mere pesos.
Thanks to Uber and Easy Taxi, you can get around safely at night
A major crime concern in Mexico City over the past decade or so has been the veracity of its taxi drivers. Issues of "fake" taxistas have left many unsuspecting locals and tourists alike robbed, or far worse. With both of these private services, you can get fast, economic service if you aren't comfortable taking mass transit or the regular cabs.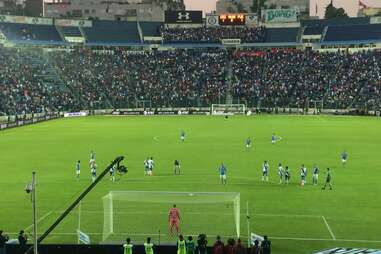 It's a dream come true for soccer fans
Football is king all over Latin America, and Mexico City is no exception. During major games or tournaments, you may notice make-shift bars set up in people's garages or in a spare room of a business. During Copa America, for example, every TV in every bar and restaurant and bar with a TV is showing the game, even if Mexico isn't playing. Don't miss a chance to go reveling in Estadio Azteca, Estadio Azul or the stadiums at the major universities -- soccer a passion here, or at least a damn good reason to party. Just make sure you choose wisely which colors you wear that day.
It's got style
No matter the quantity of dust, air pollution, miles of walking, time spent in transport -- people dress well here. From the hipster neighborhoods of Roma and Condesa to the uppity Polanco and bohemian Coyoacán, each neighborhood has its own unique style which is a pleasure to explore as a tourist.
It's alive, and ready for you to soak it in
The informal economy (meaning unregulated and untaxed - at least officially) in Mexico is alive and well, making up about 60 percent or more of all employment. There's always someone out on the street trying to making a buck: the mango guy, the smoked sweet potato guy, the cigarette lady. There are grown men blowing bubbles, clowns juggling machetes, fire-breathing skateboarders, crafty pickpockets with connections in all the electronics stores citywide, and about five times a day, a guy will ride by on a bike with a boombox blaring a woman's voice advertising the sale of stoves, microwaves and televisions prompting the neighborhood dogs to howl. There are children actually playing in the streets, people walking their dogs (as expected, an exorbitant array of chihuahuas), street vendors selling everything imaginable, impromptu soccer games, street musicians and artists. Take advantage of the welcoming attitude to public displays of affection and have a make-out sesh anywhere you feel the urge. Relevant note: if you're a light sleeper, bring ear plugs.
So grab a café de olla (literally coffee that's been sauteed with cinnamon and piloncillo, an unrefined cane sugar) and take a rest on a bench in any of the city's numerous parks and simply watch life in all of its orderly disorder go by in one of the most intriguing epicenters of humanity that's ever existed.
Sign up here for our daily Thrillist email, and get your fix of the best in food/drink/fun.
Megan Frye is a writer based in Mexico City and Detroit who subsists exclusively on a diet of Vitamin T (tacos, tortillas, tlacoyos -- you get the picture). Tweet her about why you love #cdmx @fryechild.