This Shockingly Affordable Glamour Spot Should Be Your Next European Vacation
Five years ago I found myself homeless and unemployed. A very good friend of mine, when he heard about my plight, said, "You should come stay on my boat in Monaco for a while. You'll love it."
I had never been to Europe before. The only things I knew about Monaco were from Bond movies and that Paula Abdul song where she rhymes it with "I'm not impressed with all the places we go." But while going to live on a boat sounded exactly like what a homeless, unemployed person would do, going to live on a boat IN MONACO??? That sounded like the stuff of a jet-setting playboy.
But so it was Monaco that was the first place I ever went in Europe. Turns out, this tiny sovereign Principality was also the ideal jumping off point for all my European travels thereafter: It had all the history, architecture, food, and culture one expects on the continent, jammed into one pocket-sized 2-mile strip friendly to English speakers and my wallet.
Yes, that's right. Monaco is budget friendly. This year I returned to the Principality, slightly more employed but still nowhere near wealthy, and found it even more affordable than it was five years ago. With flights to Europe now cheaper than ever, you don't need to have a friend with a boat in Monaco to make it worth a visit.
Monaco Village

| Tomsickova Tatyana/Shutterstock
Monaco is the best place to dip your toes into Europe
Even though it's the second-smallest country in the world -- barely half as big as Central Park -- Monaco feels like a proper capital. Its buildings are set along terraced streets on the side of a cliff facing the beautiful Mediterranean, offering a walking history of architecture that dates back over 700 years. The streets alternate between gothic, Victorian, and Baroque architecture, with a smattering of late-20th-century condo towers and office buildings from the financial explosion of the latter 20th century. It gives the first-time European visitor a feel of the deep history of this continent, with constant breaths of the familiar.
It's also clean. Almost uncomfortably clean, like your parents' living room they only used when company came over that's so nice you're afraid to mess anything up. The upside is a Euro trip without pickpockets, smelly subways, or street hustlers. (While these all constitute their own charming cultural educations, they don't always make for an ideal first impression or relaxing getaway.)
Because it doesn't have a national income tax, Monaco has drawn residents from all over the world to its tiny principality. Within its teensy 500 acres, you'll find 130 nationalities represented, meaning it's easy to learn about a huge buffet of cultures just by walking down the street.
The Monte Carlo Casino

| Matej Kastelic/Shutterstock
The best things to see in Monaco are alarmingly cheap
"We might have this reputation of glamour, but that's in our DNA so we don't mind," says Corinne Kiabski, a rare native-born Monégasque who now works in tourism. "But if you look around, we're the most affordable world capital you can visit. The same things you get in Paris or London at cheaper prices."
Kiabski isn't just shooting tourism-department hyperbole; the numbers back her up. The country spends fully 5% of its national budget on culture, meaning stuff like the national ballet has tickets starting at 20 euros. The Palace and lauded Oceanographic Museum have a combined entrance of about 21 euros. Most of the museums are under 10 euros to visit. Even France Ligue 1 champion AS Monaco football team has tickets for as little as 7 euros. (Currency fluctuates, but a quick conversion to dollars these days is to add 20 percent to these prices. Sort of like when you look through a restaurant menu.)
The famous Casino Monte Carlo, which is as close to gambling in a renaissance art museum as you'll ever get, has tables with 10-euro minimums. And you can get around the entrance fee by joining the casino's Circle Club, which is not only free but also gives you a cool, heavy membership card to take home as a souvenir. If you're not into gambling, an audio tour of the entire grounds is only 12 euros.
But perhaps the best deal in the country is the Stade Nautique Rainier III, Monaco's public swimming pool that sits right on Port Hercule. It's an Olympic-sized pool with waterslides and diving boards you can climb up to get spectacular panoramas of the country, then slide or dive into the water below. The pool is lined with dozens of lounge chairs where you can sit and take in the Mediterranean sun. Entry here for hours of quality act-like-a-trust-funder lounging will set you back only 3 euros.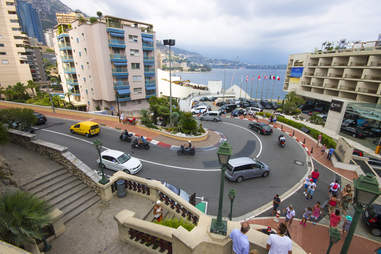 The Fairmont Hairpin, Monaco

| Joaquin Ossorio Castillo/Shutterstock.com
Even the grand Monaco hotels aren't as much as you'd think
With so much money and a dearth of land, one would think hotel rooms would be outrageously expensive. But that would not be the case. To wit: the Fairmont Hotel, which sits on the Grand Prix's famous hairpin turn, has rooms at around 229 euros a night, during non-summer.
If you're content not staying at a landmark, the Novotel in Monte Carlo has rooms for about 150 euros. The Airbnbs in the nearby French villages of La Turbie, Cap D'Ail, and Beaulieu-sur-Mer have rooms with views of the Mediterranean for just over 100 euros. Bargain basement it's not, but nor is it preposterous, especially if you travel with companions.
Getting around is also a breeze. If you're ambitious you can walk the entire country from the heliport in Fontvieille to the Monte Carlo Beach Club in about an hour. If that sounds exhausting, the bus system, with its six lines, is simple. Monaco also has its own version of car2go called Mobee, where you can rent street-legal golf carts with their own designated parking spaces in public parking garages.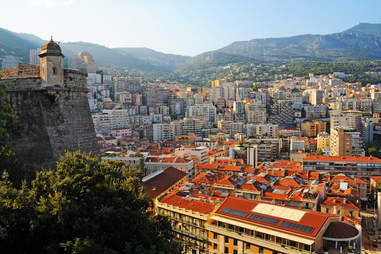 Le Condamine district, Monaco-Ville, Monaco

| Haidamac/Shutterstock
Eating and drinking by the water in Monaco, without waterside prices
La Condamine -- the old city that sits adjacent to the palace -- is the narrow-street village of your European fantasies. Its cobblestoned lanes are filled with cafes where a sizable sandwich costs 8 or 9 euros. As you sit enjoying a croque monsieur or falafel, you'll hear languages from all over Europe. From there, it's literally a block's walk to the top of the rock of Monaco, looking out over the Mediterranean.
Closer to the water, the Brasserie Monaco offers the country's lone craft brewery, where during happy hour you can try their award-winning wheat beer for 3 euros a pint. It's a welcomed taste of American-style craft beer in a place that, until recently, subsisted on Heineken. If you're also missing fountain sodas with ice (Europeans don't seem to enjoy either) the Stars and Bars Café, a landmark waterfront spot at Port Hercule, has those plus other American favorites like burgers and hot wings with a side of free Wi-Fi.
For hole-in-the-wall authenticity, Monaco's still your place. Tucked behind the port, in the shadow of the palace, you'll find Pizzeria Monégasque. There a wood-fired Italian pizza and bottle of wine can be had for 25 euros. Or head to the Monaco Market, a food hall popular among Monégasque locals that has fast-casual options ranging from sushi to French food to burgers. Though the best bet here is getting barbagiuan -- a fried pastry stuffed with Swiss chard and spinach, the quintessential local food.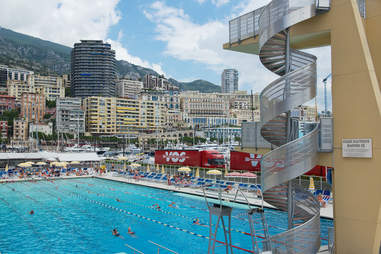 public swimming pool in monaco

| Dmitry Chulov/Shutterstock.com
Monaco has a strong local culture, and it's fantastic
"We're not France, we're not Italy," says Antoine Duprat, the bar chief at Brasserie Monaco. "We're Monaco. We have our own rules and that's how we like it."
Though the country has just 40,000 residents -- only a fifth of whom are citizens -- one might think its culture would be hard to define. But it's stronger than you'd imagine. Some might mistake the attitude as a monied snobbishness, but it's more an inner confidence that comes from living on a rock, surrounded by another country, and still managing to maintain your identity. Because Monégasque citizenship is almost impossible to get without marrying into it (mere residency is a lot simpler), you don't notice much of a rift between natives and immigrants.
The prince and his government take care of the few citizens they have; Monégasque people have special, subsidized housing that's often nicer than what wealthy foreigners own. "The nicest public housing in the world," is how Kiabski described it to me.
Because they're so well taken care of, native Monégasque don't mind being outnumbered nearly 10-to-1 when each morning 40,000 commuters pour into the city from French towns. And since nearly nobody is from there and the natives are accepting, everyone in Monaco seems to get along.
Since my first trip to Monaco, I've seen a dozen other countries in Europe, each of course with its own distinct personality. But Monaco holds a place in my heart for showing me the character of the entire continent in such a tiny place. It was the perfect first look to give Europe a look, and as it's only a few hours' train ride from cities like Barcelona and Madrid -- who've seen crazy cheap airfares this year -- it should absolutely be on a traveler's agenda. While your friends back home might mistakenly think a trip to Monaco means you've decided to spend like some sort of Powerball winner, they don't need to know they're wrong. You can literally be homeless and unemployed and look just as impressive.
Sign up here for our daily Thrillist email and subscribe here for our YouTube channel to get your fix of the best in food/drink/fun.

Matt Meltzer is a contributing writer with Thrillist who's moving to Monaco as soon as he has enough money that avoiding taxes is even a thing. Follow him on Instagram @meltrez1.