One of the world's smallest countries is also one of the most exciting.

| Photo by Benjamin Vergely, courtesy of Visit Monaco
One of the world's smallest countries is also one of the most exciting.

| Photo by Benjamin Vergely, courtesy of Visit Monaco
Monaco and its centerpiece, Belle Époque casino have been the backdrop of films like Ocean's Twelve and Casino Royale, and while most tourists come to check this landmark off their list and leave, the tiny principality on the French Riviera deserves more than a day trip. Sure, there's still a royal family and an estimated one-third of the residents are millionaires, but you don't have to be rich and famous to live like it here.
While you might not be able to shell out on a sea-facing suite at the lavish Hôtel de Paris Monte-Carlo (5,000 euros a night? Seriously?), there are plenty of other fabulous places in the principality that are just as affordable as neighboring cities like Nice.
Whether you're coming for a few days or a few weeks and plan to travel around France and over the border to Italy (which is less than a 40-minute train ride from Monte-Carlo), you'll find more than enough to keep you entertained (and not falling into bankruptcy) in Monaco.
Monaco feels like the idyllic European village
Even though it's the second-smallest country in the world—barely half as big as Central Park—Monaco is a proper capital. Its buildings are set along terraced streets on the side of a cliff facing the Mediterranean Sea, and the mismatched architecture dates back more than 700 years. The buildings alternate between gothic, Victorian, and Baroque, with a smattering of late-20th-century condo towers and offices from the financial explosion of the latter 20th century.
Because it doesn't have a national income tax, people from all over the world call this tiny principality home. There's 130 nationalities, meaning it's easy to learn about a huge buffet of cultures just by walking down the street. It's also clean. A little too clean. Police officers look like they're part of a movie set, and guards wearing the same uniform designed more than a century ago stand watch outside of the palace (swing by at 11:55 am any day of the week for the ceremonial changing of the guard).
But what is really an advantage of staying in Monaco is the location. You're on the edge of the French Riviera, so you can hop on a train and visit towns like Nice, Antibes, and Cannes, or take a bus to one of the perched medieval villages like Eze, where you'll find one of the best panoramic views over the Mediterranean.
Monaco's attractions are alarmingly cheap
The country spends 5% of its national budget on culture, meaning stuff like the national ballet has tickets starting at 21 euros, and the Oceanographic Museum of Monaco—where there's 6,000 specimens on display—is just 18 euros (and you can tack on a ticket to the palace for not much more). Most of the museums are under 10 euros to visit. Even France Ligue 1 champion AS Monaco football team has tickets starting at 35 euros (and with the dollar nearly equal to the euro at the moment, these prices sound even better).
The infamous Casino de Monte-Carlo, which is as close to gambling in a renaissance art museum as you can get, has tables with 25-euro minimums. And you can get around the entrance fee if you're part of the My Monte-Carlo loyalty club. If you're not into gambling, an audio tour of the entire grounds is only 17 euros.
But perhaps the best deal in the country is the Stade Nautique Rainier III, Monaco's public swimming pool that sits right on Port Hercule. The Olympic-sized pool has water slides and diving boards you can climb up to get spectacular panoramas of the country, then slide or dive into the water below. The pool is lined with dozens of lounge chairs where you can sit and bask in the Mediterranean sun (making it one of the few "beaches" in the principality). Entry here for hours of quality, act-like-a-trust-funder lounging will set you back only 7.50 euros.
Even the grand Monaco hotels aren't as pricey as you'd expect
With so much money and a dearth of land, you'd think hotel rooms would be outrageously expensive. But that's not exactly the case. Take the Fairmont Monte Carlo, which sits on the Grand Prix's famous hairpin turn and has rooms at around 289 euros a night (outside of the tourist-jammed summer season).
If you're content not staying at a landmark, the Novotel Monte Carlo has rooms for about 180 euros a night, and it's just a 10-minute walk up the hill from the centerpiece casino. Airbnbs in the nearby French villages of La Turbie, Cap d'Ail, and Beaulieu-sur-Mer have rooms with views of the Mediterranean for just over 100 euros. Bargain basement it's not, but nor is it preposterous—especially if you're traveling with friends and splitting the cost.
Getting around is also a breeze. If you're ambitious, you can walk the entire country from the heliport in Fontvieille to the Monte-Carlo Beach Club at the opposite end in about an hour. If that sounds exhausting, the bus system, with its six lines, is simple (and only 2 euros a ride). You can tap your credit card on board, so no need to figure out how tickets work, either.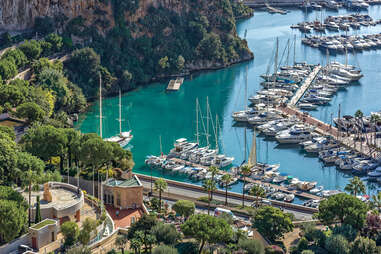 You can dine by the water and not pay heavily for the views
La Condamine—the neighborhood that unfolds around the Place d'Armes, behind the port—is the narrow-street village of your European fantasies. There's great juice bars and burger joints, as well as the principality's only natural wine bar, Supernature, which is fantastic for people-watching at sunset.
Along the port, the Brasserie de Monaco is the country's lone craft brewery, and during happy hour, you can try their award-winning beer at half the price. On the other side of the port, Stars'N' Bars is the European version of a sports bar that serves up American favorites like burgers and hot wings with the sophistication you'd expect from somewhere like Monaco.
In the smaller port in Fonvieille, about a 10-minute walk away, Les Perles de Monte-Carlo is one of those too-good-to-be-true finds that once you discover, you'll wonder why you weren't having lunch here every day of the trip. The menu is simple: shrimp, the namesake oysters, and grilled sea bass that's sprinkled with a spice blend that's something of a secret and never fails to impress.
Another spot that seems like it'd be on the touristy side yet is where locals actually go for lunch is the Condamine Market, a food hall with 20 different stands from sushi (book ahead, they're the most popular here) to Italian to Monégasque. Yes, Monaco has something of its own cuisine, the national specialty being the barbagiuan, a fried pastry stuffed with Swiss chard and spinach.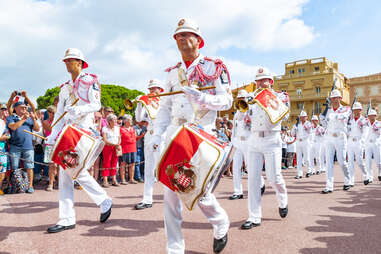 Monaco has a strong local culture, and it's fantastic
Though the country has just 40,000 residents, one might think Monaco's culture would be hard to define, but it's stronger than you'd imagine. Some might mistake the attitude as snobby, but it's more an inner confidence that comes from living on a rock, surrounded by another country, and still managing to maintain your identity.
Because Monégasque citizenship is almost impossible to get without being born here (mere residency is a lot simpler), the principality feels more like an extension of France than its own country (French is the official language, so that helps). But being so close to Italy (many of the people who commute into Monaco are Italian), it also has an Italian air to it.
To get a true taste of this blend of cultures, take a seat on the terrace of the main square, Place d'Armes, and order a spritz. It'll take you a moment to remember where you're at until you see a giant red hop-on, hop-off bus roll by.
Matt Meltzer is a contributing writer with Thrillist who's moving to Monaco as soon as he has enough money that avoiding taxes is even a thing. Follow him on Instagram @meltrez1.