The historic, bombed-out-and-then-rebuilt capital of the great state of Bavaria has an exaggerated sense of self-importance almost equal to its incredible standard of living. If you were to redesign a city from scratch -- as Munich largely was after WWII -- you'd probably come up with something like this combo of charismatic neighborhoods, great restaurants, awesome public transportation, beautiful parks, and a drinking culture unlike any other in the world.
When to go: If you want to catch the city at its most beautiful, try late spring or early autumn; the weather is usually prime, and the bustling university life is in full swing.

How to get around: Munich has the best public transportation system in Europe. Unless you're way out in the suburbs, there's no reason to rent a car; buy an all-inclusive CityTourCard for access to both the streetcars and subways.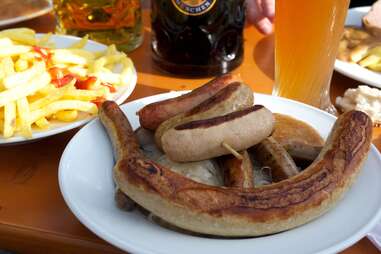 Dining: Like most of central Europe, Munich traditionally excels at drinking, and is home to a half-dozen breweries and the world's biggest beer festival. But eating? Not so much. That said, things have improved drastically in the past decade or two. In addition to the filling (but good) meat-and-potato platters you'll find at old school venues like the Hofbräuhaus in the Old Town, an array of high-end restaurants are now serving lighter Continental dishes that can easily compete with the best of France and Italy, while a new generation of casual restaurateurs are cooking cross-cultural recipes in informal, bistro-style surroundings, often in up-and-coming neighborhoods. And, despite the region's relatively conservative nature, a recent influx of immigrants has brought in excellent (and often refreshingly inexpensive) Thai, Vietnamese, Indian, and Ethiopian restos. And be sure to check out Thrillist's 8 Favorite Restaurants in Munich if you've got the munchies.
Nightlife: The Bavarian capital is revered for its traditional beer culture, but going out here has expanded way beyond pubs. Today, mixology bars are serving experimental cocktails based on local ingredients in speakeasy-style settings, while cabaret clubs put on evenings of oft-zany cultural performances. Look to the Glockenbach viertel south of the Old Town for a neighborhood of cool café-bars, while the Schwabing district to the city's north is home to a bunch of dirty dives, student bars, and dance clubs; the so-called Westend northwest of the Theresienwiese, aka Wiesn, is becoming an eclectic, artsy neighborhood worthy of a night out. With few exceptions, nightlife in Munich's Old Town is often either touristy or geriatric, and should be avoided if possible. We've fot a round-up of Thrillist's eight favorite Munich bars you should read.
Activities:

Turkish Baths: Often called Europe's most beautiful public pool, the Müller'sches Volksbad is an ornate, Art Nouveau bathhouse from 1901, offering treatments of relative luxury -- steam baths, saunas, massages and the like -- in addition to a standard public swimming pool, all at cut-rate prices.
Climbing/ Bouldering: With the Alps to the south and Frankonian boulders to the north, Munich is home to serious rock climbers, many of whom stay in shape at the world's largest climbing gym, Kletter & Boulderzentrum München. Hire a personal trainer, rent equipment and learn the techniques of hardcore Alpinists without even leaving town.
Where to stay: Most of the best high-end hotels in town are cluttered around Old Town and the Maxvorstadt district just to the north, not far from the University of Munich. If money is no object, break the bank at The Charles, the five-star players' club run by indie UK hotelier Rocco Forte. For a decent middle-ground room, try the branch of the stylish-but-affordable Motel One chain by Sendlinger Tor in Old Town. And if you're going to Airbnb it, look for something in either the cozy, café-filled Glockenbachviertel or the trendy Schwabing neighborhood up north.