This Gorgeous State is America's Most Overlooked Summer Destination
Scotts Bluff National Monument

| Zack Frank/shutterstock
Scotts Bluff National Monument

| Zack Frank/shutterstock
With the exceptions of A) all-inclusive resorts and B) churches of any kind, both of which I fear the way a regular person might fear haunted houses, I'm never really conscious of not liking a place when I travel. I've done a lot of backpacking and living in cars, and I'm amenable to pretty much anything -- but I realize now that not hating something is not the same thing as actively having a good time.
A surprisingly large number of travel standbys -- tropical islands, museums, swimming pools, castles, trendy restaurants, Los Angeles -- are things I can appreciate objectively but do not, for the most part, actually enjoy. But it's OK to not love everything when you travel. It's okay that the travel you'll really love -- travel that makes you happy happy, not just "happy to be here" happy -- is when you're in the type of place that just makes personal sense to you in your soul.
I'm from Colorado, and it turns out that what I like is, in fact, the West. I had forgotten this, having taken up residence in a Manhattan apartment where my bed touches all four walls of my room. But I like horses and ATVs and big spaced-out birch trees. I like when the cottonwoods start shedding that weird cottonwood fluff, and then when the wind picks up it's like you're in a snowglobe. I like thin, dry air, and I like when it is sunny and raining at the same time, and I like swimming in things besides pools. I like looking at the kind of land where you can see all of it, the whole-ass thing.
If you are someone who likes that stuff too, then I must direct you to take your next vacation in Nebraska. I didn't expect to be making this recommendation either, but I recently traveled through the central/western part of the state and I would now like to make a few points. Thank you for your consideration.
The best time to visit Nebraska, other than college football season
Nebraska is beautiful year-round, and it's not that it's more beautiful in the summer but rather that summer is when there's more shit to do. Nebraska has nearly 80,000 miles of rivers -- more than any other state -- and between March and October is when you get to use them.
In March or April, you can see one of the last great migrations on Earth: 600,000 sandhill cranes moving through central Nebraska. This is the only narrow passage (picture the middle of an hourglass) on the sandhill cranes migration route that stretches from Mexico to Siberia. Wait for them before dawn, when it's still pitch-black out; they begin to move as the sun rises. Summer is also when you'll run into most of the good festivals (though admittedly the duck-racing one is in January). You've got the Testicle Festival in June (Father's Day! Yes, this is a Rocky Mountain Oysters thing), the Wayne Chicken Show in July, the popcorn festival and the beloved Nebraska Star Party in August.
I know I just said Nebraska is beautiful year-round, and it is, but there's a specific summertime beauty to the Kentucky bluegrass as it ripples in the wind like a liquid. If you live in a city or suburb or anywhere that is not the Great Plains, watching it billow registers on some powerful and emotional level, not just on an aesthetic one.
"Great right now, isn't it?" said Sarah Sortum when I visited in June. Among other things, Sortum is the founder of the Nebraska Prairie Chicken Festival. "It has its dress pants on."
The best things to do in Nebraska: Get out into nature
My fondest and also only memory from Nebraska is catching frogs at Lake McConaughy as a kid, so you can imagine my surprise at learning that's not all there is to do there. Nebraska isn't hilly per se, nor is it flat -- it sort of ripples on either side of the road like you're driving in the wake of some invisible cosmic jet ski. Due to this naturally golf course-y terrain, there is world-class golfing up in Valentine, the small town a few miles under the South Dakota border where you should be in August for the Star Party.
Calamus Outfitters does summertime ecotours of the Sandhills, the dunes that cover more than one-quarter of the state. An hour-and-a-half Jeep ride is $25 per person; $40 for the version that includes drinks and appetizers. Remember Sarah? Her family runs Calamus and she will be your driver. She is one of very few people on Earth who can explain plants and birds to people who don't really care about plants and birds and have them absolutely riveted. There's a good chance you'll spot some ditchweed -- wild marijuana -- which is not great for consumption but does smell nice.
An hour to the east of the elaborate frog traps I once dug at Lake McConaughy you can go horseback riding at Dusty Trails. This charming ranch next to the North Platte River is owned, in a fairly stunning argument for nominative determinism, by a man named Dusty Barner. Don't worry about inexperience -- this is less horseback riding and more horseback sitting, and you can turn your attention to the breeze and the sunshine and the flickering aspen trees. Your horse is pretty much on autopilot and only requires your full attention during takeoff and landing. Twenty bucks gets you a 45-minute ride along the river, plus access to the petting zoo.
Ultimately, though, summer in Nebraska is about the lakes and rivers. Gather your beer and your friends and join northern Nebraskans in tubing down the Niobrara River (you can kayak, too) to Smith Falls. "You don't have to know how to do anything, just sit and float," says Amy Kucera, the superintendent at Smith Falls State Park. "It's cool to see. It's like little islands of people." Smith Falls is also wheelchair-accessible, and Kucera can drive you there in a four-wheeler if your circumstances call for it.
Let's talk about tanking: What it is, and where you can do it
You've seen those giant round water containers (plastic or metal) that horses and cows drink out of in fields, yes? You may not have considered how bouyant these tanks would be if you filled them with four adults and a cooler of beer and pushed them out onto a river, but the answer is real effing buoyant. (You can fit more than four people into one of these things, but you probably don't want to push it since the more you weigh it down the more likely you are to get beached on shallower parts of the river).
Tanking is a time-honored Nebraska tradition in the summertime, and one of the best places to do it is Calamus Outfitters. For $65-80, some nice folks will drive you to the launch point, set you up with a tank that's been outfitted with wooden benches, and pick you up downstream in some number of hours. (You can rent a cooler for $10, too.) You get a big stick for when you get stuck, very Tom Sawyer. The Calamus River is warm, and the sand is soft and there are no rocks or snapping turtles or any other threats to your bare toes.
Should you decide to go pro, plan your trip in March so you can enter the annual Polar Bear Tank Race. Gather your team, pick a fun theme for your tank (there is a costume contest, yes) and get some oars if you're really competitive. Bring beer for your friends and squirt guns for your enemies.
The best breweries and wine in Nebraska
The last few years have seen something of a brewery boom in Nebraska. Many are concentrated around Omaha or Lincoln -- try the Vanilla Bean Blonde at Infusion Brewing Co. and the Black Eye Imperial Porter at Scratchtown Brewing Company if you're passing through the eastern part of the state. And you absolutely won't want to miss Blue Blood Brewing Co., which in 2016 moved into Robber's Cave. People used to party there illegally back in the day; its history and/or legend includes prisoner escapes, Jesse James, the Underground Railroad, and Chuck Norris. And now beer. Bonus: If you do go in the winter, Blue Blood screens movies in there.
Central and western Nebraska likewise will not leave you wanting. There's great food and drink to be had at Kinkaider Brewing Co., and you should set aside an evening for Bootleg Brewers, home of such fine ales as the Cling On, the Muddy Duck, and the Ass Blaster. For journalism, I tried as many as possible and can recommend the Bloody Ass Blaster, a choice described to be as "like a Bloody Mary but beer" and which tastes like precisely that. The Sandhill Cream Ale is good if you prefer your beer names more modest.
You ever tried apple wine? You can do so at Niobrara Valley Vineyards. Ask to try the Road Apple, and if you don't know what the term refers to, drink your drink before you let them explain it to you. The vineyard also produces regular grape wines with names like Boss Cow, Rancher's Red, and Sweet Pea.
Finally, this is neither beer nor wine, but I must urge you to stop by George Paul Vinegar. George Paul has never advertised. I asked about his hours when I first heard about the place and was told "he doesn't have any of those," which was confirmed by George Paul when I asked him and he said "we don't have any of those." He lives in one of those old-school straw-bale insulated houses, from which he produces the finest apple cider vinegar in the world. Along with a whole lineup of regular vinegars, he makes it the traditional, small-batch Old World way, which no one really bothers to do anymore. The vinegar is delicious enough to eat with just bread or even by itself. He gave us some on ice cream.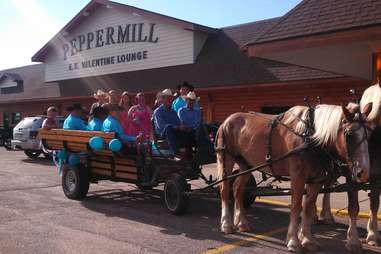 The best restaurants and things to eat in Nebraska
It's not so much that vegetarians should avoid Nebraska, per say… but your trip will be exponentially richer if you really like beef. Locally sourced, grass-fed Nebraska beef is about as close to an iconic dish as the state has, and it's also environmentally friendly and profoundly delicious.
In Valentine, have dinner at the Peppermill & E.K. Valentine Lounge, and by dinner I mean steak. After horseback riding at Dusty Trails, you're a few minutes' drive from a nice lunch at Mallory's or the Espresso Shop. (Side note: While driving, show friendly acknowledgment of all drivers going in the opposite direction by casually lifting the left three fingers of your left hand off the wheel when you pass.) If you're coming off a morning of tanking at Calamus, head to the Sandstone Grill for "lunch," which in this case really means "pie." If you're feelin' yourself and want something fancy, put on your least-dusty pants and head to The Prairie Club for the kind of steak the guy who recommended the place referred to as "night-night food."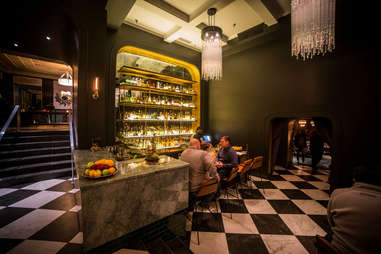 The best places to stay, especially if you like bison
Bootleg Brewers has half a dozen cabins in the Tiny House style people describe as "adorable." When you're anywhere in the vicinity of Omaha, check out one of the country's most iconic hotels, the Hotel Deco XV. Cabins at Double R Guest Ranch start at $100/night for two people. There are also the new Sandhills Suites right above the Sandstone Grill, the place where you will hopefully try at least two kinds of pie, one of which will be banana cream. If you're tubing on the Niobrara and would like to camp, you'll like Fritz's Island Campground. If you enjoy the idea of camping but not the actual buggy, itchy reality of it, you might like the brand-new Platte River State Park glamping cabins ($155/night). And if you like being on the water so much you want to sleep there, too, then the River Inn Resort -- a floating B&B on the Missouri River (starting around $120/night) -- is for you. Mostly, though, I have come to tell you about Comstock Premier Lodge, a 3,000-acre ranch with its own bison herd.
I assumed that, with the possible exception of some really rad zoos, I would die without ever seeing bison up close. I was OK with this, considering dumb tourists keep getting gored, so it was a surprise to come to Comstock and find a bison calf licking my hand.
Turns out in exceptionally rare cases bison come in other colors besides brown, and Comstock has all of them, giving it the oddly impressive title of most diverse bison herd in the world. "We don't advertise, so literally no one knows that," says Mitch Huggins, who owns the ranch along with his wife, Roxanne. "We lucked out! Ended up with three bison cows with the white gene, which is really, really rare."
Rooms at Comstock Lodge start around $135 per night for two people; a lot of folks come for the hunting packages. If you prefer to just take pictures but still enjoy bison burgers, they'll send you home with however much meat you want "It's so, like, trendy now, it's so expensive people can't afford it," Huggins says. "But you get rid of the middleman and come here, and ours aren't corn-fed, they're wild, they're not stressed."
During this conversation, we are careening around the property in an ATV, a two-hour ride for which the Hugginses charge $20. On this wildlife safari, you can see wild turkeys, elk, a kind of wild African sheep called aoudad, some hybrid goat-sheep, and an unbelievably good dog named Deuce. Most of the bison are skittish -- they are, after all, still wild -- but they're acclimated enough to the Huggins' ATVs that you can get pretty close, and the occasional calf will wander up to see what the deal is.
"And then there's those two -- we call 'em the golden boys. When the summer really hits they're just beautiful. Slick, shiny. And we have these two super rare pure-black bison, plus the normal brown ones," Huggins says, pulling over abruptly to pick a flower. ("No idea!" he says brightly when I ask what kind it is. "Just pretty!" I will later learn from Sarah Sortum that it was a penstemon.) Roxanne, in a second ATV behind us, pulls over to see why he has pulled over, at which point he hands her the flower and gets back into ours. "Brownie points. But yeah, who knows what happens if we mix the gold and the black. Maybe we'll get a zebra."
Sign up here for our daily Thrillist email and subscribe here for our YouTube channel to get your fix of the best in food/drink/fun.