America's Newest National Park Is Packed with Scenic Wonder and Eerie Ghost Towns
New River Gorge finally gets its due.
Welcome to National Parks Uncovered, where we'll help you discover the beauty of America's most underrated—and least-crowded—national parks—from sweeping landscapes where you can get up close and personal with mountains, glaciers, and volcanoes to sunny paradises hiding out near major cities like Chicago and LA. To find out what natural wonders you've been missing out on, check out the rest of our underrated national parks coverage.
JOHN DENVER WAS ON TO SOMETHING when he declared West Virginia "almost heaven" in "Country Roads," despite never having been there when he sang it: the state is a place of dizzying beauty. And in December 2020, it got one more notch on its belt—and a more recent decree heralding its scenic landscape than a 40-year-old country jam—with the designation of New River Gorge as the country's 63rd national park and preserve, not long after Indiana Dunes and New Mexico's White Sands earned their well-deserved stripes.
The designation protects 65,165 acres of lush Appalachian mountains and forest, as well as 7,021 acres in and around the gorgeous not-so-New River, which is actually one of the world's oldest. If you listen closely, you can hear the thunderous thud of Mountain Mama and Mama Nature giving each other a high five.
The sixth-ever combo preserve and national park, New River Gorge is paradise for mountain climbers, hikers, rafters, and anyone else who enjoys their great outdoors served with a side of adrenaline. Here, waterfalls, forests, and ghost towns punctuate hikes to stratospheric heights; reach the top, and you can snap pics with the park's iconic 3,000-foot arch bridge—formerly the longest in the world until the Lupu Bridge was erected in Shanghai in 2003—and gaze down from above at a river whose crashing rapids even Poseidon couldn't control.
Nature's win is ours, too. And now that New River Gorge has joined places like Yellowstone, Yosemite, the Grand Canyon, and Zion in the elite national parks roster, there is no longer any excuse to allow this natural wonder to fly under your radar.
The best time to visit New River Gorge
In short, summers in New River Gorge can get too humid and rainy to inspire enthusiastic outdoorsmanship, while winter weather—while not closing the park completely—may limit flagship activities like hiking and rafting. The best times to visit, hands down, are spring and fall, when the weather is pleasant and your itinerary can go off without a hitch. If you have to choose between the two, though, go with fall; around late October, the trees throughout the Appalachian Mountains burst into shades of orange, red, and gold in one of the most impressive displays of fall foliage in the entire country.
Keep things chill with serene hikes and scenic drives
New River Gorge carves a breathtaking swatch through the Appalachian Mountains—the longest and deepest gorge in the range—with all kinds of scenic hikes that'll take you past undisturbed wildlife, through verdant greenery, past historic sites, and up to panoramic viewpoints out across the hills and onto the river below. Given there are literally dozens of trails to choose from—many of which intersect and range from relatively flat and easy to hilly and difficult—the route you pick really depends on how steep, long, and challenging you want your journey to be.
For starters, there's the popular Endless Wall Trail, a 2.3-mile, relatively easy hike that'll take you past Fern Creek, along the edge of the ravine, and up to Diamond Point, where you can catch views of the river and climbers scaling the cliffs of the gorge—all in the space of about an hour.
There's also the 3-mile Long Point Trail, which culminates in a staggering vista of the New River Gorge Bridge towering nearly 900 feet above the river; the colossal overpass stretching dramatically between the surrounding green mountains makes for a stellar collaboration between mankind and Mother Nature. (Along with a waterfall, you can get similar views of the bridge at the end of the less-trafficked Butcher Branch Trail, but keep a close eye out for the somewhat-elusive trail markers!)
Many of the best views in the park can be found on trails throughout the Grandview area, where the New River twists around the mountains to resemble a lush, forested version of Arizona's Horseshoe Bend. And if after a few river overlooks you find yourself craving a new kind of waterworks, it's also worth heading down the Sandstone Falls Boardwalk and the Glade Creek Trail, whose grand finales deliver rushing cascades surrounded by thick foliage.
On the more accessible side of things, New River Gorge has quite a few trails that are under a mile, come equipped with boardwalks and ramps, and deliver breathtaking views without being literally breathtaking: Canyon Rim Overlook, Sandstone Falls, and the first 1/4 of the Long Point and Glade Creek Trail all fall into this category.
Meanwhile, the Kaymoor Miner's Trail—where you'll kick things off on a high-altitude trailhead and traverse a steep path that'll take you down into the gorge past a long-abandoned historic mining facility—is both generally challenging and, at times, eerie enough to give you the adrenaline rush you need to make it to the bottom.
Prefer your views on wheels? Embark on a mountain biking trip, or take the three-hour, 83-mile New River Gorge Scenic Drive, which'll take you soaring up into the mountains, down toward the river, and back again like a panoramic rollercoaster. From here, you can also travel the African American Heritage Auto-Trail, which'll take you on a self-guided tour of seventeen historic sites that chronicle the history of Black Americans in southern West Virginia.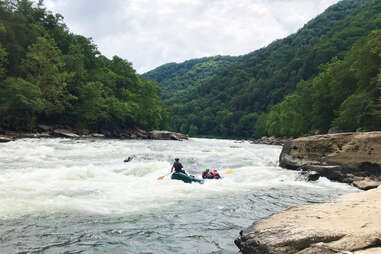 Go wild with dizzying climbs and whitewater raft rides
Although the misty mountains may look soothing, this is not a place for the faint of heart: In New River Gorge, rock climbers can scale to extreme heights while river rats can careen through Class IV and Class V rapids that'll have a field day with your raft.
New River Gorge is famous for its whitewater rafting, which is seriously fun and worth giving a shot regardless of your skill level. Whether you've done it a million times or after something new, there's a spot along the New River where you'll fit right in (and make it out alive, though probably soaked clean through!).
The southern half of the river tends to come with more soothing, scenic floats alongside laid-back drifters and fishermen, while the north half is notorious for roaring rapids that'll impress even the boldest daredevils; you can also choose from trips that'll last a few hours or a ride that'll take you several days to complete.
Hit up a local rafting tour company like New & Gauley River Adventures for smooth sailing on even the most exhilarating waters. Many provide everything you need to have fun, including equipment, trained guides, meals, transportation to and from the river, and more—no previous experience required.
If you're extra hardcore, you can also take to the cliffs. Every year, thousands of rock climbers scale the 1,500 or so Nuttall sandstone trails above the New River that make this one of the best climbing destinations in the country. Climbs range from 30 to 120 feet high and are considered hard with a rating of 5.10 to 5.12 (ratings 5.13 and above are for nutso elite climbers).
That being said, this is hardly amateur hour, and chances are you've long conquered your fear of heights if you plan on ascending the walls of the gorge. Still, you can sign up for half and full-day beginner courses with guides who'll show you the ropes. (It's good to have friends in high places, after all.)
Steep yourself in history (or spook yourself with ghost stories)
A trip through time in New River Gorge can be equally as thrilling as a trip down the rapids. The area's modern history wasn't always one of serene natural beauty, and even the most fearless ghost hunters will find themselves spooked by the supernatural tales that await in the abandoned towns of boom times gone by.
From the late 1800s to The Great Depression, New River Gorge was the Wild West (Virginia) of coal mining; soot spewed out of coke ovens and workers often died in explosions, cave-ins, or gunfights. If laborers weren't blowing cash at the now-crumbled Dunglen Hotel and Casino across the river from the town of Thurmond, they were burying it (an eccentric coal operator hid $21,000 worth of gold and banknotes that has since been found). "The only difference between hell and Thurmond was that a river ran through Thurmond," the saying went according to The Los Angeles Times.
Eventually, the mines went silent. In 1978, the area was designated as a national river, though the presence of the ghosts of mining days past are present in all their eerie, fascinating glory now that the area is protected. Nature's green tentacles have smothered the coal machinery and turned the towns that used to house thousands of miners into empty shells.
In Thurmond, New River's former heart, there are still a handful of people and a visitor's center, but Nuttallburg, with its historic conveyor (as of March 2022, closed for construction until further notice), and Kaymoor, found 821 steps deep into the gorge, only have ghosts paying taxes. Don't miss the surreal warning signs posted for miners.
Where to stay near New River Gorge National Park
Inside New River Gorge, you'll find a number of primitive riverside campgrounds where you can gather 'round a fire and recap all the ghost stories you heard while exploring shuttered boomtowns during the day. All are free to use but operate on a first-come, first-served basis, so while you don't need dinero to enter, you may possibly need a backup plan. (There are technically two group sites, Burnwood and Meadow Creek, but they require special permits.)
Luckily, the surrounding area is home to several state parks and recreation areas where campsites are aplenty, as well as some seriously solid Airbnbs that run the gamut from rustic to swanky (hello, cozy secluded cabin with a big-ass hot tub!).
New River Gorge also sits an hour's drive from Charleston, West Virginia, about four hours from both Richmond and Charlotte, and just under five hours from Washington, DC. Needless to say, if roughing it by the riverside isn't for you—or the ghost stories start to make you feel like you're in a Blair Witch Project remake—hopping in the car and hightailing it for civilization is a readily-available option.
Joel Balsam is a freelance journalist and travel guidebook writer whose work can be found in National Geographic Travel, Time, The Guardian, Lonely Planet, and Travel + Leisure. Follow him @joelbalsam.
Tiana Attride is Thrillist's associate travel editor. She'll go for the rock climbing but pass on the ghost stories, thanks very much.