New Zealand's South Island The World's Reigning Adrenaline Capital
Of all the world's adventure destinations, there are few more tantalizing or dreamlike than New Zealand, a country that seems at once familiar and otherworldly. With its deep-azure seas, mist-shrouded mountains, dense forests, and deep caverns, it's a country that immediately seizes the imaginations of adventure-seekers, whether that adventure is an ascent into a star-streaked skyscape, a plunge off a bridge with only a bungee keeping you from certain death, or just chilling on an isolated beach.
If the country itself is a must-see for adventurers, the South Island is the nation's uncontested adrenaline champion. From the emerald coves of Tōtaranui to the snow-capped crags of Fiordland National Park, this varied landscape is fodder for fantasy. It's hardly a coincidence that director Peter Jackson selected this part of the world as setting for much of his Lord of the Rings trilogy. You needn't strain disbelief too much to imagine hobbits waddling along the shore as you cruise through Milford Sound, or elves summiting the sheer cliff faces as you peer out over The Remarkables. You'd be forgiven for thinking The Return of the King was actually a documentary.
The scenic grandeur is in direct proportion to geographic seclusion; for US travelers, a trip here has traditionally required a minimum of 17 hours worth of travel -- including at least one layover along the way. That's a hell of a barrier, even to somebody who ticks summits off their to-do list regularly. That all changes in 2020, when American Airlines launches the first direct service to Christchurch beginning in October. With more affordable fares, to boot. Now's the time to get planning on your ultimate South Island excursion. Here's some help to bring your own far-flung fantasy to life (hobbits not included).
MORE:New Zealand's lesser-known islands are also worth exploring
Adrenaline by land, sea, and air
With a population of over 381,000, Christchurch is far and away the island's primary hub. It remains one of the only places where you're likely to encounter a traffic jam. Yet there's still plenty of open-air activities here to satisfy outdoor enthusiasts. At Christchurch Adventure Park, you can mountain bike through the Port Hills high above the city's edge along two dozen trails. The space also features four ziplines and more than five miles of hiking -- all accessed by chairlifts.
Back in town, Chill Urban offers low-impact alternatives in the form of guided and solo bike tours surveying sites of cultural and historic significance. You can also see much of the same by boat if you opt to go punting along the Avon River, a peaceful pastime here dating back to the mid-19th Century.
"Christchurch sits at the heart of the diverse Canterbury region, where visitors can experience all New Zealand has to offer in a compact environment," says Sam Taylor, who promotes tourism to the region. "You don't have to go far to ski or surf, hike or bike."
To wit, from the airport you can rent a van and head out into the backcountry, taking full advantage of the country's "freedom camping" laws: it's legal to overnight in your vehicle on any public land that doesn't expressly forbid it through signage.
Once you're done with Christchurch, follow the eastern coastline 2.5 hours north up Highway 1 and you'll arrive in Kaikoura, a small coastal sandwiched between the shore and snow-capped peaks. Embarking from the small marina in the center of town, many visitors spend the morning whale watching, and leviathan breaches backdropped by mountains make for a stunning sight unmatched anywhere else in the world. For a closer look at the sealife, step off the boat. Kaikoura Kayaks offers rentals to paddle alongside the multitudes of mammalian life that frolic in these open waters; humpbacks, blue whales, orcas, dusky dolphins, fur seals all make frequent cameos.
Up and over the Kaikoura range, traverse the dense, manicured vines of Marlborough wine country to enter into the Nelson-Tasman region. This varied terrain is home to three national parks, including Nelson Lakes. Occupying the northernmost end of the Southern Alps, it holds 102,000 hectares of pristine panorama, including Rotomariewnenua, the world's clearest lake. Nearby Waikoropupū Springs are the largest freshwater fount in the Southern Hemisphere. One of New Zealand's best-kept hiking secrets, the entire area remains hallowed ground to the native Māori people.
North of Kaikoura in In Kahurangi -- New Zealand's second largest national park -- trace the Riuwaka Resurgence Walkway for a sense of otherworldly magic. The short, 10 minute trail leads you to the mouth of the river, where it emerges from the depths of Takaka Hill.
"It passes through lush native bush alongside cool, clear waters," observes Tracee Neilson, of the Nelson Regional Development Agency. "The resurgence is known as Te Puna o Riuwaka by local Māori and is considered wāhi tapu (sacred) with powerful healing properties."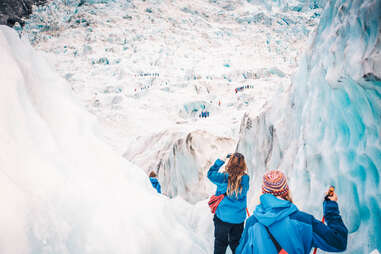 Follow the Southern Alps to its western slope and a winter wonderland emerges, regardless of season. Although the small village of Franz Josef Glacier (pop. 444) rests just 10 miles from the sea, it provides year-round access to snow trekking. Experienced mountaineers can spend multiple days ascending this challenging terrain. But if you book a ride with The Helicopter Line you'll be whisked straight up to the top for a three hour heli-hike. Guides and technical equipment is included. And during the journey, weather provided, you'll observe unfettered views of Aoraki, the nation's 12,218-foot serrated ceiling and highest mountain.
Literally catapult yourself into adventure in Queenstown
All of this pulse-pounding activity is mere preamble to the country's indisputable capital of outdoor adventure: Queenstown. The Swiss-mountain-enclave-meets-hip-Colorado-resort-town is nestled against an azure lake that cuts through four separate mountain ranges. Forty years ago A.J. Hackett invented commercial bungy jumping here. Now in the nearby Nevis Valley the outfitter he founded will catapult you 500 feet out and into the abyss -- a daring thrill ride unique to this part of the world.
Get even higher with the help of Glacier Southern Lakes Helicopters. The Queenstown-based operator offers a daily selection of scenic flights into the heart of Fiordland National Park. Among the most popular is a 4-hour round trip which includes a glacial landfall on your way to Milford Sound, the most photographed site in all of New Zealand.
For a combination of countryside and culture, Ngai Tahu (New Zealand's largest Māori-operated tour runner) offers its guided trek along the Hollyford Track. This 35-mile path is unusual for the region as it's largely flat and remains open all year.
"On day one you are walking through beach forests headed toward the coast on the Hollyford River," explains David Hurst, from the company. "[The next day] you take a wilderness jet boat ride that has you arriving in ancient podocarp forests. By that afternoon you are walking along the rugged west coast through coastal vegetation admiring the local residents: the permanent seal colony."
Guides enhance the experience along the way by sharing legends of the Māori chiefs that once roamed these thicketed woods.
But for those seeking peak solitude, you won't want to leave the country without an overnight at Lake Tekapo in the desolate Mackenzie Basin. This is home to the only gold-rated International Dark Sky Reserve south of the equator.
"It is one of the most powerful experiences and a must do on a clear night," Hurst claims. "From the darkest depths of the night we become enlightened." Indeed, across all the South Island, the deeper you explore the more it changes in you upon your return. Maybe this is Middle-Earth, after all.
Brad Japhe is a contributor for Thrillist.