This Dreamy Pacific Northwest Town is So Much More Than Real-Life Twin Peaks
If you drive a half an hour east of Seattle to the small town of North Bend, things start to get eerie. Mount Si looms above you, dark and covered with fir trees, and the vintage diner on the corner seems to beckon from another dimension with the promise of a damn fine cup of coffee. You've never been there before, yet everything looks familiar. That's because you're in Twin Peaks... or at least the town where the iconic, groundbreaking, cultishly beloved series was filmed.
Looking around, it's easy to understand why David Lynch and Mark Frost chose North Bend as the setting for the enduringly popular Twin Peaks. Nestled in the Cascade foothills, the town's approximately 7,000 residents are spread out over a largely rural area, giving it the feel of a much smaller town than it already is. Many of its buildings were built before World War 2 and there are streets that seem to be frozen in time. North Bend is close enough to Seattle to be convenient for travelers, wayward malcontents, and demons, yet far enough away to feel completely removed from the noise of city life. It's the stuff of Hollywood dreams tucked into a shadowy woodland, and has continued to draw tourists since the show debuted three decades ago.
But the North Bend area is more than just the setting for Twin Peaks. It's a haven for outdoor enthusiasts who come to hike, ski, fish, float rivers, and visit waterfalls. It also boasts a casino, museums, a thriving arts and culture scene, the gorgeous Salish Lodge (Great Northern Lodge in the TV show), and numerous wineries and breweries. All this under the shadow of the breathtaking Mount Si. In other words, North Bend is worth visiting even for people who've never seen an episode of Twin Peaks. And for pop culture pilgrims, the town ends up being more than a place to make pie jokes and maybe talk to a log -- there's a reason beloved Agent Dale Cooper wanted to set up roots here even after he figured out who killed Laura Palmer. The place is beautiful, and demands to be explored.
MORE: How Twin Peaks became an unlikely cult classic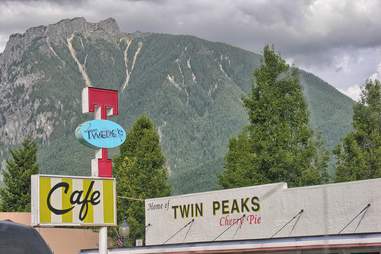 Grab a slice of cherry pie at Twede's Cafe

| GagliardiPhotography/Shutterstock
Where to geek out on Twin Peaks in and around North Bend
Yes, there's more to North Bend than Twin Peaks, but that doesn't mean you shouldn't visit the sites from the TV show, especially since many of them are worthwhile destinations in their own right.
Every year, approximately 300 diehard fans travel to North Bend for the annual Twin Peaks Festival, usually held in August, where activities include touring sites made famous by the show, screenings of David Lynch films, and of course, cherry pie and damn fine coffee. In addition to hobnobbing with each other, attendees also get to hang out with cast members. Although the line up changes each year, Sherrilyn Fenn (Audrey Horne) and Russ Tamblyn (Dr. Jacoby) are amongst those who make regular appearances. Dates and details for this year's festival -- which marks the 30th anniversary of the show's debut -- will be revealed on January 1.
Whether or not you're attending the festival, if you're planning to stay in the Snoqualmie Valley overnight, there's no better place than the Salish Lodge and Spa, which sits on top of the stunning Snoqualmie Falls. The lodge was used as the exterior for the Great Northern Hotel and prominently featured in the opening credits. It's also basically a living postcard image for the area. Agent Dale Cooper famously stayed in the Great Northern Hotel, but in real life, you might spot local celebrities like Russell Wilson and Ciara in the dining room. The lodge has two different dining options: an upscale restaurant featuring a locally-sourced seasonal menu and a casual bar menu upstairs.
The Salish Lodge and Spa offers a Twin Peaks package and several Twin Peaks extras for fans, including a cherry pie-themed spa treatment, signature cocktails, and absolutely no chance of being possessed by a deranged murder sprit during your stay.
Even if you don't plan to stay at the lodge, don't miss the 268-foot-tall natural wonder that is Snoqualmie Falls (Whitetail Falls in the show). The falls are even more breathtaking in person than they are on television and there's a large public viewing area open from dawn to dusk with plenty of free parking. The observation deck, restrooms, and gift shop are wheelchair accessible. There's also a two-acre public park with picnic tables and a hiking trail to the base of the falls.
Another landmark worth visiting is the DirtFish Rally School, which served as the Sheriff's office in the series. The business is very welcoming to Twin Peaks fans and has been known to let visitors sit behind the desk like Lucy. Best yet, you can watch the souped up rally cars zipping around the track or even book a class to drive one yourself. DirtFish Rally School offers options for beginners and professional drivers.
As a bonus, from the parking lot of the Dirtfish Rally School you can see an abandoned smokestack from the old Weyerhaeuser sawmill, known to Twin Peaks fans as the Packard Sawmill. Ronette's Bridge (actually named Reinig Bridge) is also nearby, although since the series aired its been converted from a railway bridge to a pedestrian bridge.
Twin Peaks' favorite watering hole, the building that served as the exterior for The Bang Bang Bar, also known as The Roadhouse, is in nearby Fall City. However, fans might be disappointed to find The Roadhouse and Inn has been remodeled. Although the new green shingled exterior is arguably more attractive than the former plain white facade, it's no longer instantly recognizable from the show and is unlikely to feature performances by James Hurley or "The Nine Inch Nails." But the Roadhouse Restaurant and Inn offers a menu of pub fare and overnight lodging upstairs. The building that served as the Bookhouse is located in back.
If you've got a hankering for cherry pie, you can't do better than Twede's Cafe, which served up damn fine cups of coffee and cherry pie as the R&R Diner in the series. Twede's Cafe is a community gathering spot in the heart of North Bend's historic district. Aside from its connection with Twin Peaks, it's famous for its long list of burgers and made from scratch menu. It's probably the most popular tourist stop in the town, but let's be real: some inflated prices and a bit of a wait aren't going to keep you from embracing your inner Dale Cooper.
Sadly, the most iconic landmark of all is no longer there. In 2017, the city of Snoqualmie installed a real-life replica of the "Welcome To Twin Peaks" sign and it was stolen in short order. Perhaps it's just as well since the series had a habit of perplexing viewers by moving the sign to different locations in different episodes. Maybe that means it wasn't even stolen at all, but rather drawn into the Black Lodge or somewhere else in the Twin Peaks universe, a place where nothing is what it seems and even signs don't have a permanent home.
The food and drink scene in North Bend is more than coffee and pie
Once you've had your fill of coffee and pie, the small towns of the Snoqualmie Valley boast a surprising number of wine, beer and culinary options.
Sigillo Cellars
, located three miles from North Bend in historic downtown Snoqualmie, offers wine by the bottle or glass, served with light bites. The winery is probably best known for its reds but their sparkling viognier alone is worth the drive. They also have live music on most Saturdays. A few steps away, the family-friendly
Snoqualmie Brewery and Taproom
serves up craft beer along with homemade soups, pizzas, and burgers.
Casual options include hamburgers and milkshakes at Scott's Dairy Freeze or tacos at Rio Bravo, both in North Bend. If you're interested in whiskey, the town's Iron Duck Public House has over 350 to choose from while you enjoy upscale fare like salmon or steak or even a quick sandwich in a building that once housed the historic McGrath Cafe and Hotel.
MORE: Here's every pie and coffee reference from seasons 1 and 2 of Twin Peaks
Mount Si in the Snoqualmie Valley

| Snoqualmie Tribe/Flickr
What else there is to do in and around North Bend
Mount Si is more than just a pretty face. It's one of the most popular hiking destinations in Washington, with options for both beginning and advanced hikers.
The Mount Si trail is steep 7.9 miles. It's a workout to reach the top, but you're treated to views panoramic views of mountain peaks, lakes, and even downtown Seattle. Little Si is more suited to beginning hikers. The 3.7-mile trail is of a far more moderate grade, but the views are no less rewarding. Both trails are well-maintained and require a Washington State Discover pass if you're going to park a vehicle. Annual and day passes can be purchased online.
In the snowier winter months, the trails are too slippery for hiking, but in that case you need only drive half an hour to the Summit at Snoqualmie to go downhill or cross country skiing.
Fall City, less than 20 minutes east of North Bend, is a great destination for floating in the summer. The Snoqualmie River is slow and shallow, and people come out in droves with rafts and tubes to enjoy a few lazy hours on the river alongside a cooler of cold beer. Fall City Floating provides parking and a shuttle to drop you off upriver so you can meander your way back to your car. If you need a tube -- or a beer cooler -- they rent those as well.
The Snoqualmie Valley is also a popular fishing destination. Rattlesnake Lake is stocked with Rainbow Trout and open to catch and release fishing year-round, while the Snoqualmie River and other nearby lakes and tributaries are popular with fly fishers searching for Largemouth Bass and Trout.
MORE: Since you're already there, might as well take a road trip around Washington
The Snoqualmie Casino is less than 4 miles from North Bend. It's a giant structure, built to resemble a Northwest-style lodge, but the interior is full of all of the color, energy, and lights one might more readily associate with Vegas. There are over 1,700 table games and 54 gaming tables, in addition to several eateries ranging from an upscale steak and seafood restaurant to an Asian-themed spot, and an extensive buffet is famous for its prime rib. If you're looking to take in a show, the Snoqualmie Casino frequently hosts well-known singers, comedians, and other entertainers.
Jazz aficionados should check out JazzClubs NW, which holds regular performances and offers educational opportunities for local musicians in North Bend and other area communities. North Bend also has an amazing, volunteer community theater group, Valley Center Stage, which produces dramas, comedies, musicals, and readings throughout the year for a fraction of what it would cost to see a similar performance in a major city.
Camlann Medieval Village, a living history museum, is about a half-hour drive from North Bend in Carnation. It's one of the best-kept secrets of the valley and many Seattlites are lamentably unaware of existence despite its proximity to the city. This medieval-themed village is open every weekend from May to September. On any given day, visitors might catch people in Medieval garb working trades like blacksmithing, sewing, tending garden, or performing any number of authentic, period activities. Converse with them and they'll answer back in the tongue of the day. Camlann Medieval Village hosts several seasonal festivals and their restaurant, the Bors Hede Inne is open Wed-Sun all year long. It is officially the second-weirdest time travel-adjacent entertainment to have spawned from the area.
Tamara Gane is a freelance writer specializing in food, drink, travel, family, and social justice stories. In addition to Thrillist, you can find her work in The Washington Post, NPR, Fodor's Travel, Reader's Digest, HuffPost, and more. Follow her on Twitter @tamaragane.