This Dreamy Pacific Northwest Town Is So Much More Than Real-Life Twin Peaks
Let David Lynch plan your next vacation.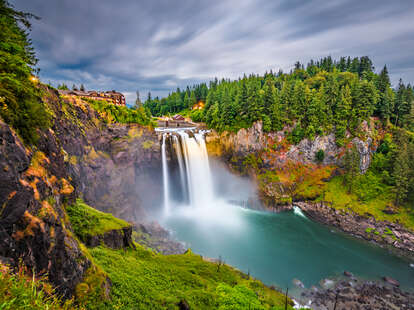 With its rugged coastal towns, foggy beaches, and haunting scenery, the Pacific Northwest has long been beloved for its air of doom and gloom—but in the town of North Bend, Washington, things get truly eerie. Mount Si looms above you, dark and covered in fir trees; the Snoqualmie Falls, a Washington State icon, roar in the quiet; and the vintage diner on the corner seems to beckon from another dimension with the promise of a damn fine cup of coffee.
You've never been here before, yet everything looks familiar. That's because you're in Twin Peaks... or rather, the town where the cult classic series was filmed.
It's easy to understand why David Lynch and Mark Frost chose North Bend as the show's setting: Nestled in the Cascade foothills, the town's 7,000 residents are spread out over a largely rural area, making an already small-town feel even smaller. Many buildings were built before WWII so that some streets seem frozen in time, and—at 30 minutes from Seattle—it's close enough to mass civilization to be convenient for travelers and wayward malcontents, yet far enough away to feel completely removed from the noise of city life.
Beyond its dark charms, North Bend has all the Pacific Northwestern staples we love: outdoor adventures, a thriving arts scene, and wineries and breweries that kick those in Napa Valley or Portland to the curb. Whether you've never seen an episode of Twin Peaks or you might as well be Agent Dale Cooper's partner, you're guaranteed to find a moody hideaway that demands to be explored.
Discover Twin Peaks IRL
Yes, North Bend is more than just its fictional persona—but there are quintessential landmarks worth hitting whether or not you're personally invested in Laura Palmer's fate. The DirtFish Rally School, which served as the Sheriff's office, is known for being welcoming to Twin Peaks fans and will sometimes let visitors sit behind the desk like Lucy. (Meanwhile, non-fans can watch souped-up rally cars zipping around the track or even sign up to drive one themselves.)
From the DirtFish parking lot, you can see an abandoned smokestack from the old Weyerhaeuser Sawmill, known to Twin Peaks fans as the Packard Sawmill. Ronette's Bridge (actually named Reinig Bridge) is also nearby, though it's been converted from a railway bridge to a pedestrian bridge since the series aired.
If you're planning to stay in the Snoqualmie Valley overnight, there's no better place than the Salish Lodge and Spa, which sits on top of the stunning Snoqualmie Falls. It was used as the exterior for the Great Northern Hotel and is featured prominently, both in the Twin Peaks' opening credits and in all kinds of North Bend postcards IRL.
Along with two restaurants—an upscale spot featuring a locally-sourced seasonal menu and a more casual upstairs bar—they offer a Twin Peaks package and show-themed perks, including a cherry pie-themed spa treatment, signature cocktails, and absolutely no chance of being possessed by a deranged murder sprit during your stay.
Hike past giant waterfalls and scenic mountain peaks
You couldn't miss the 268-foot-tall natural wonder that is Snoqualmie Falls (known as Whitetail Falls in Twin Peaks) even if you tried. That's especially true since the town's put in free parking, a public observation deck, restrooms, and a gift shop—all of which are wheelchair-accessible—plus a two-acre public park with picnic tables and a hiking trail to the base of the falls.
Meanwhile, nearby Mount Si is more than just a pretty face: It's one of the most popular hiking destinations in Washington. The steep, 7.9 mile Mount Si Trail is a difficult trek that delivers panoramic vistas of mountain peaks, lakes, and even downtown Seattle, while the 3.7-mile Little Si Trail is more suited to intermediate hikers but has views that are no less rewarding. In the snowy winter months, trade the trail for the slopes at the Summit at Snoqualmie, just half an hour away.
In summer, Fall City, less than 20 minutes east of North Bend, is a great destination for warm, lazy afternoons spent floating in an inner tube down the slow and shallow Snoqualmie River. Fall City Floating provides parking and an upriver shuttle, and if you need a tube—or a beer cooler—they rent those as well. The Snoqualmie Valley is also a popular fishing spot year-round: Rattlesnake Lake is open to catch-and-release fishing 365 days a year, while the Snoqualmie River and other nearby lakes are beloved by fly fishers searching for largemouth bass and trout.
Cherry pie, beer and wine, and—yes—damn good coffee
The building that served as the exterior for Twin Peaks' favorite watering hole, The Bang Bang Bar, is actually The Roadhouse and Inn in nearby Fall City. Although the since-remodeled building is no longer instantly recognizable from the show, it's still worth a stop—if not for the pub fare and overnight lodging, then for the building out back, which served as the Bookhouse.
And if you've got a hankering for cherry pie and coffee, you can't do better than Twede's Cafe—a local staple in the heart of North Bend's historic district that doubled as the R&R Diner in the series. Aside from its obvious Twin Peaks clout, it's famous for its long list of burgers and made-from-scratch menu. It's probably the most popular tourist stop in town, but let's be real: some inflated prices and a line aren't going to keep you from embracing your inner Dale Cooper.
Otherwise, you've got quite a few options for casual or non-viewers. In North Bend, you can grab hamburgers and milkshakes at Scott's Dairy Freeze or tacos at Rio Bravo, while the spirited should visit Iron Duck Public House for 350 whiskies and upscale dining.
About three miles from North Bend in historic downtown Snoqualmie, Sigillo Cellars offers wine by the bottle or glass, served with light bites and live music on most Saturdays. They're best known for their reds, but their sparkling viognier alone is worth the drive. A few steps away, the family-friendly Snoqualmie Brewery and Taproom serves up craft beer along with homemade soups, pizzas, and burgers.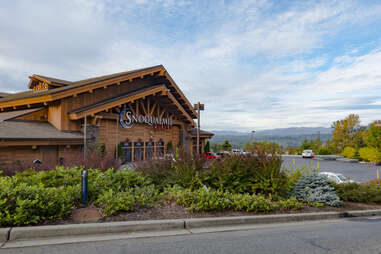 Travel through time... or lose track of it completely
Twin Peaks would have you believe that nothing good happens in this part of the world after dark, but we beg to differ. Down the road from North Bend, the Snoqualmie Casino resembles a woodland lodge but has Vegas-level energy. Along with games and performances from well-known singers and comedians, you'll find eateries ranging from an upscale steak and seafood restaurant to an Asian cuisine spot.
Jazz aficionados should check out JazzClubs NW, which hosts regular performances and offers educational opportunities for local musicians, while theater nerds should head to Valley Center Stage for dramas, comedies, musicals, and readings throughout the year.
And for daytime fun, Camlann Medieval Village, one of the best-kept secrets in the valley, is about a 30-minute drive away in Carnation. Open every weekend from May to September, you'll catch people in costume blacksmithing, sewing, tending garden, or performing any number of authentic contemporary activities; chat with them, and they'll answer back in the tongue of the day. The village also hosts several seasonal festivals and their restaurant, the Bors Hede Inne, is open Wednesday through Sunday all year long. It is officially the second-weirdest time travel-adjacent entertainment to have spawned from the area.
Tamara Gane is a freelance writer specializing in food, drink, travel, family, and social justice stories. In addition to Thrillist, you can find her work in The Washington Post, NPR, Fodor's Travel, Reader's Digest, HuffPost, and more. Follow her on Twitter @tamaragane.