Presented By
This Gorgeous Beach Town Is the Best Gaycation in New England
In a state nicknamed "Vacationland," this tiny town on the coast offers the ultimate LGBTQ+ retreat.
Presented By
With a name that translates to "beautiful place by the sea," the pint-sized beach town of Ogunquit more than lives up to the hype. On Maine's southern tip, it occupies a pinpoint of dramatic coastline that alternates between craggy cliffs, sandy coves, and one glorious three-mile beach that's consistently voted one of the country's best.
Once a sleepy shipbuilding hamlet, Ogunquit has emerged as one of New England's premier summer resorts, swelling from 1,200 full-time residents in the winter to a daily throng of up to 80,000 lobster-craving revelers from May to September. Most come for that impeccable fine-sand beach—a rarity along the state's predominantly rocky shore.
But even if clouds roll in to spoil the fun, there's a ton to keep you entertained on a weekend visit. Ogunquit boasts an impressive and diverse collection of independent businesses for a town of its size: art galleries, wine bars, pottery shops, antique stores, theatres, bakeries. And the majority are LGBTQ+ owned.
This low-key seaside haven, so renowned for its beauty, has yet another trademark: an inclusive, judgment-free vibe that has made LGBTQ+ out-of-towners feel welcome there for decades. So much so, many decide to stay.
New Yorker Jake Kirsch was working at a restaurant in Portland when a friend suggested he come to Ogunquit for a summertime stint bartending at The Front Porch, a gastro-bar and gay piano lounge. He ended up staying for five years, brainstorming ways to open his own restaurant concept in town.
After a stint in nearby Boston, Kirsch was tipped off to a space opening up on Ogunquit's main drag. In 2017, the budding restaurateur opened up his elegant, "but by no means pretentious," alfresco beach bar Brix + Brine. Just three years later, he opened a contemporary American bistro called The Crooked Pine across the street.
"On day one I had a set of regulars I knew from bartending at The Front Porch that were there to support," recalls Kirsch. "Ogunquit is such a great town; it truly is a community. In the winter, it's small enough that your social life is waving to people at the post office, and in the summertime, the streets are as crowded as any major city."
This summer, the town's streets are lined with more Pride flags than ever before, following an official proclamation that acknowledges June as Pride Month in Ogunquit. Perhaps most encouraging was that it was all pushed through by a straight ally: Ogunquit's interim town manager and lieutenant at the Ogunquit Police Department, Matthew Buttrick. "He managed to get Pride flags up on the telephone poles all through town for the first time!" says snowbird Jimmy Lucibelo, the former innkeeper at Bourne Bed and Breakfast. Two Pride flags were even raised in the town square alongside the American flag.
"In Ogunquit," says Kirsch, "it doesn't matter who you are, or what you do. If you're a decent person, you belong here." Ogunquit isn't exclusively a gay destination, either, Kirsch adds. "You often see young gay couples and older straight couples having easy conversations at the bar. Everyone feels welcomed everywhere."
Whether you make it to Ogunquit for this year's Pride festivities or swing through later this summer on a quintessential Maine road trip, here's where to eat, drink, and stay while discovering this beautiful place by the sea.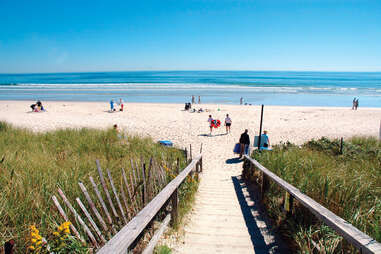 How to spend the perfect day in Ogunquit
Kick off the morning at LGBTQ+ owned Backyard Coffeehouse & Eatery with an iced latte and Main Street sandwich stuffed with smoked turkey from New Hampshire, local mozzarella, and granny smith apples. Stick around on their sunny patio, or take your picnic to go; from there, it's a swift commute to one of the country's most cherished beaches.
You'll know when you've reached the unofficial gay section of Ogunquit Beach; just keep walking past the families that stake their umbrellas in the area surrounding the parking lot. Dip into the ocean if you dare—the water stays chilly even through the summer—but you've got three pristine miles of fine-grain sand to plop your towel on, with views of the mansion-dotted cliffs that bookend the beach. If you don't mind the kiddos, there's warmer water just off the sandy spit where Ogunquit's tidal river empties into the Gulf of Maine.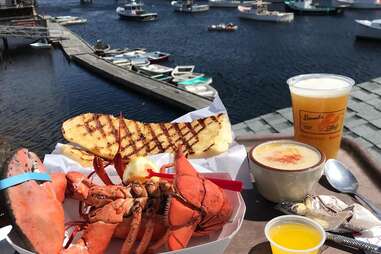 Post-sun and sand, set off on the famous mile-and-a-quarter-long Marginal Way cliff walk to Perkins Cove. This pocket-sized fishing village and artist colony has weathered wood-planked buildings, upscale shops like LGBTQ+ owned Perkins Cove Pottery, and a handful of superb seafood eateries.
Sleuth out a seat on the uber-popular patio at Barnacle Billy's for buckets of steamer clams, lobster rolls, and deceptively heavy-handed rum punches with views of the famous wooden footbridge that spans the scenic harbor.
Keep your buzz going with an Aperol Spritz at Brix + Brine or a wine tasting session at Coastal Wine before making your way to Ogunquit's Leavitt Theatre, one of Maine's oldest working theatres. The Leavitt was born in 1923 as a silent movie cinema, and nearly a century later, it now functions as a hybrid theatre-cocktail lounge run by couple Emily Knight and Max Clayton, who's had the heritage building in his family since the 1970s. Come to the LGBTQ+ friendly venue for free film screenings, live bands playing each night, a killer craft cocktail program, and the globally-inspired dinner menu developed by Chef Keith Remes from trendy Atlanta tavern The Golden Eagle.
For a nightcap, follow the cacophony of crowds belting through the walls of LGBTQ+ owned piano bar The Front Porch, then groove the night away at MaineStreet, the largest gay nightclub in northern New England, which has two dancefloors, two sprawling patios, and three bars to choose from.
Where to stay in Ogunquit
The storied building that is now the Gazebo Inn has gone through several iterations before becoming an award-winning bed and breakfast, from a 19th-century farmhouse and boarding house to a horse stable. Owners Scott Osgood and Bruce Senecal purchased the dilapidated barn in 2005, and it would soon phoenix into a tastefully appointed 14-key property with all the trappings of a large hotel, including a spa, gym, and heated floors in the suites.
Alternatively, English garden meets beach chic at the Trellis House Inn, which sits in a turn-of-the-century house elegantly restored by New Englanders Laurence Plotkin, Glen Porter, and their pup Bentley. All eight suites have en-suite bathrooms, the breakfasts are surprisingly decadent (poached lobster and sausage hash! Bananas foster oatmeal brûlée! Pineapple upside-down pancakes!) and nightly happy hours are hosted on the wraparound porch.
Paul Jebara (@pawljebara) is a travel writer, content specialist, and polyglot based in New York City.