This Former Flyover City Is Having a Serious Cultural and Culinary Renaissance
Welcome to one of the fastest-growing cities in the US.
Flyover country, no more! Oklahoma City is where you need to be.

| Scissortail Park
Flyover country, no more! Oklahoma City is where you need to be.

| Scissortail Park
Since the onset of the pandemic, the US has experienced a cultural shift away from coastal metropolises as people have purchased RVs, pivoted to remote work, and in many cases, moved on to greener, more socially distant pastures. Like shaking up an Etch-A-Sketch, this cultural reset has allowed Americans to experience their country anew, with underrated, affordable, and previously ignored "flyover cities" like Oklahoma City at the forefront of that renaissance.
Not part of the Midwest, often excluded from the Southwest, and too far West to be part of the Southern belt, Oklahoma has long been easy to overlook. But the tides are shifting: While the country's biggest cities have seen major population declines, OKC was one of only 14 US cities to gain more than 100,000 residents in the most recent census, making it the nation's 22nd most populous metropolitan area.
A far cry from preconceived notions, OKC is a city with a thriving queer community, more marijuana dispensaries per capita than almost any state in the US, and a robust population of Vietnamese immigrants, who have brought a treasure trove of Southeast Asian culture to the Great Plains. It's a place where cowboy-classic steakhouses live in harmony with upscale innovators and dazzling tasting menus; where one of the largest Native American populations in the country celebrates its heritage and history at Smithsonian-affiliate museums; where Olympic athletes train on the river; and where the burgeoning film industry is so momentous—Martin Scorcese's forthcoming $200 million Killers of the Flower Moon adaptation is the biggest movie to ever be filmed here—that Oklahoma has been nicknamed "Hollywood on the Prairie."
From cutting-edge dining to world-class museums and a cultural renaissance that embraces forgotten histories and communities from all walks of life, here's why Oklahoma City is not the flyover destination you once thought it was.
Oklahoma City's neighborhoods embrace the past while adapting for the present
From the infamously decayed facades studding Detroit to the quieter (but statistically higher) population desertion of former urban giants like St. Louis, much has been made of the decline of American industrial cities. But don't assume the narrative of population atrophy and business communities slowly wasting away applies universally to all such cities. Oklahoma City might have working oil rigs on the grounds of the state capitol, but this isn't the dusty Wild West town of yore. Rather, it shines a light on its unique history while redeveloping for the modern world.
Take Automobile Alley, the oldest thoroughfare in Oklahoma City and one of the first to be revitalized. This neighborhood began as a stretch of pioneer businesses but quickly transitioned into a bustling automotive industry hub shortly after Oklahoma became a state in 1908; to this day, you can still see automotive-inspired designs woven into the brickwork on storefronts.
Today, the area—the kind of hip warehouse district vibe seen in places like Chicago's Fulton Market and Dallas' Deep Ellum—is now a vital center of commerce, with retailers (check out queer-owned "feminist and self-empowerment gift shop" Common Dear), art galleries, exercise studios, restaurants, and a highly localized developmental blueprint that has been copied in other historic districts.
Formerly the hub for freight, industry, and the city's first Black-owned newspaper, Bricktown is now the entertainment epicenter of the city, teeming with dueling piano bars, hotels, the baseball stadium, one of the largest concert venues in town, and an underrated riverwalk that gives San Antonio a run for its money, complete with boat tours.
Nearby, downtown's new crown jewel is Scissortail Park, a 70-acre oasis of whimsical landscaping, giant playgrounds, a huge farmers' market, concerts, food trucks, a burger restaurant, and a lush lagoon abuzz with paddle boats. The park is about to get even bigger and better, too: slated to open in 2022, a south section of the park will double its size and link downtown with the Oklahoma River.
The city has deep roots in film and the arts
From the Wynwood-like street art murals in the Plaza District (helping OKC rank number one for street art in the nation) to the wildly popular annual Festival of the Arts and the immersive exhibitions at Oklahoma Contemporary, art weaves its way through every facet of the city.
Film Row, one of the hottest residential areas, was once the hub for offices of major Hollywood film studios like Paramount Pictures, Warner Bros, and MGM; the Oklahoma Theater Supply Company, headquartered here, was instrumental in converting theaters from showing silent to sound films. Today, Film Row is the place to stay to soak in old Hollywood history outside of California, and while most film studios have long since dwindled in this part of town, Rodeo Cinema is an intimate arthouse theater that recently brought the film back to Film Row.
On the modern side of the spectrum, The Paseo Arts District began as a mid-20th century shopping center that has since transitioned into a vibrant creative hub, where a quick stroll brings you a bevy of art galleries, cozy restaurants, queer-owned businesses, and Santa Fe-style adobe architecture in a kaleidoscope of pastel hues.
The Arts District, home to the Festival of the Arts (which sees more than 750,000 annual visitors), has also emerged as a hip, downtown-adjacent enclave all its own, from culinary art to theater. This is where Alton Brown praised Bar Arbolada as having the best cheeseburger in America, where Broadway-caliber shows like The Lion King and Mean Girls take the stage at the Civic Center Music Hall, and where the Oklahoma City Museum of Art houses one of the most staggering Chihuly collections in the world.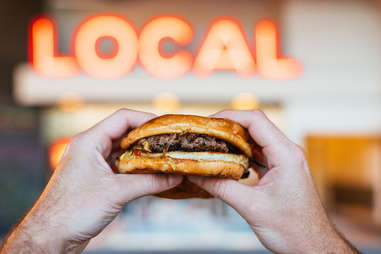 OKC's fast becoming a culinary juggernaut
OKC is home to some true classics that shouldn't be missed, among them legendary Cattlemen's Steakhouse, which has been feeding hungry cowboys and ranchers since 1910, and the many diners that specialize in Oklahoma's iconic onion burgers (for a full rundown of our national burger critic's best burgers, check out his rundown). So no, you shouldn't be skipping a signature chicken-fried steak. But it's where the past and present collide that Oklahoma City's status as a rising culinary juggernaut becomes clear.
Here, restaurants, bars, and cafes are as unique as the districts that house them. The Jones Assembly is a jaw-dropper of a restaurant, bar, and concert venue on Film Row that also features creative riffs on traditional Oklahoma dishes: our picks include chicken-fried carrots and wood-fired pita with pimento cheese, alongside vegan dishes, Moroccan steak salads, and pizzas strewn with beet sauce, roasted golden beets, and sumac.
For more tastes of chicken-fried innovation, head to Picasso Cafe, a neighborhood cornerstone in the Paseo, for chicken-fried portobello mushrooms with vegan gravy. Or Mexican Radio in the Plaza District for pimento cheese empanadas and fry bread tacos al pastor. Or most aptly, 39, the "modern Indigenous" restaurant inside the freshly minted First Americans Museum, where native ingredients and foodways shine with dishes like blue corn polenta fries, bison burgers with squash pickles, and chimichurri turkey cutlets.
The real star of modern Oklahoma City dining is Nonesuch. This 22-seat, tasting-menu-only location was named Bon Appetit's best new restaurant of 2018 for a reason. With a constantly changing menu often constructed of foraged ingredients, this is where you'll find things available nowhere else, like snap peas with cornflower and micro wasabi atop kimchi cream cheese, Æbleskivers (essentially, Danish pancake balls) with brown cheese caramel and elderberry gel, and clarified gazpacho with pickled Serrano peppers and shio koji. Be warned: a 10-course dinner starts at $125 and it can be tough to get a reservation, but it's totally worth it if unique dining experiences are important to you.
Like many a road tripper or nomad, the siren song of OKC's affordable living has made it fertile ground for restaurateurs moving from more expensive cities to open their businesses here. Consider The Study, a cozy wine bar on Film Row owned by a sommelier who moved from Los Angeles back to his hometown to set up shop; Palo Santo, a chic cocktail bar by a couple of California expats in the funky Farmer's Market District; and Sedalia's, a soon-to-open oyster and natural wine bar from a Bolivian owner.
California isn't the only place restaurateurs are migrating from, though. Another key component to OKC's culinary ascent is the robust Vietnamese food scene, the high quality of which has gained national renown. Visit the Asian District, aptly named Little Saigon after the influx of Vietnamese immigrants who settled after the fall of Saigon in 1975, for some of the country's best noodles and more.
For pho, you'll be hard-pressed to choose between a number of hole-in-the-wall spots, among them Pho Lien Hoa, Pho Lan Asian Bistro, and Pho Ca Dao. Banh mi is excellent at places like Magasin Table (eschew the standard pork pate for the garlic fried tofu or pork belly with quail eggs... you're welcome) or Rivière Modern Banh Mi, which moves beyond delightfully creative twists on the sandwich into banh mi tacos, Saigon Ceasar salads, and Vietnamese street corn. For persnickety eaters, VII Asian Bistro has an endless list of Vietnamese and Chinese options that should exhaust even the pickiest palates.
Of late, the city's coffee and bakery scene have taken an exciting turn as well. After Elemental Coffee broke ground as the city's first roaster, quickly establishing itself as a Midtown keystone for caffeine and vegan chocolate chip cookies, numerous others followed suit. Sincerely Coffee is a twee, pink-hued cafe that looks like something Wes Anderson would dream up, Neon Coffee is a colorful and funky Plaza District nook with pecan-infused iced matcha lattes and donut sandwiches, and Clarify Coffee saves summer with cold-brew oat milk slushies.
The local bread scene has also been on the rise (yeasty pun intended), thanks to The Harvey Bakery & Kitchen, where you can snag a brown butter bourbon pecan blondie and a loaf of sourdough, and 30th Street Market, a bottle shop/cafe/bicycle shop hybrid baking its own milk bread, English muffins, and focaccia for toasts and sandwiches.
The booze and bar scene is also top shelf
Oklahoma City's singular approach to entertainment and neighborhoods is even more pronounced when it comes to bars and breweries, which run the gamut from kitschy arcade bars and high-end mixology to inventive ales. For the former, Flashback Retropub is a 1980s-themed bar with 60 vintage video games—plus Mario Kart!—for drinkers to play.
Barkeep is the stop for cocktail lovers; located inside a boutique mixology store in Midtown, where you can shop for all the esoteric home bar equipment and ingredients you never knew you needed, this intimate cocktail spot shakes up some of the most innovative seasonally inspired drinks in town, like an arugula-infused gin tipple with strawberry-feta syrup, and serves it alongside gratis Goldfish crackers and classic sitcoms on the TV.
Beer, too, is booming. If you're a traditionalist, stop by Fassler Hall. This sprawling German-style brewpub has a curated but excellent menu of sausages, duck-fat fries, and German sandwiches, as well as a strong line of German and Belgian-style beers available by the liter and half-liter. As for breweries, Prairie Artisan Ales is an essential stop for craft brew lovers; housed inside a contemporary loft space in Automobile Alley, the envelope-pushing brewery is always churning out new novelties, like sour beers brewed with Skittles, and imperial stouts infused with carrot cake.
A cluster of breweries has also taken shape near the Arts District, such as Angry Scotsman, home to one of the best patios in town, and Fair-Weather Friend, a new-ish hipster haunt pairing fruit-forward beers with some of the best pizza in the city. Just south, across the river, The Big Friendly is a beauty of a brewery, housed in a soaring space in the Wheeler District that looks more like a retrofitted cathedral than a beer bar. Snag a pint of Japanese rice lager and savor it on the huge patio while chowing down on artichoke tacos from Taco Nation next door.
Don't sleep on Oklahoma City's wealth of museums
A well-kept secret about visiting Oklahoma City is that it hosts a truly excellent set of museums. Start with its most iconic: the Oklahoma City National Memorial & Museum, a stunning exploration of the Oklahoma City Bombing, the second-largest terrorist attack on American soil, and the deadliest act of domestic terrorism in US history.
In addition to a lovely memorial and overview of the bombing itself (be prepared to cry), the emotional museum provides a riveting dive into the chase to find Timothy McVeigh. Few people remember that the case was one of the first uses of DNA and forensic tracking by local police departments, and the interactive exhibit provides visitors an opportunity to get hands-on with the evidence.
If you'd rather dive into some older history, there's no better place to indulge your inner John Wayne than the National Cowboy and Western History Museum. Collecting western history since 1955, the massive museum has exhibits on cowboys from North Africa through the "New World," cowboy artistic artifacts like saddles and spurs, and rotating exhibits that spotlight everything from films like True Grit to western fashion.
The newest addition to the local museum scene is the First Americans Museum. Opened in 2021, the 175,000-square-foot facility (making it the largest tribal cultural center in the country) tells the story of the state's 39 tribal nations in impressive, honest detail, both inspiring and harrowing. The museum has a partnership with the Smithsonian's National Museum of the American Indian, so the exhibits, videos, and art here are top-tier.
Consider staying in or visiting the 21c Museum Hotel, a two-for-one art museum and hotel that literally allows you to spend a night at the museum. Visitors can enjoy a 14,000 square foot contemporary art gallery, savor chic eats and cocktails at Mary Eddy's, and ogle the beautifully renovated, historic Ford Motor Company assembly plant the hotel is housed in all at once, a true bang for your buck.
Do sleep in Oklahoma City's wealth of boutique hotels
Not only are people moving to OKC in droves, but they're also visiting, and the spotlight on the city as a tourism destination has seen a huge upswing in boutique hotels in recent years. In addition to the 21c Museum Hotel, check out The National, a stunningly refurbished Autograph Collection property in a historic downtown skyscraper that originally served as a Gringotts-looking bank when it opened in 1931. Today, the majestic hotel contains gorgeous guest rooms and some of the most breathtaking dining spaces in town, like the soaring Great Hall lobby bar, bank-inspired and Italian-flavored Teller's, and a basement bar, the Library of Distilled Spirits, inside a huge bank vault.
A few blocks south, the Omni became the largest hotel in OKC when it opened in 2021, rising 17 stories over Scissortail Park. connected to the new Oklahoma City Convention Center—itself a behemoth the size of a cruise ship—the enormous property includes a scene-y rooftop pool, a steakhouse, and multiple bars.
For something a bit more intimate, Bradford House is a pretty-in-pink boutique inn located inside a historic mansion, with the feel of an elegant B&B, some seriously impressive pastries from on-site Quincy's Bakeshop, and a full-service dining and cocktail program. For the dreamiest vibe, stop by on Wednesdays for jazz night, order a cocktail and a burger, and drink it all in from one of the house's lustrous lounge rooms.
Another newcomer is The Ellison, a highly Instagrammable property on the city's northwest side, overlooking the bougie, Lululemon-filled confines of Nichols Hills. The swanky 120-room hotel also has a rooftop pool (plus pool bar) and a restaurant called Milo, specializing in "modern Oklahoman" cuisine. As with other culinary innovators in town, the restaurant is indicative of OKC's bridge between classic and modern, featuring the likes of pimento cheese pierogies and bison picodillo sopes from Top Chef alum Josh Valentine.
Altogether, these hotels, attractions, museums, restaurants, and bars all speak to a wide-ranging cultural identity, one that meets at the convergence of the American east, west, and south; modern and historic; Indigenous and immigrant; industrial and artistic; highbrow and low. And if you're still dismissing OKC's unique and immersive culture as "flyover country," well, you're truly missing out.
Becki Iverson is a Thrillist writer and an ardent lover of the Twin Cities. You can follow her wide-ranging passions on her blog,
Compendium
, or on social media on Instagram or
Facebook
. When she's not exploring the local food and arts scene, Becki can be found at her day job in marketing for the AEC industry at Faithful+Gould in downtown Minneapolis.
Matt Kirouac
is a travel writer with a passion for national parks, Disney, and food. He's the co-founder and co-host of Hello Ranger, a national parks community blog, podcast, and app. Follow him on Instagram.