Orlando is known as the theme park capital of the world. But while we won't deny that screaming your head off on a roller coaster and posing for selfies with a minimum wage worker dressed as a giant mouse is amusing, there's plenty of other entertaining—and far less expensive—things to do to have an awesome time in Central Florida than just riding the rides at Disney World.
From soaking up the sun in a crystalline spring to appreciating culture in an air-conditioned museum, a vast array of things to do awaits visitors to Orlando that don't involve standing around in endless lines. To make the most of your sojourn to O-Town, check out our list of the very best things to do—only one of which requires admission to a theme park.
Admire some actual alligators
Free
Lake Jesup
On an average day, there are more alligators in Florida than people going to theme parks. There are over 10,000 of the leathery reptiles in Lake Jesup alone—the largest congregation in the country. Tour operators provide thrilling airboat rides across the 16,000-square-foot lake, but you can safely spot them for free from Overlook Park's boardwalk or over at Black Hammock Adventures, which does free gator feedings. Stop by the Black Hammock's restaurant afterwards to chomp on some fried gator bites.
Go on a Sanford pub crawl
$$
Sanford
The quaint, historic town of Sanford on the shore of Lake Monroe is home to over eight different craft breweries, including the sour-centric Deviant Wolfe Brewing and Celery City Craft, which has over 50 craft beers on tap. Put on your comfiest sneakers and hit the pavement to try as many brews as possible. Several spots serve great grub, so be sure to soak up all that alcohol with something like a flawless bison burger from The Smiling Bison.
Cool off in Wekiva springs
$
Wekiva Springs
When most people think of Florida, their minds conjure images of white sand beaches. That's not the reality in Orlando, where the nearest beach is about an hour-long drive away. For a much more original (but still relaxing) experience, take a plunge in the water at Wekiva Springs, which is a comfortable 72 degrees all year round. If you're angling for more than a refreshing float in some crystalline freshwater, you can also kayak and snorkel in hopes of spotting local fish and turtles. There's also 13 miles of trails for hiking and biking if you don't wanna get wet. In the sweltering summer heat, be sure to arrive early. The park usually reaches capacity.
Stop and smell the roses (and other flowers)
$
Various locations
Obviously, natural is better than artificial—and that's especially true at Orlando's bodacious botanical paradises. Harry P. Leu Gardens, located a few minutes from downtown, is home to a bamboo forest, butterfly garden, and Florida's largest formal rose garden. On the outskirts of town, Bok Tower Gardens' seven-and-a half acres of beauty is enhanced by the carillon bells booming from the gardens' neo-Gothic Singing Tower. You'll instantly be in a state of Zen.
Cheer on Orlando's favorite sports team
$$
Downtown
There's no professional football or baseball team in Orlando, and it's been decades since anyone truly cared about the NBA's Orlando Magic. But in recent years, the city has become home to a beloved MLS soccer team, Orlando SC (The team regularly ranks among the highest in the U.S. for MLS attendance). If you're visiting during the season (from March to about October), make like a local and take in a game at the Orlando City Stadium, which is equipped with over 580 Wi-Fi access points, so you can post as many pics as possible to prove your newfound fandom. More importantly, the 25,500-capacity venue is right in the middle of downtown Orlando's bar district.
Go to a grown-ups only costume party
$$
Various locations
You don't have to work at Disney to wear a ridiculous costume. Moshi Moshi Productions regularly throws wild pop-culture-themed parties where partygoers dress up in elaborate costumes. Some of their previous events include a Mr. Freeze-themed shindig at Icebar where geeky partygoers dressed like Batman villains and a Star Wars-themed soiree that brought the Mos Eisley cantina to life here on Earth. Tickets usually go for about $20, which is far cheaper than admission to the Magic Kingdom. And if you hate dressing up, Moshi Moshi also hosts super-fun trivia nights and other lower-key affairs that won't require a trip to Party City.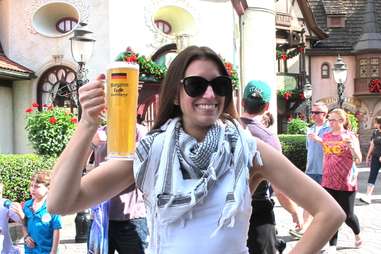 Drink around the world
$$$
Disney World
If you simply must visit a theme park, you might as well make a drinking game out of it. Head to Epcot to drink at each of the World Showcase's 11 country pavilions, starting with some mezcal at La Cava del Tequila in Mexico and ending with a pint (and a raucous time around the piano) at the Rose & Crown pub in the United Kingdom. Don't forget to stop for a shot of aquavit in Norway. It'll make the happiest place on Earth even happier.
Hang out with manatees
$
Orange City
In the winter, head to Blue Spring State Park to look at—but not touch or feed!—dozens of manatees. The super-cute creatures have been an endangered species since 1967, and they're a true spectacle to see in person. During warmer weather, Blue Spring is also a great spot for swimming and snorkeling.
Get your motor running
$-$$$$
Downtown Orlando
Surprisingly, the first American outpost of the legendary London biker haunt, Ace Café, is located in none other than downtown Orlando. The sprawling 35,000-square-foot venue sports a coffee shop, restaurant, bar, art gallery stage and motorcycle shop. Ace Café regularly hosts car and bike shows, where locals show off their badass rides. If you can't afford a new bike from the gift shop, at least you can drool over one.
See a drag show
$$
Various locations
Forget Disney princesses. It's all about the queens, hunty. Celebrate the art of drag at one of Orlando's many LGBT clubs. There's boisterous shows almost every night of the week at Parliament House and Southern Nights—usually with a former RuPaul's Drag Race contestant among the mix—while Hamburger Mary's goes well beyond lip syncing with sassy drag brunches and bingo nights. Be sure to bring some singles. These ladies don't werk for free.
Go glamping in a teepee
$$$$
River Ranch
You don't have to stay at Universal or Disney World for a fun, themed sleepover. Westgate River Ranch, a 7,000-acres rodeo resort about an hour-and-a-half outside town, will make you feel as if you've stepped inside a John Wayne film. But this is no rustic summer camp. The 651-square-foot-teepees you'll stay in feature a king-sized bed, porcelain cast iron clawfoot tub, and stone fireplace. A stay in one of them also includes fireside s'mores, coffee and pastry service in the morning, plus tickets to the resort's weekly rodeo. If that's not enough, there's also skeet shooting and horseback riding. Yeehaw!
Become a mall rat
Free
Various locations
For most of the year, Orlando is a humidity-filled hellscape. The cheapest way to beat the heat is to head for one of the area's gazillion different shopping malls. There's a destination for practically every personality: suburbanites (Fashion Square Mall, Altamonte Mall); fashionistas (Mall at Millenia, Florida Mall); theme park fanatics (Disney Springs, Universal CityWalk); and cheapskates (Orlando Premium Outlets, Lake Buena Vista Factory Stores). When temperatures hit 80 degrees, you'll be thankful for the free air conditioning.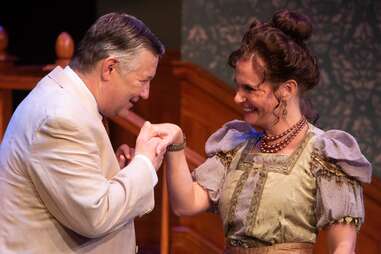 See a very weird play
Free-$
Mad Cow Theatre
For two weeks each year in May, Orlando becomes home to zaniest theater in the U.S. That's because the city hosts the Orlando Fringe Festival. The event boasts dozens of unique and uncensored artists and theater acts. Past productions have included a Shakespearean version of Ghostbusters, a musical that takes place completely in a sauna, and a rapping rendition of Dr. Jekyll and Mr. Hyde. If you can't make it to town during the festival, the local Mad Cow Theatre is usually staging some sort of interesting production all throughout the year.
Catch the sunset from a rooftop
$$$
Four Corners
The Orlando area's frequent showers are annoying but often result in stunning sunsets. The vistas are best appreciated from about 80 feet above sea level on one of Orlando's many rooftop venues. While a few downtown bars spill out above the cityscape, the most magnificent, unobstructed view is found at Reunion Resort's Eleven. The bar-restaurant is located on the—you guessed it—11th floor. If you time it right, you can catch a glimpse of Magic Kingdom's nightly fireworks with a martini in hand.
Freak out at Spook Hill
Free
Lake Wales
When visiting Orlando, or anywhere in Florida really, it's hard to escape the Sunshine State's trademark weirdness (Case in point: The Skunk Ape). But one urban legend actually worth exploring is Spook Hill, a rural stretch of road about an hour outside of the city where visitors park their car in neutral and are amazed as the vehicle appears to roll uphill without any assistance. Legend says the supernatural site was created during an epic battle between a Native American tribal leader and a massive alligator. It's probably just an optical illusion, but you can tell your friends back home that you were possessed by a ghost.
Sign up here for our daily Thrillist email and subscribe here for our YouTube channel to get your fix of the best in food/drink/fun.