While Costa Rica often gets the bulk of the Central America hype, Panama's got its own excellence going on right next door. And we ain't just talkin' about the canal. Nestled between the Pacific and the Caribbean, not only is it convenient as all get out for American travelers—they take US dollars, you won't need adapters for your electronics, and English is widely spoken in the major towns—but jeez, is it beautiful. The country's got just about everything a nature-lover could hope to gush over, from crystal-clear oceans to volcanoes that cast vast shadows over forested landscapes.
From Panama City, you can hop on a quick flight to free dive around the nine inhabited islands and 300 tiny islets of Bocas del Toro, summit the active Baru Volcano in the Chiriqui Province, or boat out to Coiba's eerie abandoned prison and colorful coral reefs. Fuel your adventures with Geisha coffee, Panama's famous heirloom gourmet coffee (and the world's most expensive coffee bean!), and get ready to laugh at the days when you thought Panama only had a famous waterway to offer.
What's open in Panama and how to get there
International travelers are welcome to visit Panama right now. (Hooray!) To get in, you'll need to provide a negative Covid test taken no more than 48 hours before travel—even if you're vaccinated. You'll also need to complete a health affidavit. Although everything is pretty much open during the day—that includes beaches, restaurants, hotels, casinos, public transportation, and more, all with some limitations—you'll want to keep in mind that there's a nationwide curfew in place from 10 pm to 4 am every day. More info here.
Since it's a connecting point for routes continuing to South America, most major airlines from the US fly to Tocumen International in Panama City. Whether you leave from Los Angeles or New York, the 5-6 hour flight will run you a little over $500.
Spend a day or two in Panama City, where you'll find modern skyscrapers and ancient cobblestone, a blend of Indigenous and European cultures, funky murals, historic buildings, and some of the most Instagrammable balconies you ever did see.
Make the almost-150-year-old Central Hotel your home base, as it faces the gorgeous Casco Viejo, a UNESCO Cultural World Heritage Site that dates back to 1673. Sip coffee generously throughout the day, and for dinner, head to Mano de Tigre for fresh octopus or CasaCasco for vegetarian options and comfy couches where you can watch the sun set over the city. If you want to keep the party going into the evening, move on to the super chill Lazotea Rooftop Bar.
Make time to go to Biomuseo, an interactive and pretty surreal biodiversity museum designed to mimic the Panamanian jungle. If birds are more your thing, hit up the nearby Panama Rainforest Discovery Center, whose work focuses on aviary conservation. Other notable museums in town include the Canal Museum, which details the construction of the Panama Canal, and the Museo de la Mola, featuring traditional textile art made by the Guna Indigenous community.
Hit up beaches on the Caribbean and the Pacific
With tranquilo Caribbean vibes on one side and monstrous Pacific swells on the other, Panama's beaches easily rival those of nearby Costa Rica and Nicaragua. On the Caribbean side, take a morning drive from Panama City (as well as a quick speedboat) to island hop across the 400+ world-class shores that make up the San Blas Archipelago. Or catch a 45-minute flight north to semi-touristy, often-rainy Bocas del Toro to check out Starfish Island, known for its abundance of (duh) starfish, and Sloth Island, home to swaths of (again, duh) sloths.
On the Pacific side, stop in at the quaint, one-road fishing village of Santa Catalina to drink Balboa beer with local dive instructors and eat fresh fish at Pinguino Café. But most people come this way to see Coiba Island, home to an abandoned prison that once housed Panama's most dangerous criminals (as well as many who simply found themselves on politicians' bad side). Along with being surrounded by one of the largest coral reefs on the Pacific Coast, Coiba is also part of the same underground mountain chain as the Galápagos Islands, so a limited number of guests are allowed on the island each day to ensure the ecosystem remains protected.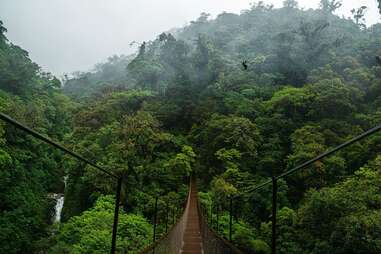 Drink coffee 'til ya get the shakes
Panama's unique ecosystem—high altitude, a balance of sun and humidity, and various microclimates—makes it ideal for next-level coffee production. Among the best of its many bean varieties is Geisha, grown in the mountains of Boquete by the Ngäbe and the Buglé Indigenous communities and often referred to as the "champagne of coffees." You can try it in Tierras Altas at Finca Janson. Hidden amongst high-altitude alpine lakes and tropical flowers, this is an ideal point from which to drink a cup of Geisha with views of the Baru Volcano.
In Boquete, Finca Elida is home to what was once the world's most expensive coffee, and Hacienda Mamecillo, where you'll find coffee tasting, mountain biking, rappelling, and trekking to five waterfalls and 300-year-old trees. Also not to be missed is Café Suarez, a 4th generation family farm that has been cultivating and roasting coffee for over 100 years, and the Boquete Tree Trek, with 12 zip lines and multiple suspension bridges. At the latter, you may even be lucky enough to spot a vibrant quetzal bird.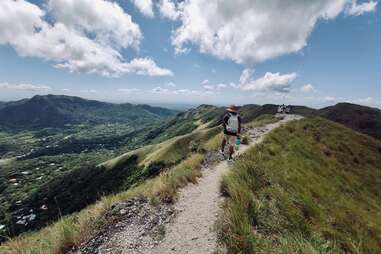 Scale the slopes of an active volcano
While you're in Boquete, charge up with coffee and then prepare to climb the Baru Volcano. On a clear day you'll be able to see both the Pacific Ocean and the Caribbean from the summit, the highest peak in Panama. Hardcore hikers can start their trek at 1am to see the sunrise from the top, and the rest of us can catch a car ride at 4am and trek just the last 20 minutes. After watching the sun peak over the cloudy abyss below, head downhill to soak your muscles in the Caldera Hot Springs, heated by the volcano.
Trek to a roaring waterfall
About 3 hours from Boquete, venture to the Cascada Kiki, a giant waterfall in the Ngäbe-Buglé region of Chiriqui. Buses depart from the plaza in Boquete's town center every hour (just don't expect them to leave on time); don't be surprised if you're just one of a few tourists making the trip. Past the town of David, dirt roads lead to the small Indigenous town of Soloy. From there, Kiki is best reached in a pick-up truck "bus" fashioned with seats lined around the back and a closed-in roof for the rainy season. You'll find one headed out about once every 30 minutes.
The trek to the fall is about half an hour from where the driver will drop you off and culminates in an experience well worth your valiant efforts: Since Kiki isn't exactly the easiest place to reach, most tourists skip over it—meaning you might just have its wonderfully tepid pool of water all to yourself, all day long.
Stella Brown is a contributor for Thrillist.