Thrillist Snow Guide: Park City, UT
Thanks to three separate mountains -- Canyons Resort, Deer Valley, and Park City Mountain Resort -- Park City skiers have a total of 9,326 (!!) skiable acres on which to possibly crack open their heads play. That's kind of nuts. And while Salt Lake City hosted events in the 2002 Olympic Winter Games, the region is more than just a gold medal legacy, with varied terrain suitable for all levels of downhill/ Nordic skiers, a solid array of non-skiing activities (anyone up for a movie?), and a pedestrian-friendly downtown loaded with restos, bars, and shops.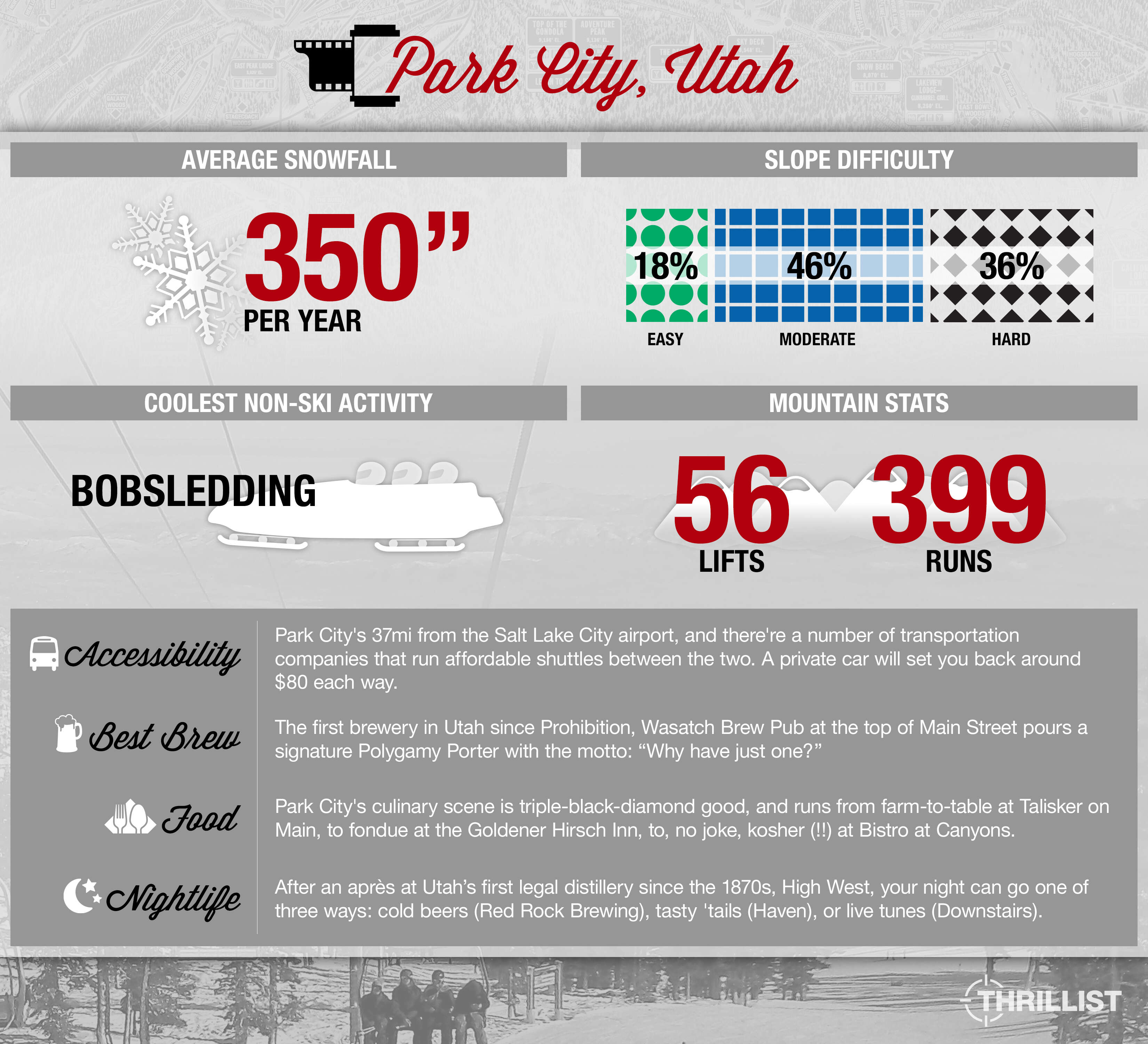 When to go: The Park City season usually begins in late-November/ early-December and runs through mid-April. Obviously, the Sundance Film Festival (January 16-26) draws the celeb-set to celebrate the year's best indie flicks. Embrace or avoid at your own discretion, but know what the locals do: the slopes are usually empty when everyone's in the theater.
How to get around: Once you get to town, take advantage of Park City's free bus system; it's fueled by biodiesel and transports more than two million passengers annually. Free and good for the environment.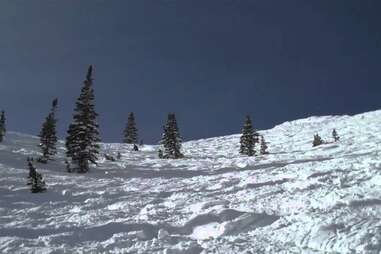 Three runs not to miss:
1. Jupiter Bowl at Park City Mountain Resort gives you that skiing-out-of-bounds feeling in a wide-open bowl, but it's all patrolled territory inside the resort boundaries.
2. Daly Chutes at Deer Valley has some great "steep and deep" chutes that never disappoint, even when there hasn't been a storm in a while.
3. Since it doesn't see as much traffic as other parts of the mountain, Boa at Canyons Resort is a long, winding blue, and a bit of a well-kept secret. Well it was 'til now, anyway.
Dining: In terms of must-visits, start with the Fireside Dining at Empire Canyon Lodge -- progressive meals, five stone fireplaces, you get the idea. Craving fondue? Sorry, dumb question. Get your melted cheese fix on at the Goldener Hirsch Inn Restaurant. If you want to enjoy a midday break surrounded by serious views, do you best snowplow into the front of Canyons at the Lookout Inn. Or if you're in town, Talisker on Main regularly snags local dining awards for its farm-to-table cuisine. Finally, if you need to stay kosher and/or just love Hebrew Nationals, Bistro at Canyons is a true kosher restaurant -- a rare find at a ski resort.
Local brews: We've already mentioned Wasatch Brew Pub, located at the top of historic Main Street, and their Polygamy Porter. On Park Avenue, grab a seat at Squatters Brew Pub and enjoy one of nine beers on draft, including Provo Girl Pilsner and Captain Bastard's Oatmeal Stout. At Red Rock Brewery in Park City Junction, roll with the session-style Steamer and Organic Zwickel Bier, or dip into their "artist palette" of Belgian experiments.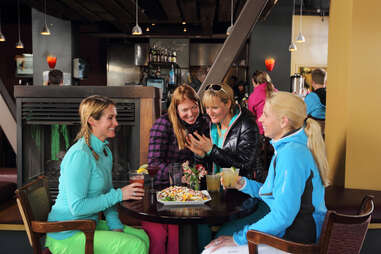 Après: A favorite for those skiing PCMR is Legends Bar & Grill, well-loved for its chicken nachos. At Deer Valley, the Royal Street Café is the spot to kick off your boots and grab a beer while watching the late-afternoon skiers yard sale. At Canyons, park yourself at the Ski Beach at Red Tail Grill. Just do it. Or, if you'd rather drink in town, the High West Distillery and Saloon, Utah's first legal distillery since the 1870s (when the Mormons dropped the hammer on booze-making), sits smack at the end of Park City's Quittin' Time ski run.
Nightlife: If you can tear yourself away from après (and that could be tough if you're perched at High West), Park City rocks a sweet nightlife scene. Casual hangouts include three brewpubs, a few intimate wine bars, and a Main Street worthy of an evening bar-hop. For the cocktail set, the swanky Haven is new this season and replaces Sky Blue at the Sky Lodge, while Lindzee O'Michaels Mixologists continues to pour tasty tipples in the heart of town. Want live tunes? Make your way to The Downstairs and Park City Live. At the end of the night, though, you've gotta stop by the No Name Saloon for one last pint.
Other than skiing/ boarding?
Bobsledding: Channel your inner Jamaican and zip down the Comet Bobsled Ride on the official track used during the Winter Olympics. FYI: You won't be allowed to drive. Sorry.
Dogsledding: Glide through the snow-covered meadows of the Wasatch and Uinta Mountain Ranges in a dogsled pulled by a team of friendly, excitable Huskies.
Cross-country:White Pine Touringhas a 20-plus km cross-country ski center in the heart of Park City, where you can the enjoy the stunning mountain views while skating around one of three groomed loops (3k, 5k and 10k+).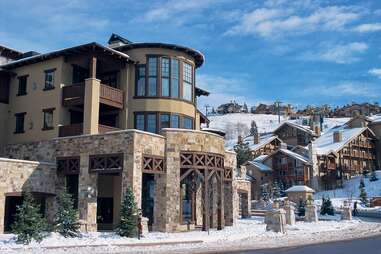 Where to stay: If you're hitting all three resorts, plan to bunk down in Park City -- it's the most central base. The Newpark Resort maintains both guest rooms and luxury suites equipped with kitchens, private balconies, and hot tubs. If you're downtown, the boutique Washington School House is your move; built in 1889 out of quarried limestone, it was once (you guessed it) a school, but now features 12 rooms, a ski lounge, and a heated pool.
Closer to resorts are The Chateaux Deer Valley, the Lodge at the Mountain Village, and the Sundial Lodge. As in most ski areas, there are also a handful of vacation home rental companies catering to each of the hills.