Ask a hundred Americans if Puerto Rico is part of the United States -- nearly half of them will say no, or "I have no idea." If there even is such a thing as a best-kept travel secret these days, Puerto Rico might be it. The size of Connecticut and a mere 2.5-hour flight from Miami, this sun-soaked island boasts some of the world's most beautiful beaches, three bioluminescent bays, America's only tropical rainforest, and some of the best surfing around. It is the very definition of a Caribbean getaway, where the sea breeze carries the scent of slow-roasted pork and the sounds of reggaeton and merengue beats.
Yet for so many Americans, Puerto Rico remains a question mark on the map, especially after hurricanes Irma and Maria devastated the island in 2017. To answer the original question: Yes, you can leave your passport at home. As a US commonwealth, Puerto Ricans are American citizens (though they don't enjoy all the benefits of citizenship). Visitors will find that English is widely spoken, the dollar is king (in fact, there is no other currency) and, well, there are lots of Dunkin' Donuts.
Travelers seeking "authentic" cultural experiences might be thrown off by this US export and others like it (Subway, Pizza Hut, Burger King, to name just a few). Yet this is, strangely, all part of Puerto Rico's authenticity. Since 1898, when the US seized Puerto Rico (and, briefly, Cuba) from Spain in the Spanish-American War, US and Latin American cultural influences have been rubbing up against each other in Puerto Rico, forging an identity that, while conflicted and contested because of the obvious colonialism, is like nowhere else on the planet.
One trip won't be enough to understand it (people have made entire careers out of trying) but it will be enough to entice you into coming back for more. Thanks to the hurricane recovery efforts of its fiercely resilient residents, there's never been a better time to visit Puerto Rico -- which is why we named it one of the 19 best places to go in 2019. Now, with the help of local islanders, we've assembled this all-encompassing DestiNATION guide to help you navigate everything you need to see, eat, and do in San Juan, Rincón, and beyond.
The quickest way to understand Puerto Rico is to eat. For starters, the island's signature foods powerfully articulate the population's cultural vibrancy. Coconuts, coffee, plantains, and beans hailed from the African slave trade, along with the technique of deep-frying. Pork and rice arrived with the Spanish conquistadors, along with the seasonings -- garlic, onion, peppers, and signature herbs culantro and cilantro -- that form the distinct Criollo flavor base. But the most enduring impact on island cooking comes from the Taíno, Puerto Rico's indigenous people, whose contributions include the cultivation of root vegetables and fruits, from yucca to guava, and a cooking method that literally set the world on fire: barbecue.
Today, rituals around the act of eating portray Puerto Ricans' inherent drive to celebrate and socialize. The chinchorreo tradition, for example, brings busloads of families and friends through a series of roadside stands for snacks and cold drinks. Caravans crawl the "pork highways," lined with lechoneras roasting whole pigs. Every good beach day includes a kiosk-hop for fritters, and large groups dining al fresco at oceanfront seafood spots, sharing platters of Caribbean lobster and whole fish, is not an uncommon sight.
The island has seen a food renaissance within the last decade. Restaurants all over the island have opened at a clip, with chefs such as Jose Enrique Montes (Jose Enrique) and Gabriel Hernandez (Verde Mesa) gaining recognition from the James Beard Foundation Awards, and chefs such as Juan Jose Cuevas at 1919 designing menus that emphasize all things local. Farming, which was gaining momentum before hurricanes Irma and Maria, is slowly coming back, with new organic markets popping up throughout the island and a renewed movement toward more self-sufficiency. Cafés serving homegrown coffee outnumber Starbucks by far. And a booming cocktail scene has even caught the attention of the World's 50 Best Bars.
It all culminates in foodways that are just as joyous, but distinct, from neighbors like Jamaica and the Dominican Republic, making Puerto Rico a culinary leader in the Caribbean. Sure, there are the regular resort trappings of any tourism spot -- visitors can easily find Italian, sushi and burger options, or take refuge in familiar chains. But those who try the island's most delicious assets will discover bite by bite that Puerto Rico is a world-class dining destination -- a fact as clear as the waters surrounding it.
By Kathleen Squires
Deep-fried fish or whole roasted pig? Homegrown coffee or coconut rum cocktails? Let your appetite dictate the itinerary. Click here for the full story...
When you think of Puerto Rico, daydreamy images of azure waters, swaying coconut palms, and piña coladas might come to mind. It's true, the island is packed with golden beaches and mangrove-backed bays, many of which you'll find blissfully deserted. The western coastline is surfer territory -- along the protected waters between Aguadilla and Rincón, you'll find roaring waves, divey beach bars, magic sunsets, and even humpback whales passing by.
Puerto Rico's offshore islands are an embarrassment of riches -- to the east, the sleepy island of Culebra boasts some of the island's coolest dive sites (think sunken ships, caves, and coral) plus Playa Flamenco, regularly counted among the world's most beautiful beaches. Nearby, the island of Vieques has the black-sand Playa Negra, plus the bioluminescent Mosquito Bay; book a kayaking trip through this psychedelic lagoon, whose waters glow with fluorescent sparkles thanks to a high concentration of tiny phosphorescent microorganisms.
Spend your weekend in the capital of San Juan, where the sound of parrandas (live street music and performances) provide the soundtrack for your night of dancing in the streets, cold drink in one hand and fried snack in the other. If you're lucky to be here in January, you might find yourself celebrating carnival season during San Sebastian Street Festival, which takes over Old San Juan. Here in the Old Town you'll find all the iconic sites, like the colonial-era forts El Morro and San Cristóbal, with their sweeping views of the Atlantic and massive fortified walls, standing strong for more than 400 years. Bed down in one of San Juan's upscale, design-forward hotels like La Concha or O:LV Fifty Five Hotel -- or keep to the historic theme at spots at El Convento or Condado Vanderbilt.
Come Sunday, join families near the central mountains of Cayey for chinchorreo crawls to taste traditional street food cooked by generations of lechoneros (pig roasters) and deep frying experts. In towns like Guavate, you'll find no-frills lechoneras peppering the roadside, with canteen-style service and whole roast pig turning on a spit, served in a steaming heap with a side of plantains. Rub elbows with locals drinking cold beers blasting reggaeton and merengue beats on the stereo.
Or, put on your hiking boots in search of the legendary double waterfalls of Gozalandia 18 miles west in San Sebastian. If staying on dry land is more your style, head to the interior of the island towards the region of Yauco to connect with nature and meet the people caring for it by touring coffee plantations and staying overnight at adjacent eco-villas like Hacienda El Jibarito.
Prefer aerial adventure jaunts? Head to the northeast to zip line and hang glide above America's largest and only rainforest, El Yunque, where reforestation efforts are sustaining lush green views. There are numerous trails and waterfalls in the forest -- expect photo-worthy flora (look out for the yagrumo tree and its umbrella-sized leaves). If you're lucky, you'll spot the coquí, a tiny tree frog that's not much bigger than a fingernail, or a cotorra, the small, green Puerto Rican parrot, brought back from the brink of extinction by El Yunque's conservationists.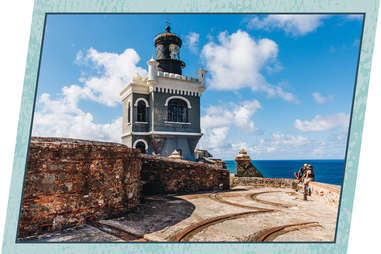 By Robert Andrew Powell and Norbert Figueroa
The coolest neighborhoods, most impressive attractions, and danciest street parties you need to know about. Click here for the full story...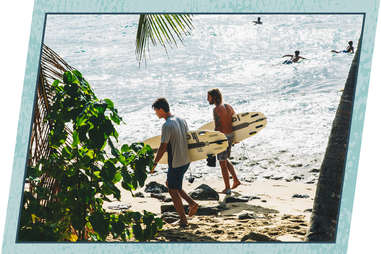 The air in Puerto Rico is different, and the pace is, too. Still, there's an awful lot that's familiar. Visit the capitol building in San Juan and you'll see glass-encased copies of both the Puerto Rican and US constitutions; outside, the Puerto Rican and US flags fly side by side. We have the same president, the same chain stores; we use the same dollar. Puerto Ricans serve in the military and pay many US federal taxes -- yet have no voting rights in Congress.
So what, exactly, is Puerto Rico's relationship with the United States? You could ask every person you meet and get a different answer -- and a different answer, too, about what Puerto Rico's future should hold. Should Puerto Rico claim independence and officially incorporate as the 51st state, or continue with its current status as a "free associated state" of the United States? The island's future is cause for intense debate among its fiercely loyal inhabitants, and they'll likely be happy to discuss their opinions with you -- Puerto Ricans love talking politics.
Yet more Puerto Ricans live in the continental US than on the island itself. The island's shrinking population results from an enduring crisis of unemployment and debt, which, while decades in the making, came to a head with the recession and has not yet reached its end. Then came Hurricane Maria, which lashed the island in September 2017, leveling its already-fragile electrical grid and devastating the island's crops.
Today, parts of the island's electrical system and roads are still being repaired, and a handful of attractions, including parts of El Yunque National Forest and the Río Camuy Caves, remain closed. Yet the huge majority of the island has bounced back and is eager to welcome visitors. Hurricane Maria, in many ways, left a blank slate for Puerto Rico, and the islanders who remain have seized the opportunity to rebuild, refortify, and reimagine their futures.
When to go: Puerto Rico is beautiful year-round, tropical, rainy, and warm. The high season runs from mid-December through mid-April, when the waves are at their best for surfing, and crowds and hotel rates go up. (TRAVEL TIP: Consider visiting in May when hotels are 10% cheaper than average). Puerto Rico isn't exactly a budget destination -- hotel taxes range from 7-11%, parking is expensive in San Juan, and gas tends to be costly as well. Since most food is imported, restaurant prices are on par with big cities in the States. You can sometimes score discounted hotel packages during hurricane season (June through November). After Labor Day, flight and hotel prices drop off steeply. September and October have some of the cheapest airfare rates to the island.
Speaking Boricua: You'll hear plenty of people speak English, and among those speaking Spanish, you'll hear lots of words that sound like English: wikén (for "weekend") and parking (pronounced "parkeeng" for, well, "parking"), and more. Boricuas (that is, Puerto Ricans, so named for the original name of the island, Borinquen, given to it by the Taíno) love word play and their Spanish draws from all sorts of cultural and linguistic traditions. One word you definitely need to know? ¡Wepa!, an all-purpose word that could mean everything from "Amazing!" to "Hot damn!" For a fun primer on Puerto Rican Spanish, pick up Jared Romey's Speaking Boricua before your trip.
Tips on tipping & etiquette: Puerto Ricans are generally pretty laid back and open. "Island time" is a thing here -- in restaurants, expect relaxed service and slow-paced meals. Tip like you would back home (15-20% and a dollar per drink at bars). Pack actual clothes, not just beach cover-ups: people here pride themselves on dressing well, especially in San Juan and the larger cities. Unless you're actually at the beach or poolside, you shouldn't be strolling around in your bathing suit.
Getting around: If you think "Puerto Rico" and visions of chicken buses dance through your head, banish those now: Puerto Rico isn't Costa Rica, and you won't be careening around perilous mountain curves hanging on for dear life as your nose presses into a fellow passenger's sweaty armpit (or, yes, their chicken).
Quite the opposite: Cars are king in PR. There are more of them per square mile than anywhere else in the world, and while there are buses and a metro in parts of San Juan, public transportation is neither widespread nor reliable. You can use Uber in the cities, but if you go exploring, rent a car from one of the major rental companies. Don't skimp on the insurance, and be sure that your plan includes 24/7 roadside assistance. You'll also need the Puerto Rican equivalent of an EZ-Pass -- peajes, or toll roads, abound, and most of them no longer accept cash.
Driving in Puerto Rico can be, um, adventurous. Be sure to keep your wits -- and your sense of humor -- about you. Gas is sold in liters, and distance is typically (but not always) measured in kilometers… but the speed limit is measured in miles per hour. Signage can be poor, road conditions are hit or miss, and many cars are missing one or more headlights or taillights.
Which is not to discourage you from venturing about. You absolutely should! Far too many visitors fly into San Juan and never leave; sadder still are the cruise passengers who spend mere hours in the Old Town before setting sail again. Tiny but mighty, Puerto Rico runs deep with rural lands and dense jungles, family-run cuchifrito stands and isolated beaches shaded with palms. Thanks to ongoing recovery efforts, these off-the-grid treasures are becoming ever more accessible. Just don't overpack your itinerary -- here, day trips work better as two- or three-day trips. Leave plenty of time to take it all in.

All the Cheap and Easy Ways to Get Around Puerto Rico
Headed to Puerto Rico for the first time with no idea how to get around? Fear not, Thrillist has your back.
EDITORIAL

Editors: Keller Powell, Joseph Hernandez
Writers: Julie Schwietert Collazo, Kathleen Squires, Norbert Figueroa, Alisha Miranda
Production: Pete Dombrosky, Ruby Anderson, Kyler Alvord
Video: Thom McKenna, Brendan Dean, Chanel Baker, Alex Robinson, Roshanna Charner, Myra Rivera, Emily Tufaro, Chas Truslow, Daniel Byrne, Stasia Tomlinson, Justin Lundstrom
Special thanks: Bison Messink, Liz Childers, Alex Garofalo, Lauren Budinsky

CREATIVE

Design Director: Ted McGrath
Photo Director: Drew Swantak
Photographer: Cole Saladino
Illustrator: Jason Hoffman
Motion Graphics Designer: Megan Chong